Positano is a beautiful, little beach town in Italy, famous for its colorful buildings, excellent restaurants, and ideal location on the Amalfi Coast. The village of Positano is home to tiny, winding roads that run down to the sea and are lined with restaurants, shops, and cute boutique hotels such as Hotel Marincanto, where I spent three euphoric days taking way too many pictures of the most photogenic town I have ever seen! (I'm Vanessa Rivers, one of the founders of We Are Travel Girls, so it's expected that I will always take too many photos!) Positano is a popular destination for couples looking for a romantic getaway as well as families and groups stopping through on day tours. If you would like to spend a few days in this magical town, here are 20 things to do in Positano.

1) WANDER POSITANO
Positano is the perfect walking city! My husband and I spent hours wandering the winding roads of the village and exploring the beach path that hugs the mountainside and ends up at the watch tour castles (which are now luxury vacation rentals). Every turn brings something new and exciting into view. As you meander through Positano, the charm of this otherworldly town is intoxicating.

2) STAY AT HOTEL MARINCANTO
This little gem of a hotel in Positano is a destination in itself! Our Superior Room was large (by European standards), very clean, and tastefully decorated with minimalist old-world charm, but the best thing about it was the amazing view of the ocean and city! Breakfast is included in your stay and can be served on your balcony at no extra charge, or in their beautiful Terrace Restaurant, which also serves lunch, dinner, and drinks. Built into a cliff, Hotel Marincanto offers something new and beautiful around every corner, and has breathtaking views over Positano. You can read my full review of Hotel Marincanto here!
Book Your Stay In Positano | Find the best price for Hotel Marincanto
Other Popular Hotels In Positano | Le Sirenuse | San Pietro di Positano | Casa Buonocore | Palazzo Murat | Villa Yiara | Villa La Trasita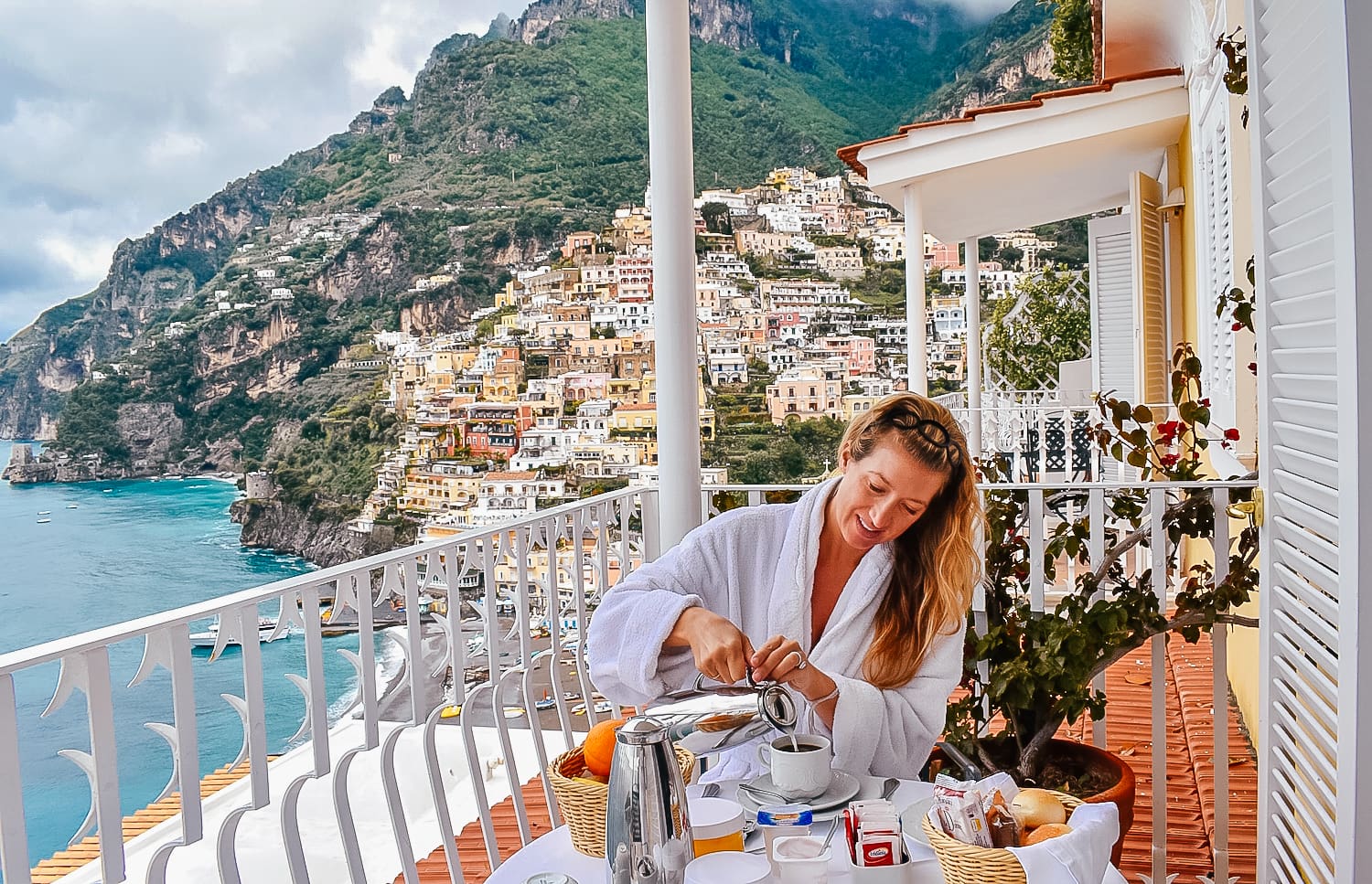 3) VISIT POSITANO'S ART GALLERIES
If you love art, like I do, there are a handful of cute, little art galleries in the city center that you can check out. When you are wandering around the streets of Positano make sure you visit some of them.

4) SHOP IN POSITANO
In the village center, there are tons of cute clothing boutiques, ceramic shops, souvenir shops, and art galleries. Crochet and white linen dresses, tops, and pants can be found everywhere as well as lemon candy, lemon soap, lemon scented perfume, limoncello, and pretty much anything lemon flavored you could possibly want!

5) VISIT SANTA MARIA CHURCH
The Church of Santa Maria or in Italian "Chiesa di Santa Maria Assunta" is a picturesque, catholic church located just a stone's throw from the beach, in the heart of Positano. It is free to enter, and it is worth visiting just to experience the spiritual calm that comes with taking a few minutes out of your day to sit in silence and reflect on how lucky you are to be in such a beautiful spot on earth.

6) TAKE AMAZING PHOTOS
Positano is every photographer and travel blogger's dream! Around every corner, there is a new picturesque setting that will have you pulling out your camera. It is hard to take a bad photo of this gorgeous little town, but the best vantage point to capture the city and ocean is from La Sirenuse or Hotel Marincanto, which are the only two hotels that have this view! If you are not staying at either don't worry. You can still snap great photos from the road or the beach.

7) EAT FANTASTIC ITALIAN FOOD
There are tons of great restaurants in Positano, but I recommend trying La Tagliata (located up in the mountains) for dinner one night. The amount of food (and wine) you get for the price is insane, and the food is excellent! And for a romantic fine dining experience, you must try Rada Restaurant. It is on the water, built into a cliff literally underneath Hotel Marincanto, so to get to dinner you can walk straight down the beach path. And for lunch, there are tons of great spots right on the beach, but I liked Chez Black and L'Incanto.

8) FIND GOOD POSITANO PIZZA
Finding good pizza is an important activity in my opinion, because you can't go to Italy without dedicating at least one meal to pizza. For delicious pizza in Positano try Capricci, which is located in the center of town near the church.

9) TRY LEMON SORBET
After you have pizza, head next door to Covo dei Saraceni Hotel for amazing lemon sorbet served inside a whole frozen lemon! Yum!

10) TAN AND SWIM
The beach in Positano is pristine and beautiful! So what better way to spend an afternoon than tanning and swimming on the Amalfi Coast? You can lie out on the beach or grab any of the open beach chairs, which are €10 each.
Featured suit from my eco bikini line SummerLove Swim – made out of recycled fishing nets!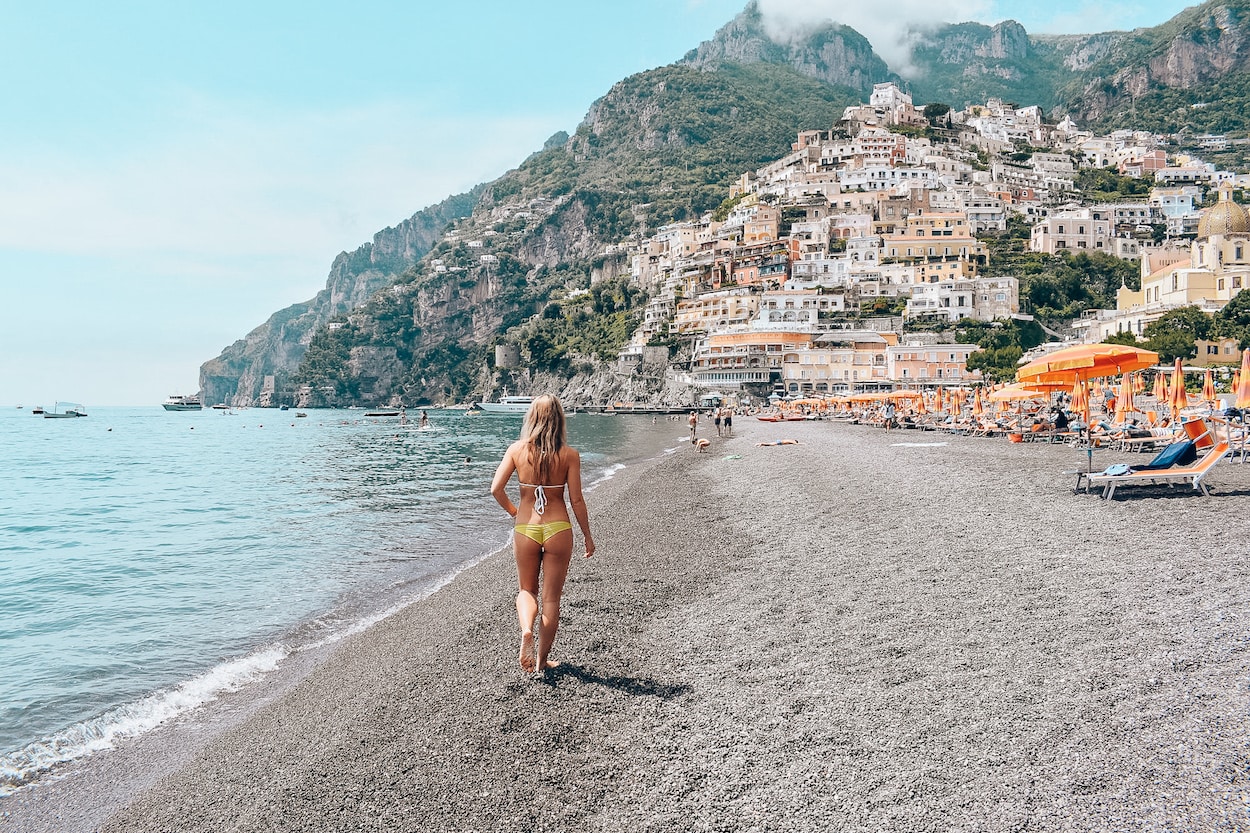 11) DRINK ROSE ON THE BEACH
Within a few minutes, a beach boy will come to your beach chair to take your food and drink order – rosé please! If you are reading this and thinking drinking rosé on the beach is not an activity, then you and I could probably never become good friends. My #1 favorite thing to do (besides surfing) is drinking rosé on the beach, and Positano provides the perfect place to spend hours doing nothing but this. Relaxation found.

12) DAY TRIP TO AMALFI OR CAPRI
Ferries come to Positano daily, taking tourists to and from Amalfi and Capri. If you would like to explore more of the coastline, take a day trip out to Capri Island or down the coast to Amalfi. You can look up the ferry schedule here.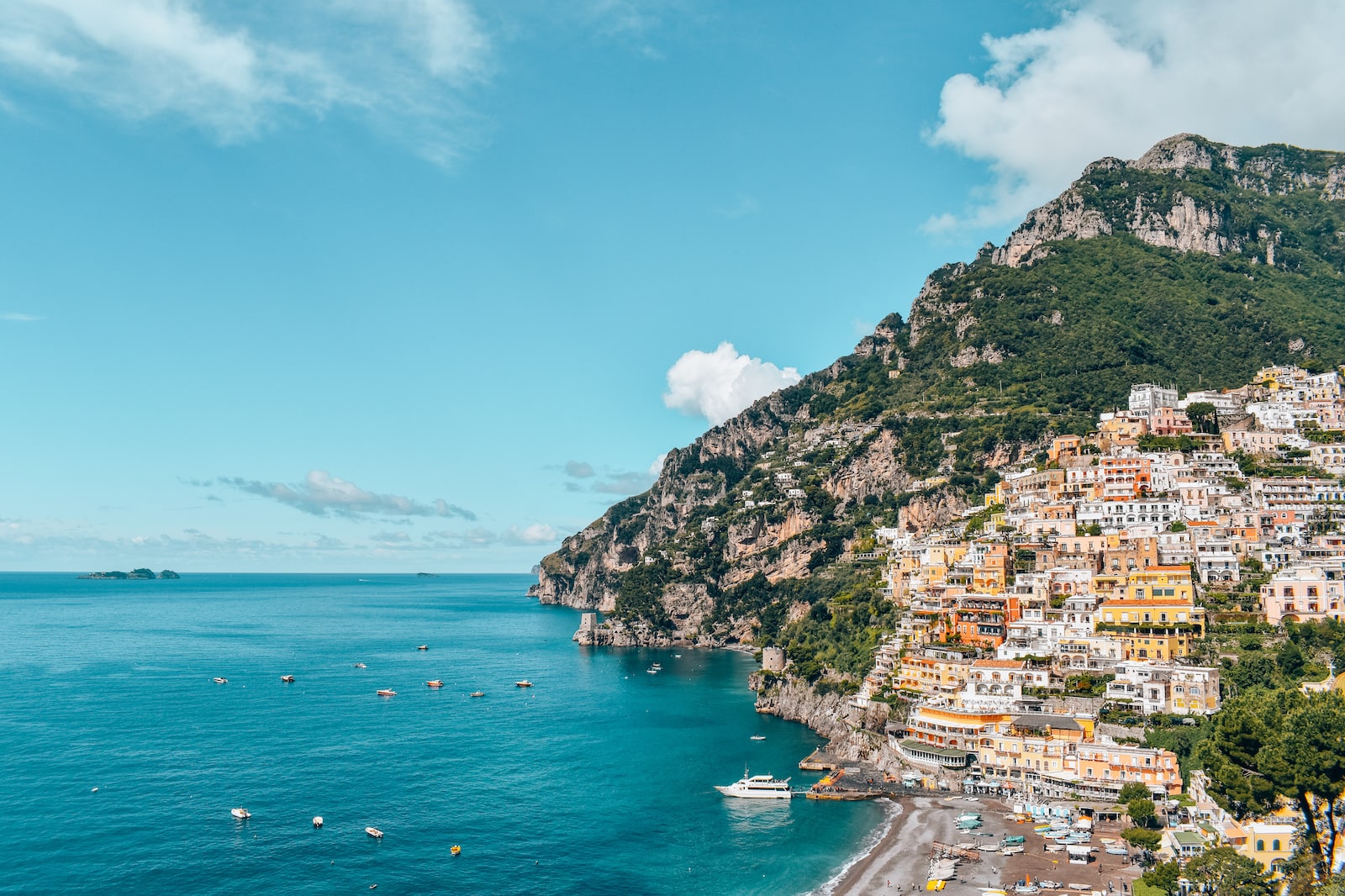 13) HIKE THE PATH OF THE GODS
The Path of the Gods or in Italian, "Sentiero degli Dei," is a spectacular walking trail on the Amalfi Coast that ends in Nocelle, above Positano. The path is almost 5 miles and takes about 3 hours, but it is an easy trail to hike if you walk from Agerola to Nocelle as the route, in this direction, runs downhill with magnificent views of the Amalfi Coast and the island of Capri.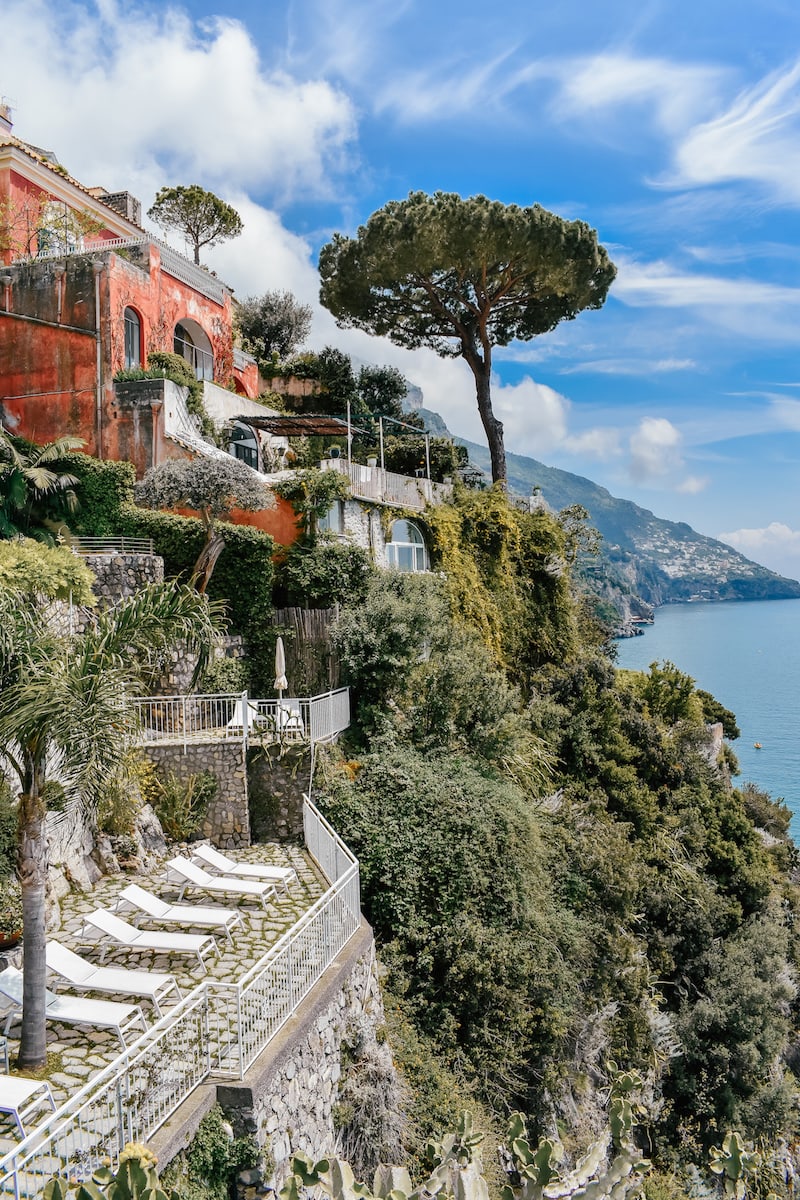 14) RENT A SCOOTER
The roads are curvy, narrow, and a bit scary to drive on in a car so my husband and I did not attempt renting a scooter. But many people rent scooters in Positano and this is a fun and affordable way to get around – just be extra careful!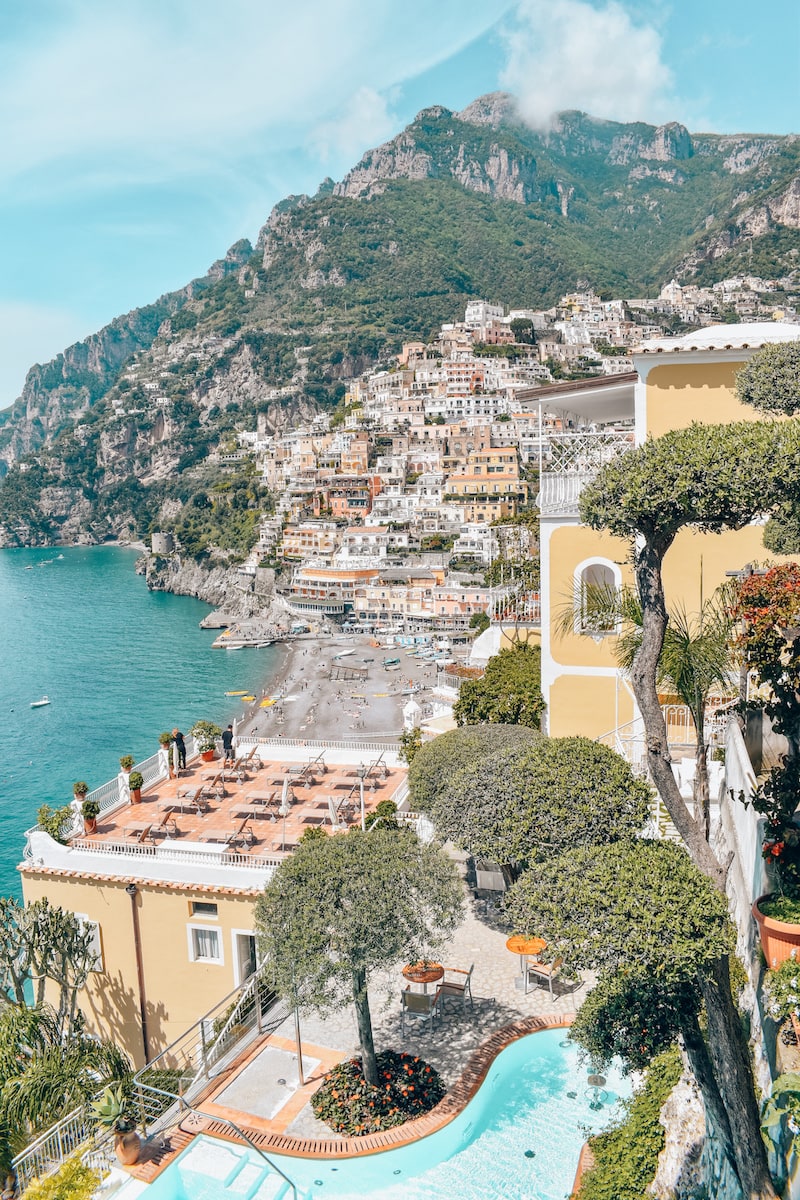 15) DANCE THE NIGHT AWAY
Enjoy a nightcap or dance the night away at Music On The Rocks, which is a nightclub under Rada Restaurant, inside a cliff. It is the only nightclub for miles around, and it looks and feels like an actual cave!

16) PADDLEBOARD OR KAYAK
Paddle boarding or kayaking is a great way to get some exercise and see the coast, and there are several rental shops on the beach in Positano.

17) RENT A BOAT
Positano is the perfect place to rent a boat for the day. The Amalfi Coast is one of the most beautiful coastlines in the world and what better way to enjoy it than by spending an afternoon boating along the shore.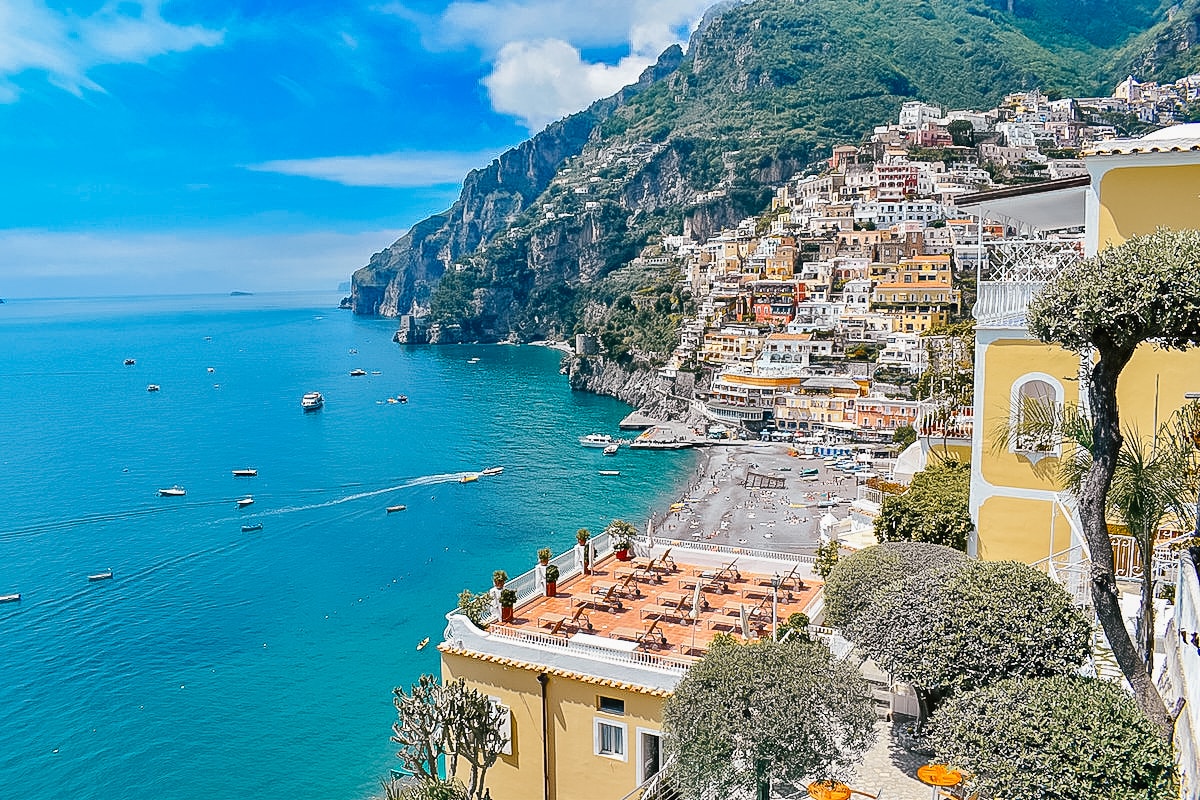 18) EXPLORE THE GROTTOS
There are a handful of grottos near Positano, including the green grotto, white grotto, and emerald grotto, which are said to be beautiful and can easily be reached by private boat or group tour.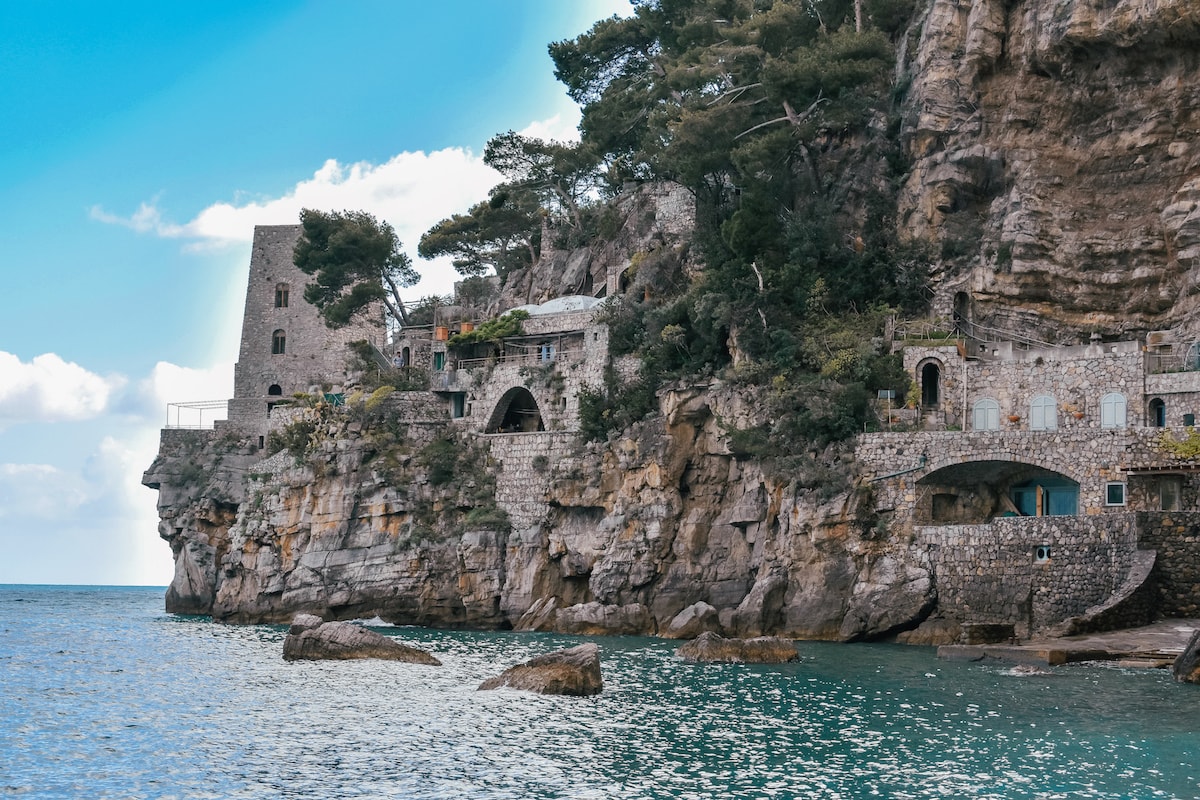 19) SNORKEL OR SCUBA DIVE
Positano is a great place to snorkel or scuba dive. A series of quiet coves and grottos can be found along the Coast of Amalfi, Sorrento, and Capri Island, and the clarity of the water is said to be fantastic!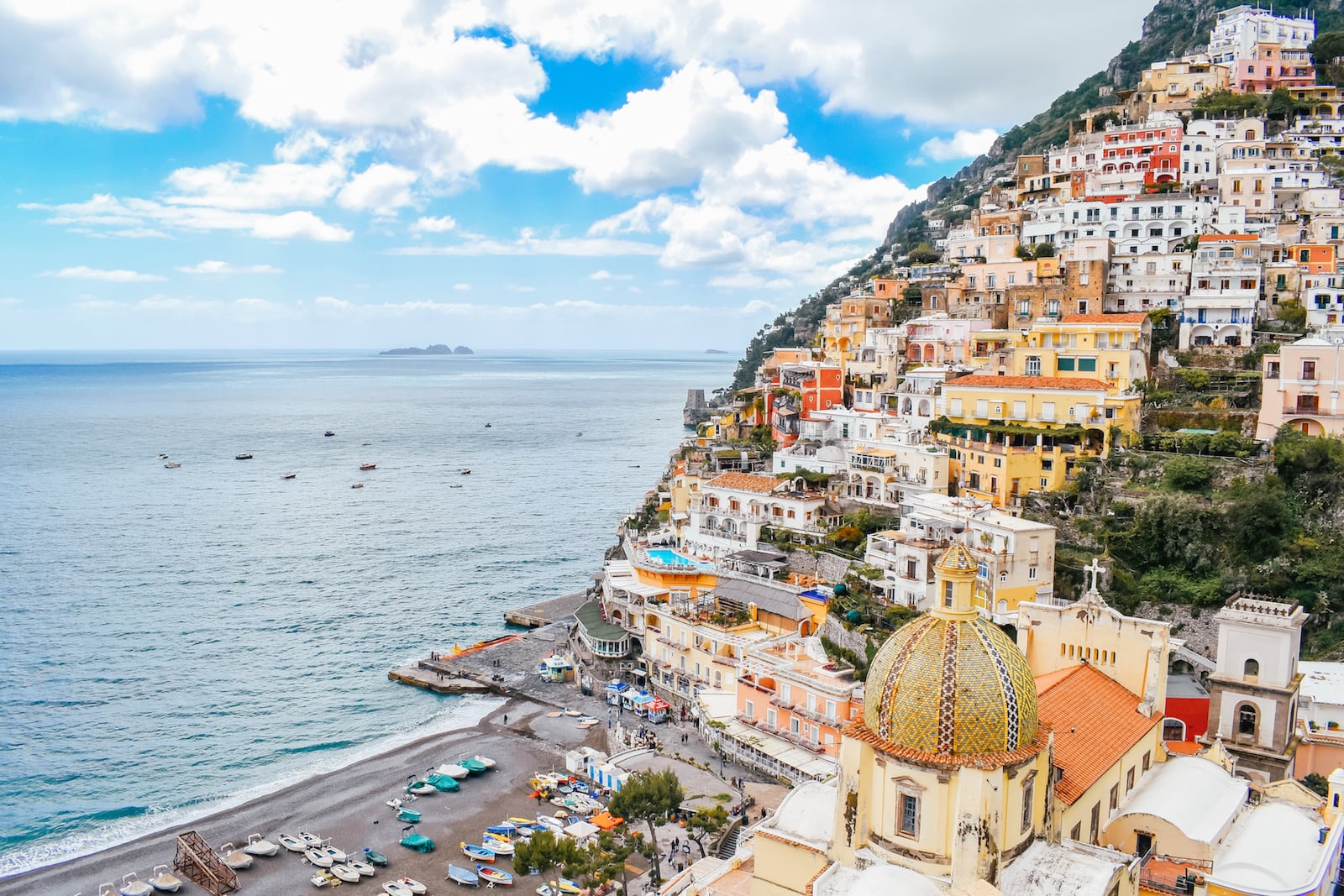 20) TAKE IN THE VIEW
Sometimes you need to just sit back, relax, and take in the view, and what better place to do it than one of the most picturesque towns in the world? Enjoy!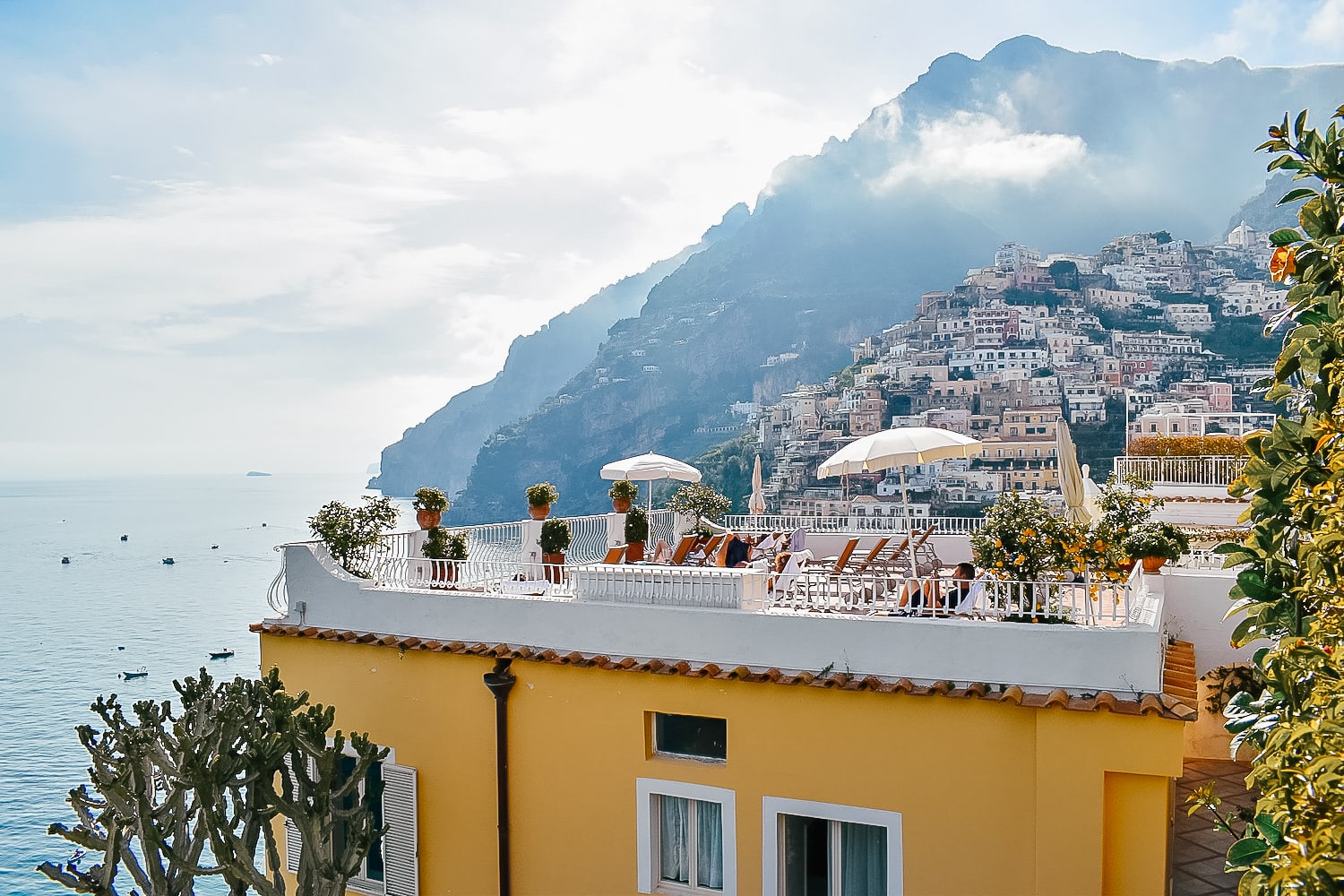 ---
Have you been to Positano? Please share your experience and any questions in the comments below! Want to share your own travel tips by guest writing for We Are Travel Girls? Go to our Contribute page for guidelines and to submit your article.
---
---
Book Your Stay In Positano
Hotels With The Best View:
Other Popular Hotels In Positano:
Search For Hotels:
---
Read Next
---
Author
We Are Travel Girls Co-Founder & Editor Vanessa Rivers of GlitterandMud.com
Connect With Vanessa Instagram | Facebook | Twitter | Pinterest | YouTube
---
Pin For Later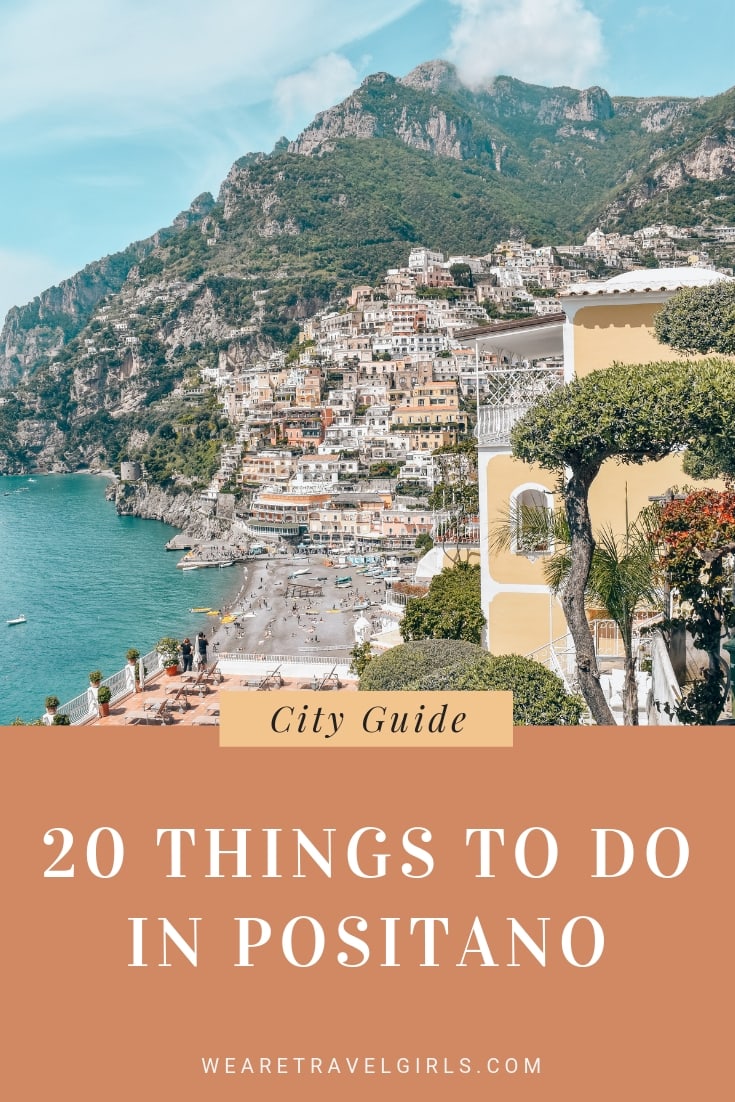 This website is a free resource and to keep it free for our readers we may use affiliate links in our articles. If you make a purchase via the links on our site you will pay the same price, but we may receive a small percentage which helps us to keep bringing you new and informative travel content every day! Any products we endorse we personally use and love. Please see our Disclosures for more information.
SaveSave
SaveSave