Situated on the Portuguese Algarve coast, Lagos is a charming town known for its epic rock formations, beautiful beach coves, and crystal blue water. The town's cobbled streets are lined with white-washed and pastel-painted houses, typical souvenir and surf shops, and plenty of restaurants and cafés.
For me, the best part of any holiday is trying the local cuisine and going in search of cute places to eat. I visited Lagos with one of my best girlfriends for three days in July 2018 and through lots of research and recommendations from friends, we found some delicious restaurants and cafés.
As with most hotspots, a lot of the restaurants can be quite touristy, which if you're like me, are best avoided. Here are a few of my favourite restaurants in Lagos where you are sure to find delicious food and a cool vibe.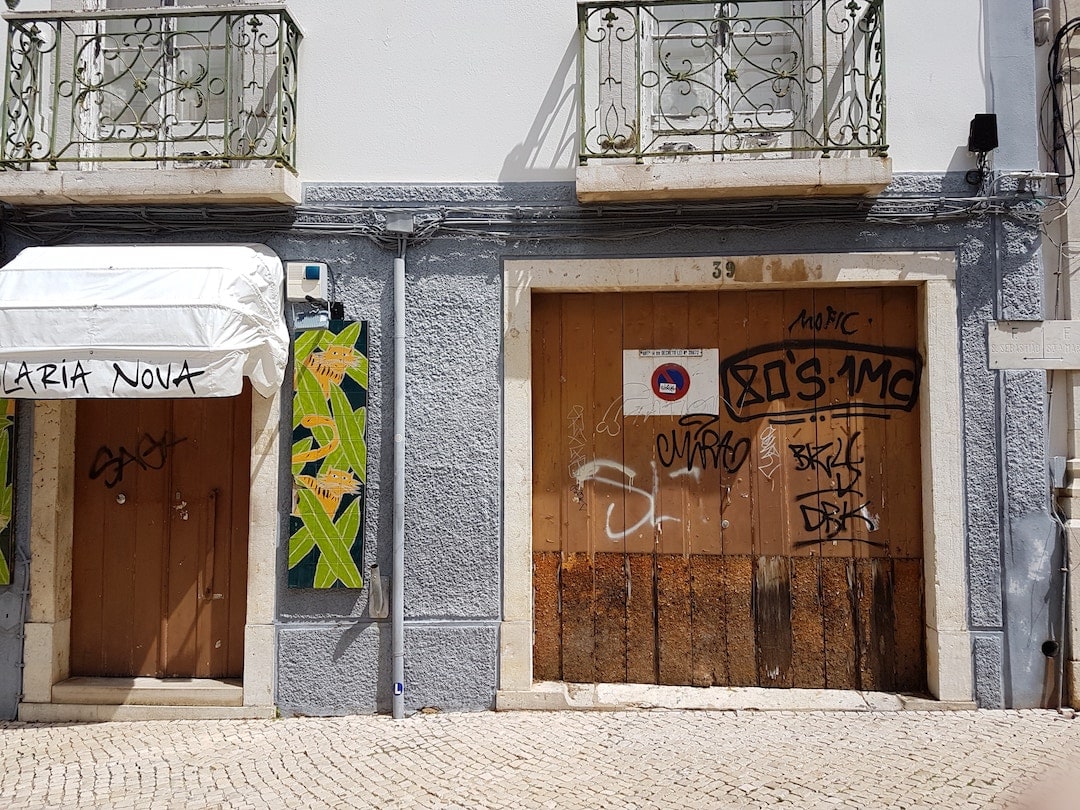 CASA DO PREGO
Serving up perfectly cooked Portuguese-style steaks and a variety of tapas starters, Casa Do Prego is quality with a capital Q. The service is also excellent which makes the whole experience even better – as you arrive, your name is taken down by a walkie-talkie-clad maître D' and you are sent upstairs to their rooftop terrace to enjoy a drink while you wait for a table.
Once you've been seated, order one of their delicious Portuguese wines on the menu to enjoy with your steak. I can highly recommend the Lisboa steak – garlic butter with a fried egg – and the sides which accompany all dishes – crispy chips and salad.
TIP: They don't take bookings so get there early to put your name down and take full advantage of the rooftop terrace, enjoying enjoy an aerial view of Lagos during the golden hour!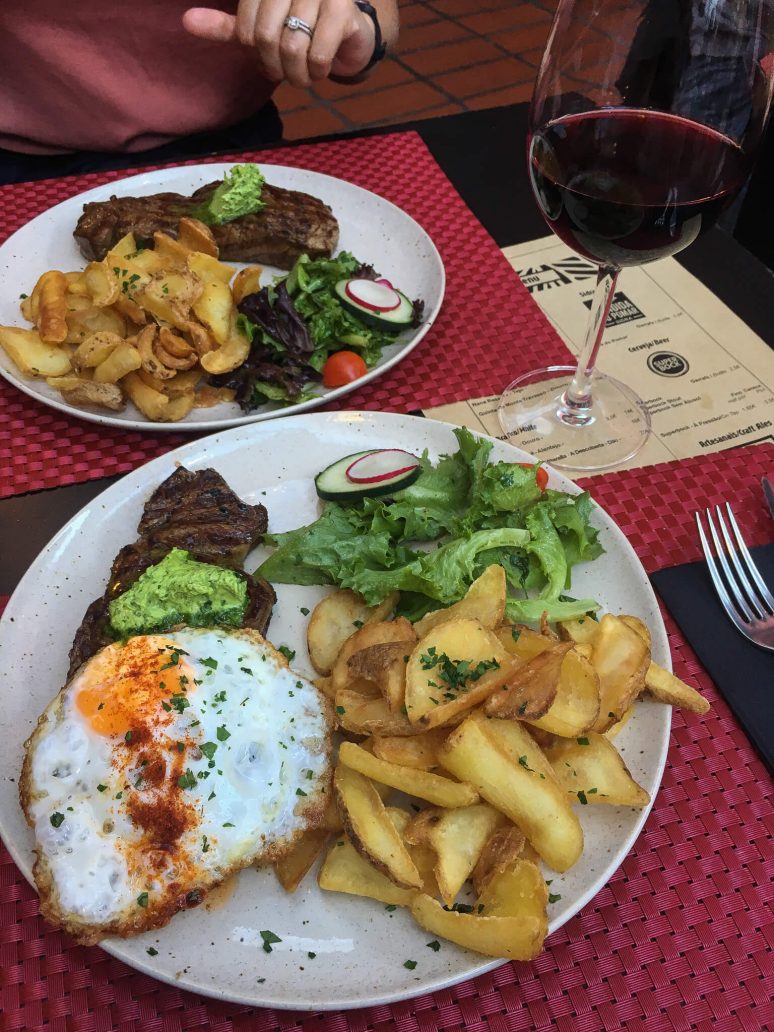 O MEXILHAO
My ignorance of the Portuguese language leads me to believe that this would be a Mexican restaurant, however, a quick Google Translate informed me that "mexilhao" is, in fact, Portuguese for "mussel".
Naturally then, O Mexilhao is a great restaurant for delicious seafood. It doesn't look like much from the outside (situated next to a Kebab shop that also serves Lasagne – bizarre) and the waiters don't speak much English, however, the food speaks for itself. We tried the garlic prawns and sea bass fillets – both straight-out-of-the-ocean fresh and cooked expertly.
TIP: Don't order the prawns if you plan on kissing anyone in the next 24 hours. Like most Portuguese dishes they are delicious but loaded (and I mean loaded) with garlic!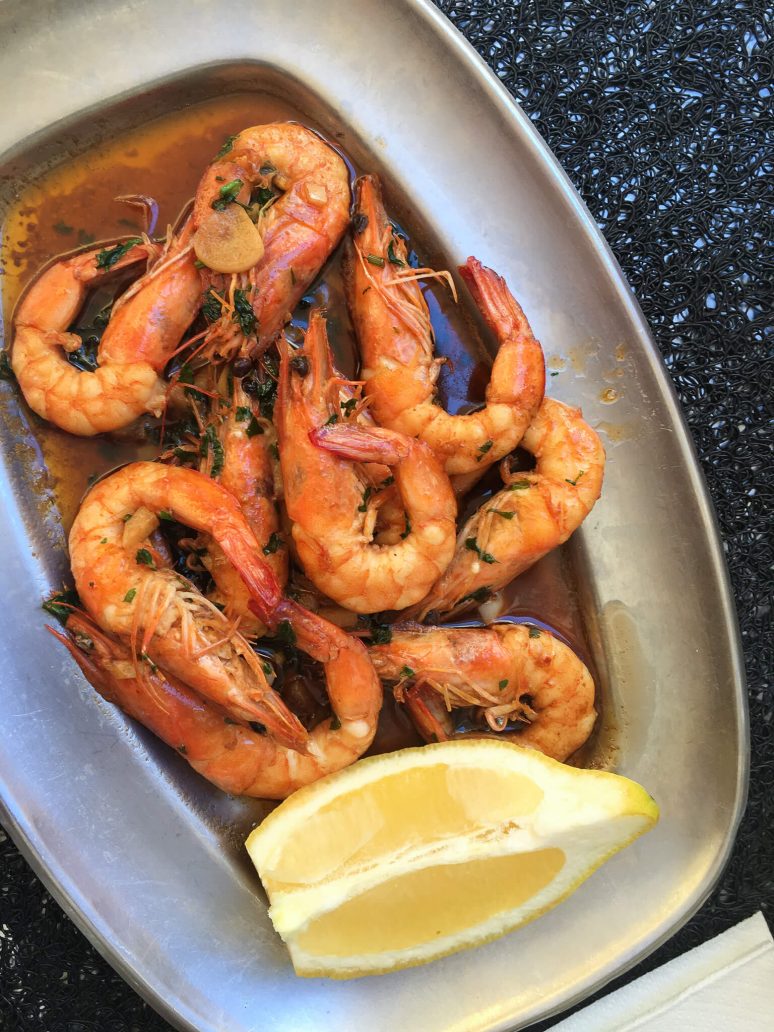 THE GREENROOM
Festive atmosphere, massive portions, great cocktails, and drool-inducing grub? Count me in! The Greenroom is a buzzing Mexican café and definitely classified as value-for-money because we were stuffed like two taxidermy peacocks by the end of our meal. The burrito bowls are a great no-carb option with all the same yumminess minus the tortilla, and the quesadillas are the stuff of cheesy dreams.
TIP: Add an extra strong margarita or mojito in the mix, and you are set for a great night!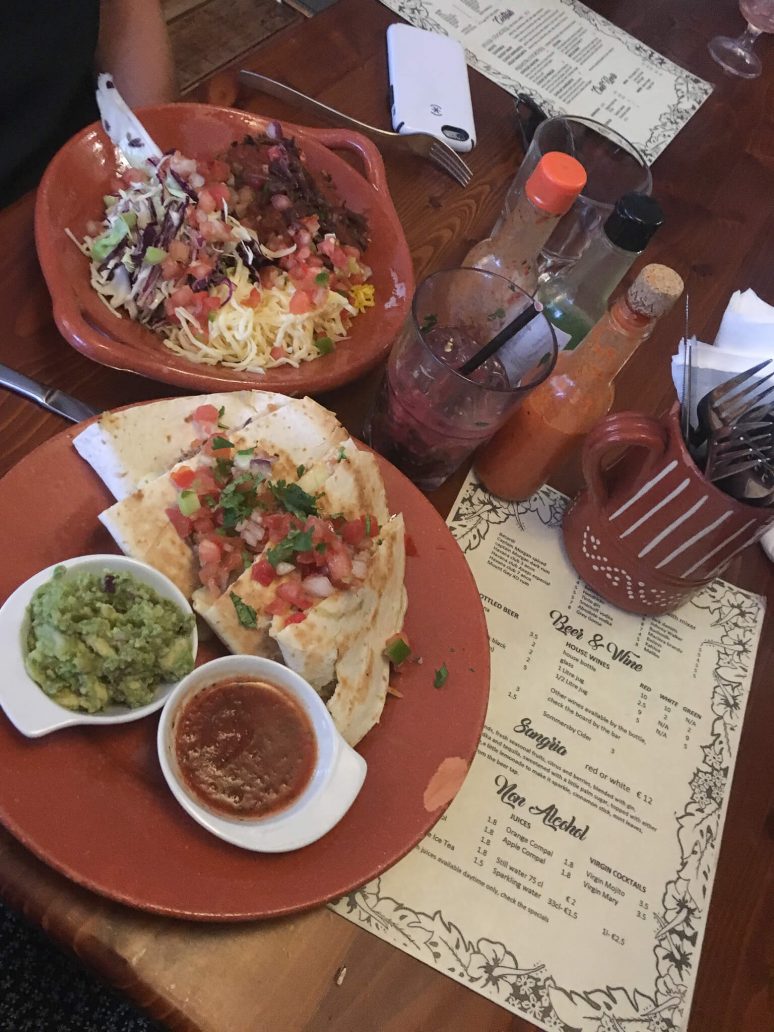 Our Top Places To Stay In Lagos, Portugal
NAH NAH BAH
The biggest burger I've ever eaten and a restaurant with a queue out the door if you're not careful. Loud music, tipsy waiters and a Rastafarian theme means you're confused about whether this is a bar or a restaurant. Probably both. If you're planning a night out on the town, it is the perfect place to carbo-load, pre drink and get in the mood.
Named one of the 50 best burger joints in the world by Matador Network in 2010, Nah Nah Bah certainly delivers.
TIP: Even if you just order your favourite burger combo that you go for every time, do yourself a favour and read the entire menu word-for-word. I guarantee your entertainment for the evening will be taken care of. You can thank me later.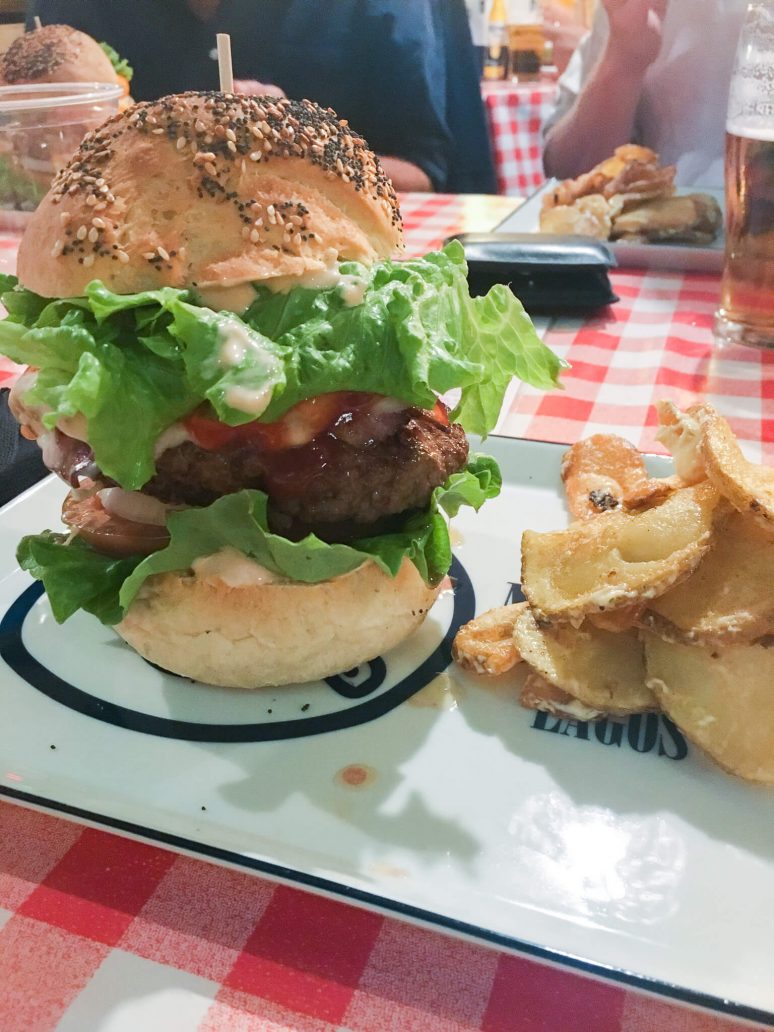 MEU LIMÃO
There is nothing better after a hot day in the sun than some light fresh tapas of the Mediterranean variety. Meu Limão has a great wide menu offering salads, seafood, and bites to share that are fresh, seasonal and packed with flavour. The staff was very friendly and service was great. The portion sizes were large and the prices not too expensive. What's not to love?
TIP: Choose a table out on the street and while away an evening people watching and sipping on their homemade lemonade or Sangria.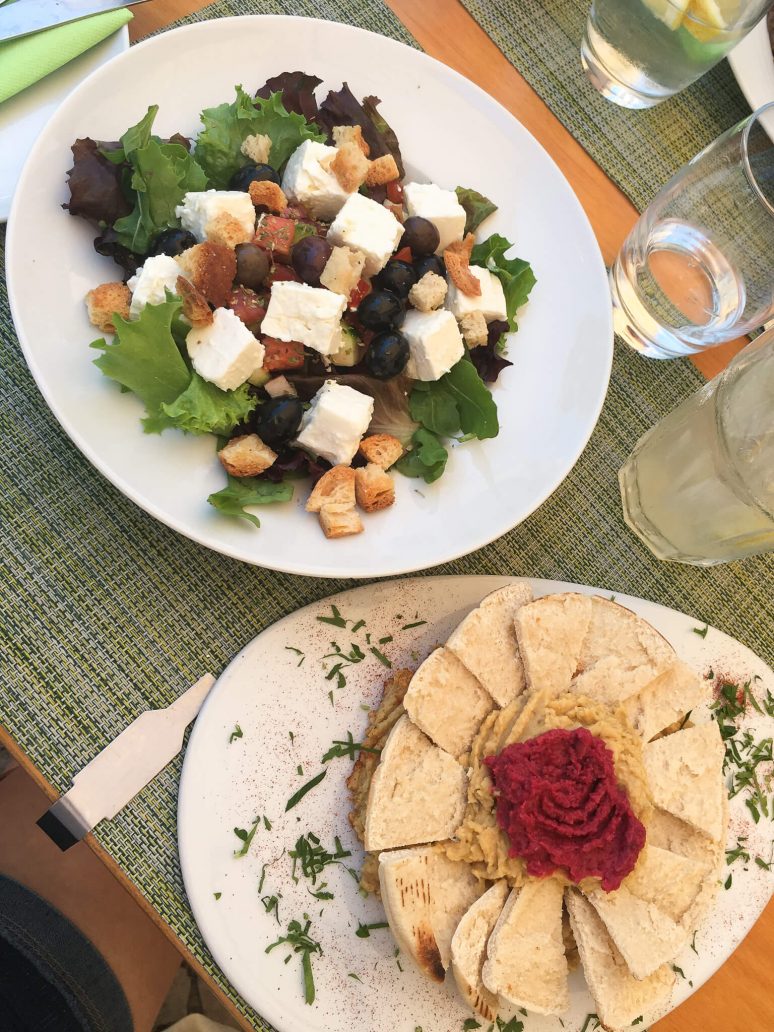 CREMA DI GELATO
Whether or not you're holidaying in Italy, no European summer is complete without at least two scoops of gelato per day. The best-rated and (I can now confirm) SUPER delicious gelato in Lagos is at Crema di Gelato. There are so many flavours to choose from – from sorbets to decadent and creamy gelato, so no excuse to skimp on the scoops!
TIP: While it might be great for Instagram, two scoops in a cone is largely impractical to eat. If you go more than one scoop, opt for a cup.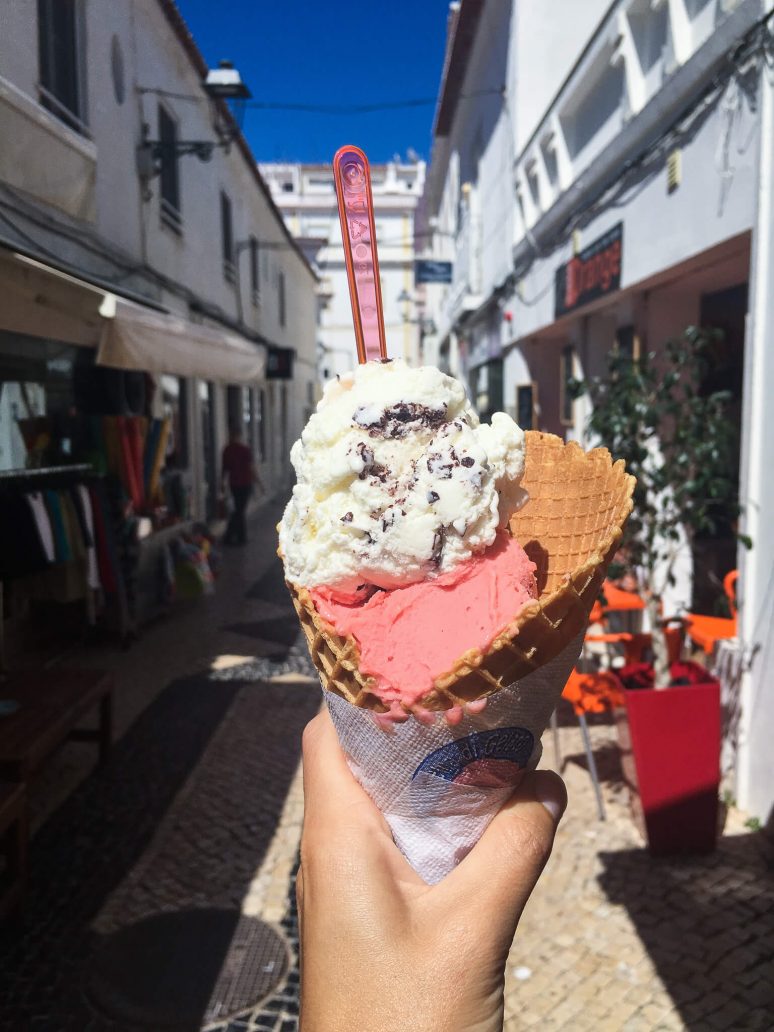 So there you have it – tried and tested, some amazing foodie offerings to choose from in the beautiful town of Lagos. I personally always prefer to choose restaurants that have been tried by someone I trust and have been recommended to me. As a self-confessed food snob, if these places passed my high standards then you can be assured they are worth trying. I hope you enjoy them as much as I did!
It's also worth noting that Portugal is one of the cheapest European countries to dine out in, so you have no excuse to venture out and explore what the culinary scene has to offer!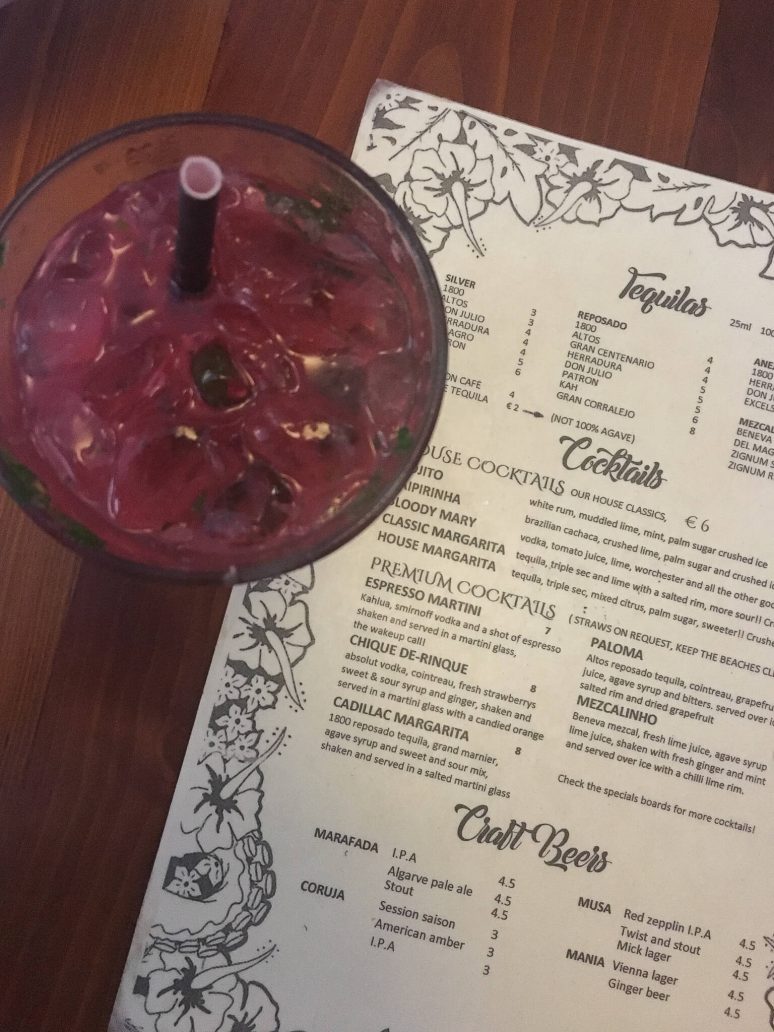 ---
Have you ever been to Lagos? If you have any additional tips for our readers or questions please leave these in the comments below.
To receive our articles and reviews straight to your inbox Subscribe Here.
---
Our Top Places To Stay In Lagos, Portugal
---
Read More About Portugal
---
We Are Travel Girls Contributor Jessica Stromin
Connect with Jessica Instagram
---
Pin For Later