Floating breakfasts are one of the hottest trends in the Instagram world right now. You have undoubtedly seen the beautiful platters filled with exotic fruits and flowers in amazing pool locations. However, what you don't see is the throngs of people behind the scenes watching (and laughing!) while you try to create your perfect photo shoot in the middle of a crowded restaurant or beach club. In this article I'm going to share how to get the perfect floating breakfast shot from the comfort of your own home by working with one of our favorite Bali companies, Island Graze!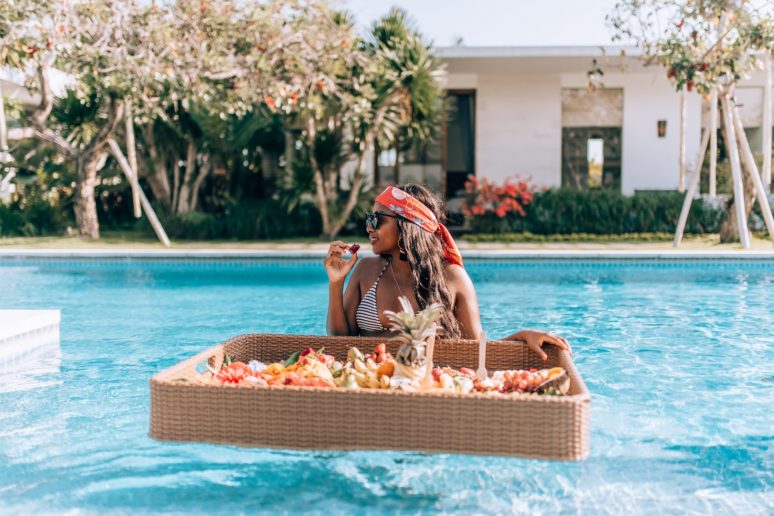 THERE'S NO PLACE LIKE HOME
Some people have no qualms about taking a hundred pictures in front of groups of strangers in a public place, forcing their Insta-partner to shoot and reshoot until they get that perfect shot. Unfortunately, I am not one of those people and often feel embarrassed doing photoshoots while other people watch. Yes, the irony that I run several social media accounts is not lost on me. In reality, I am much more comfortable doing my photoshoots at home, away from prying eyes, with a cocktail in hand.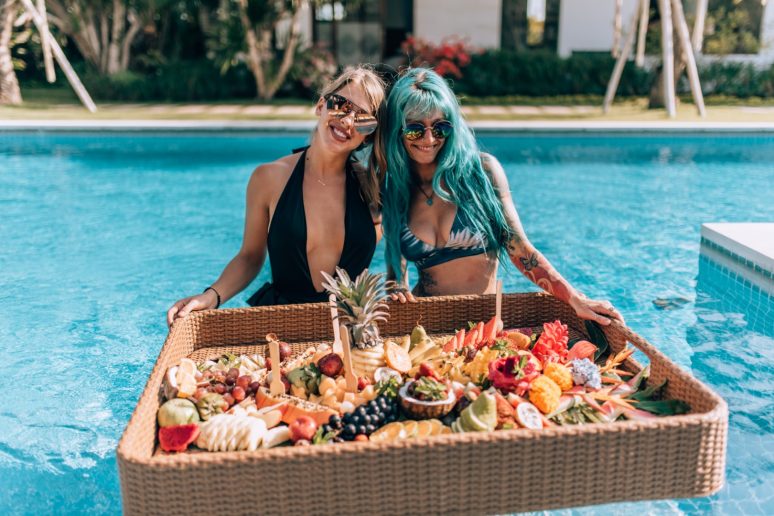 ISLAND GRAZE TO THE RESCUE
On our most recent Travel Girls Getaway in Bali, we knew we wanted to surprise the girls with a floating breakfast platter. After all, floating fruit platters have become as synonymous with Bali as rice terraces and tree lined rope swings. However, we didn't want to bring the girls to one of the big day club restaurants, because we know how awkward it can be with a group of strangers watching you do your pictures.
To keep things fun for our breakfast shoot, we called local Bali company Island Graze who provides in home fruit, meat and cheese platters. They come directly to your villa with everything they need, including a large floating tray, massive amounts of delicious fruits, and flowers for decoration. Everything is completely fresh, as they spend about an hour designing and cutting the fruit in your villa so it tastes as good as it looks.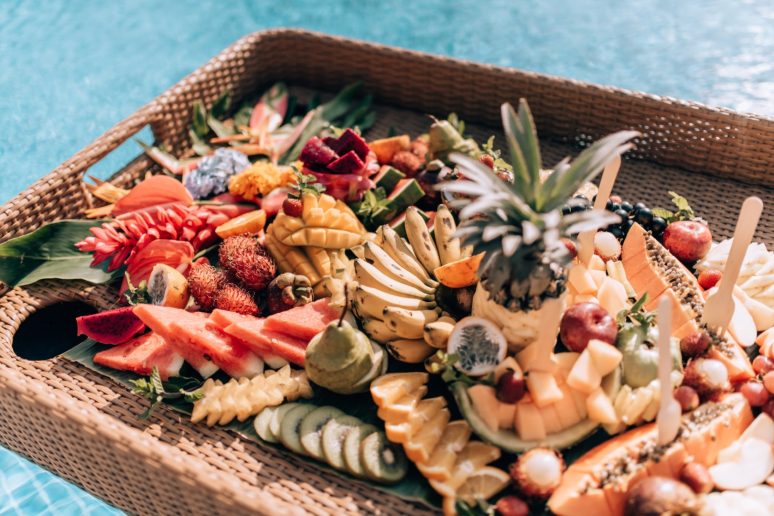 PICTURE PERFECT BALI FLOATING BREAKFAST
After the Island Graze platter was set up, we spent an amazing afternoon in the pool at our villa laughing, eating, and taking some great pictures. All of the girls on the Getaway absolutely loved the floating platter, and even said it was one of their favorite afternoons of the trip! It goes without saying that having the fruit platter in our own villa is significantly better than going out to a trendy Bali restaurant and competing with 50 other "Instagrammers" to get time in the pool.
As you can tell, I can highly recommend ordering in your own Island Graze platter next time you are in Bali. It's perfect for a group to eat and relax in your own villa, and makes for a unique Bali experience. Great food, beautiful decoration, and wonderful customer service all in the comfort of your own home!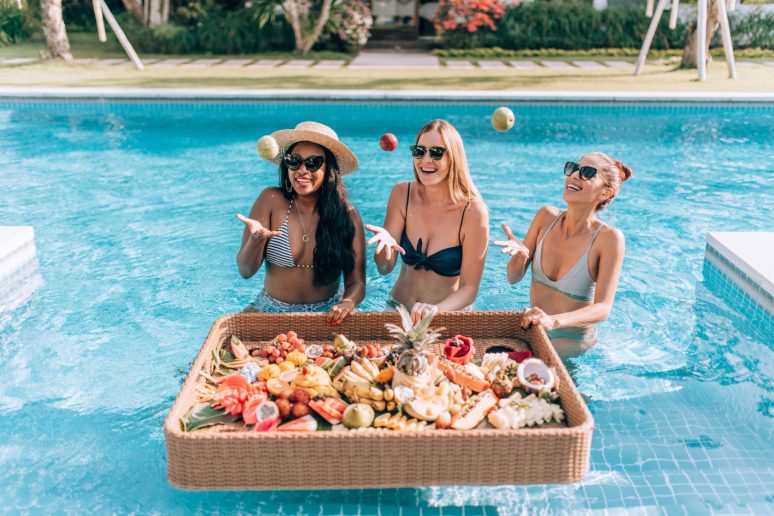 ** Please Note: We received a complimentary fruit platter in exchange for this review from Island Graze. As always, all opinions reflected in this article are our own. Also note, no fruits were harmed in the making of these photos and we ate them all! **
---
Have you visited Bali? Please share your own Bali tips with own readers in the comments below.
To receive our articles and reviews straight to your inbox Subscribe Here.
---
Book Your Own Floating Breakfast In Bali
Island Graze offers floating fruit platters, as well as delicious meats and cheese platters – explore the different options for your next trip to Bali.
---
Book Your Stay In Bali, Indonesia
Discover some of our favourite places to stay in Bali:
---
Read More About Bali
---
Author
We Are Travel Girls Founder Becky van Dijk of BeckyvanDijk.com
Connect with Becky Facebook | Twitter | Instagram | Pinterest | YouTube
---
Pin For Later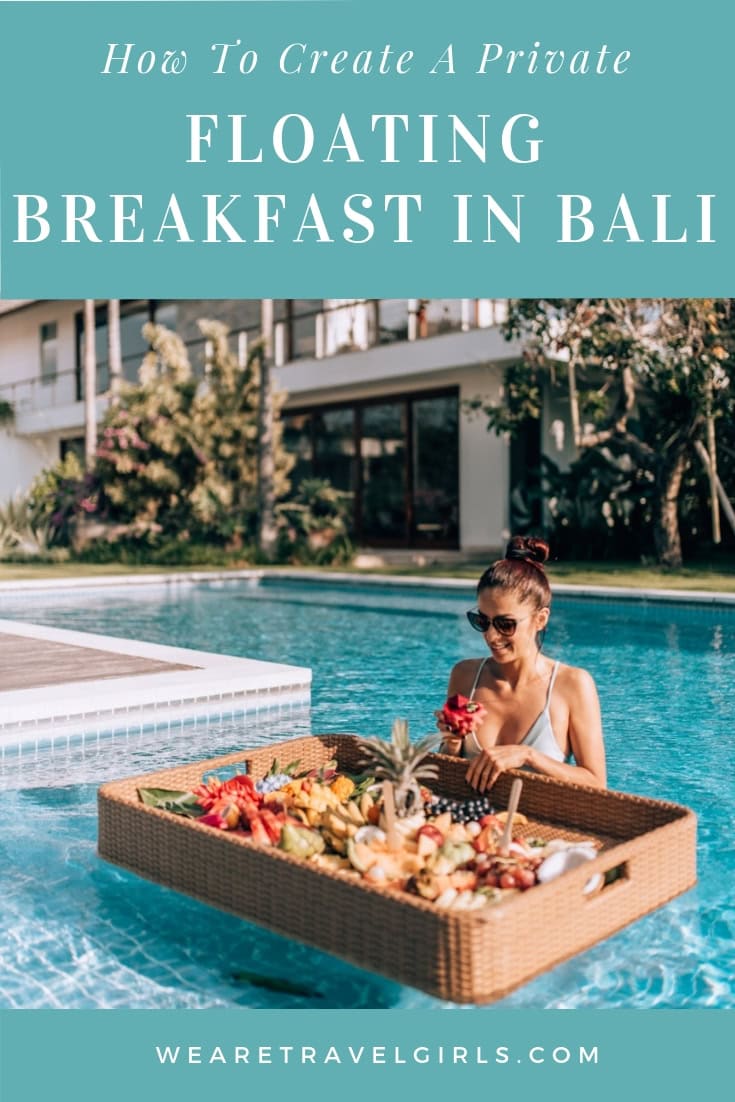 ---
This website is a free resource and to keep it free for our readers we may use affiliate links in our articles. Please see our Disclosures for more information.