Mount Batur is situated in the Bangli region on the island of Bali, Indonesia. For many years tourists have been hiking up Mount Batur (a volcano in Bali) to watch the sunrise over nearby volcanoes Mount Agung and Mount Agang, and it's not hard to see why! If you can manage to wake up early for the drive to the mountain, you will be treated to an adventurous hike in the dark with an amazing sunrise awaiting you at the summit. Just last week, I hiked the volcano for the first time and didn't really know what to expect. In this article I share 6 things you need to know before you hike Mount Batur, including what to bring and how to prepare.
1) HOW HARD IS THE HIKE UP THE MOUNT BATUR VOLCANO IN BALI?
First things first, how hard is the hike? For most that will be the most important question that needs answering. If you are normally active and have a decent level of cardio, you shouldn't find the hike to be too difficult.
You will read on most forums, travel advice channels and blogs that it's easy and you can practically run up it! Well, that's not entirely true. The hike is two hours (for most, quicker if you need fewer breaks) and remember you are summiting a volcano which is 1,717 meters, or 5,633 feet, above sea level.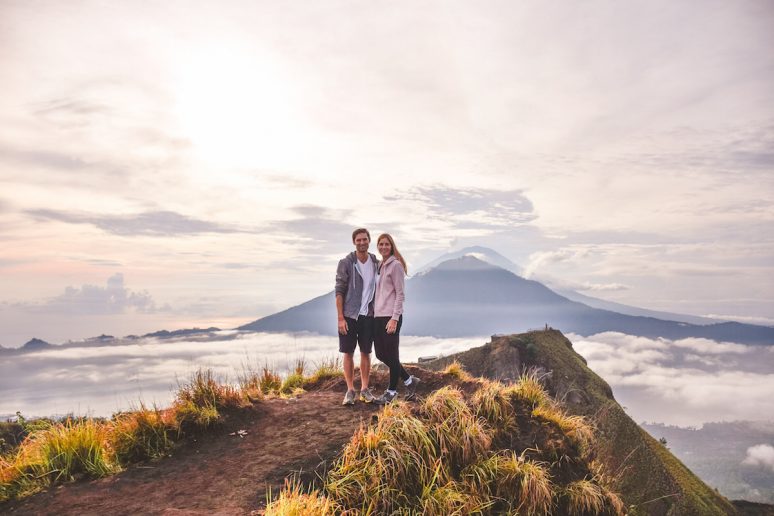 For me personally, I found the hike pretty difficult and not the easy stroll as some described it. To be fair, I don't do too much cardio and if I am at the gym it's most likely for a leisurely Pilates class! However, I am lucky to be naturally slim and young (ish), which worked in my favour during the hike.
So when it comes to understanding how difficult the hike will be, honestly you have to look to your own personal fitness level and not someone else's. You know your own body, and will be able to tell pretty early on if you are going to find the hike hard. You definitely do not need to be training beforehand (it's a 2-hour hike, not a marathon!), and as long as you take breaks when you need them I think anyone can get to the top.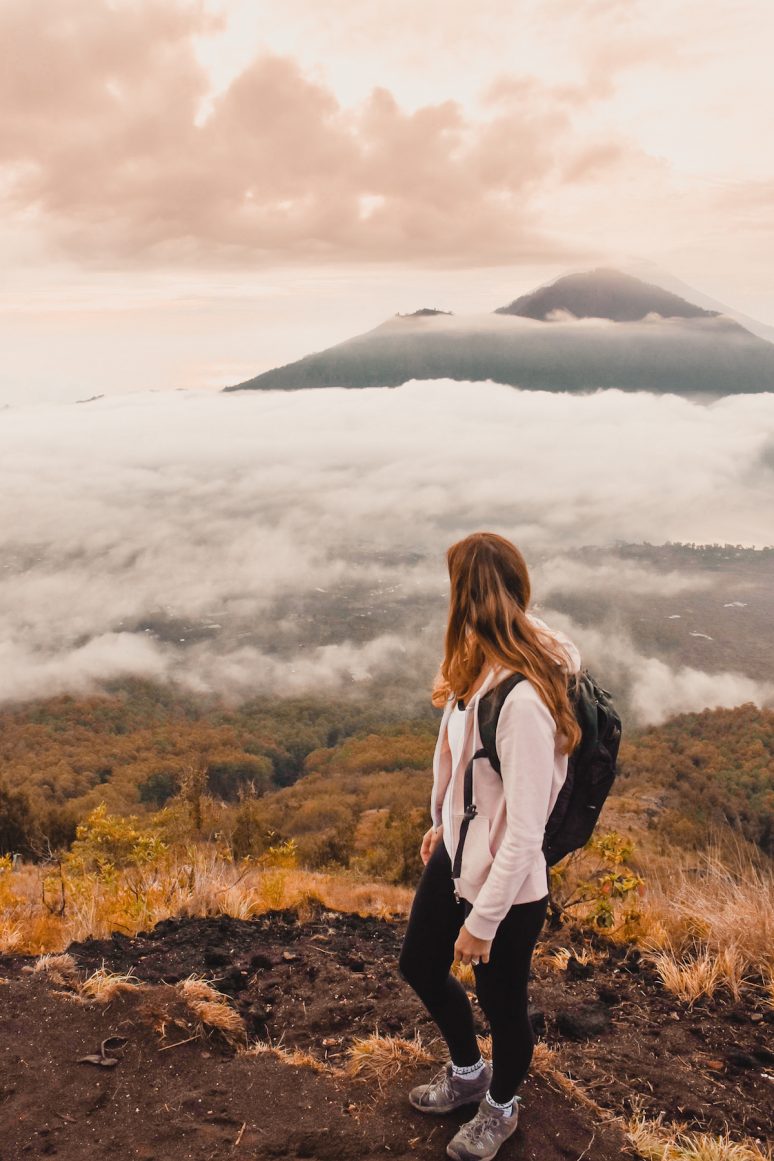 2) WHAT TO WEAR TO HIKE THE VOLCANO
The temperature and climate will be different from one night to the next and also changes throughout the hike. I would recommend wearing comfortable leggings or shorts, something you would typically wear to work out. By far the most important thing to wear is proper trainers or hiking shoes! I watched many girls in very silly stylish boots slipping as they tried to climb the last part of the hike where the rocks and gravel are loose.
Bring a sweater or hoodie for the cooler moments in the hike, probably at the beginning and at the summit. Throughout the hike itself you will probably remove these outer layers. I also suggest bringing a waterproof jacket, especially if you are hiking in the wet season or near to it as you may get rained on!
Our Top Places To Stay In Bali, Indonesia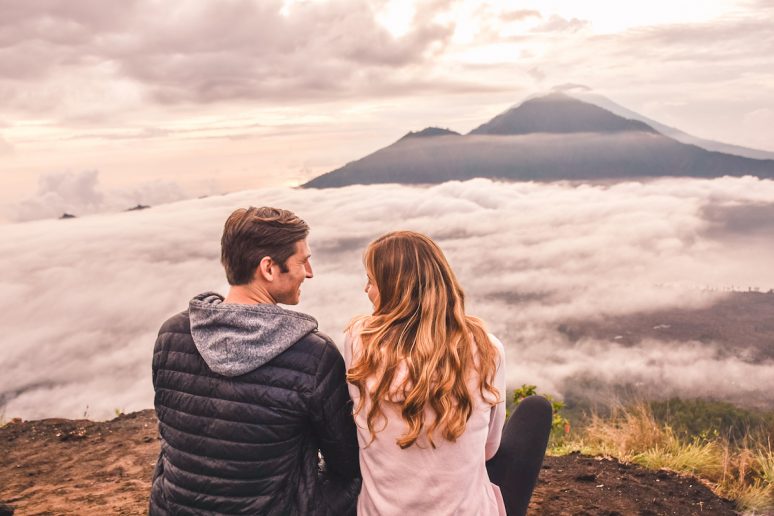 3) WHAT TO BRING TO MOUNT BATUR
Carry a small rucksack and bring along your waterproof gear, extra water and some snacks. I also highly recommend buying a headlamp beforehand. You are given a flashlight by your guide, but having a small $10 headlamp made the hike much easier, especially towards the end to have your hands free when climbing up the rocky path.
Your guide will likely have a couple of small waters for you, but I think it's best to have extra and bring your own too. At the summit your guide will have some snacks, probably some simple boiled eggs. If you anticipate being hungry, bring along some sandwiches or biscuits. We brought these with us, but in the end waited to eat until we stopped on the return drive back to Seminyak.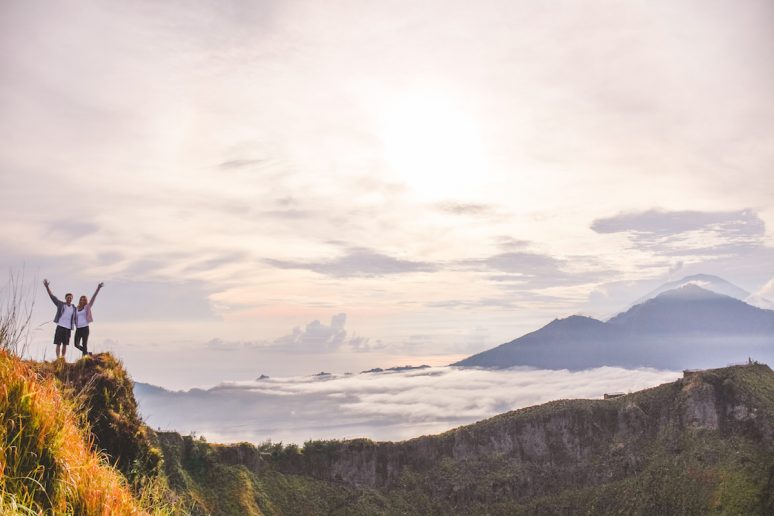 4) CAMERA EQUIPMENT
Bringing cameras is essential! Sunrise at the peak of Mount Batur is truly stunning so make sure to bring along your cameras, Gopros, phones or whatever your preference is for photography. Unless you are a professional I would suggest leaving the tripod at home. Whilst you could get an awesome time lapse shot, it's quite busy at the peak and carrying it up the mountain would be a pain.
If you really want a tripod, I would recommend a smaller flexible tripod and not a large one. But I urge you to put down the cameras and enjoy the moment as the sun rises after snapping a few shots!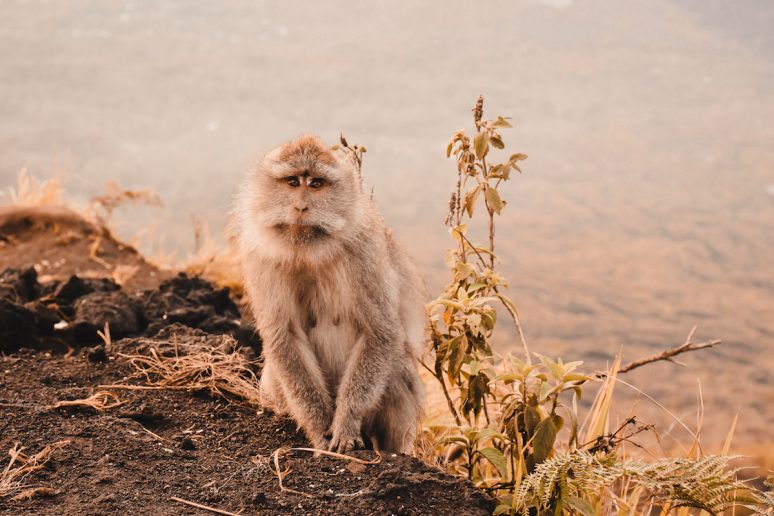 5) WHO TO HIKE WITH
We booked our hike with a local company called Mount Batur Sunrise Trekking for about Rp 800,000 (~$60) per person. This includes everything, including pickup and drop off from Seminyak, local guide up the mountain, water, flashlights, simple breakfast at the top, and lunch at a nearby restaurant after the hike.
Usually bookings take place over WhatsApp for many activities in Bali, so don't find it unusual if this is how the booking is confirmed. We received a message confirming pickup at 1:45am the night before and the driver was right on time.
We decided to take a private hike of just my boyfriend (update: now husband!) Ryan and I with a guide. There are group tours, but the pricing is very similar and it's very nice to have a private guide so you can go at your own pace up the volcano.

6) SCHEDULE
The time you get picked up will depend on where you are staying on the island. From Seminyak, you will be picked up around 1.45am, Ubud 2.15am and other locations further south will be earlier. The driver will pick you up at your chosen location and the drive will take around 2 hours (from Seminyak). Upon arrival, your guide will meet you in the car park and it's time to get started.
As I previously mentioned, you will hike somewhere between 1.5 – 2 hours depending on your own speed and that of the group you are hiking with. You will reach the peak at around 5.30am and spend around an hour or more just taking in the sunrise.
Then you can keep going up to wander around the crater of the volcano, see some monkeys playing at the temple on top of the peak and find some areas where hot smoke is creeping out of the volcano. You can spend around another hour or so wandering around before you begin your descent back down.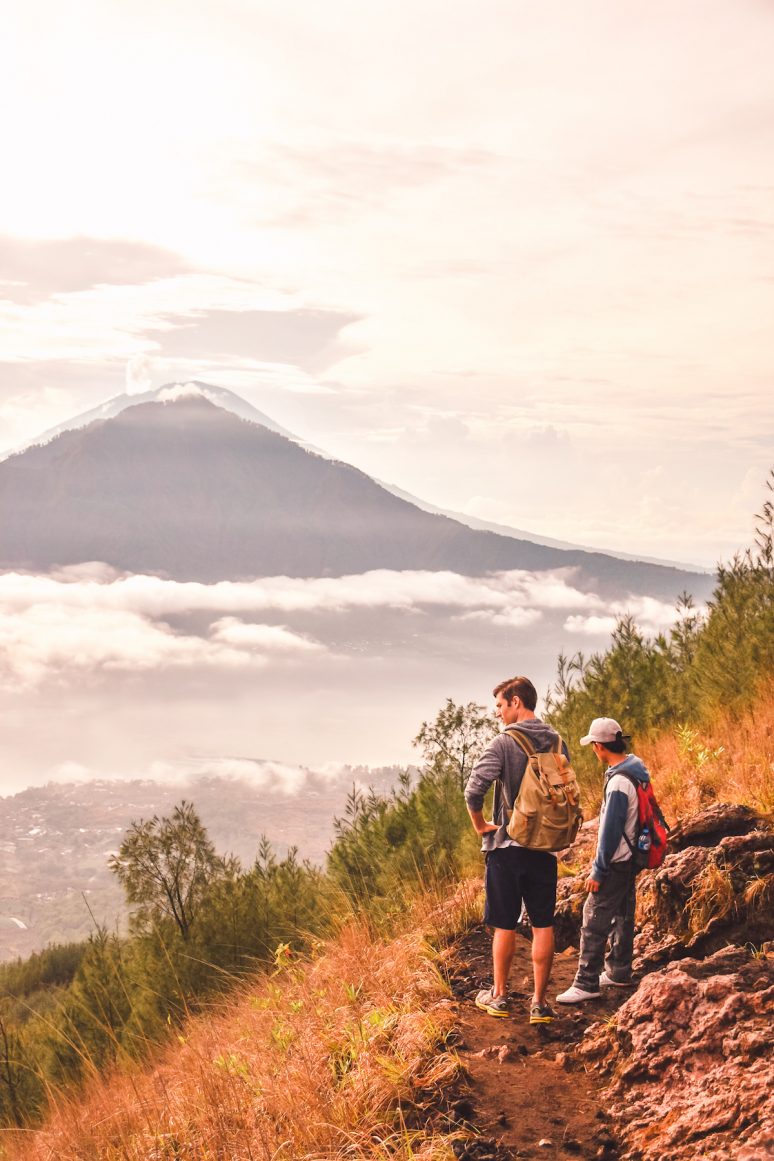 I expected the descent to be much less time than the way up, but in fact it still took around 2 hours, as we scrambled down the volcano. Again, time for each part of the trip will depend on your pace, and how long you stop for pictures, etc!
Finally, on the drive home your driver will stop somewhere for you to have a light breakfast and some tea and coffee before the drive back to your hotel or villa.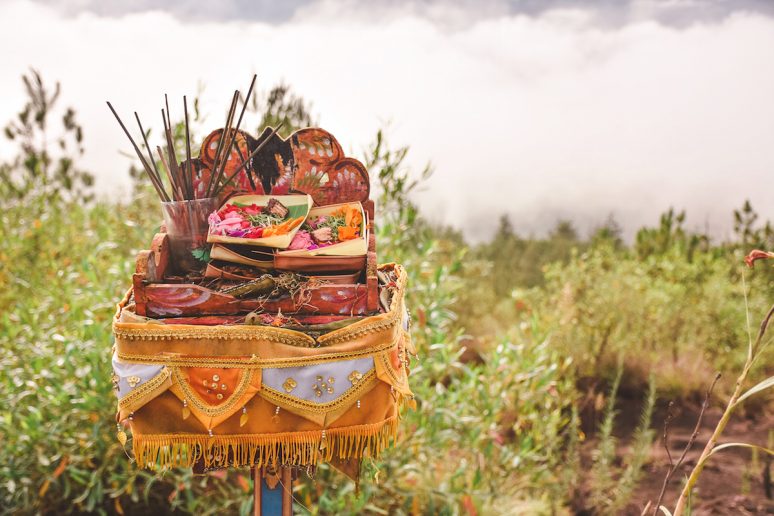 The Mount Batur Sunrise Hike was one of my favorite experiences in Bali, and I highly recommend you do the trek on your next vacation to the Indonesian island!
---
I hope this article helps you to plan your own visit to Mount Batur in Bali. If you have questions, tips or updated information about hiking Mount Batur, please share them with readers in the comments.
Want to share your own travel tips by guest writing for We Are Travel Girls? Go to our Contribute page for guidelines and to submit your article.
---
---
Book Your Stay In Bali, Indonesia
Discover some of our favourite places to stay in Bali:
---
Travel Resources
---
Read More About Bali
---
Author
We Are Travel Girls Founder Becky van Dijk of BeckyvanDijk.com
Connect with Becky Facebook | Twitter | Instagram | Pinterest | YouTube
---
Pin For Later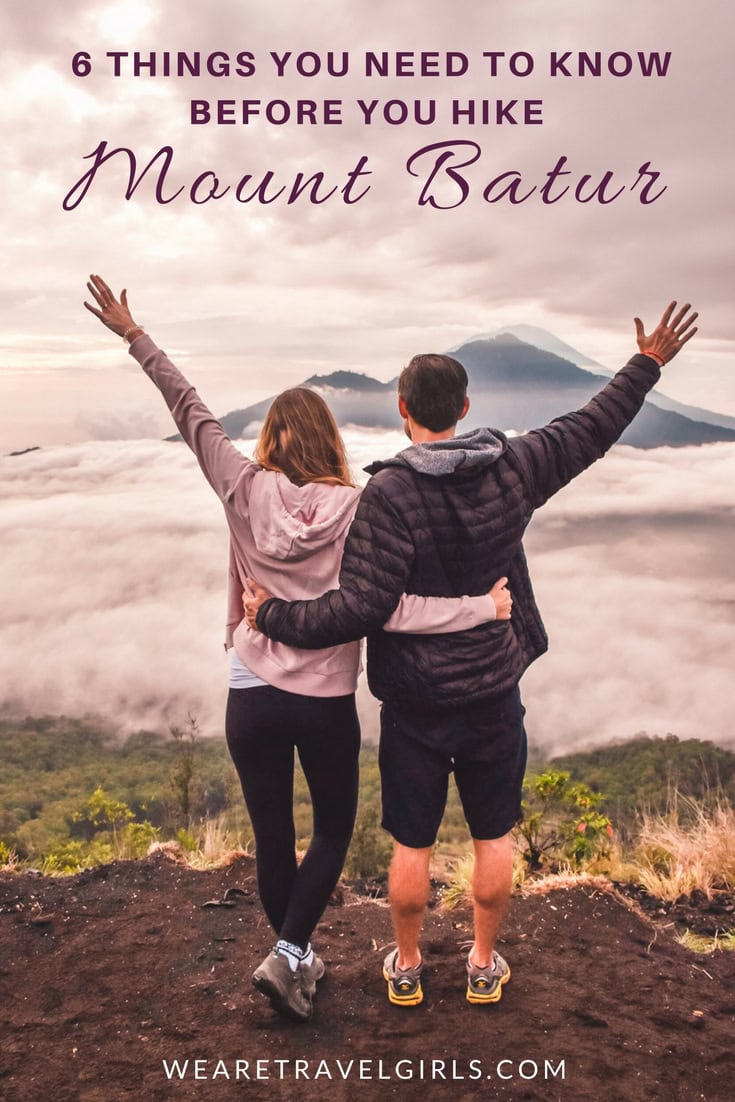 This website is a free resource and to keep it free for our readers we may use affiliate links in our articles. If you make a purchase via the links on our site you will pay the same price, but we may receive a small percentage which helps us to keep bringing you new and informative travel content every day! Any products we endorse we personally use and love. Please see our Disclosures for more information.