I've been dreaming about visiting Nusa Penida for a long time. Nusa Penida is a beautiful island southeast of Bali, next to Nusa Lembongan and Nusa Ceningan. It is still relatively unknown as many tourists choose to stay in Bali during their holidays. It takes approximately 40 minutes by boat from Nusa Dua Harbor to get to the island.
We recommend staying at least 2 days on Nusa Penida to be able to visit both sides. In this guide, you will find everything you need to know to visit Nusa Penida, all the best sights, how to get around the island, where to stay, eat, and more!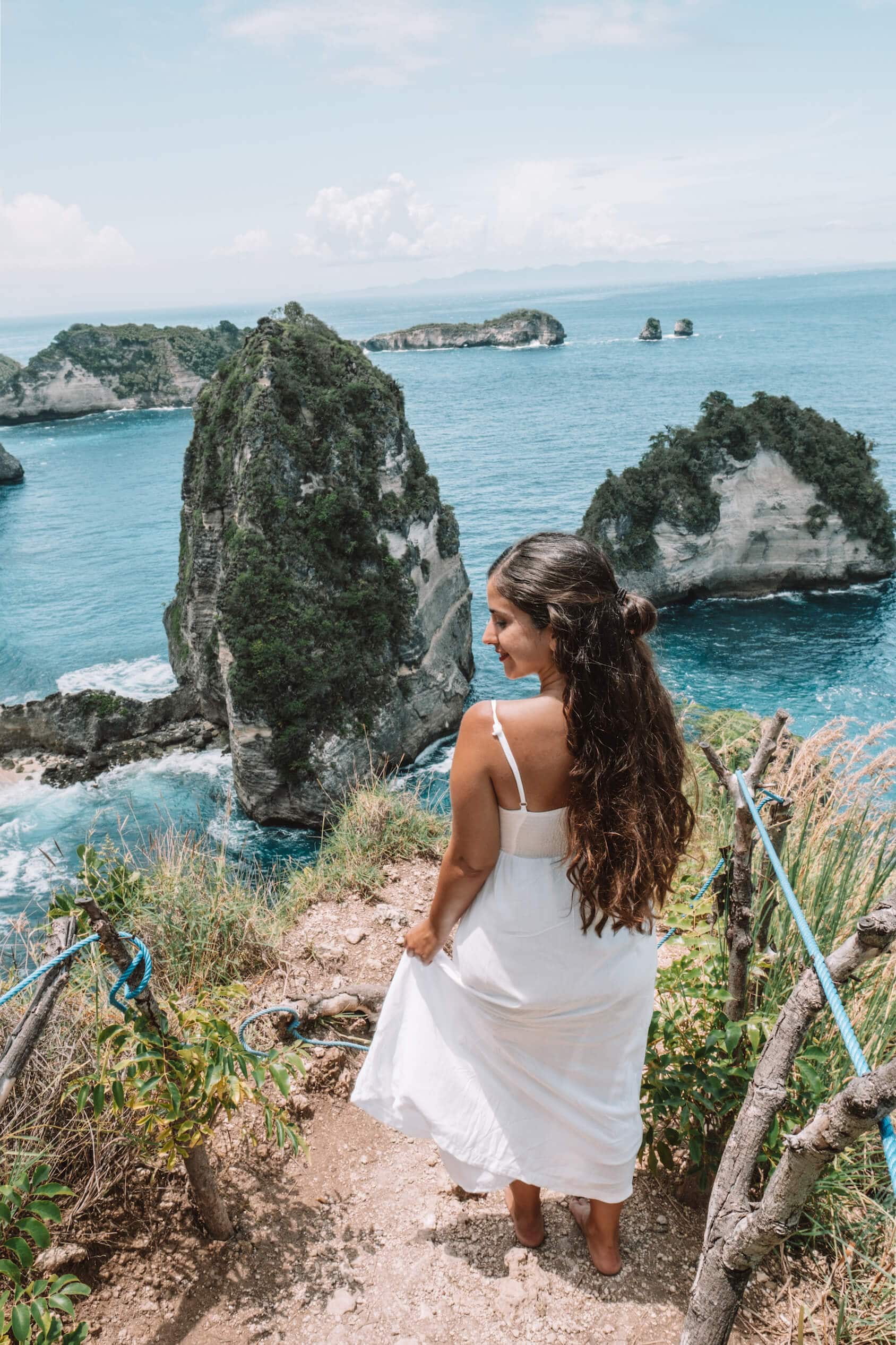 NUSA PENIDA DAY 1: WESTERN SIDE
KELINGKING BEACH
Kelingking Beach is one of the most photographed places in Nusa Penida and it's easy to see why. Sometimes referred to as the "dinosaur cliff" because the shape resembles a T-Rex, Kelingking Beach is a must see stop. Getting to the Kelingking Beach lookout is relatively easy
, and is only a 5 minute walk from the parking lot to the cliff lookout. The top of Kelingking Beach may be one of the busiest places on the island as everyone queues for the photos.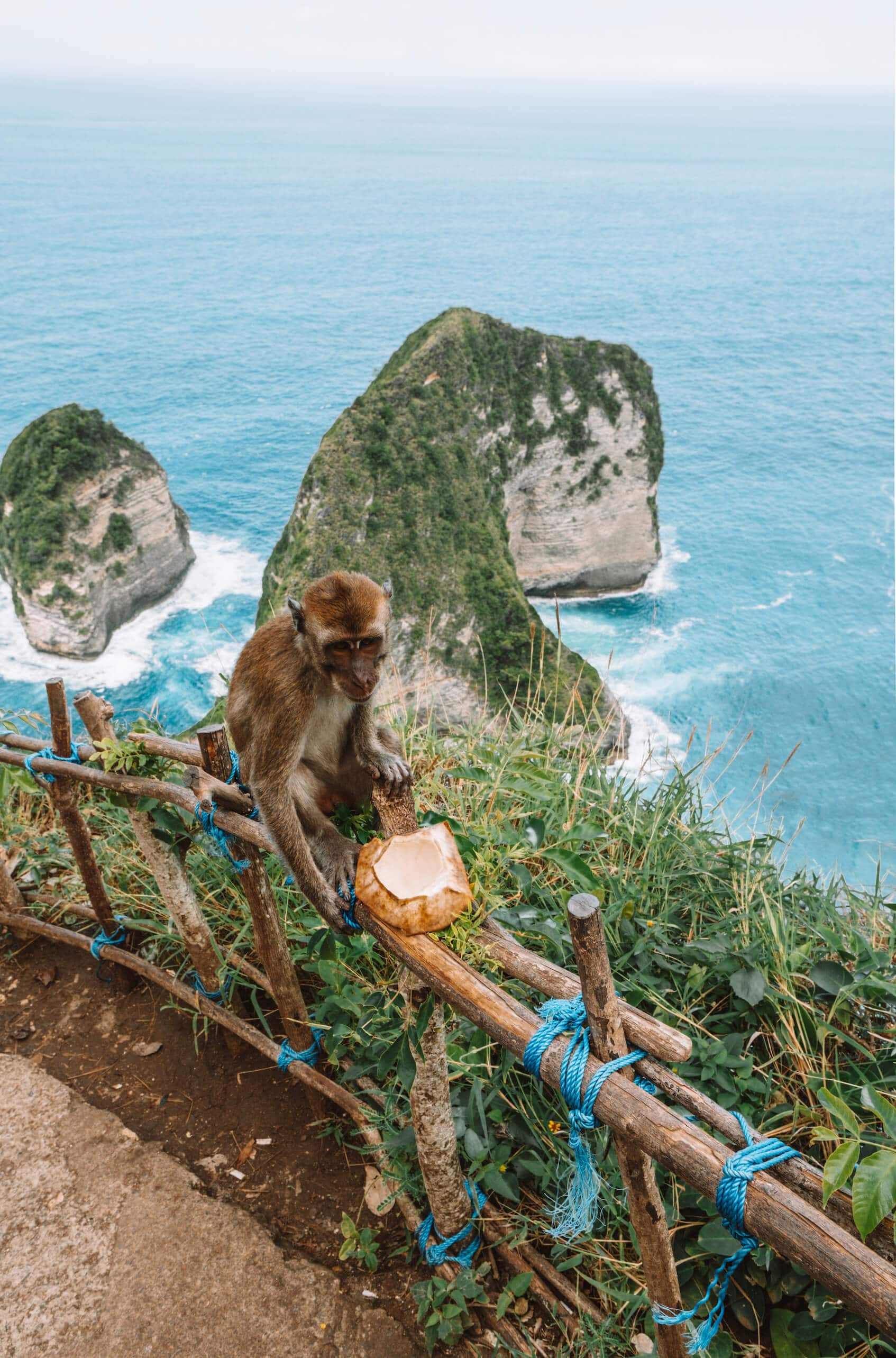 Remember to bring comfortable shoes, especially if you are planning going down to the beach. Be aware it is quite a difficult hike down the path to
Kelingking Beach
and will take you around 2 hours to get there. The waves and sea currents are usually strong so it's not recommended to go swimming.
Tip: Instead of waiting for one photo, climb up for 5 minutes following the path and you will reach an empty area where you can relax and take as many photos as you want. You may also see some wild cows there.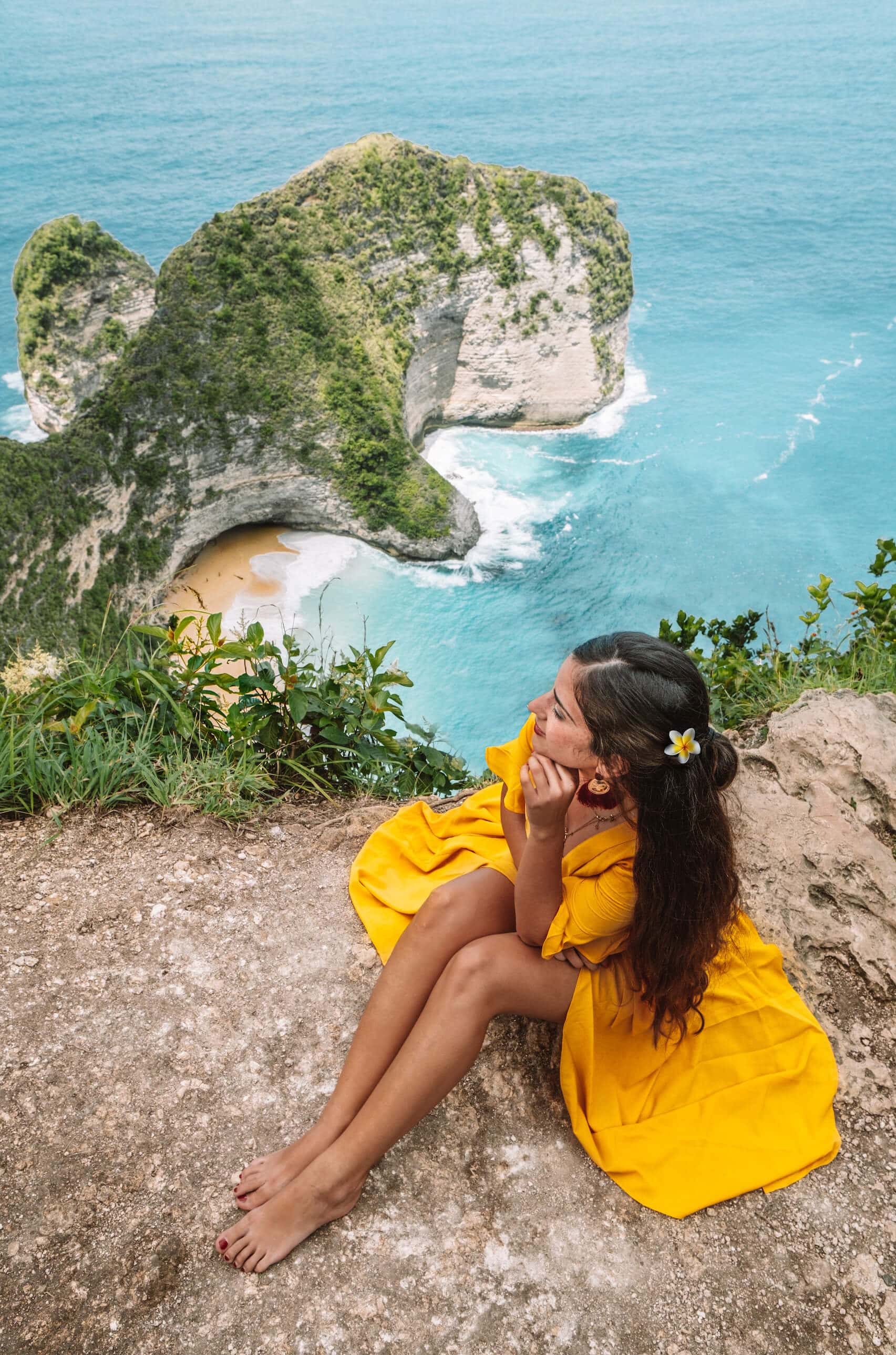 ANGEL'S BILLABONG
Continue your Nusa Penida tour by driving 30 minutes to Angel's Billabong, a beautiful rock formation that looks like a natural pool. We found this place quite busy compared to the others as the area in Angel's Billabong is not very big. The walk is relatively easy and there is a small temple you can rest at. Although some tourists go into the pool, it is not a good idea as some tourists have injured themselves due to the strong currents that come to the rock pool.
Tip: Sunrise is the best time to get in the water, as the sea level is very low and you will not get hit by the waves.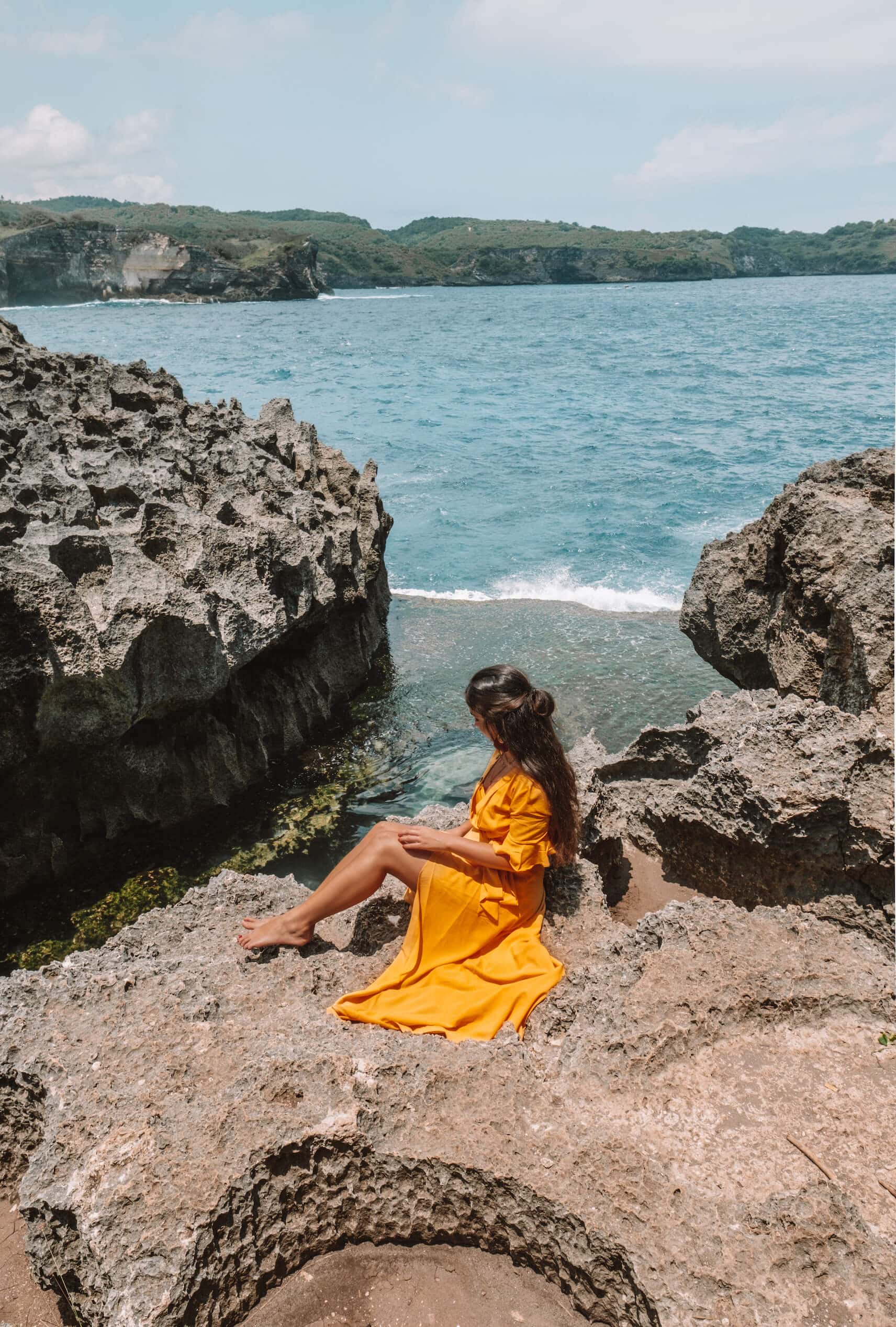 BROKEN BEACH
Next to Angel's Billabong is a little bay that has a natural arch leading out into the ocean locally known as "Broken Beach." The water is crystal clear and the views are amazing from above. Parking is easy on the dirt parking lot right next to the path. It is a pleasant walk around the arch and not as crowded as we were expecting. You can also get some amazing drone shots over Broken Beach!
Tip: You will also find little local cafes where you can buy water. Try their grilled corn for only 20,000 IDR (~$1.50)!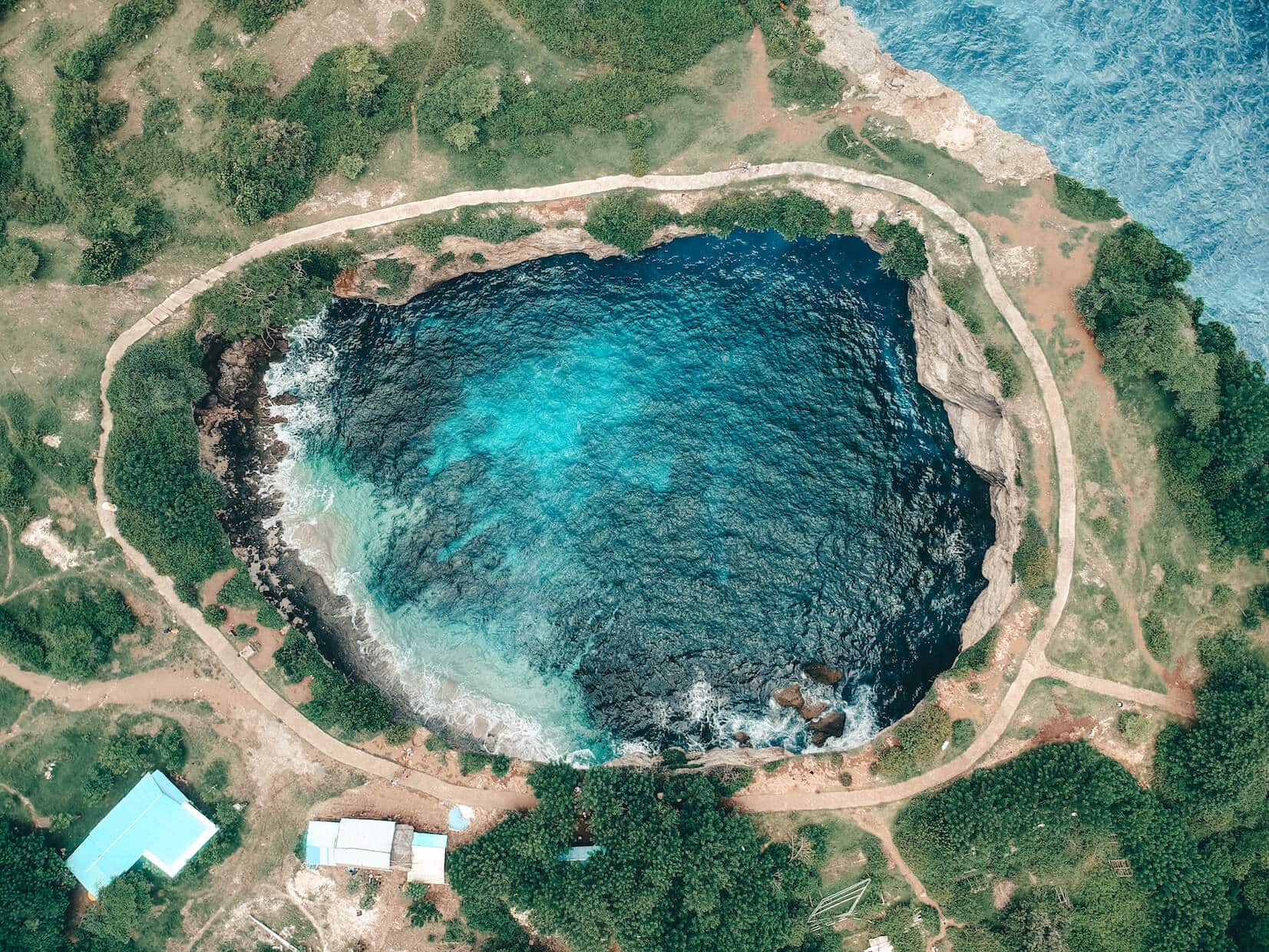 CRYSTAL BAY BEACH FOR SUNSET
You will love Crystal Bay Beach at sunset surrounded by the palm trees.
Imagine yourself drinking a fresh coconut, eating grilled corn and watching the orange sun go down- if that sounds like your version of paradise, then Crystal Bay Beach is for you.
As all the Nusa Penida tours end here, this beach will be quite busy at the end of the day. If you want to take photos with less people in them, you may want to come at sunrise when the beach will be completely empty!
Tip: Ask the waiter to open the coconut so you can eat it with a spoon once you have finished it.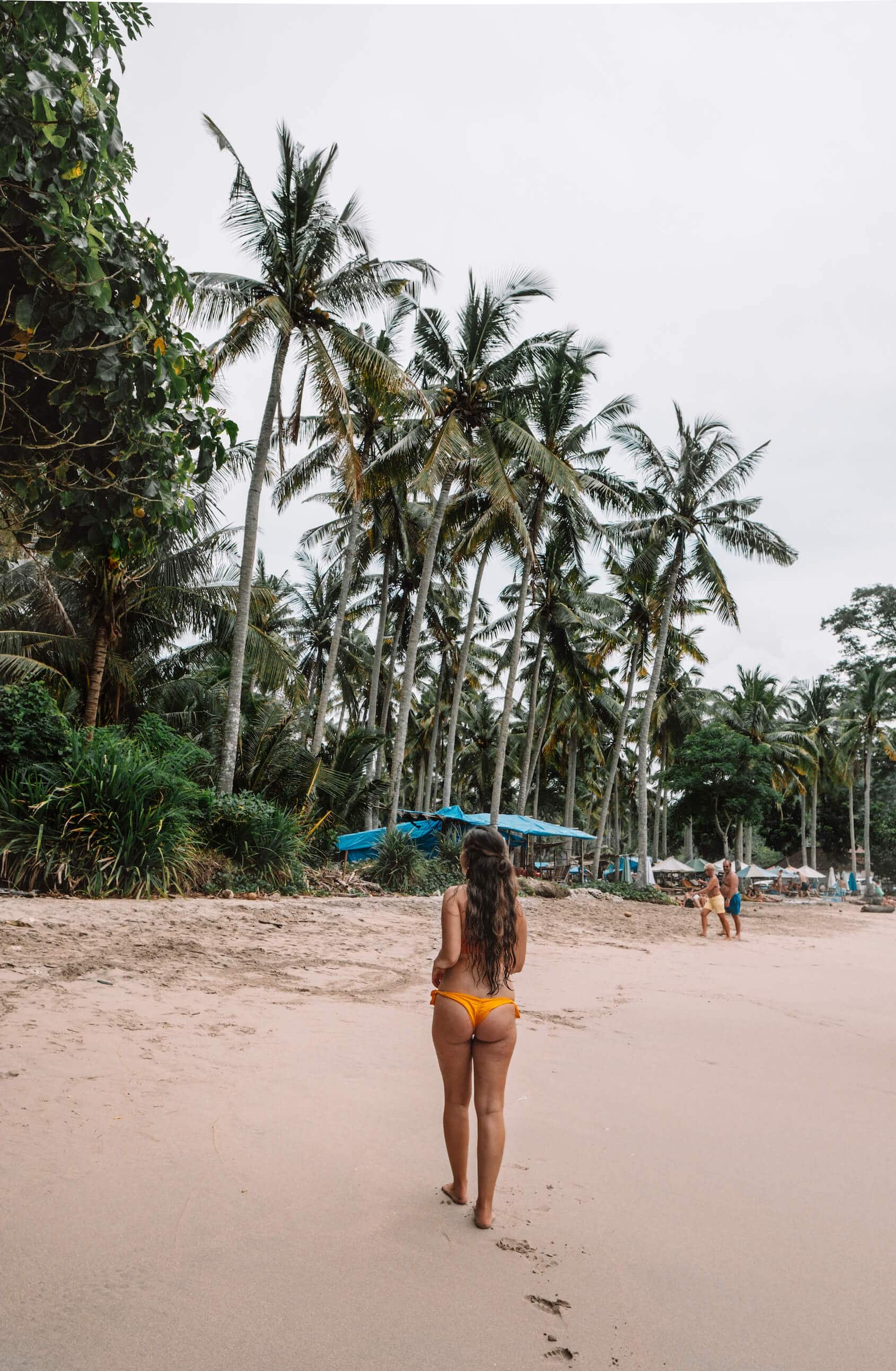 NUSA PENIDA DAY 2: EASTERN SIDE
DIAMOND BEACH
Before starting your day for day 2 of our Nusa Penida tour, remember to pack enough water, sunscreen, bikini and bring enough cash.
After breakfast, we went to Diamond Beach which is a great white sand beach surrounded by rocks that look like diamonds.
Getting to the beach is not as easy as it seems in the photos, so bring comfortable shoes and pack all your things in a bag as you will need free hands! Access to Diamond Beach has
recently opened so there's only one part of stairs that are properly built. After this path you will need to walk down very long "rock stairs" and there is one part where you need to grab a rope to keep going down and it is very narrow. The journey to Diamond Beach is not for the faint of heart but it is worth it!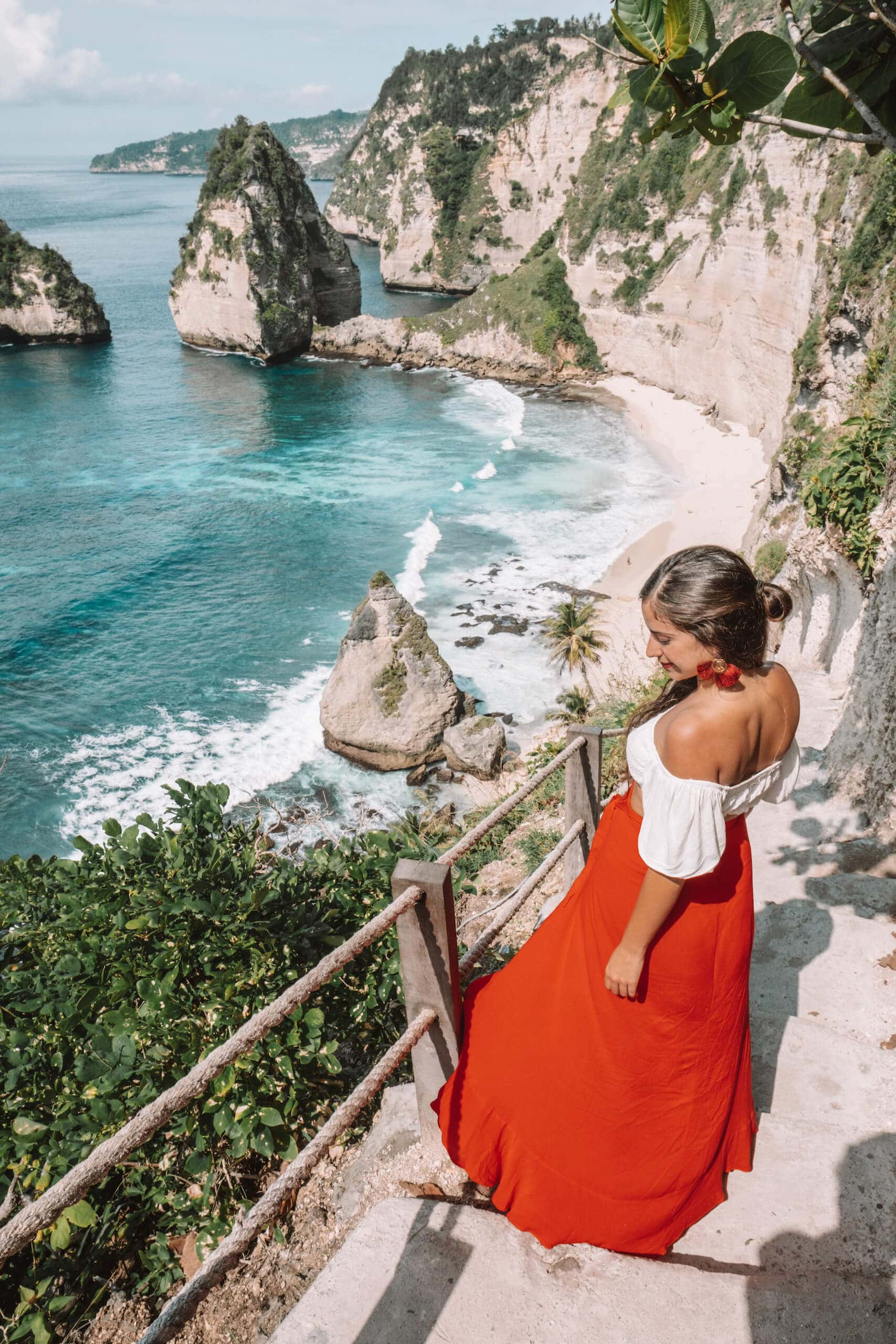 Once you are down you will find a cafe with 3 different swings looking to the Diamond Beach.
If you want to get to the actual beach you need to keep going and hike over some more rocks.
Make sure you come in the morning as the water gets very high in the evening and the beach is almost gone.
If you want this beach for yourself, come before 10 am.
Tip: After you finish enjoying Diamond Beach, keep going up till you find a cafe looking to the sea. It's the perfect place for a break and has something to eat, we had some fried tempeh with rice and fresh coconuts.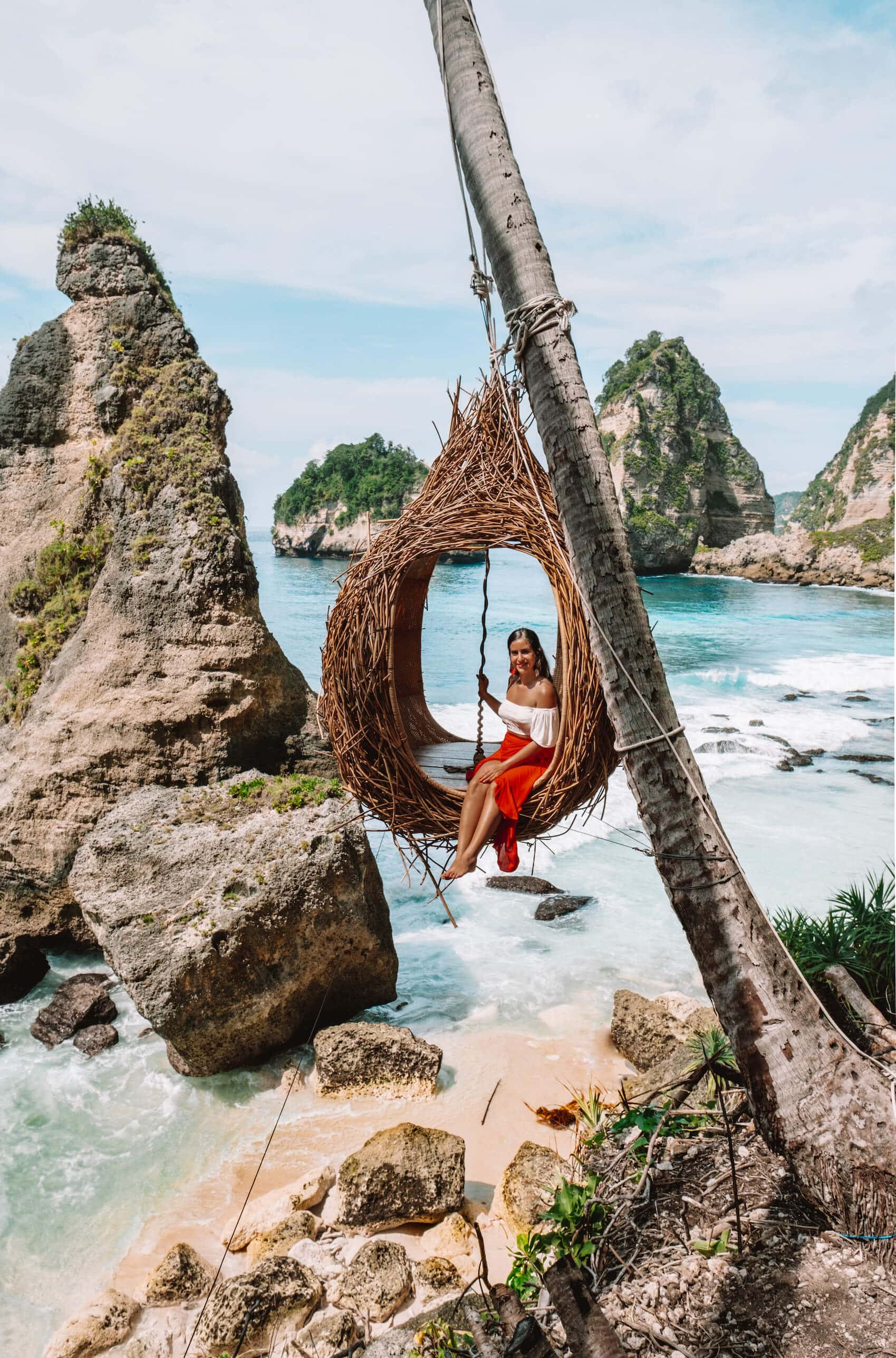 THOUSAND ISLAND VIEWPOINT
Only a few minutes by car from Diamond Beach is Thousand Island Viewpoint. I hope you brought your energy because getting to the viewpoint means you will need to climb some stairs. It will take you 15 minutes to get to the lookout and reach the famous Nusa Penida treehouse. There are many points where you can stop for a while and admire the beauty of the island. We were impressed by the colors of the water, it was so blue, so pure.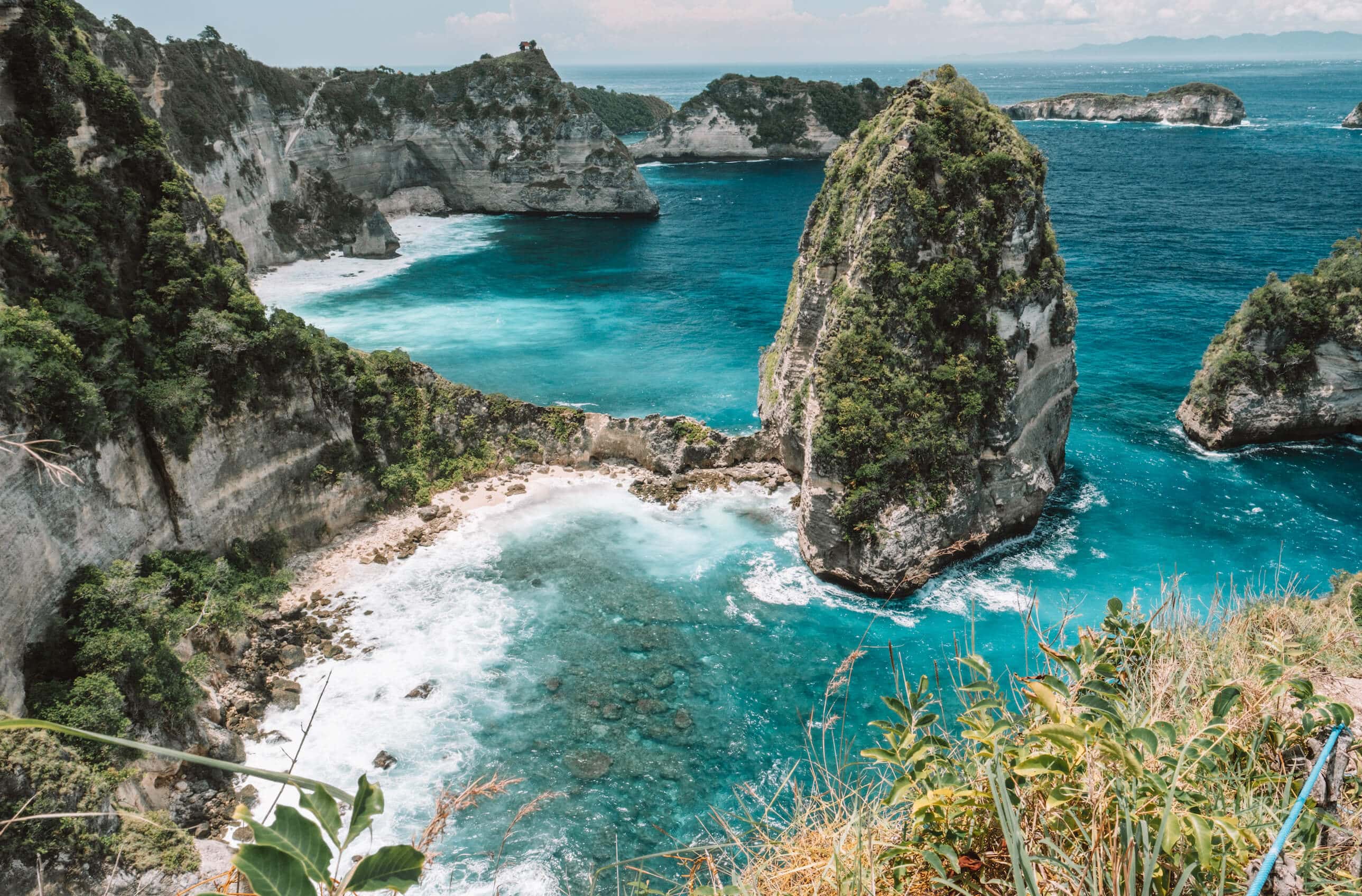 NUSA PENIDA TREEHOUSE
After spending some time appreciating the view of Diamond Beach from the distance, you will find the two little treehouses at the top of the viewpoint. These treehouses are actually on AirBnB and you can rent them for the night if you want to watch the sunset, although there's no Wifi, AC or anything nearby. But it is the perfect place to relax away from everyone.
You may also need to queue to get the famous photo up on the treehouse as they are empty during the day. After you are done here, keep going up the hill and you will find the last lookout with a little temple looking to both sides.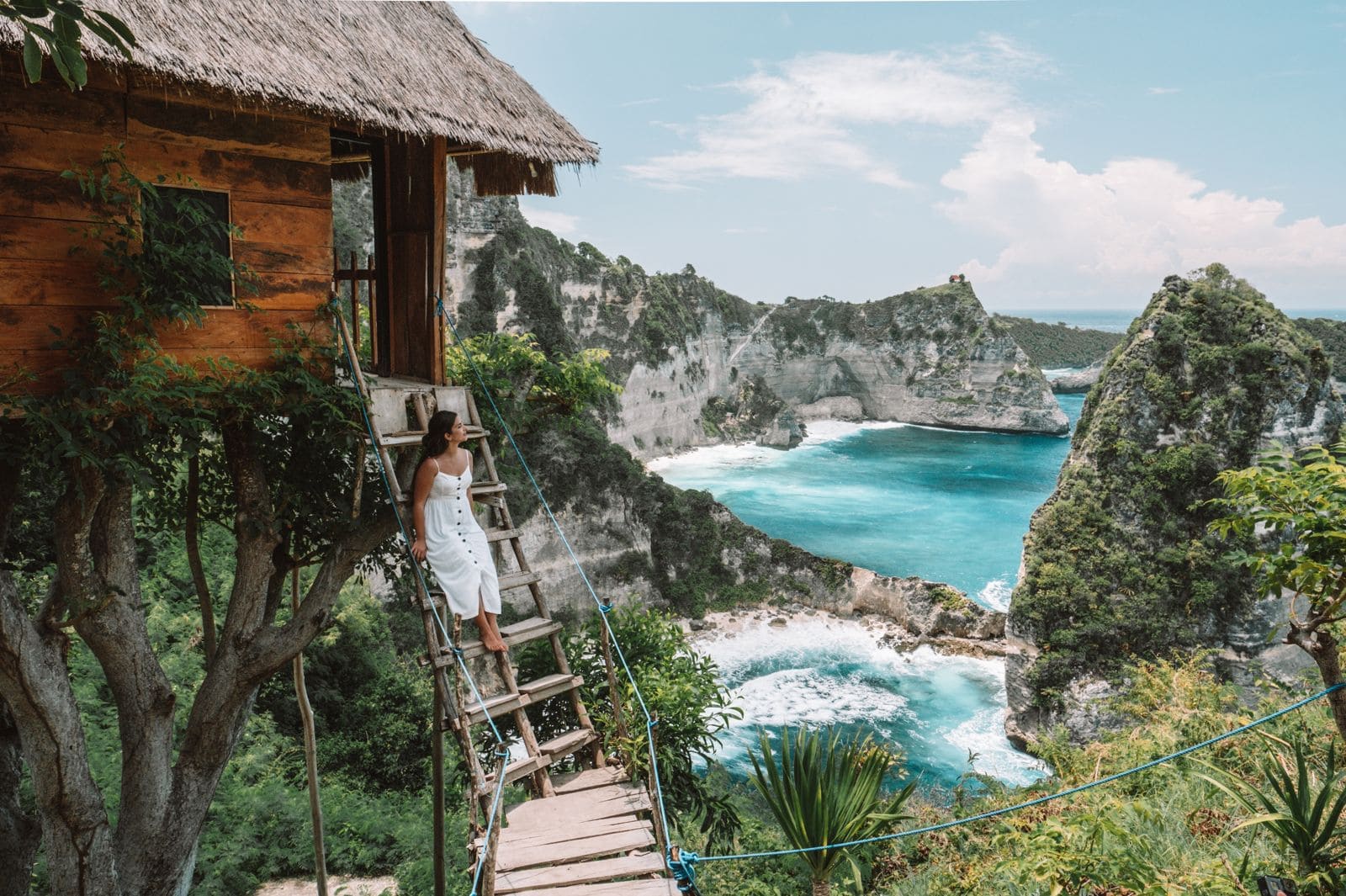 TELETUBBIES HILL
Our last destination on our 2nd day was the old rice fields in Nusa Penida called Teletubbies Hill. Looking from above it's easy to see how they got their name, as they look like the Teletubbies in the show we all used to watch when we were kids.
We were surprised by its beauty and how green it was. You can walk around these green dunes or even do a picnic and rest for a while.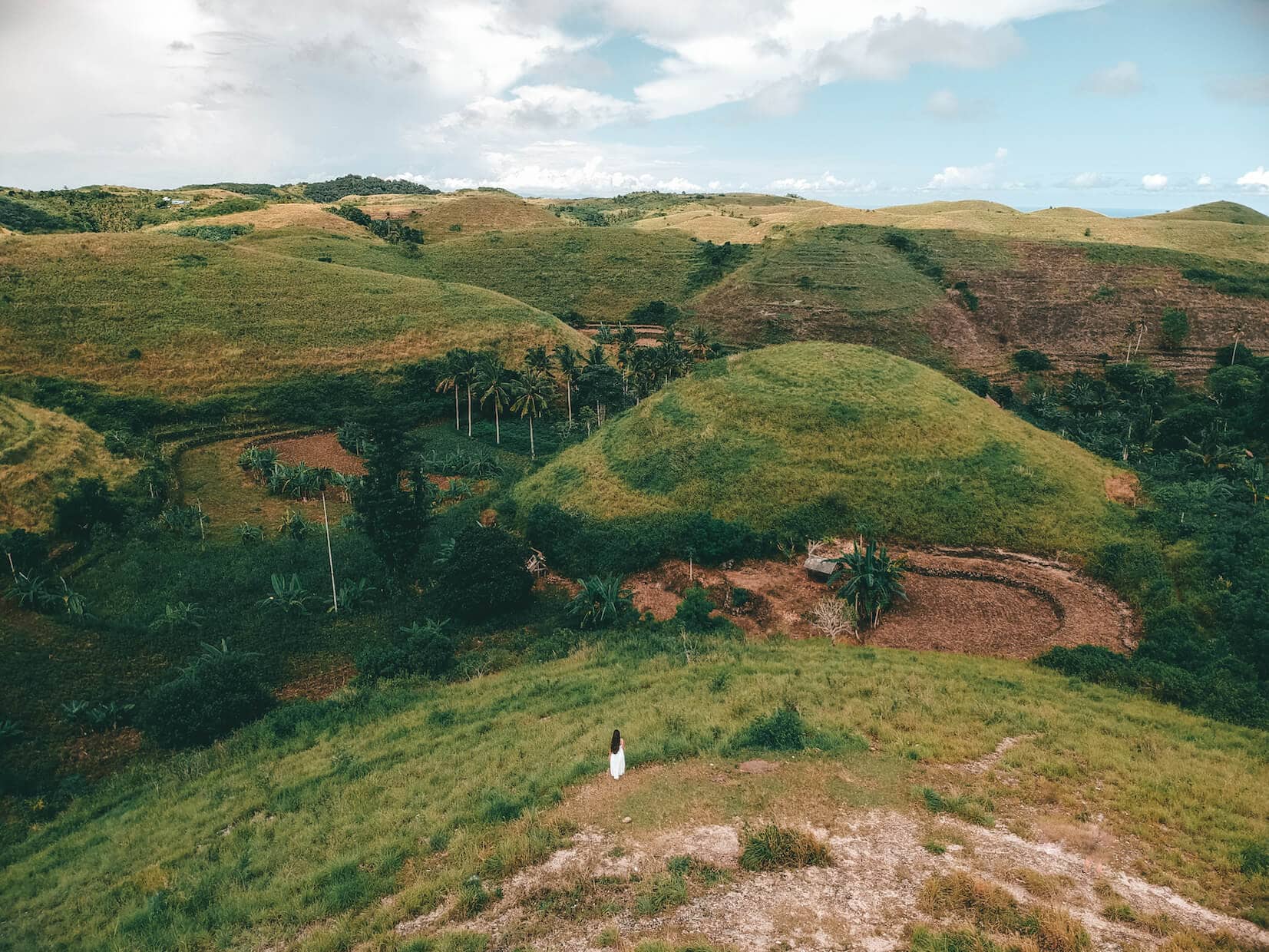 HOW TO GET AROUND NUSA PENIDA
The only way to get around Nusa Penida is by car or by motorbike. We would recommend hiring a private driver as he will know the exact way and all the secret paths.
We found motorbikes a little dangerous as Nusa Penida does not have proper roads and they are all very bumpy. In fact, we saw two accidents of tourists that were driving bikes. And it is also very easy to get lost and Google Maps is not the most reliable, so hiring a private driver for the day is more comfortable and safer.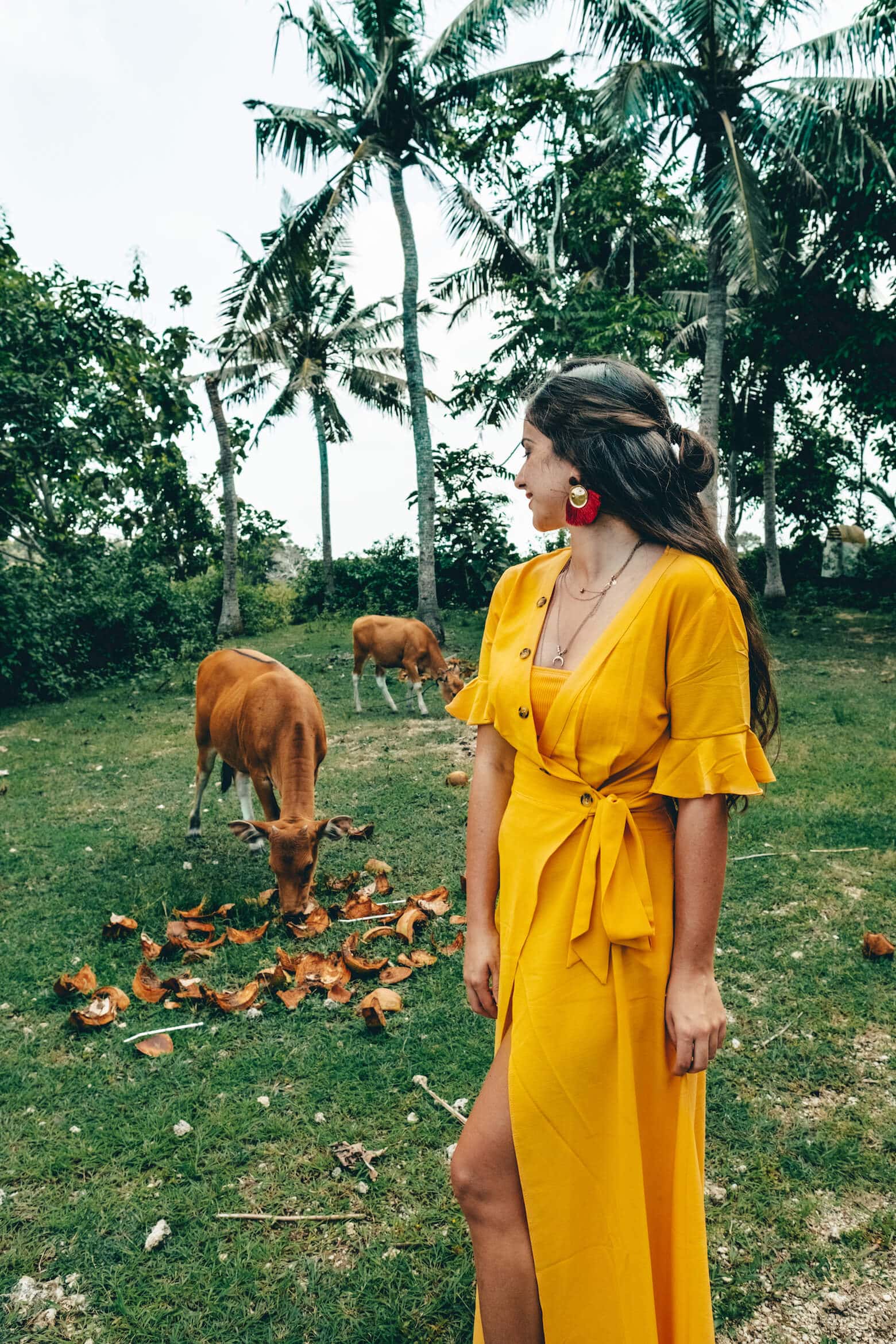 WHERE TO STAY ON NUSA PENIDA
We stayed at La Roja Bungalows while visiting Nusa Penida. This place was exactly what we had imagined before coming to Nusa Penida. It is the perfect place to organize a floating breakfast in their pool and you can ask them to arrange it for you for an extra cost.
If you want to stay at a luxurious hotel for an affordable price, we may suggest Adiwana at Nusa Penida. Other well reviewed hotels include Semabu Hills Hotel, Ocean Terrace Suites, and Coco Resort Penida. You can also find decent options on AirBnB depending on your preferences.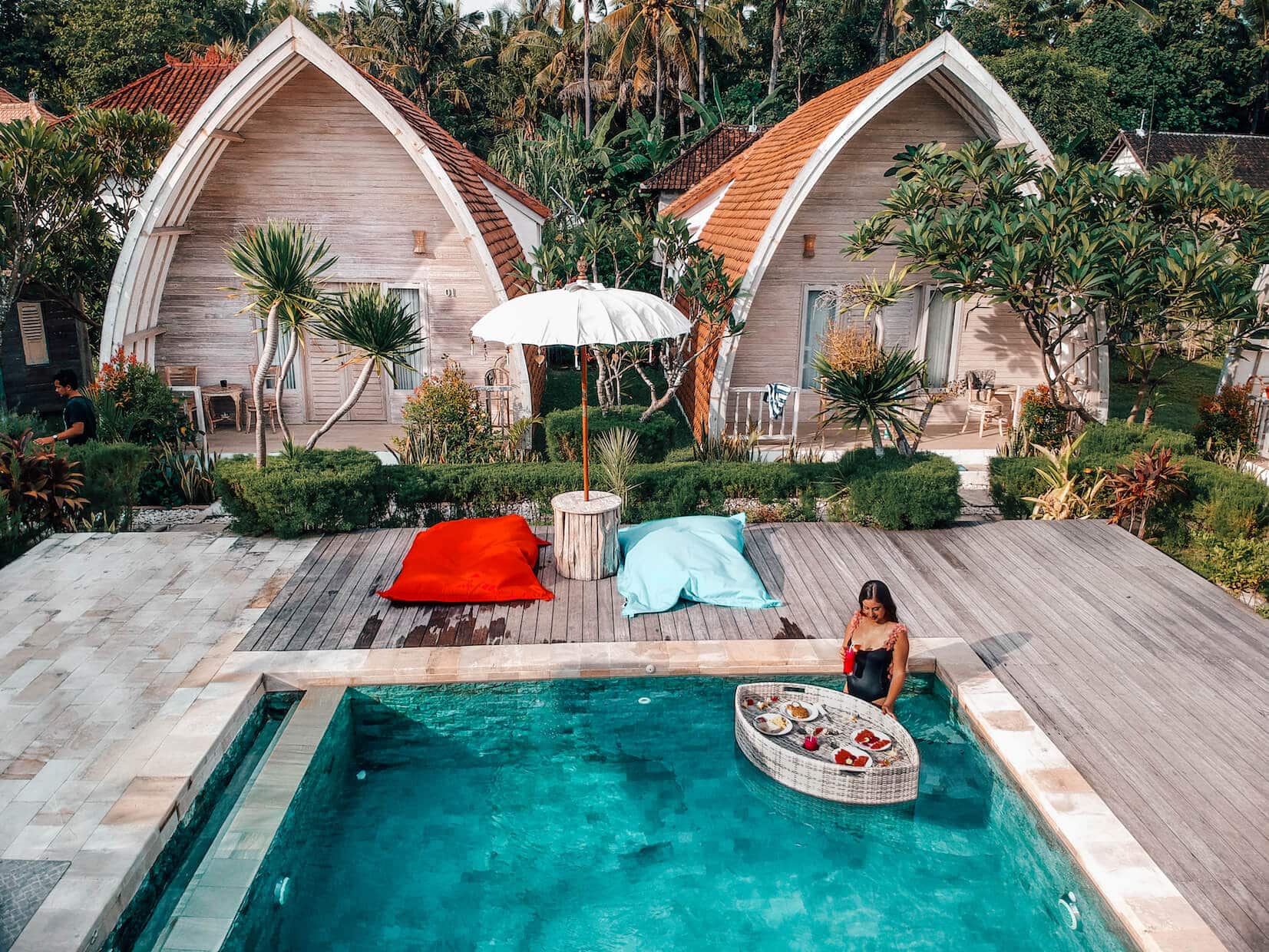 WHERE TO EAT
It may be a little difficult to find healthy options in Nusa Penida as it is quite remote compared to Bali. These are some of the restaurants we found on the island where they served vegetarian options, smoothie bowls and traditional food. Some of our favorites included:
Don't be afraid to try local restaurants, or "warungs." We tried some on our way to the different places and they were all very kind and helped us veganize our menus.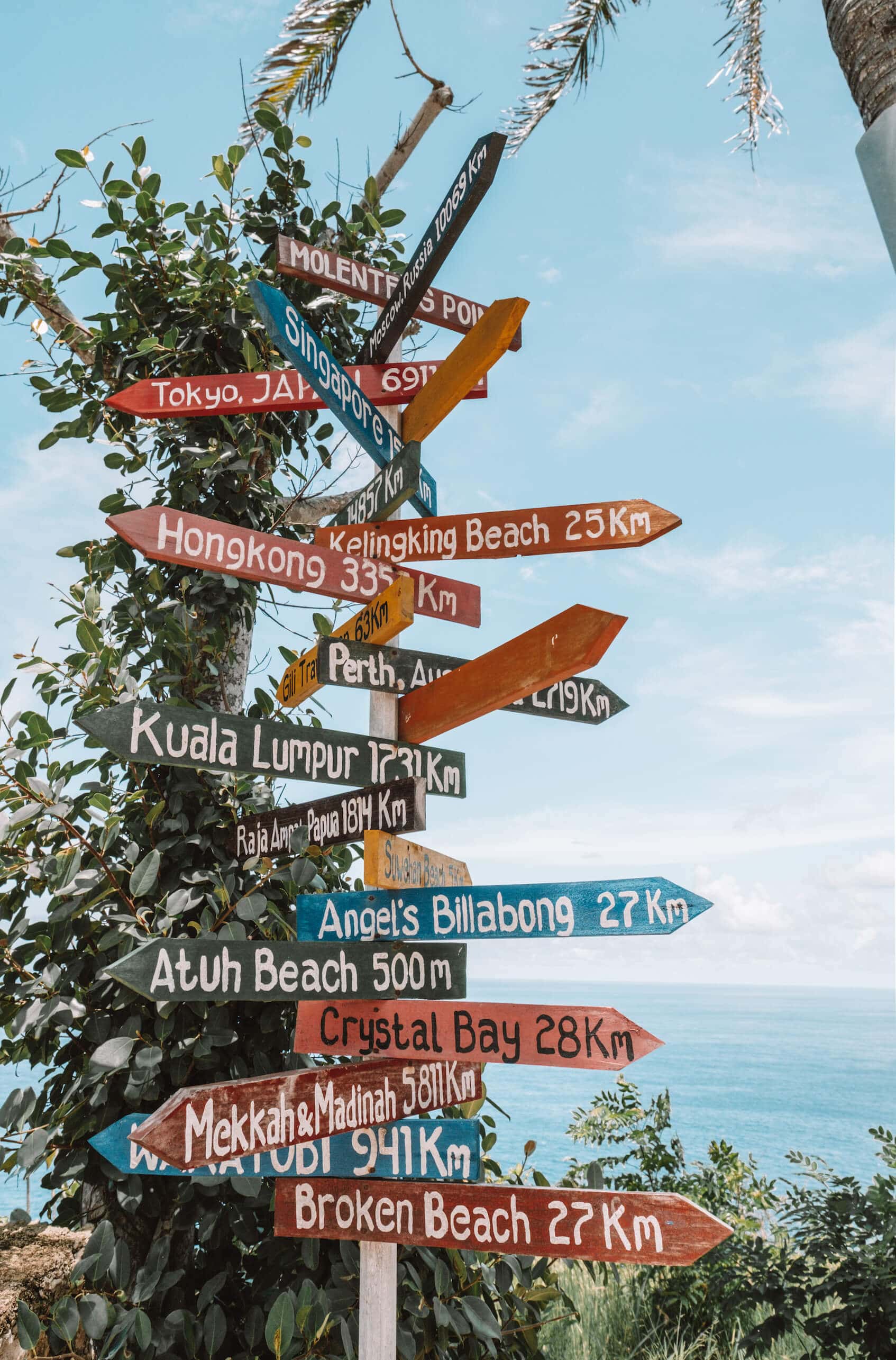 We loved our trip to this beautiful island called Nusa Penida is beautiful, such a unique place to discover. Highly recommend and hope you enjoy it as we did.
---
We hope that this article has helped inspire you to visit Nusa Penida. If you have any questions about the destination or have your own travel tips to share please leave these in the comments below.
Want to share your own travel tips by guest writing for We Are Travel Girls? Go to our Contribute page for guidelines and to submit your article.
---
---
Our Top Places To Stay On Nusa Penida, Indonesia:
---
Read More About Bali
---
We Are Travel Girls Contributor Andrea Torres of TheFruitGoddess.com
Connect with Andrea Instagram
---
Pin For Later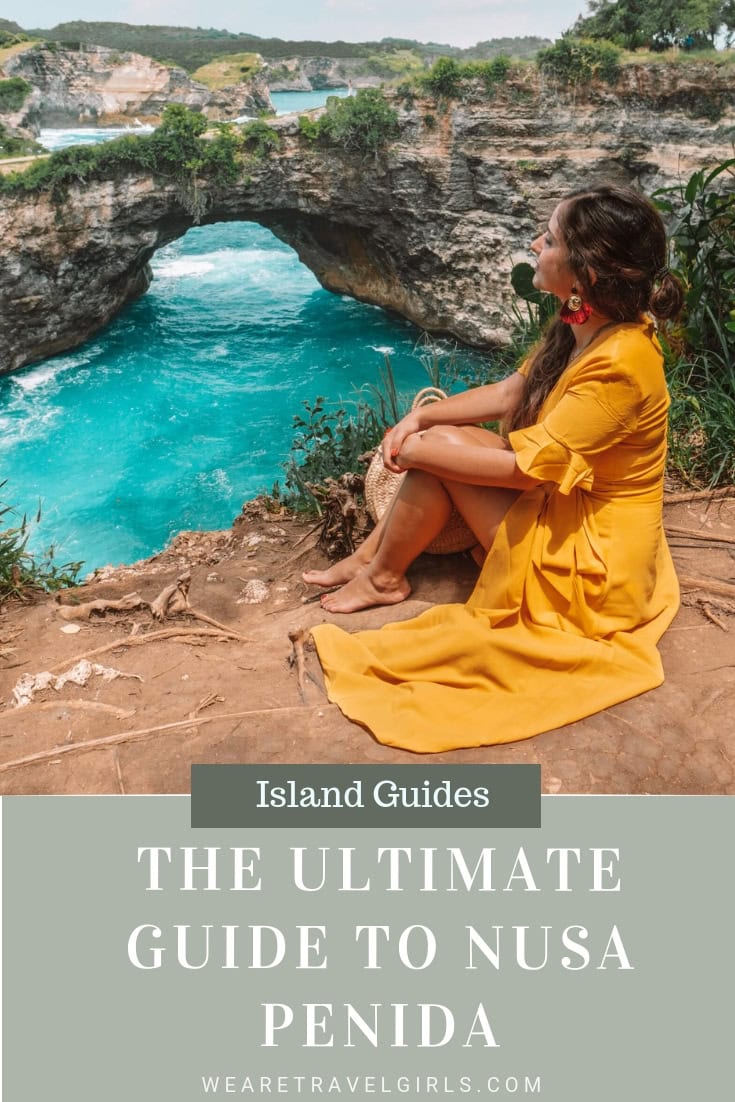 This website is a free resource and to keep it free for our readers we may use affiliate links in our articles. If you make a purchase via the links on our site you will pay the same price, but we may receive a small percentage which helps us to keep bringing you new and informative travel content every day! Any products we endorse we personally use and love. Please see our Disclosures for more information.