We Are Travel Girls may collect a share of sales or other compensation from the links on this page.
Earlier this year I took a trip to Lapland, Northern Finland with three girlfriends to stay at the Kakslauttanen Arctic Village and the Arctic Snow Hotel. Earlier this year, I wrote a post about the igloos at Kakslauttanen and since then I've had so many questions about this trip regarding the costs and how to plan it, that I decided to share my 5 day itinerary, plus advice and a detailed price breakdown of the trip. Whilst you can always spend more time exploring this beautiful part of the world, it is possible to fit it into a short schedule and still have time to enjoy it, plus save yourself some money, as this trip is not cheap! Here's my suggestion on how to do an awesome arctic adventure, stay in a glass igloo and an ice hotel in 4 nights and 5 days.


DAY 1 – FLY TO HELSINKI
To start your adventure fly into the capital Helsinki. From here, if you have more time, you can take a few days to explore this beautiful city. Since we only had a short time in Finland, I flew in late evening from London and booked a night at the Hilton Airport Hotel. The hotel is a short walk from the arrivals terminal and the perfect place to spend the night if you are planning on following my itinerary and taking the 5.50am flight to Ivalo the next day.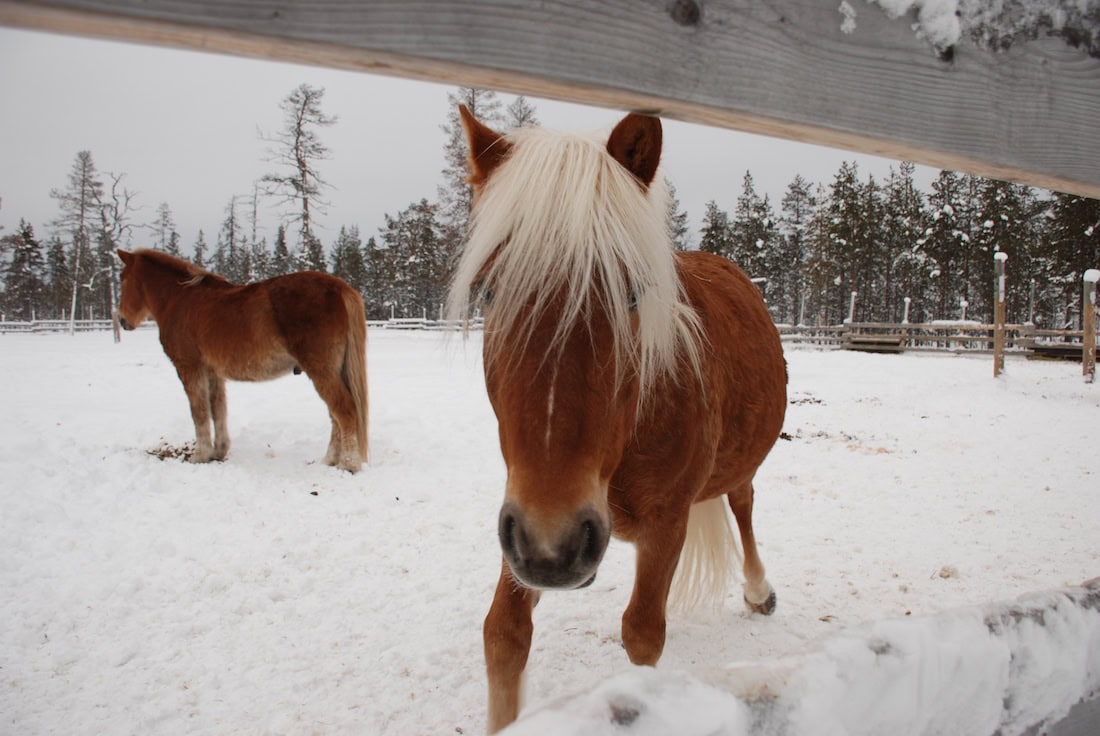 DAY 2 – FLY FROM HELSINKI TO IVALO (the closest airport to Kakslauttanen Arctic Resort)
Norwegian Airlines operates one flight per day, that leaves at either 8.35am or 12.35pm depending on the time of year. And Finnair operates three flights per day at 10.15am, 11.45am and 16.35pm. (Note scheduling changes regularly, so you will need to check for updates). We were there in February and there was a 5.50am arriving early morning in Ivalo allowing us to make the most of the day. Again the flight price will depend on what time of year you are booking, but the low fare option starts at EUR 29 each way. I suggest booking a round trip and skipping the return flights, as a single fare is far more (around EUR 250 when I was booking).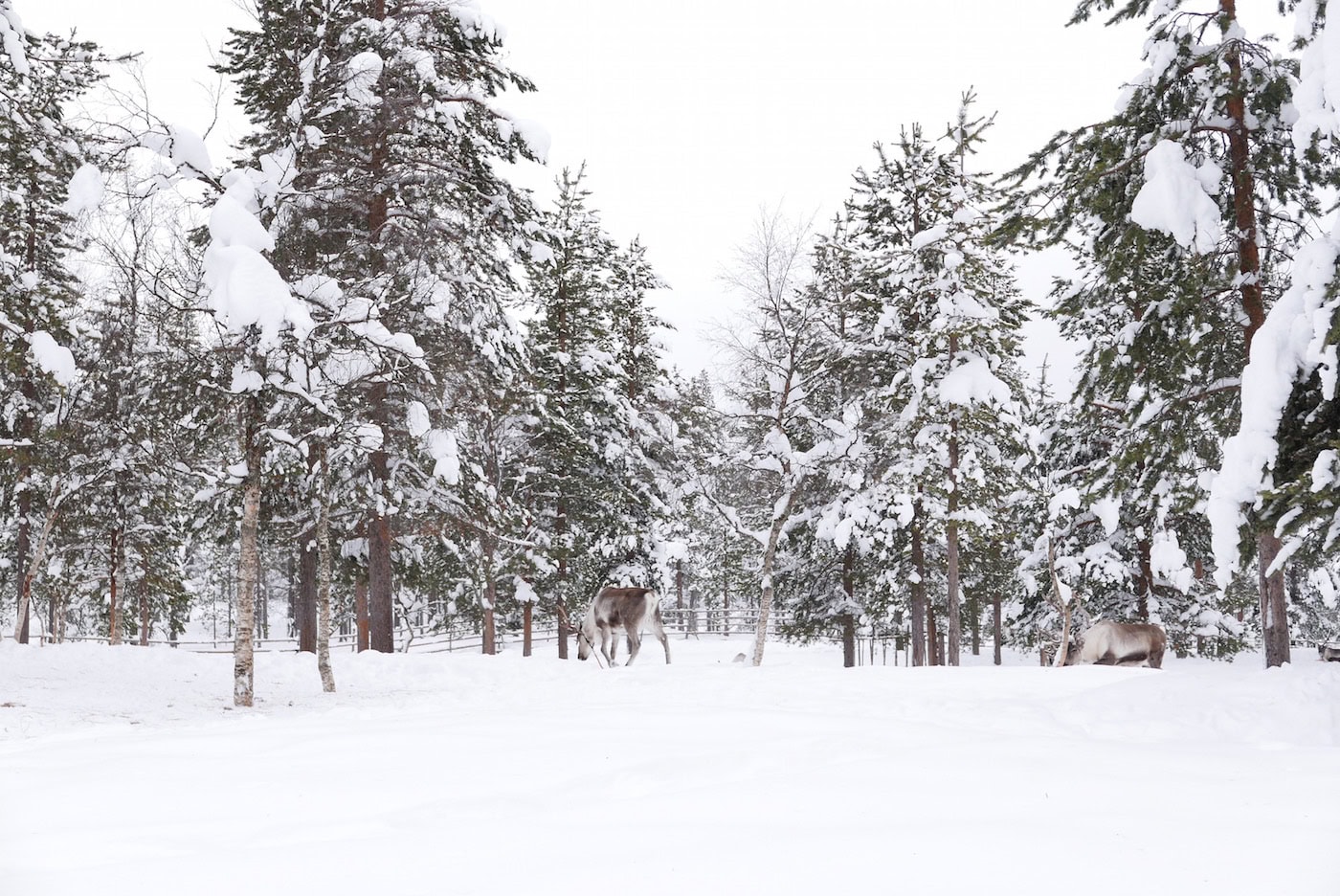 On arrival in Ivalo, make sure you have arranged an airport pick up with the resort for the 30 minute journey to Kakslauttanen. They will collect you from the airport and whisk you into a snow filled winter wonderland, where you will begin your adventure spending the night under the stars in an igloo!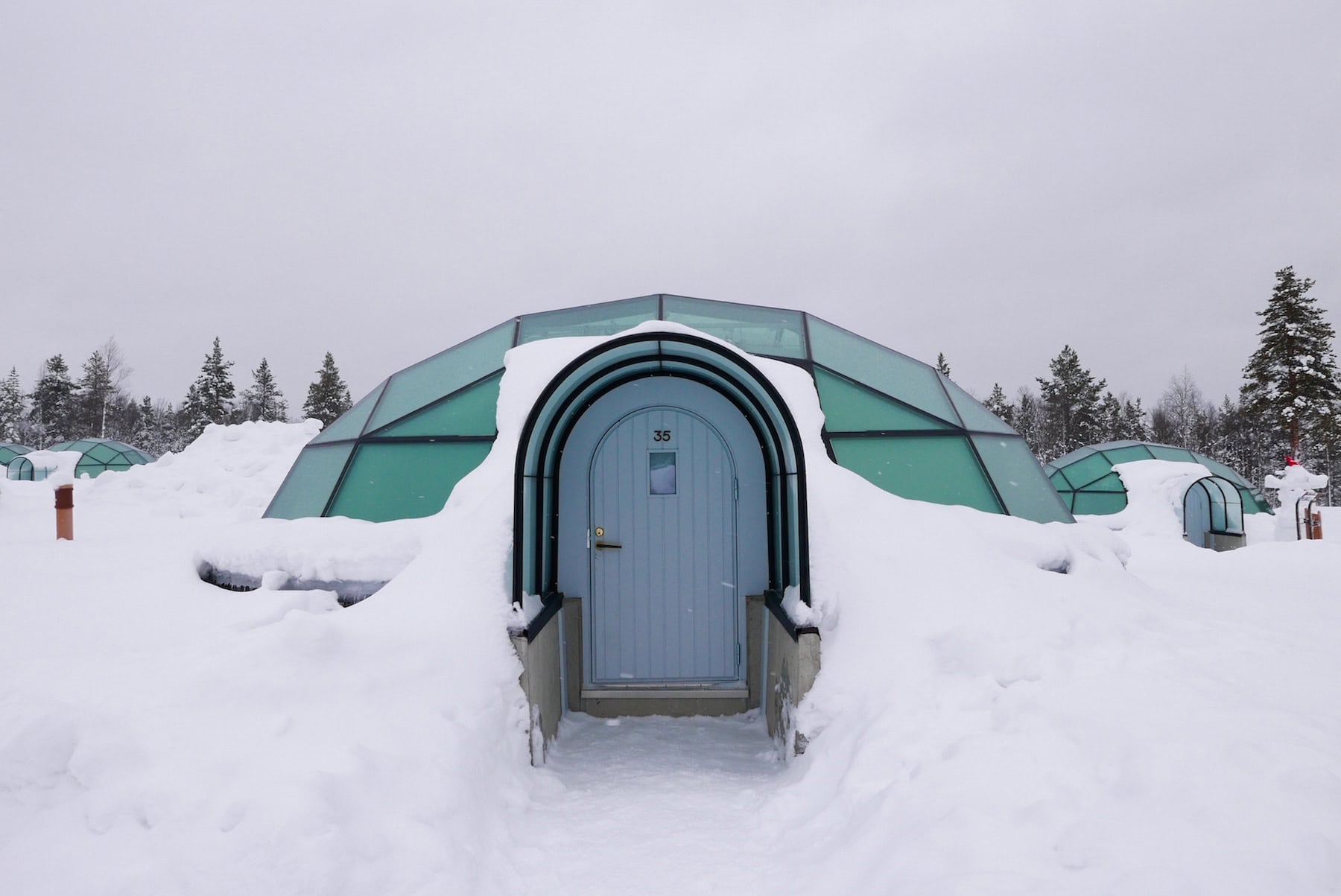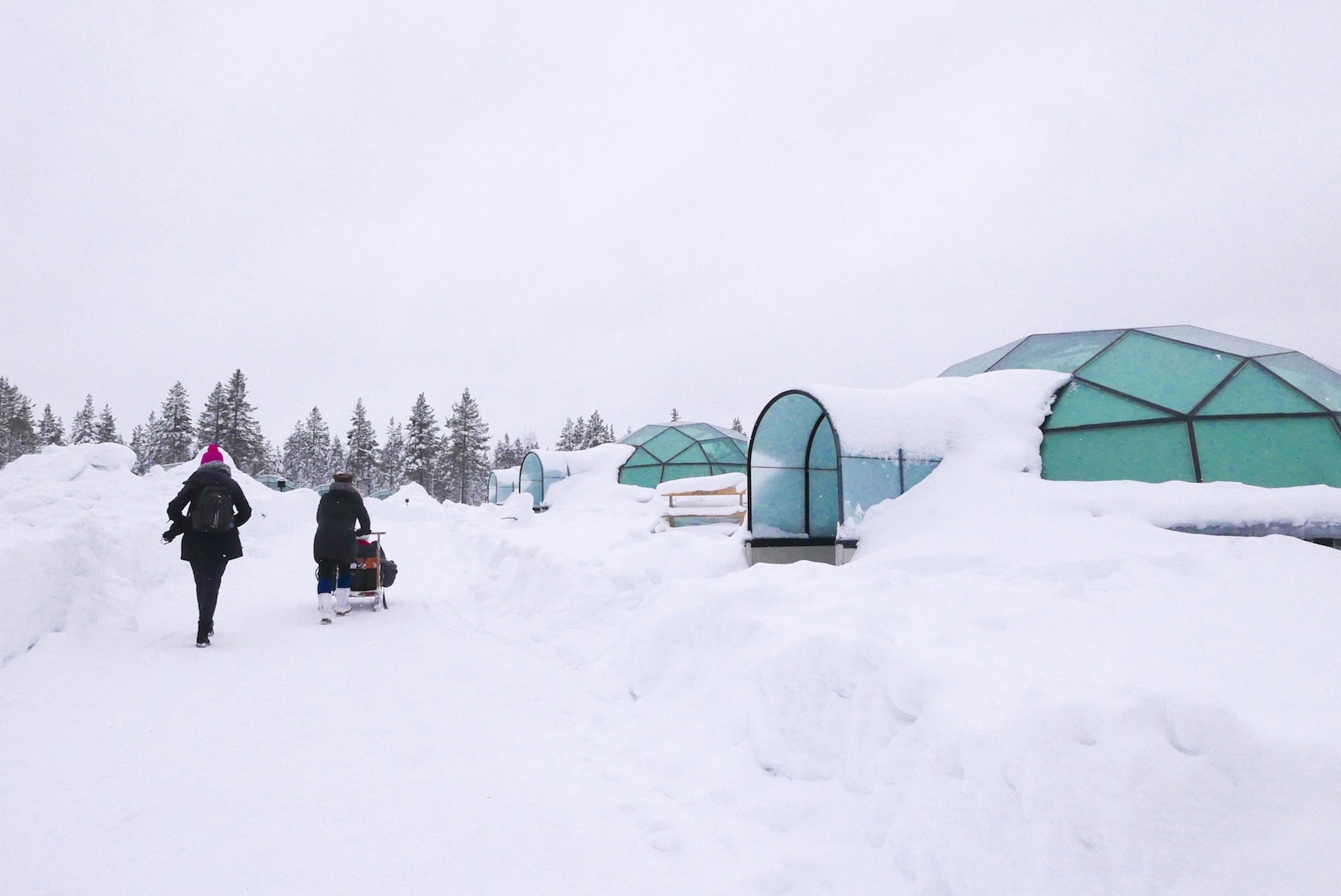 You will likely arrive at the resort ahead of check in, but there is a secure room storage for your bags. So don't worry about getting to your room, immediately pack on the winter clothes and go on the first of your adventure tours whilst at the resort. We booked our activities on arrival at the resort, however I would definitely recommend booking these in advance to ensure you are able to get your first choices.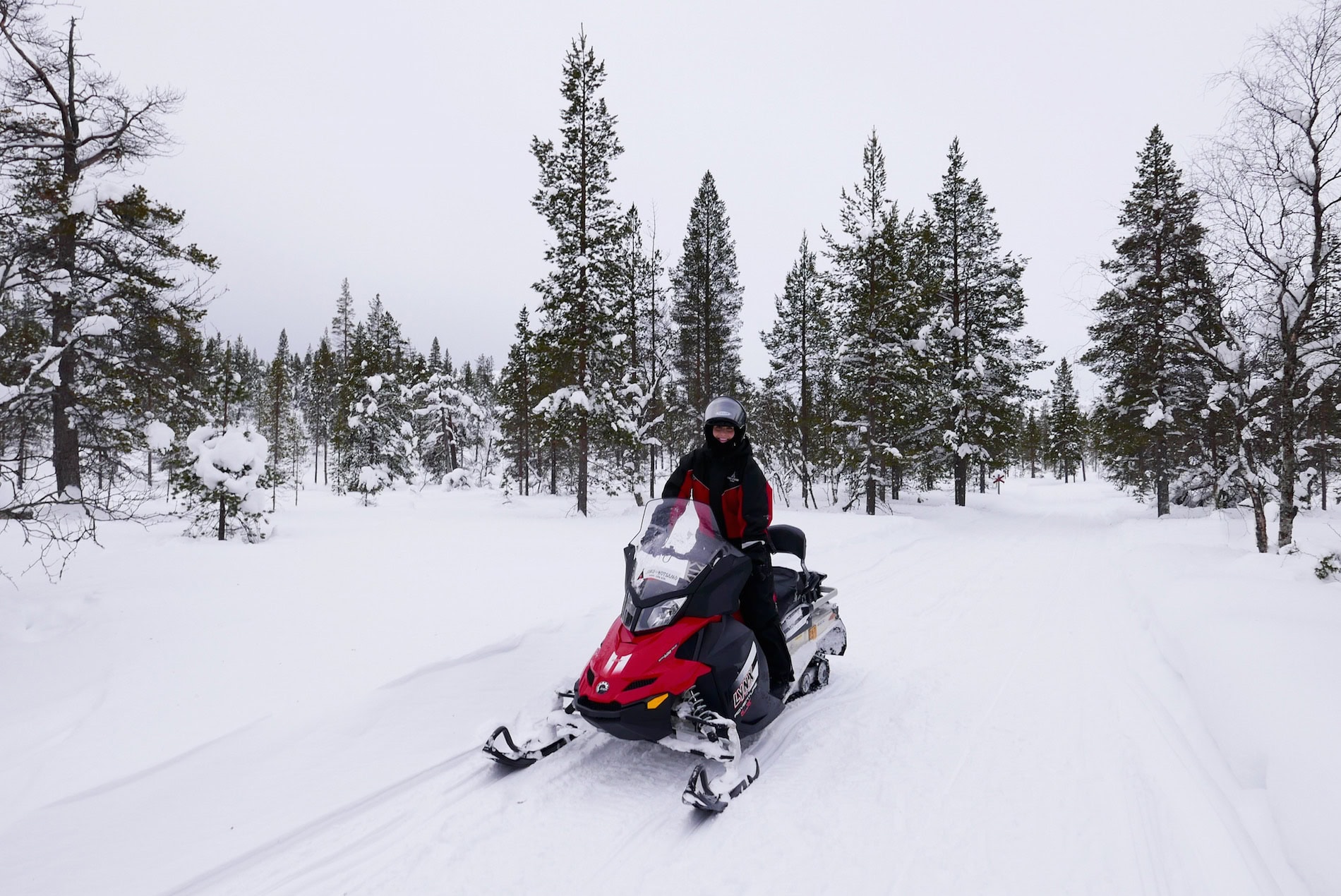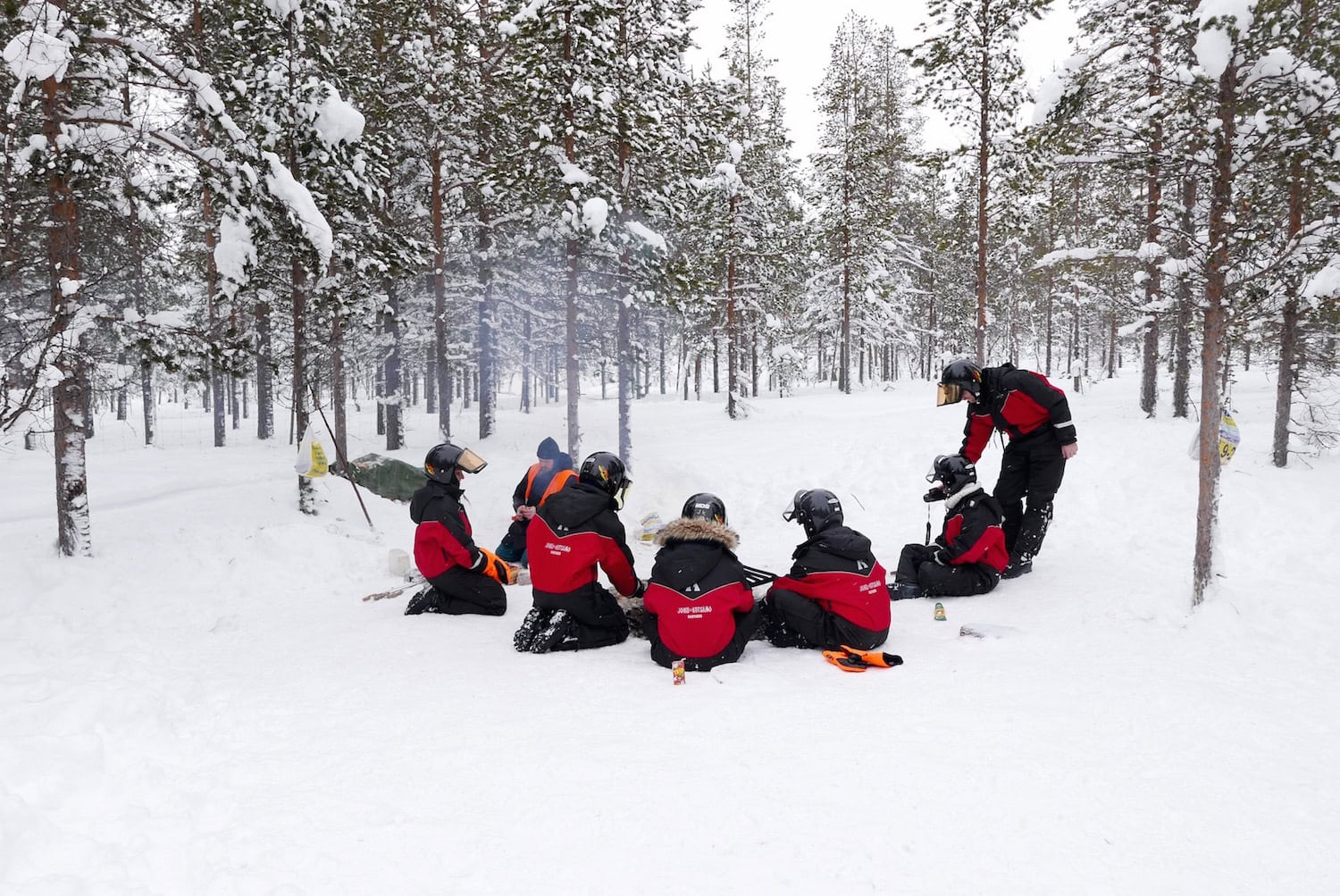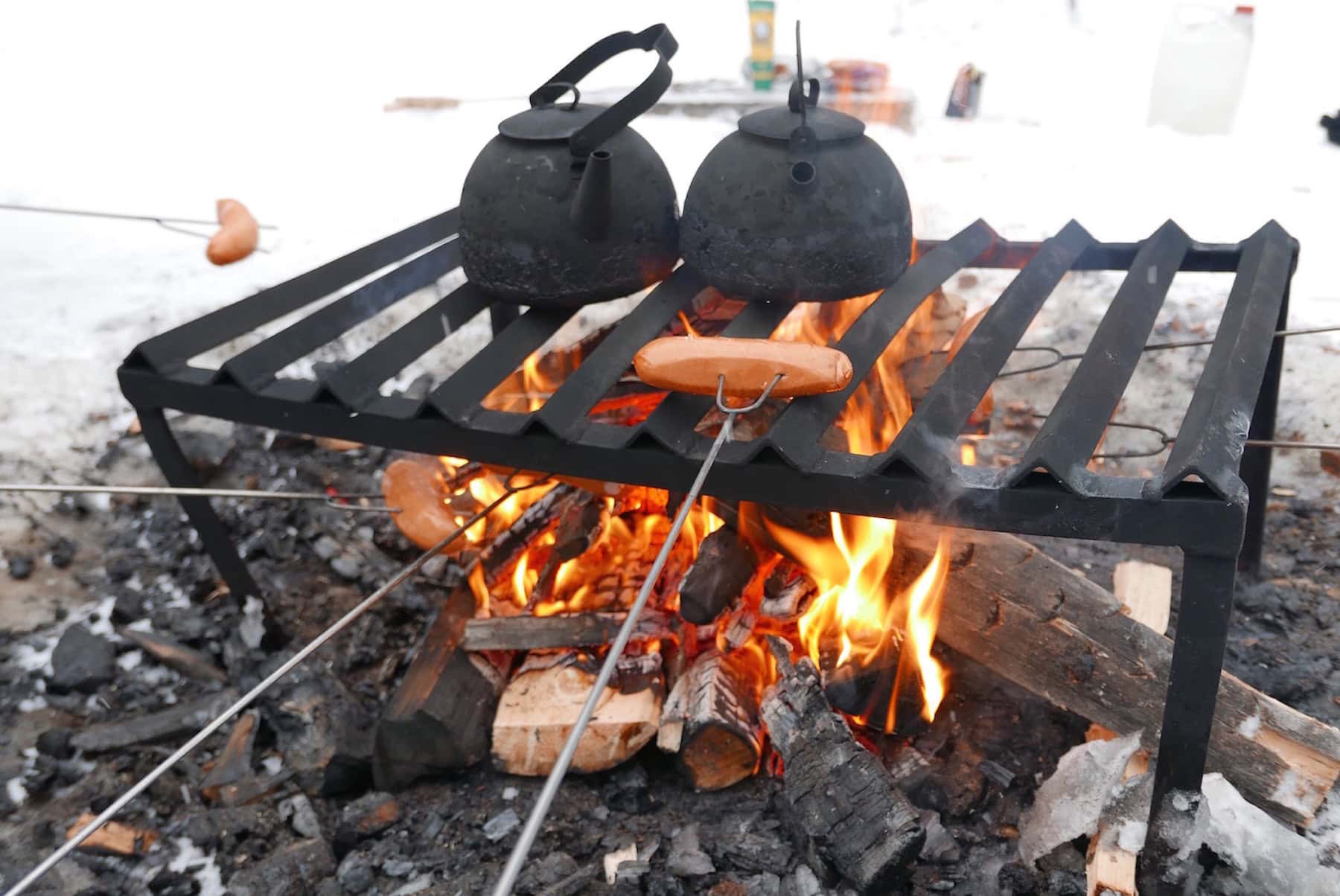 There are a lot of activity options available to you, but this is where your trip will start to get pricey so you may need to select your favourites. In winter you can take a reindeer or husky safari, drive around the forests on a snowmobile, go horse riding, spend an afternoon ice fishing, get out on an ice breaker and of course spend an evening aurora hunting. But Kakslauttanen is also a summer destination offering an equally extensive activity list for the summer months.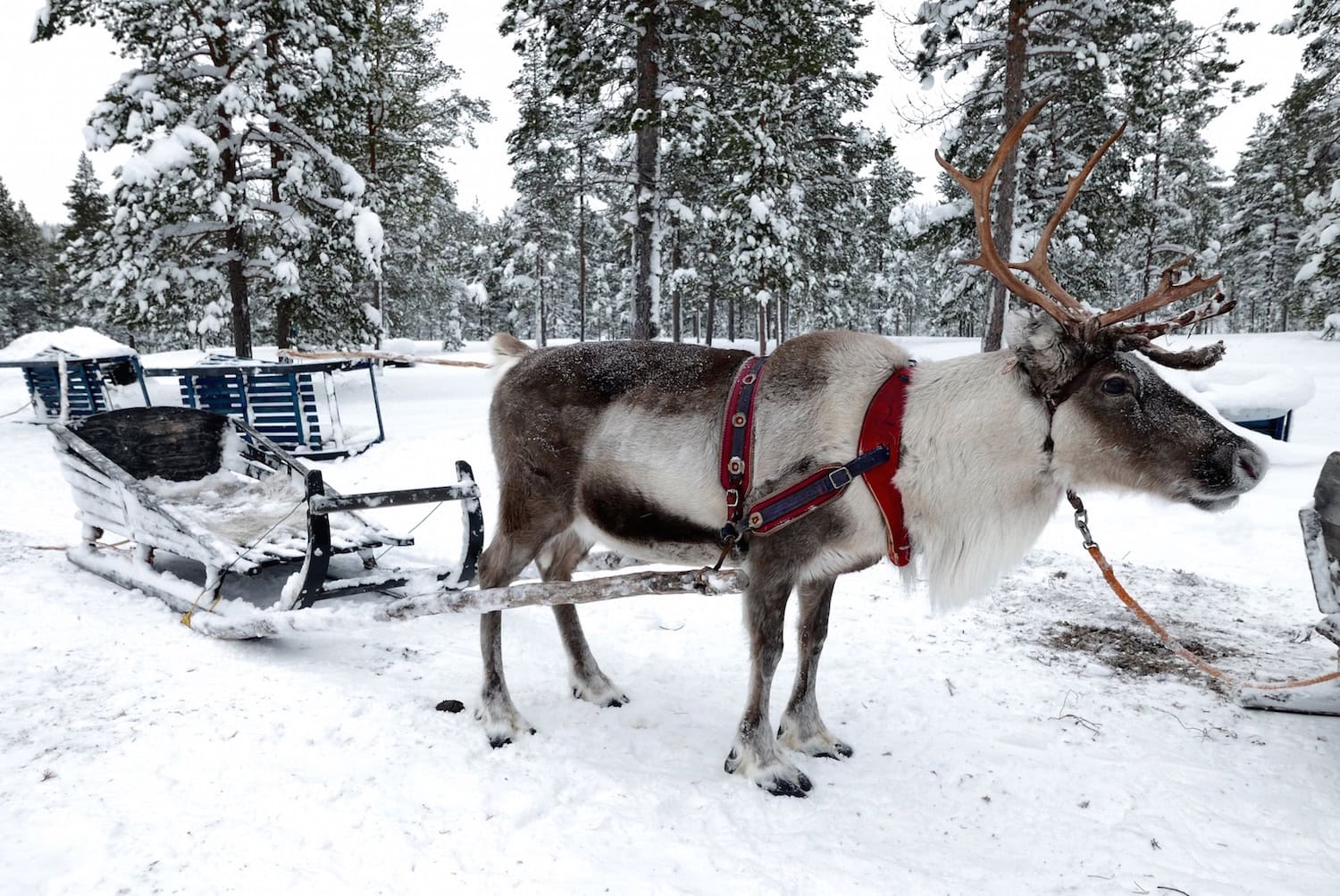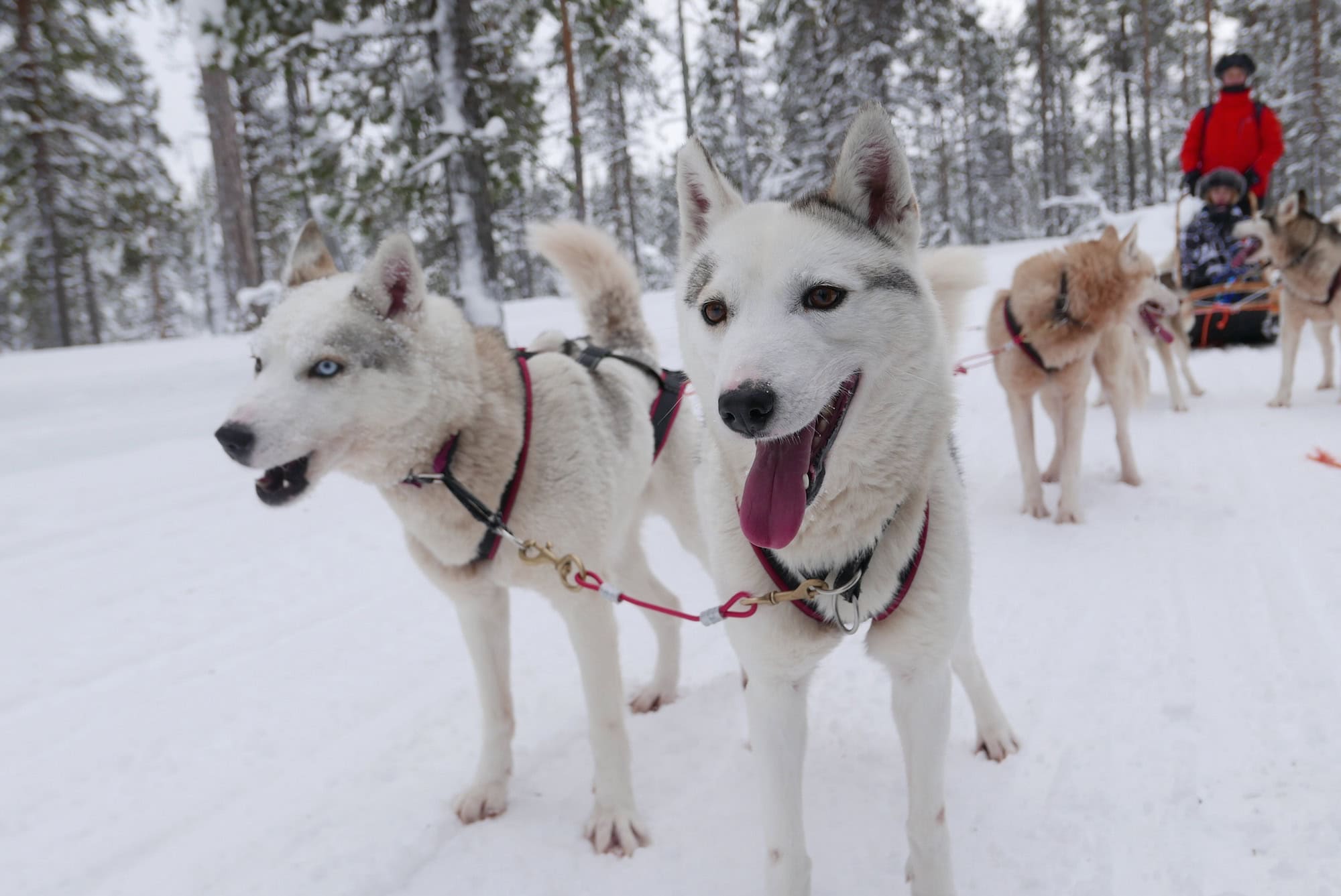 DAY 3 – SECOND NIGHT AT KAKSLAUTTANEN
So hopefully by the second night you will already have been lucky enough to see the Northern Lights from the comfort of your igloo, but in case you didn't its worth spending two nights here to increase your chances. Plus the resort has so many activities to keep you busy you will want more time to enjoy these. Make sure you indulge in an evening at the sauna. And spend time fully exploring and walking around the whole resort which is home to Santa's house, and of course take part in sledge racing!
For more information on the resort, rooms and activities please see my post Sleeping Under The Stars In Finland.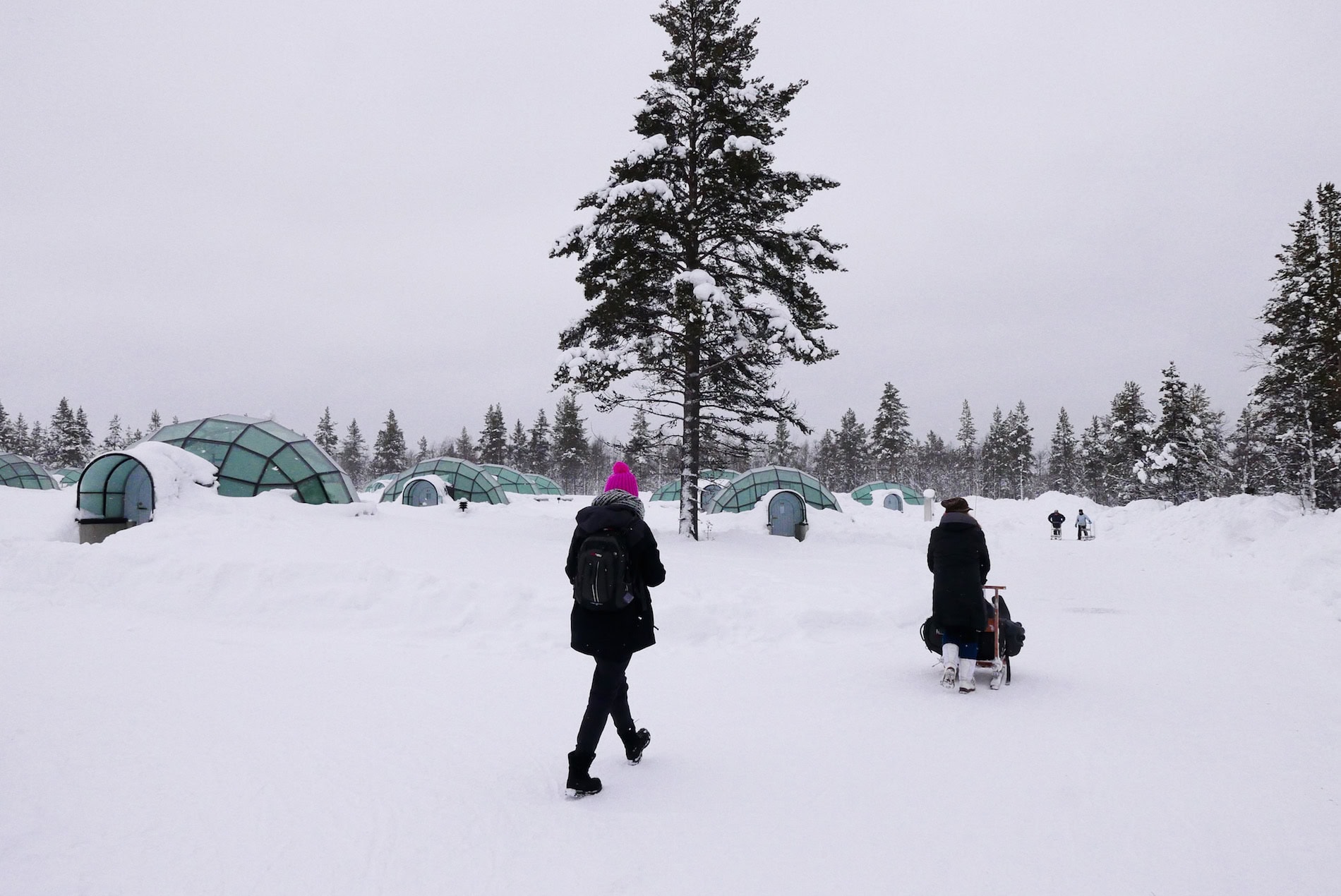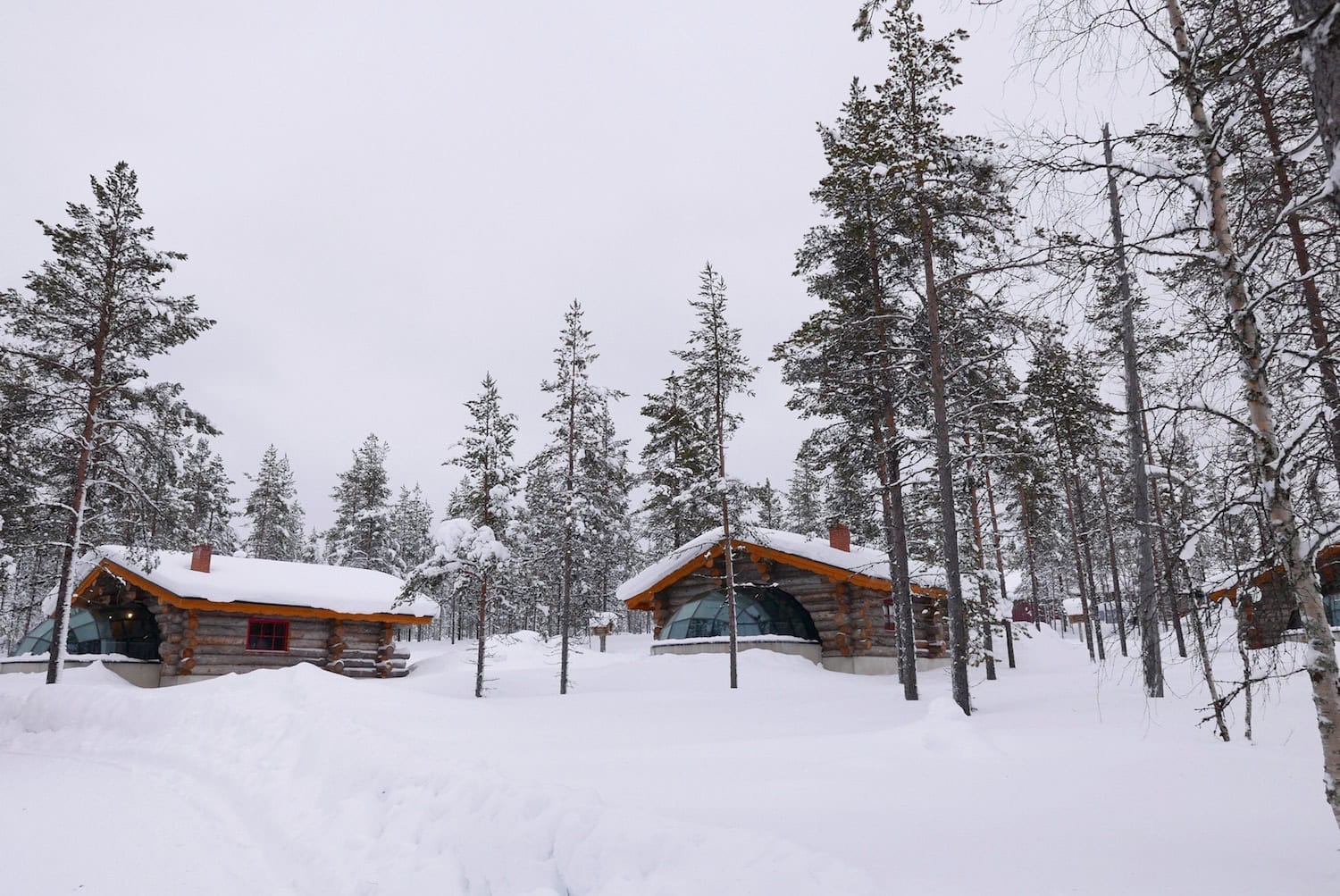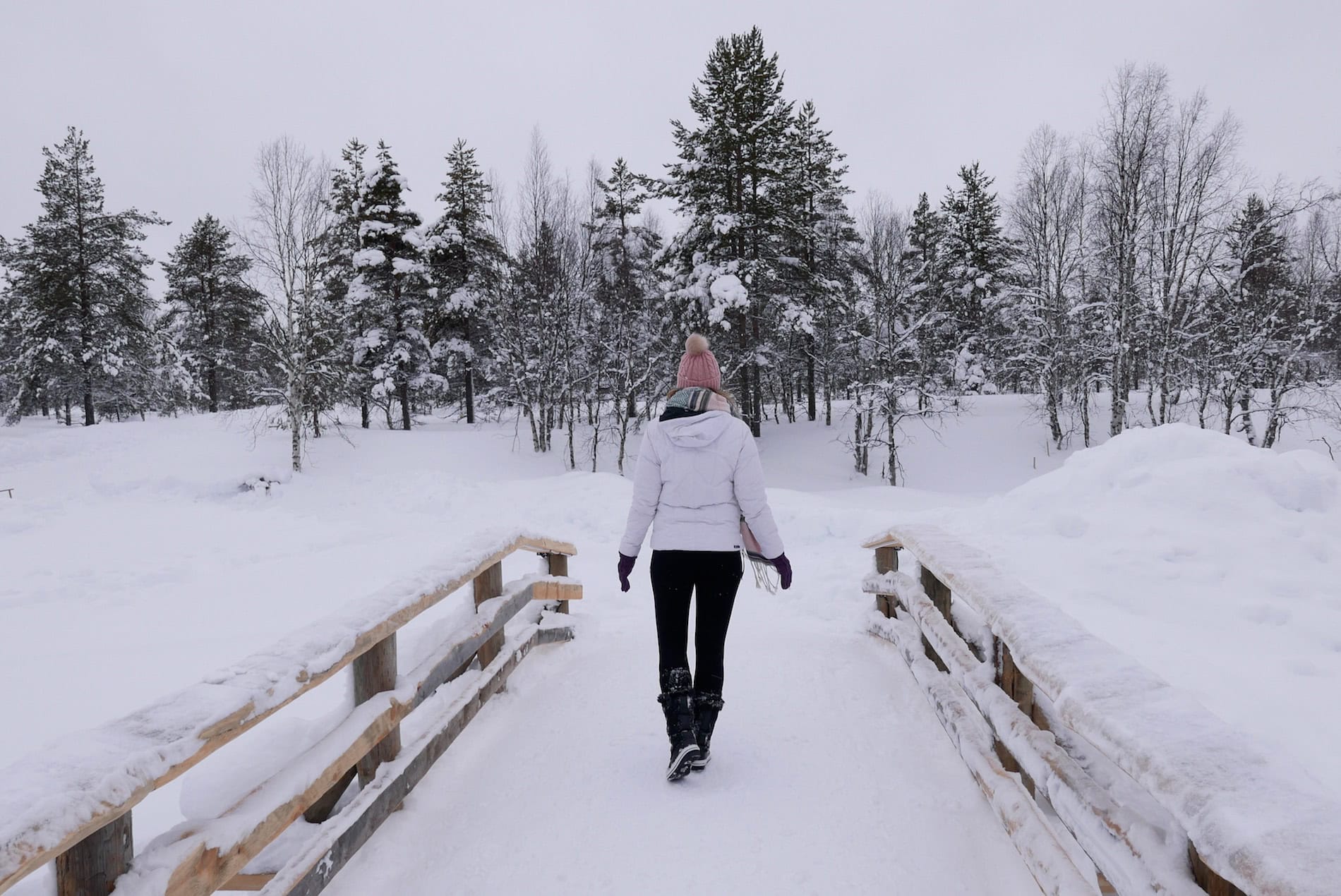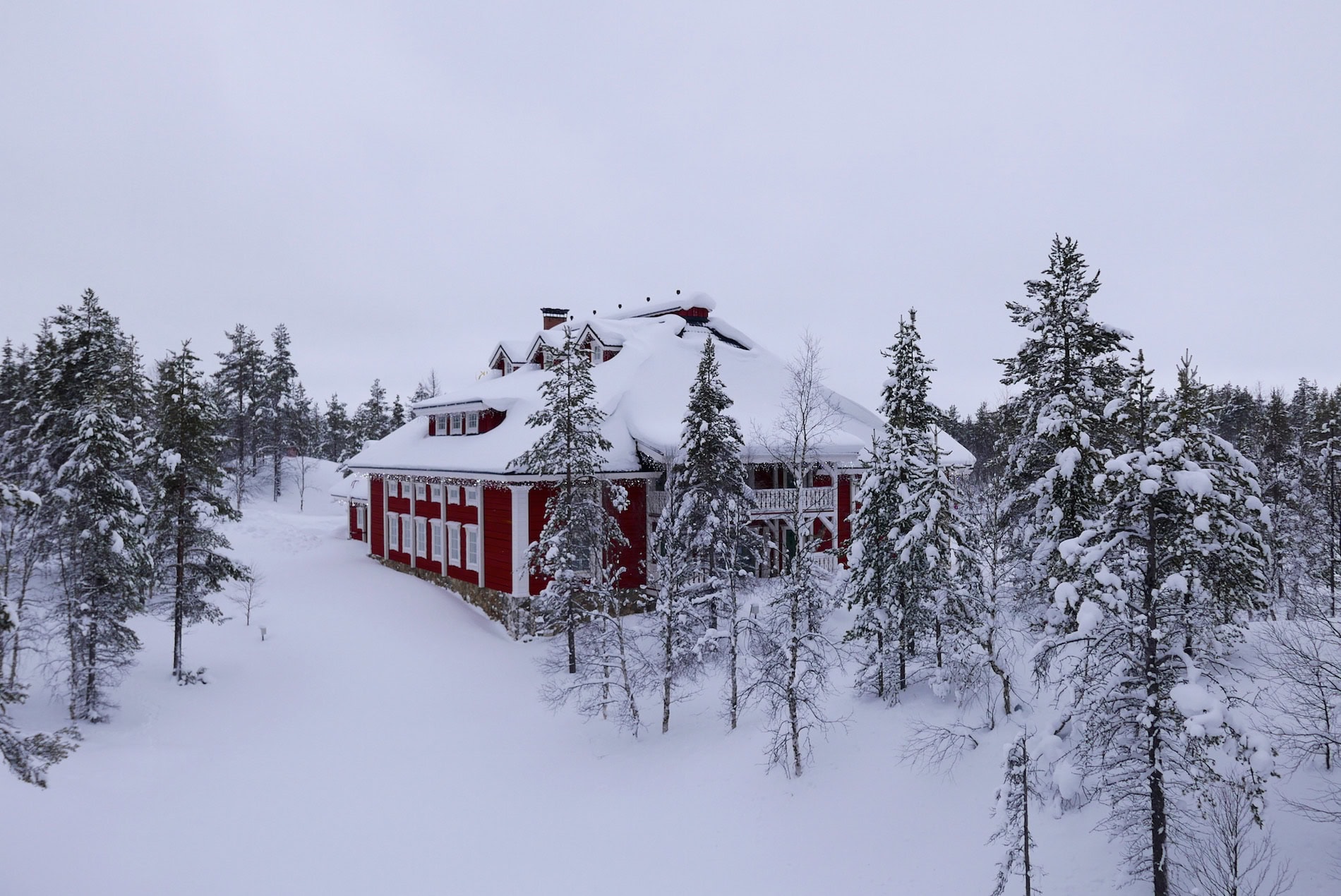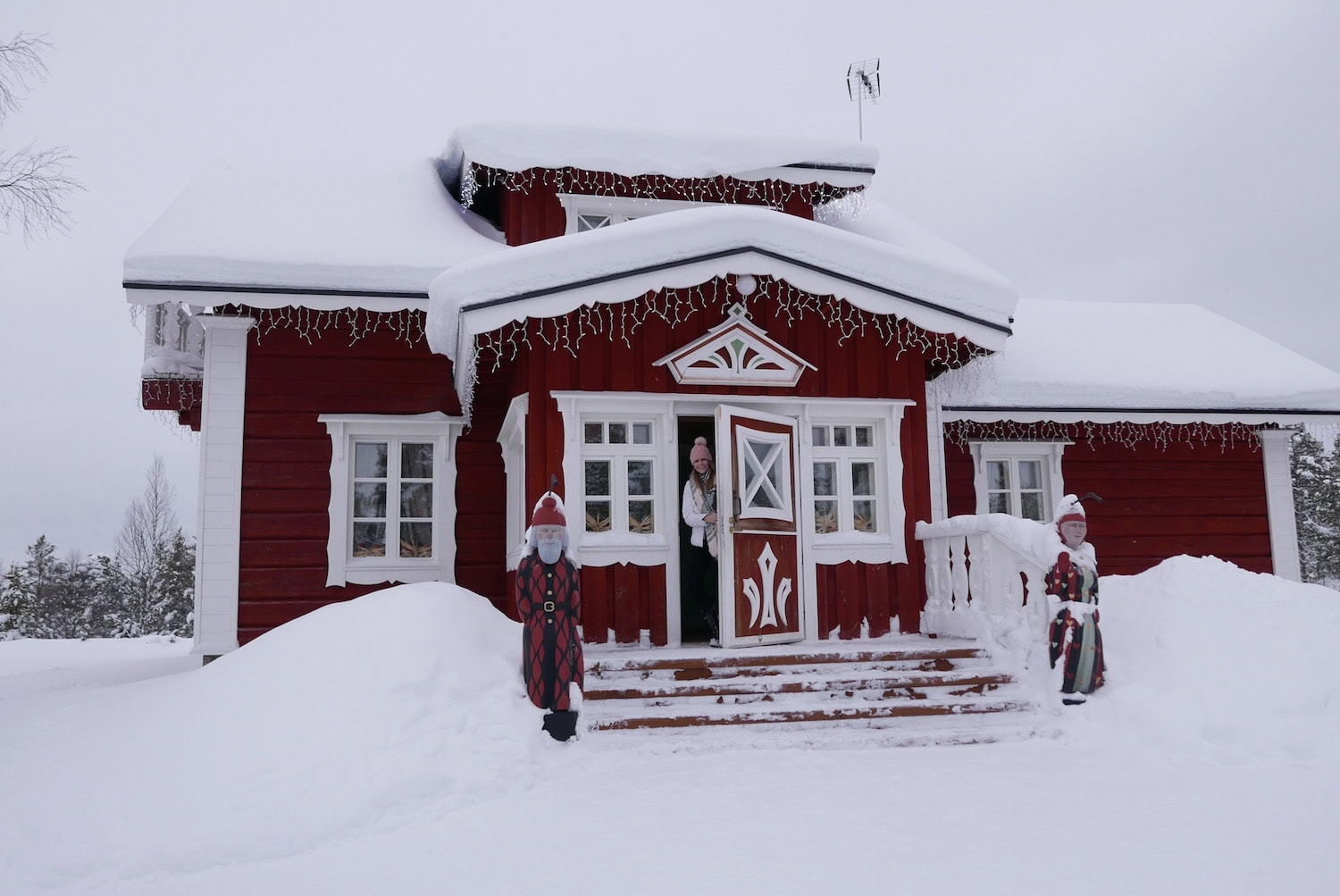 DAY 4 – BUS TO ROVANIEMI TO STAY AT THE ARCTIC SNOW HOTEL
There are three buses per day taking you to Rovaniemi, 7.23am, 13.08pm, 16.08pm. I would suggest taking the 7.23am bus which gets you to Rovaneimi at 11.13am allowing you most of the day to enjoy the Ice Hotel. Inform the hotel of you arrival time at the bus or train station (the bus stops at both) and they will collect you from there. Note, the buses run on time and the hotel will advise you to arrive at the bus stop a few minutes before departure (they offer a free shuttle service there). This is actually good advice so you don't have to stand in the cold too long like we did!
Onto the exciting bit, arriving at the Arctic Snow Hotel! The resort is much smaller than Kakslauttanen and I would honestly say one night is all you need to fully experience the hotel. On arrival, again you can book any activities (or plan these in advance) so you can base how many nights you stay on what activities you plan to do. Note, there are also glass igloos at the resort so you can stay here for a warmer night if you book for longer.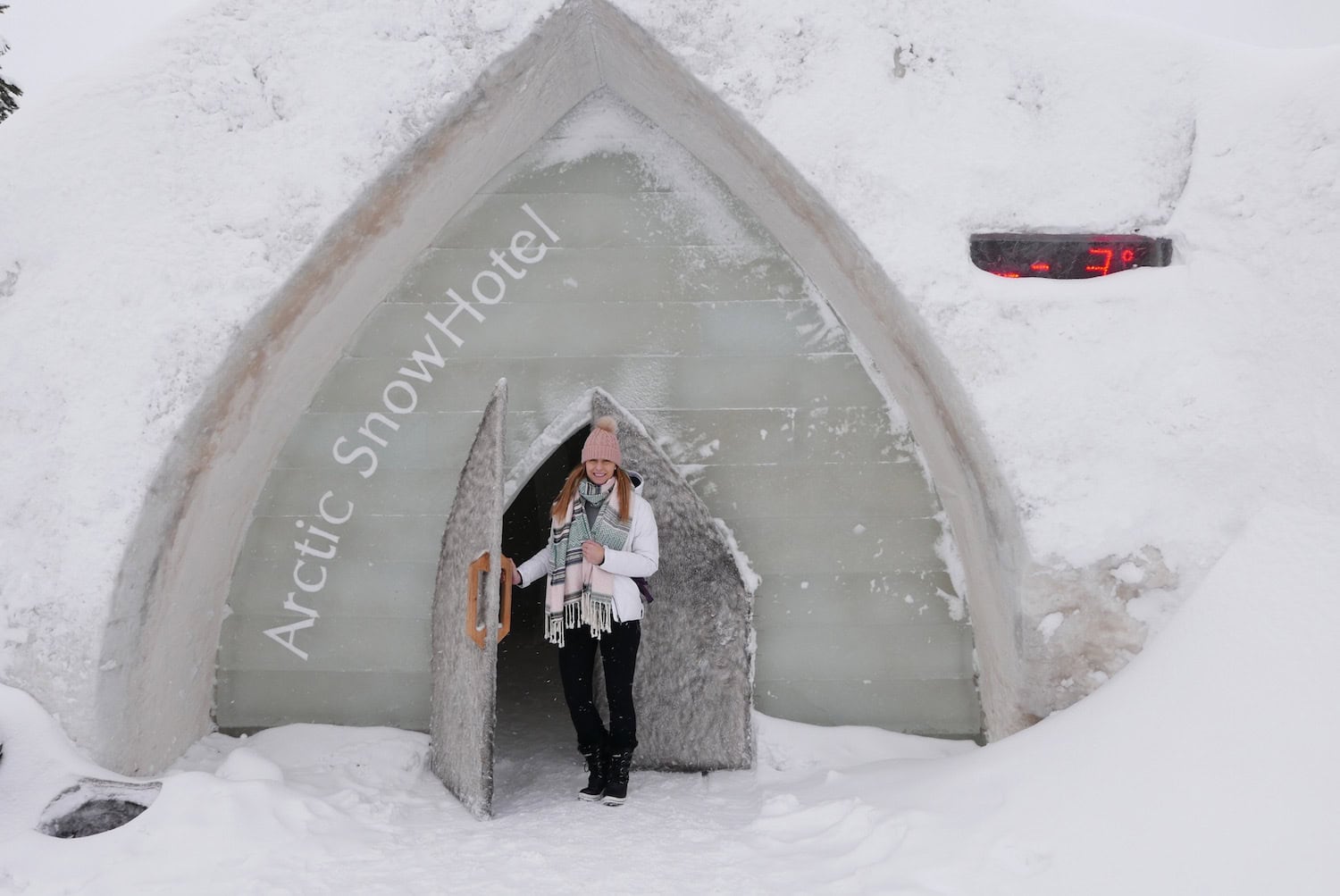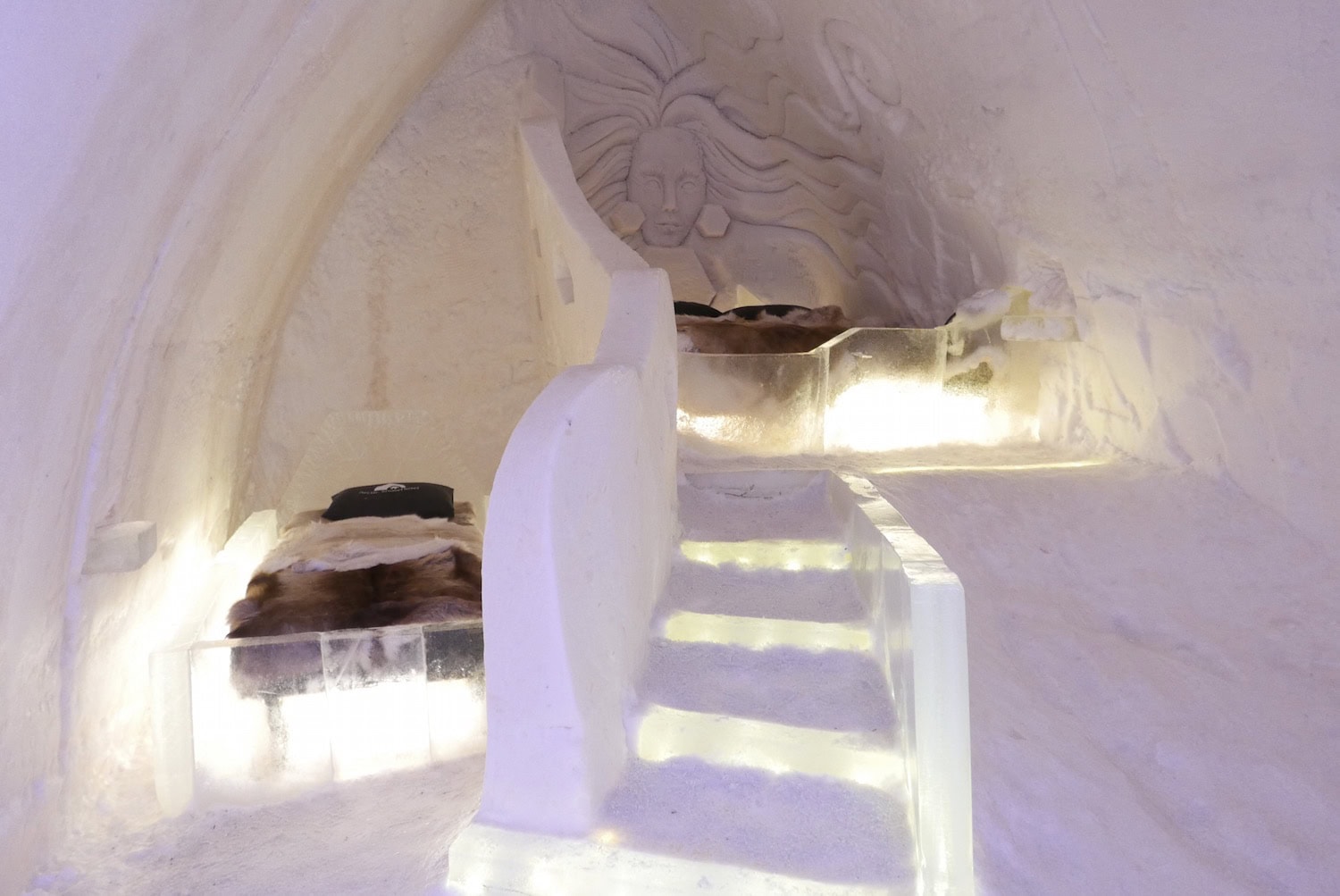 On arrival and check in, you will be given a tour of the Ice Hotel. What I hadn't realised before hand is that all of the rooms and suites are open to view all day so no need to book one of the fancy suites (unless your budget can afford it) as you can spend as much time as you want in each of them taking photos.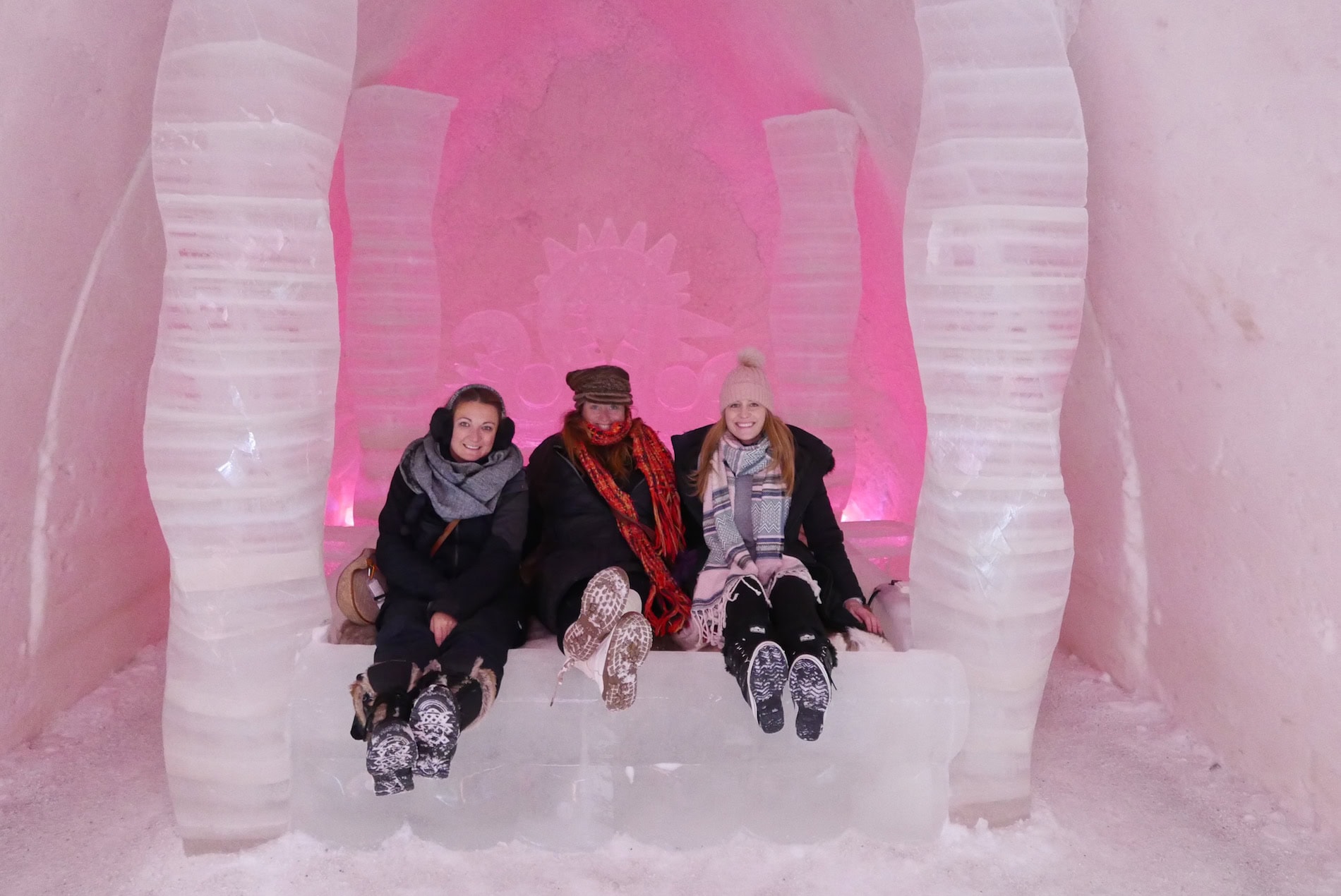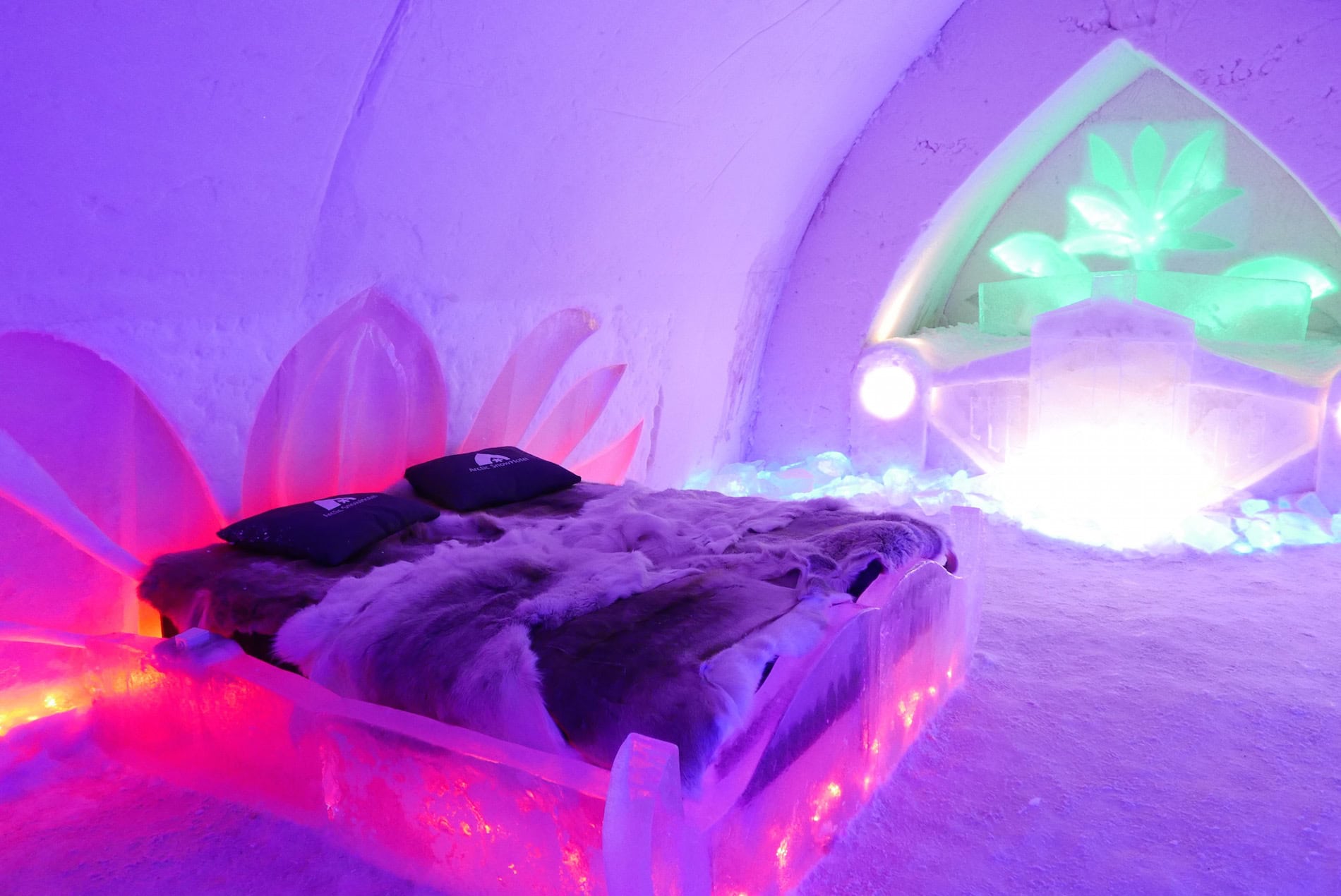 There are a few dining options at the hotel that you should reserve in advance. The Ice Restaurant, where you dine on ice tables with ice plates for dessert; The Kota restaurant, where you can have a traditional glowfried salmon in a large wooden hut warmed by the central fire and The Lumikartano which is in the main reception.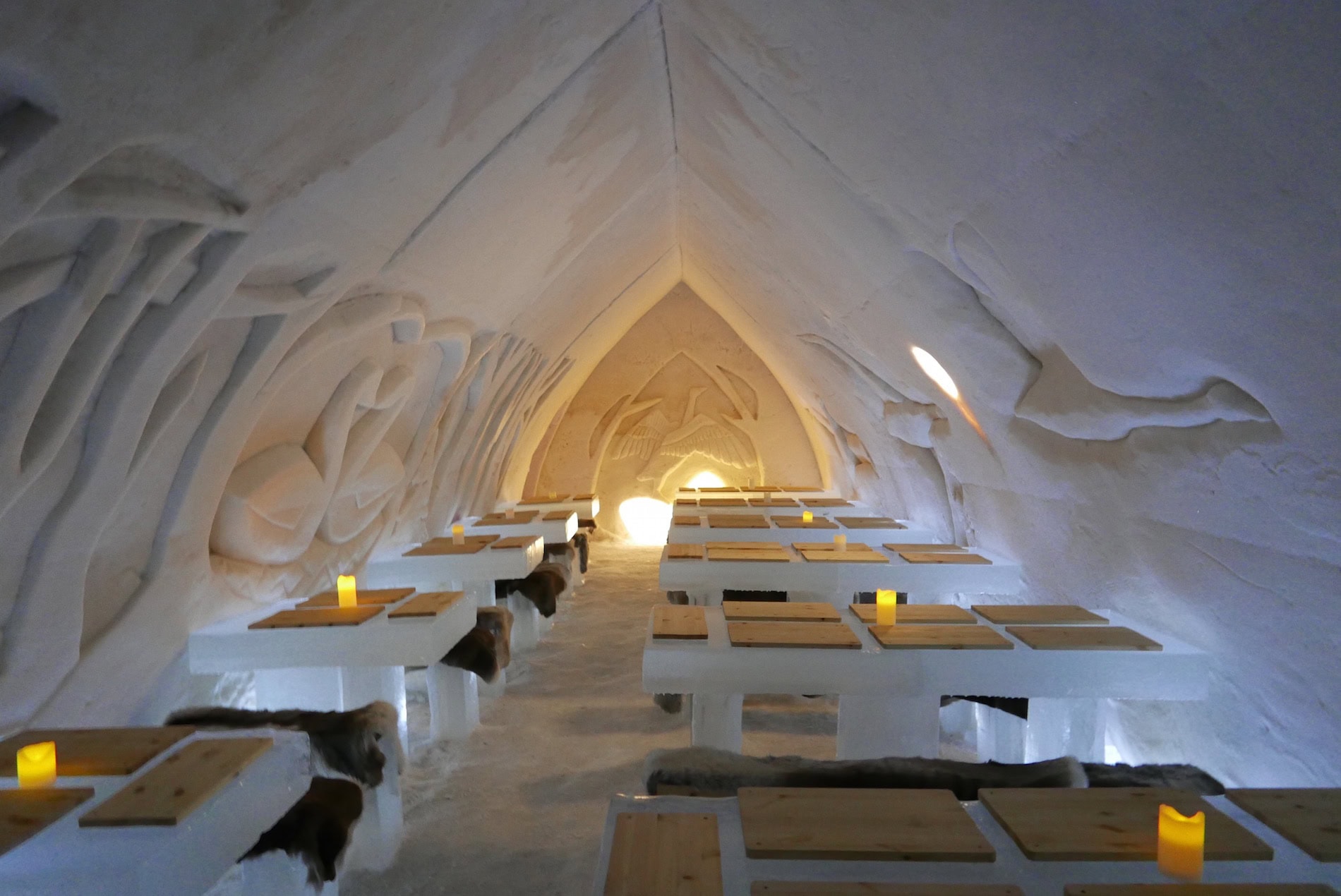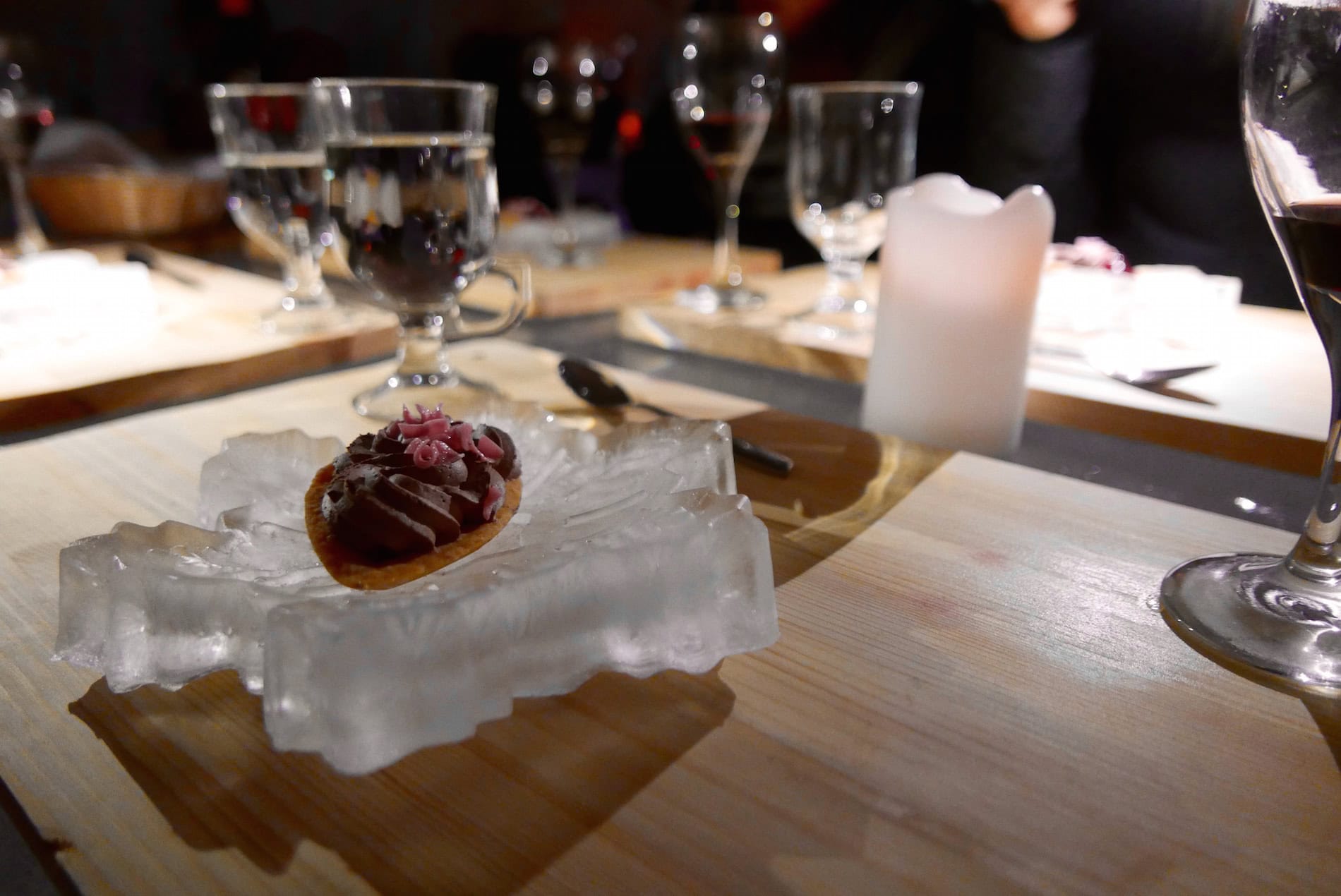 The Arctic Snow Hotel offers a similar range of activities to Kakslauttanen, but I would highly recommend the snow sauna or snow jacuzzi for a totally unique experience. We grabbed a bottle of champagne and enjoyed the hot tub under the stars.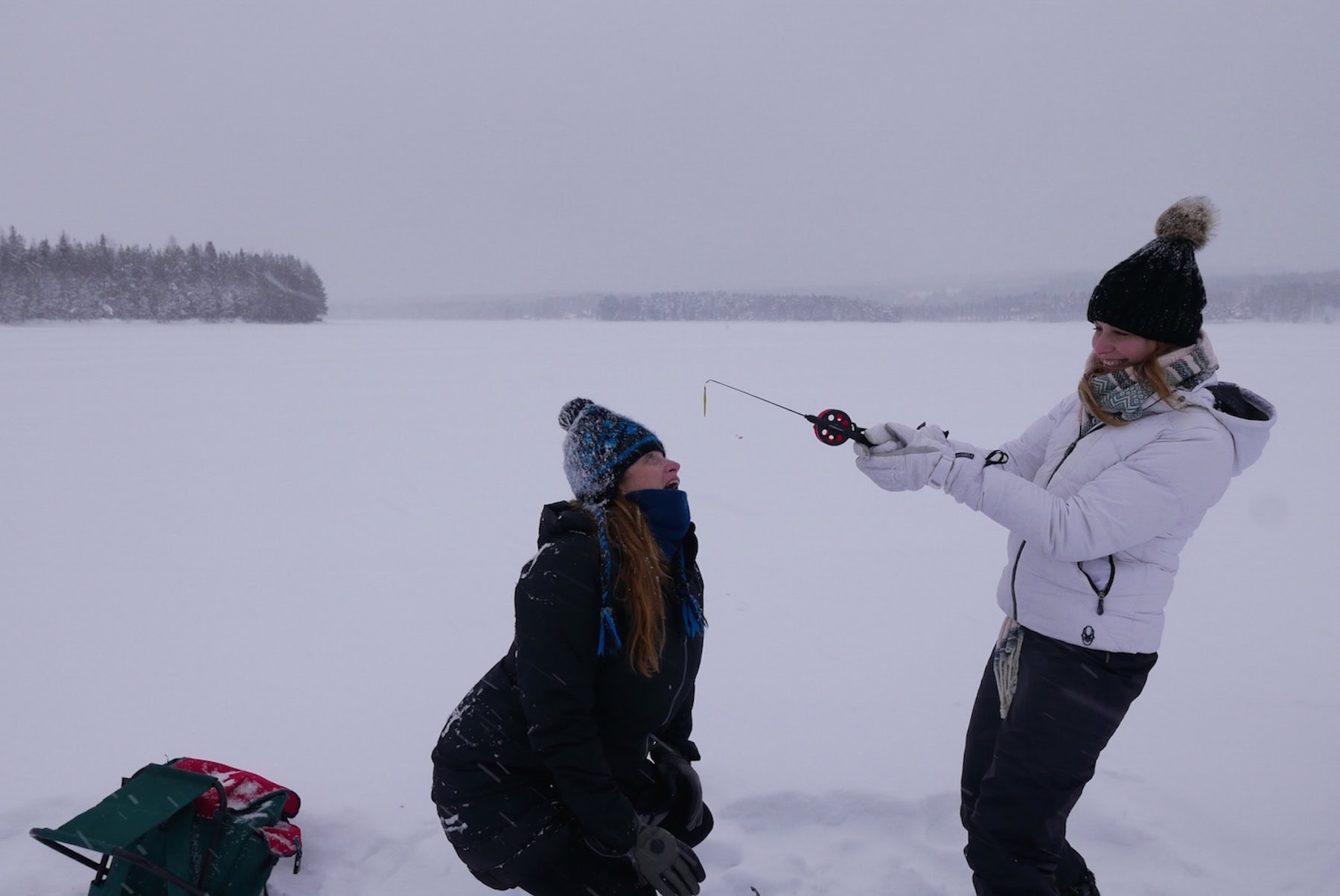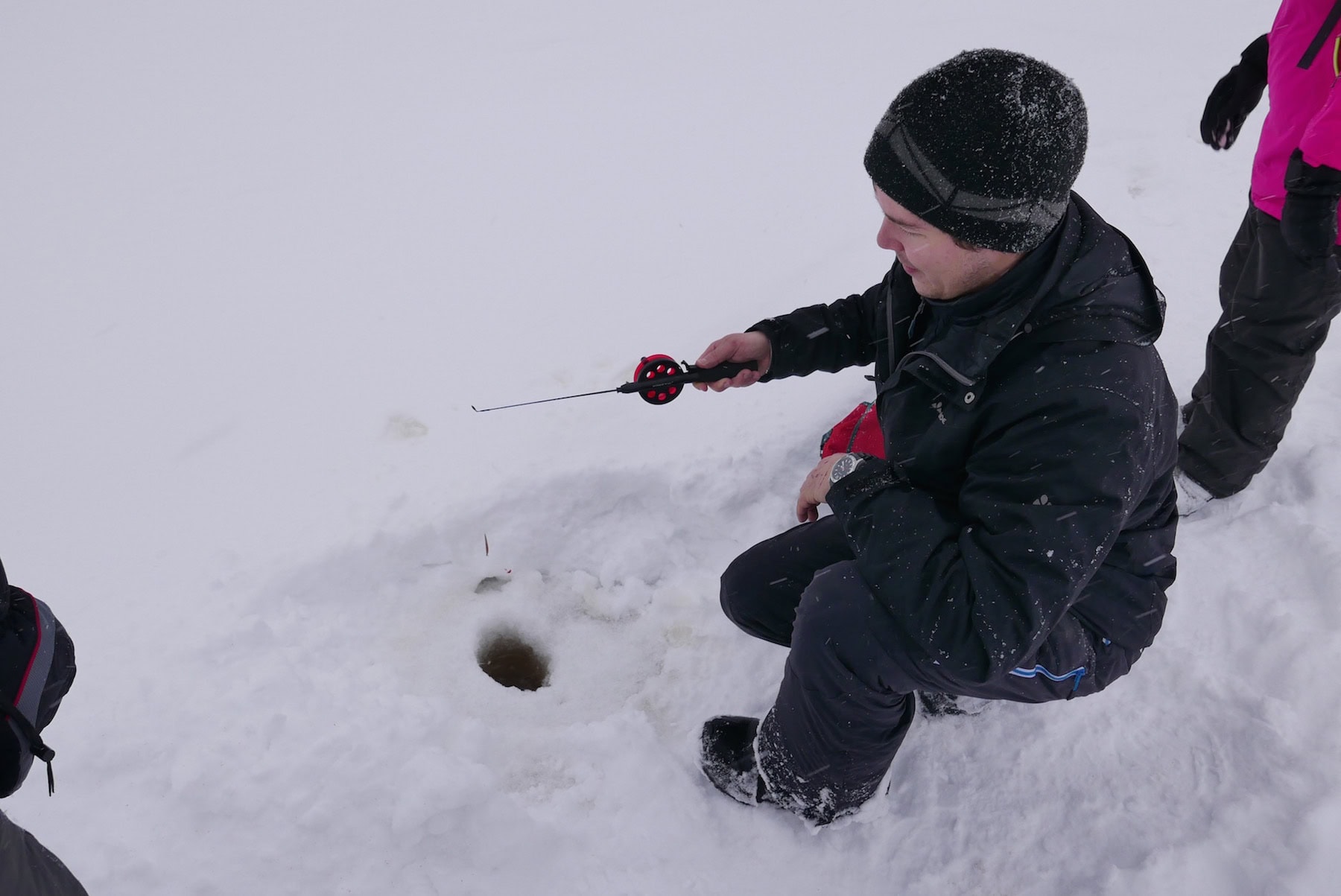 Whilst this post isn't intended as a full review of the hotels, its useful to know the procedures for sleeping at the ice hotel. Your main luggage will be held at reception in an open group area, whilst it is not locked away this seemed quite safe. When you are ready to start your night in the ice, you go to a cabin attached to the inside of the ice hotel that has large lockers for your valuables and overnight items.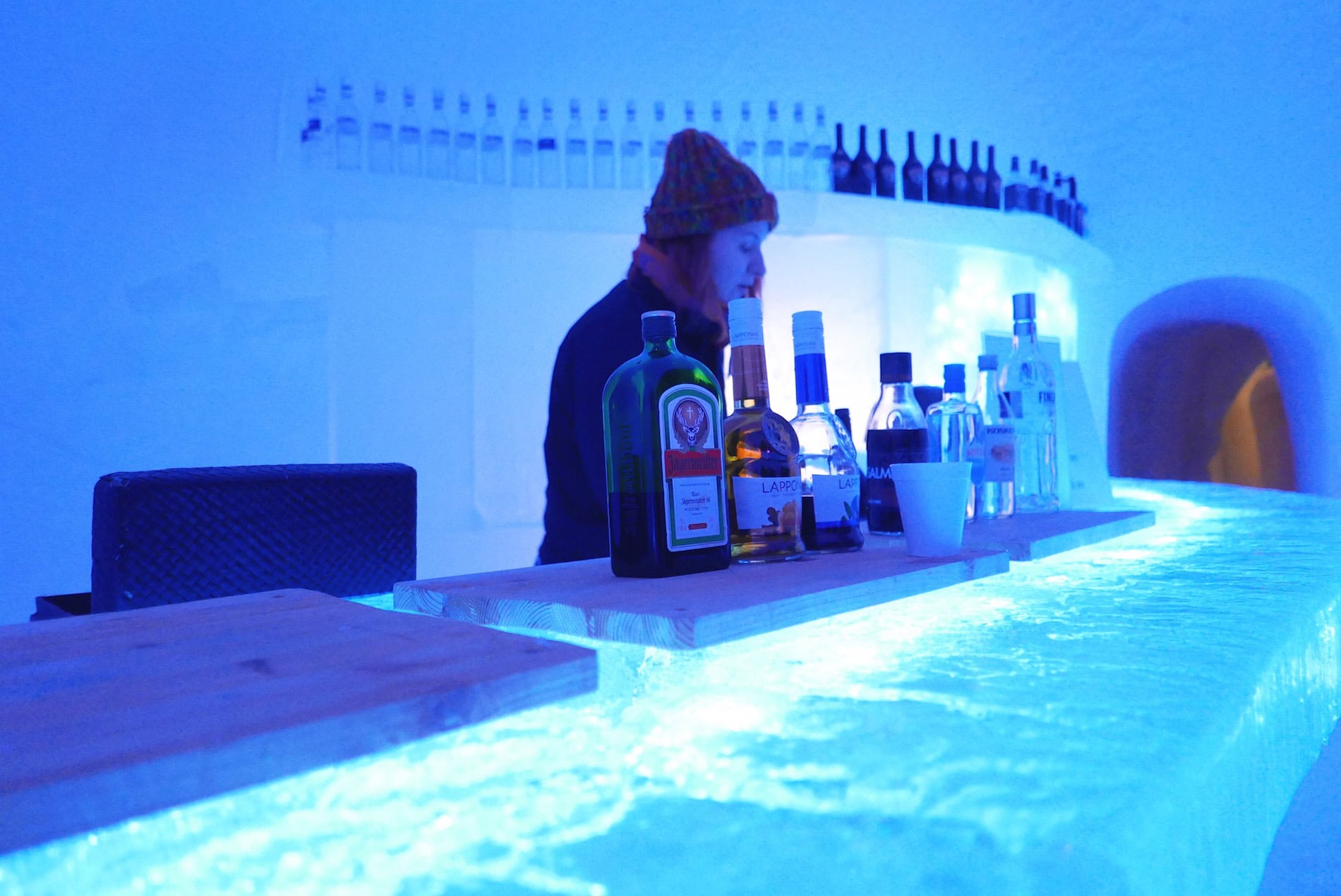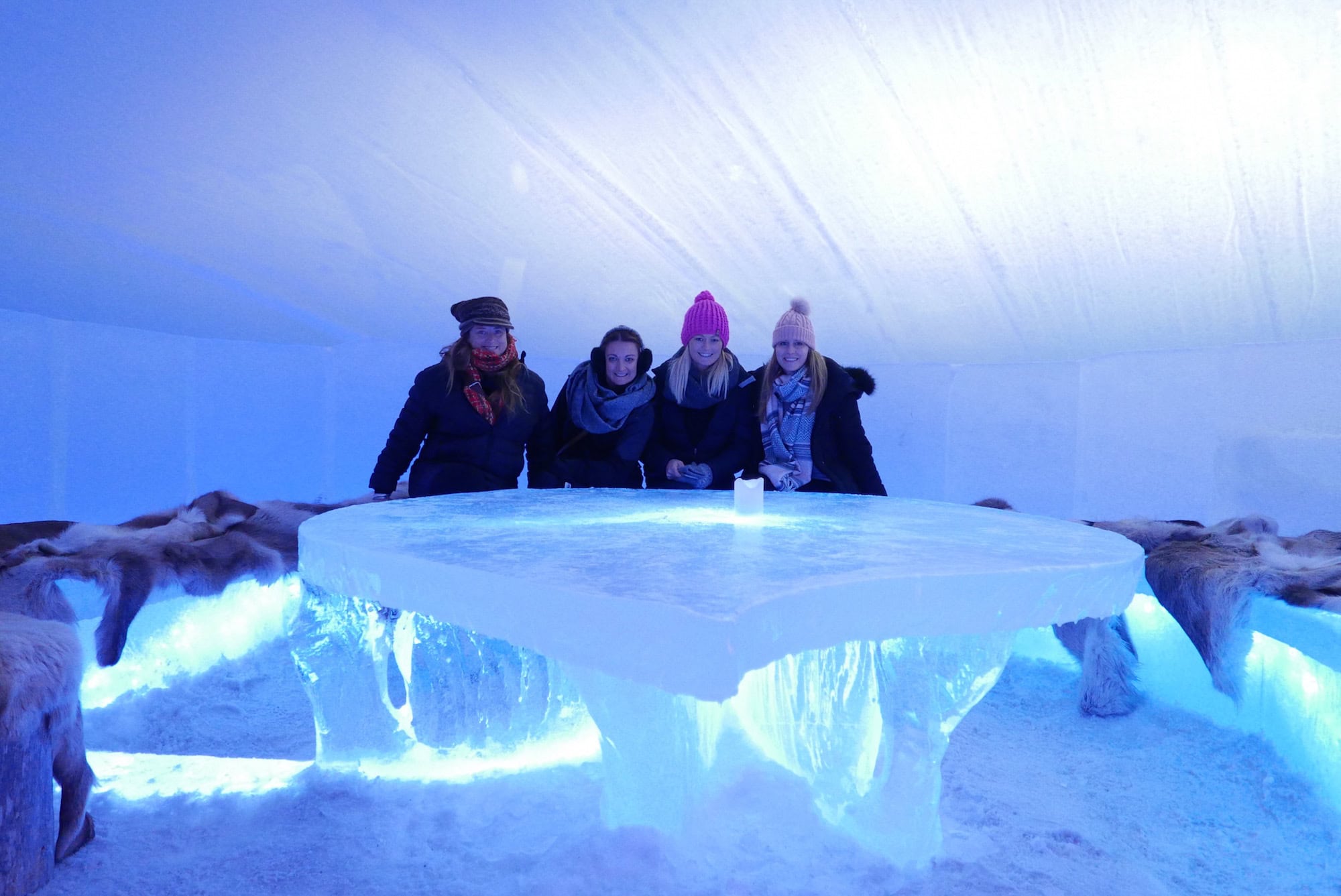 The guide will show you what you need for the night, surprisingly the less clothes the better so you do not overheat, and then a sleeping bag, an inner fleece bag and pillow. You will then go to your room and curl up for a cosy night in the ice. There is no door, just a curtain, you don't need to bring anything with you and you will be woken in the morning by one of the staff who will bring you hot berry juice in bed!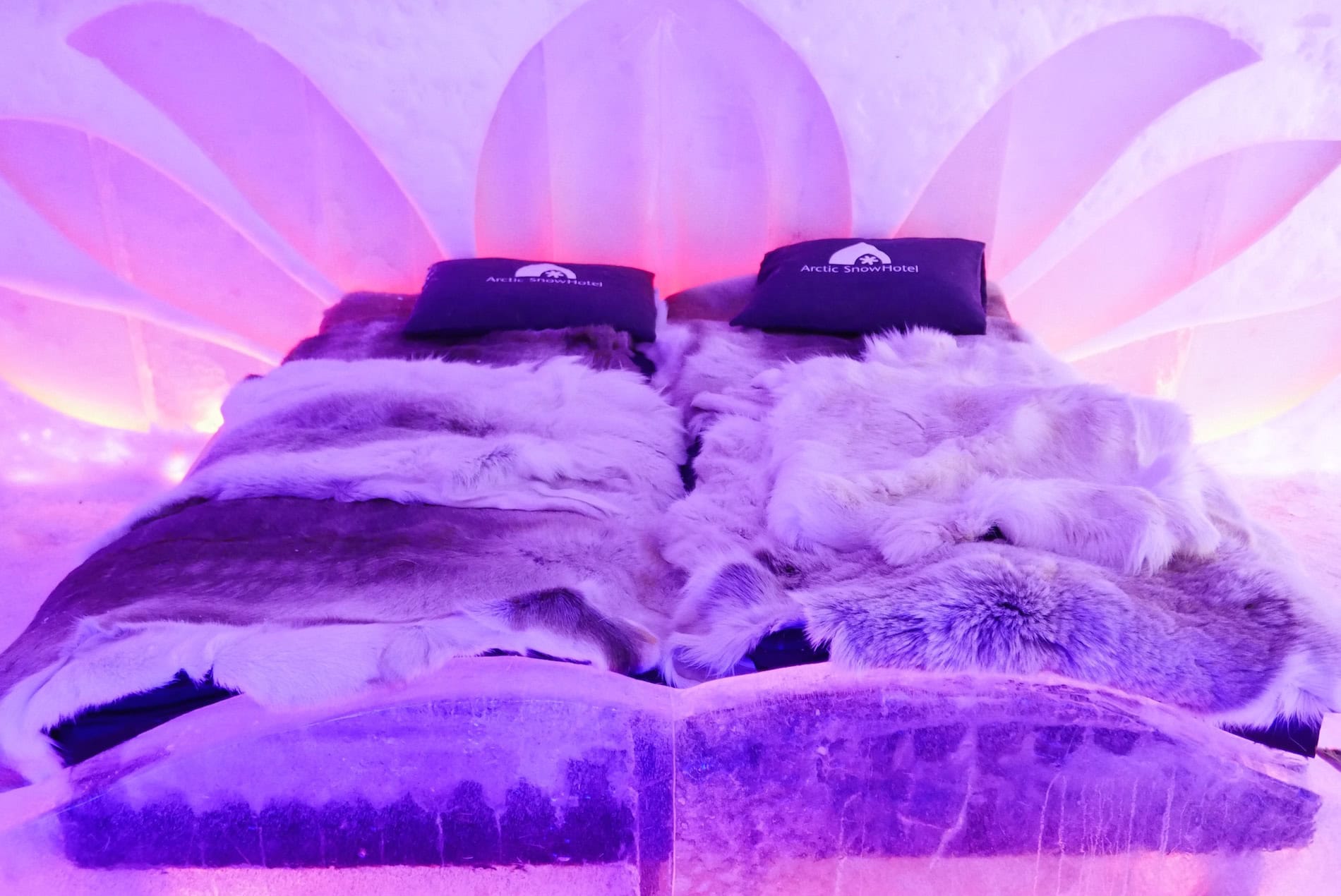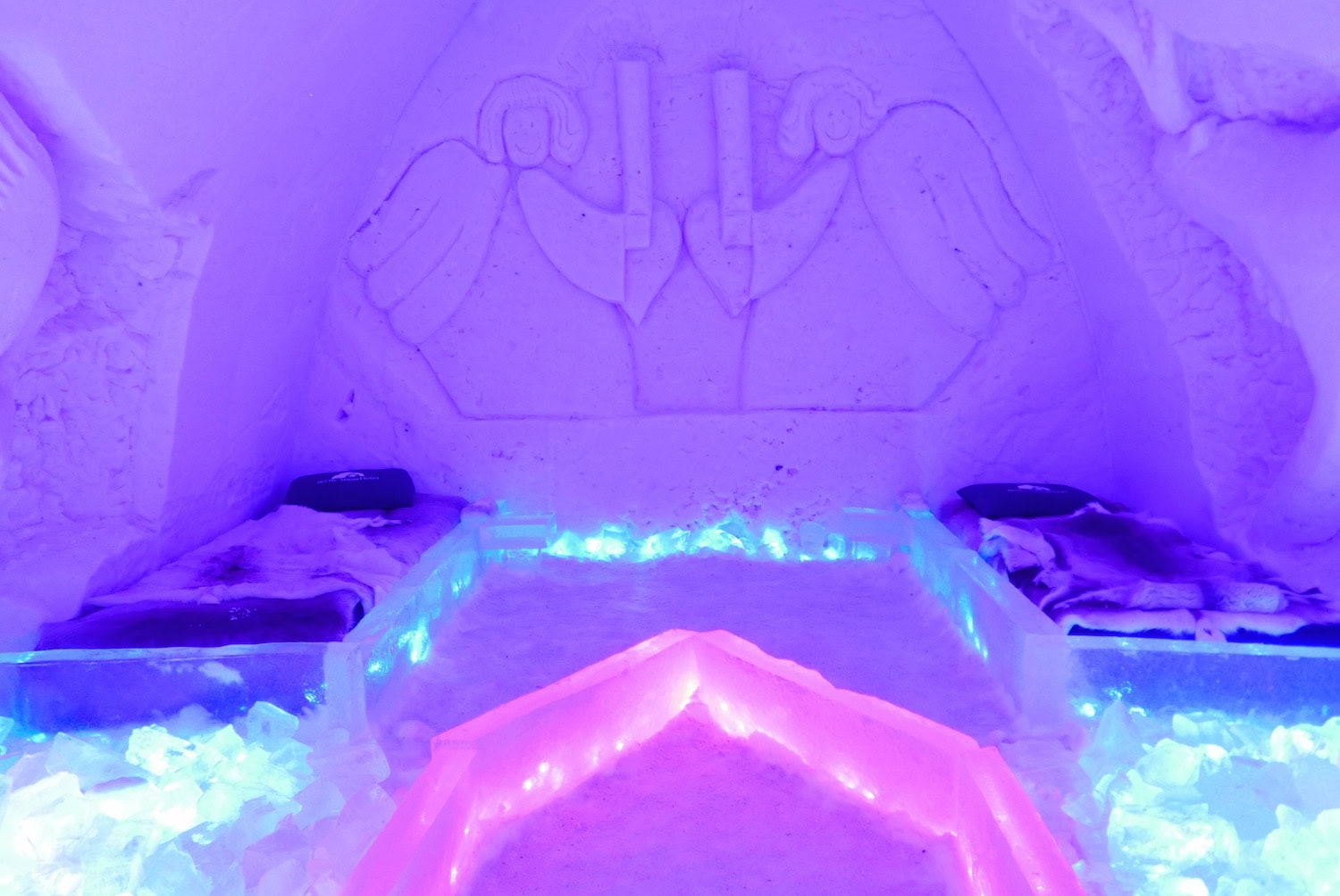 It's worth noting there are several rows of bunkbeds in the separate cabin I mentioned, so if you do get too cold during the night you can head there for a warmer nights sleep. The hotel is a typically between 0 and -5 degrees, however we never really felt cold at all with the right attire. Secondly, there are no toilets in the ice hotel itself so you will need wander back out over to the main reception building if you need this in the night.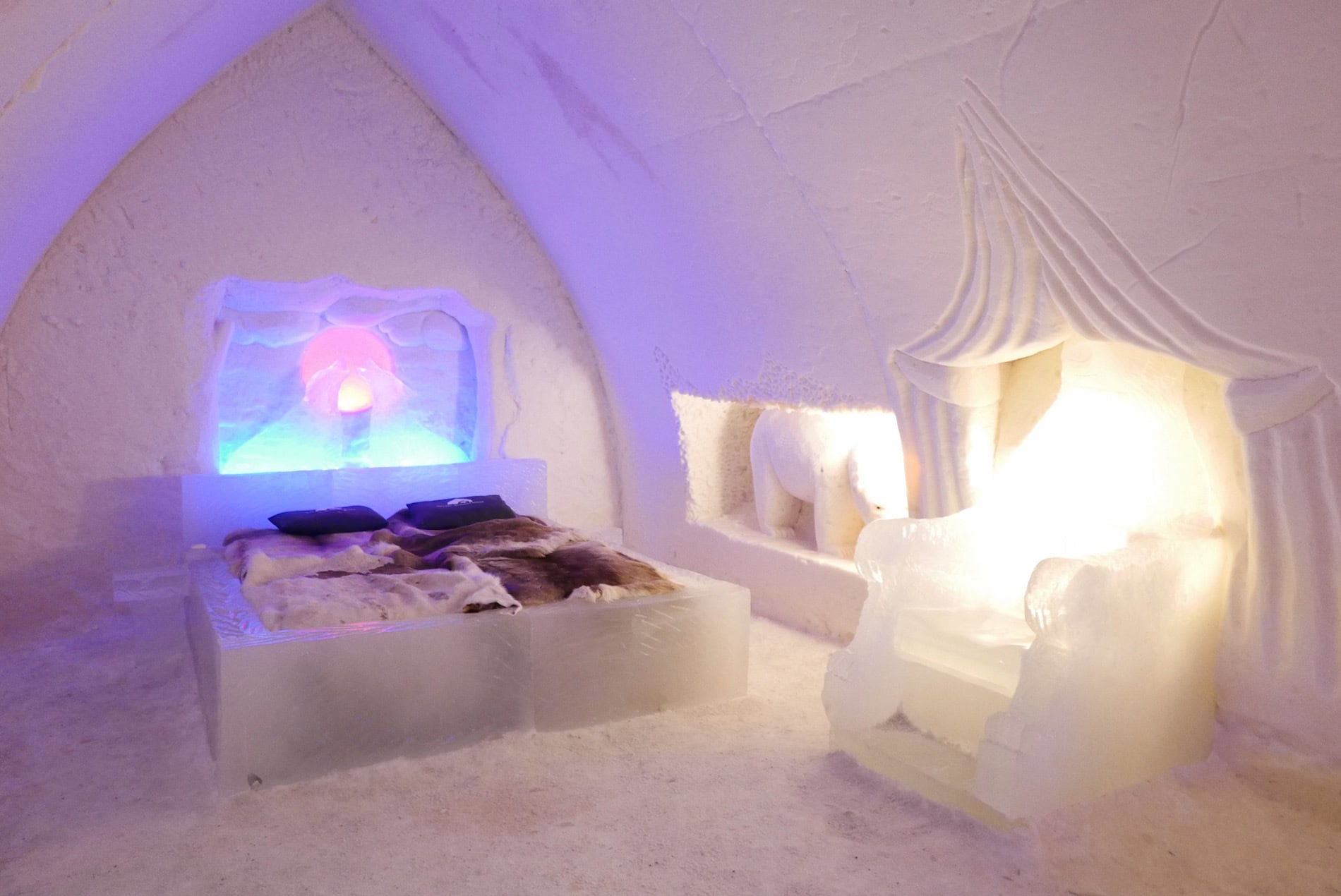 DAY 5 – HEADING HOME
Dependent on your flight times you can check out and leave your bags with reception. I took an afternoon flight from Rovaniemi back to Helsinki and an onward flight to London. If you have a later flight option it will provide some additional time for a morning activity.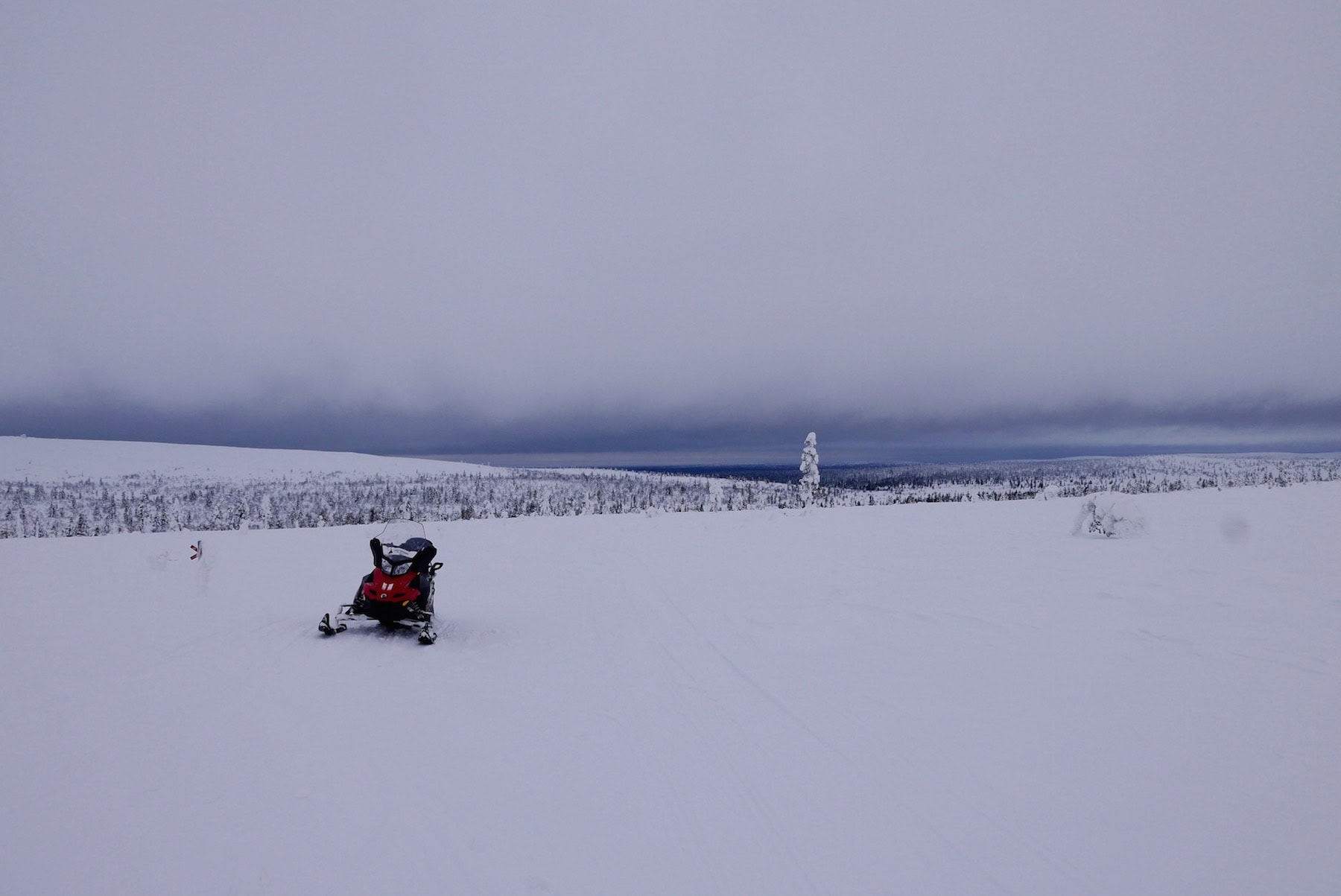 COST BREAKDOWN:
Total Accommodation Cost: £550 per person (note we were upgraded to a larger igloo at Kakslauttanen, so total cost may be more and will also vary dependent on time of year, how far in advance you book, which accommodation option you select). At Kakslauttanen prices start at EUR 299 for double occupancy small igloo. At the Arctic Snow Hotel start at EUR 130 pp for a room and EUR 350 for a 2 person suite. *Editor Update – prices may have increased since the time of publishing.
Meals at Kakslauttanen: Breakfast and dinner were included in our stay and light lunches were included with any booked activities. The menu look reasonably priced though and there are some options to dine in town if you prefer.
Meals at the Arctic Snow Hotel: Not included (in our package). Dinner at the Ice Restaurant is listed as EUR 89 on the site, however we paid around EUR 40 so make sure to discuss this in advance when booking your room to get a discount.
Activities: The activity options range from EUR 25 – EUR 250 at both resorts. There are even some activities that are upwards of EUR 900 per person such as overnight husky safari and full day ice breaker.
Internal Flights Helsinki – Ivalo: From c. EUR 29 each way Finnair or Norwegian
Internal Flights Rovaniemi – Helsinki: From c. EUR 40 Finnair or Norwegian
Airport Shuttle to Kakslauttanen: EUR 20 Return
Bus Ivalo – Rovaniemi: EUR 53.50. Book online with matkahuolto.fi, this is reliable and you can pre-book your exact seats on the bus.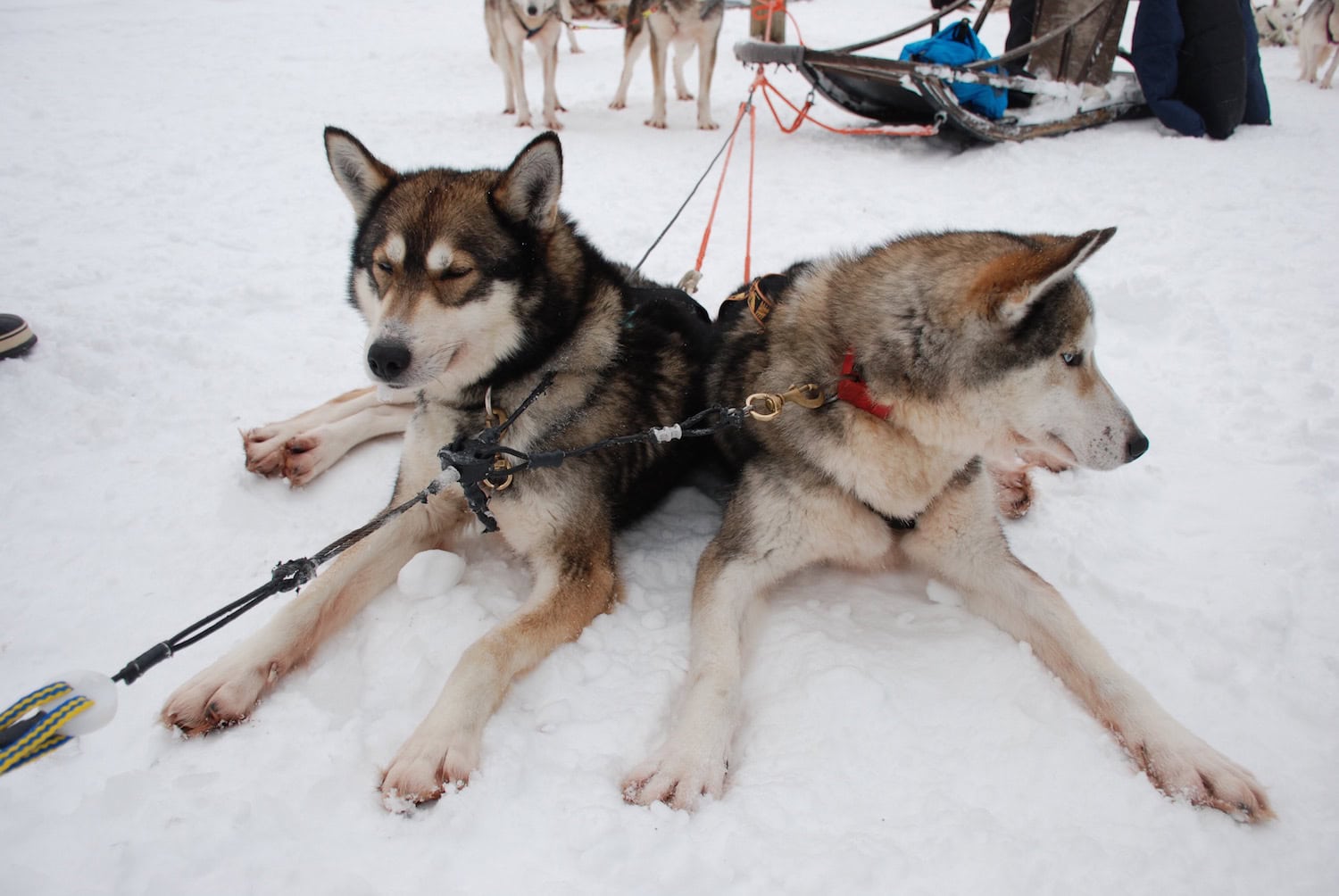 OTHER INFORMATION:
– If a visit to the Arctic Snow Hotel (or Kakslauttanen) is out of your budget range, you can visit for a guided tour for EUR 40 or visit one of the restaurants for dinner, which will give you the opportunity to view all the rooms and the Ice Bar.
– If availability permits, you can upgrade from your basic room to one of the suites at the Arctic Snow Hotel for EUR 90 on arrival at the resort.
– If you choose to do a husky or reindeer safari, there is no need to do the 4 hour option. 2 hours is plenty of time, and you will honestly be freezing your toes off after about an hour and half.
– Most activities provide full snow suits, hats, boots and gloves so you don't need to bring specific clothing with you for tours. Usual ski / cold weather gear and thermals is fine. But pack as light as you can as you will be sledging your own cases to your room at Kakslauttanen!
– Alcohol is reasonably priced at the resorts. We expected a high price at the bar and restaurant, given you do not other choices, but a bottle of wine was around EUR 25.
– Husky and reindeer sledding. Please take the time to research these yourselves and make an informed decision about whether you are comfortable to participate in these activities in the location or resort you are visiting. I have not covered the ethics in this post, but based on my experience at Kakslauttanen I found the dogs to be healthy and loved by their owner, who owned 60 of the huskies and was there to talk to, ask questions and learn about this breed of dogs.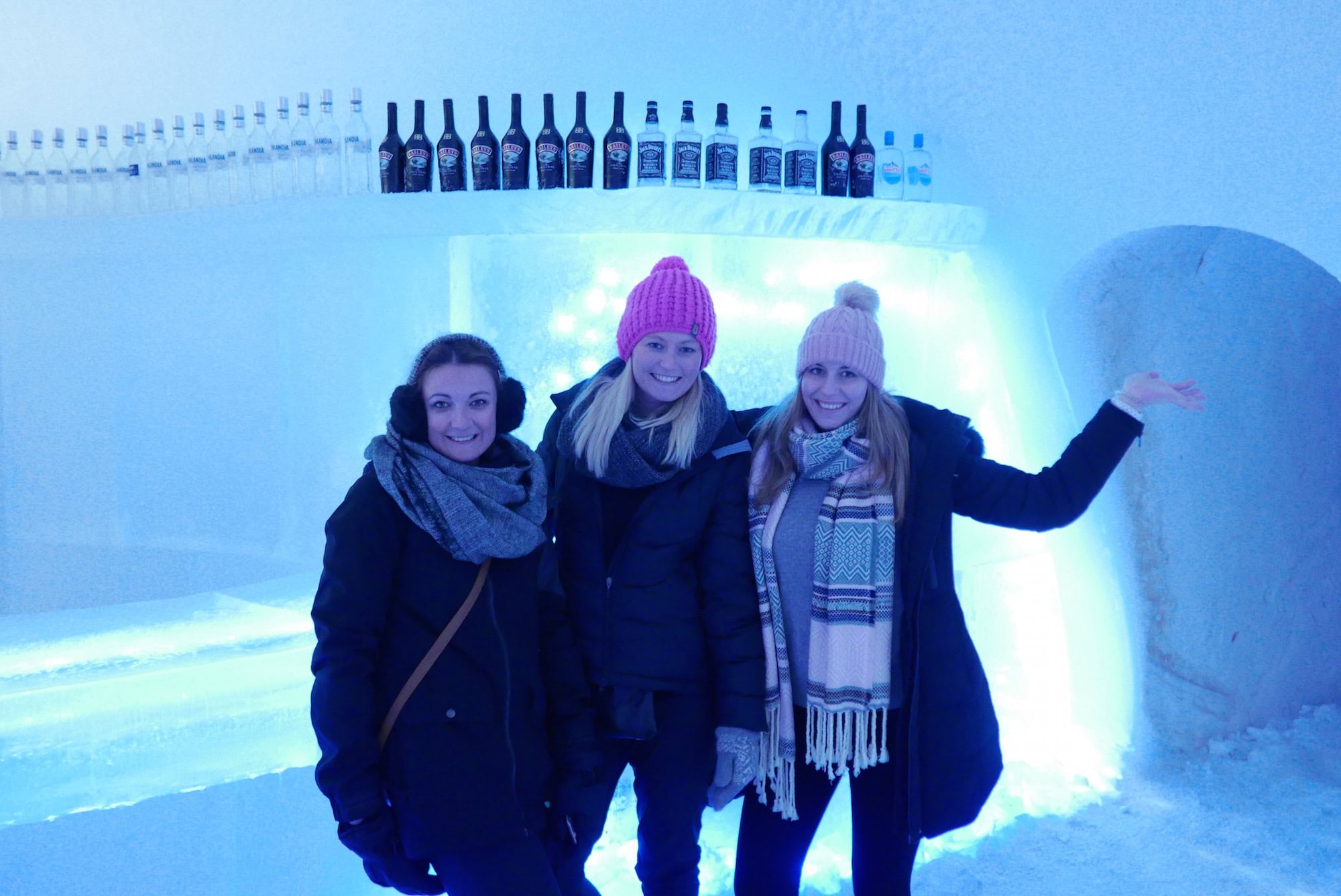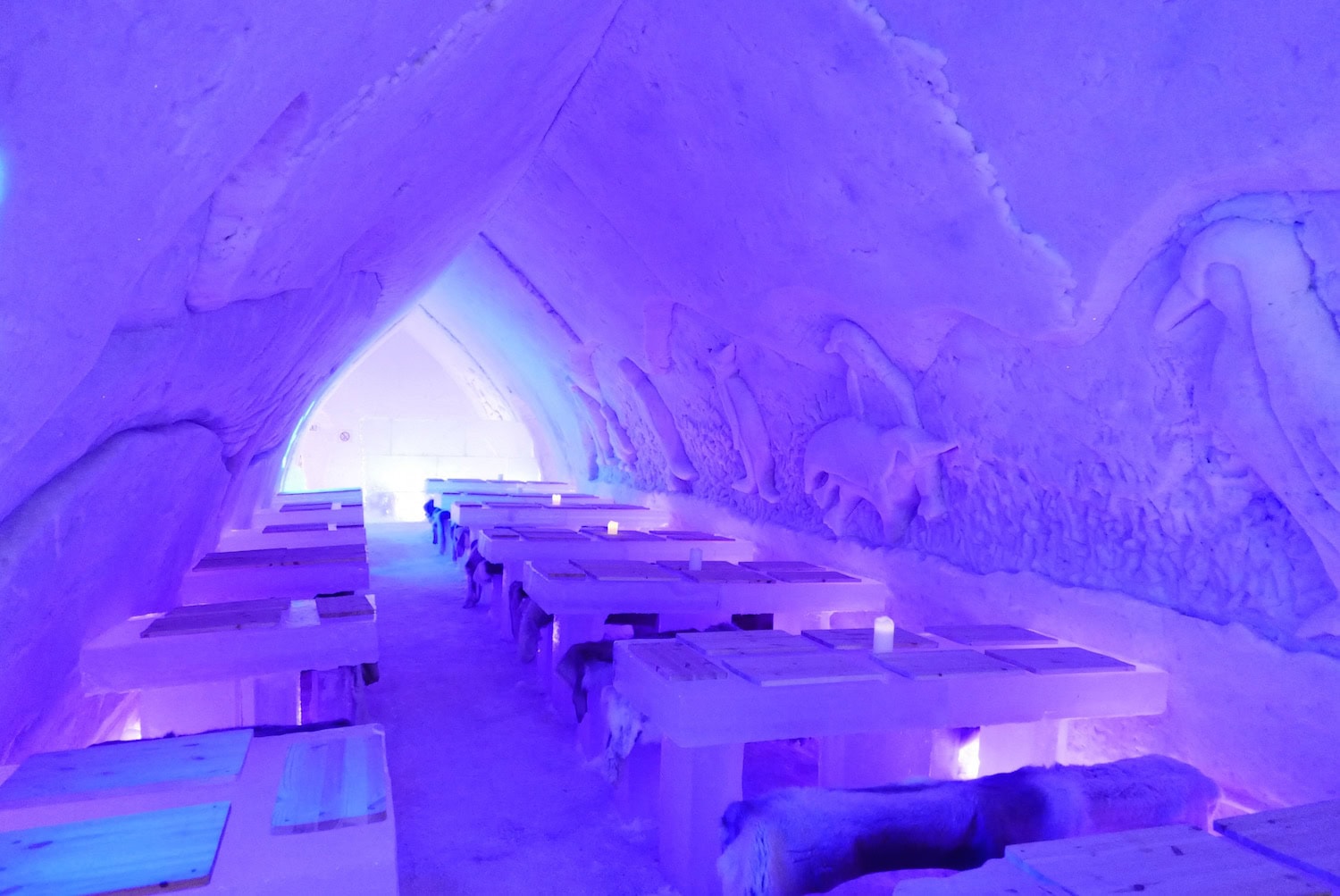 ---
I hope this post has been useful in planning this winters arctic adventure. Please ask any questions or share your own tips in the comments below.
Want to share your own travel tips by guest writing for We Are Travel Girls? Go to our Contribute page for guidelines and to submit your article.
---
---
Read More
---
Book Your Stay In Finland
---
We Are Travel Girls Founder Becky van Dijk of BeckyvanDijk.com
Connect with Becky Facebook | Twitter | Instagram | Pinterest | YouTube
---
Pin For Later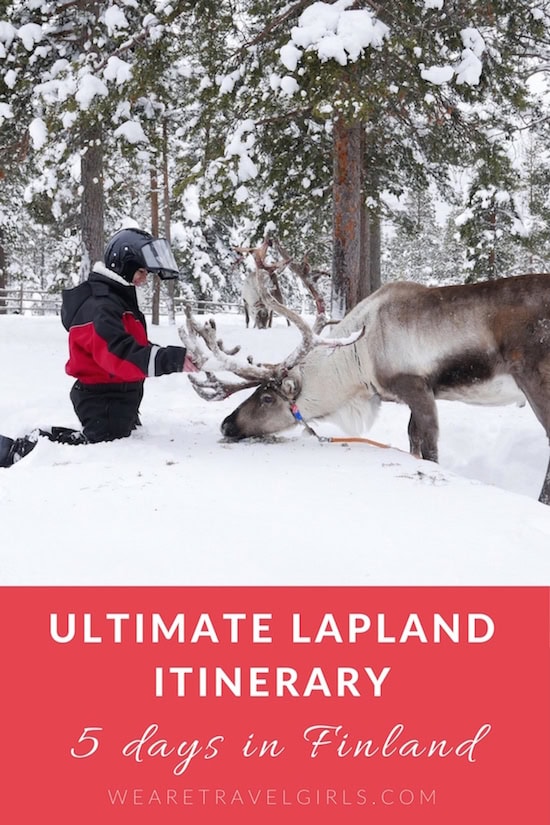 This website is a free resource and to keep it free for our readers we may use affiliate links in our articles. If you make a purchase via the links on our site you will pay the same price, but we may receive a small percentage which helps us to keep bringing you new and informative travel content every day! Any products we endorse we personally use and love. Please see our Disclosures for more information.