After spending my first week in Tokyo, Japan's capital, I instantly added it to my list of the most incredible cities in the world! Tokyo is a rare place where as a westerner, absolutely everything feels completely foreign, and yet it's somehow easy to be there. Tokyo is one of the biggest cities in the world, and with so many things to see and do, it can be a bit overwhelming. I was lucky on my first trip to have friends who gave me recommendations, so I created this list of my favorite experiences in Tokyo, to help make your first trip amazing! Here are 10 things you can't miss during your trip!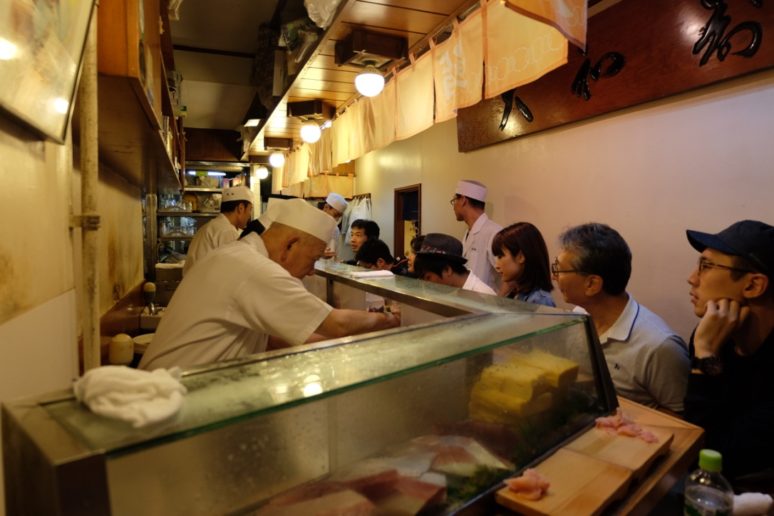 1) HAVE A SUSHI BREAKFAST AT TSUKIJI MARKET
Start your day early at Tokyo's famous Tskuiji Fish Market with a fresh sashimi breakfast. But be warned – this will ruin sushi for you, forever. There are no menus and no California rolls here. When the doors open at 5am, you sit down at one of the ten-seat restaurants for an omakase (chef's tasting) and salivate while you watch the sushi master craft each piece with TLC, before he sets it down in front of you. People start queuing outside start around 3AM for the most popular places – Sushi Dai and Daiwa Sushi. The Japanese don't mind queuing for hours for good food, so come prepared with a book and if you're really diehard – a folding chair. I saw it! You can also go to watch the famous live tuna action, which happens at 5am and is limited to 120 people. People start lining up around 3AM for tickets.
TIP: Allow a lot of time to get there and find your way around. The market is huge and absolutely no one speaks English. This is not a tourist attraction – it's a busy, functioning, fish market with a small area of restaurants inside, so it's a bit confusing.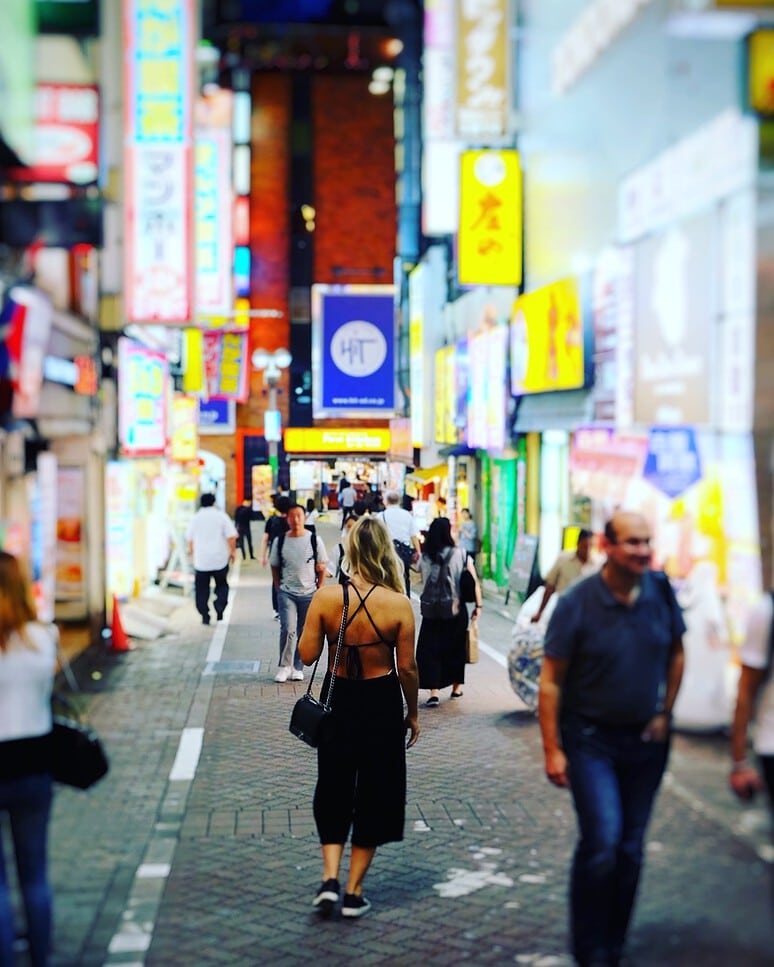 2) GET LOST IN SHIBUYA
Shibuya is iconic Tokyo: neon everything, towering skyscrapers, packed streets, and shops on shops on shops full of the bizarre things. Definitely check out Tokyo Hands to have your mind blown by 6 floors everything you never knew you desperately needed: hourglasses that run upwards, glittery false eyelashes, and every color nail varnish imaginable. The best way to explore the area is to just get lost wandering . Make sure you watch the iconic crossing, the busiest crosswalk in the world. Many people will tell you the view from the second floor of the Starbucks is the best place to take it in, but I prefer to be on the street, smack in the middle of it – grinning ear to ear.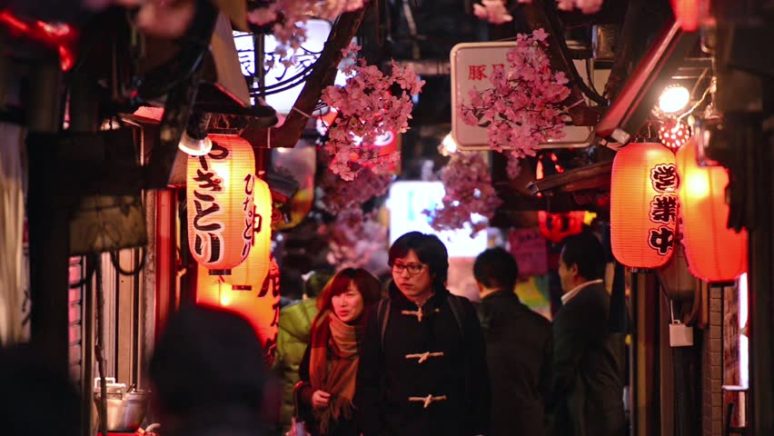 3) BAR HOP IN GOLDEN GAI
Three magical alleyways tucked away in Shinjinku make up the Golden Gai, Tokyo's coolest nightlife district, and something you can't miss. The dark, narrow streets are lined with paper lanterns and hundreds of tiny bars, none more than a few feet wide with just a handful of seats inside. Each place is locally owned and has a different decor and feel, from very wabi-sabi to a place with a fish tank as a wall. Some bars charge a small cover, some offer all you can drink for under $10. Head there after 9pm to see the area in action, but this is not a wild, drunken party. The vibe is very chill and friendly. Since it's such close quarters expect to bond with your bartender and other patrons.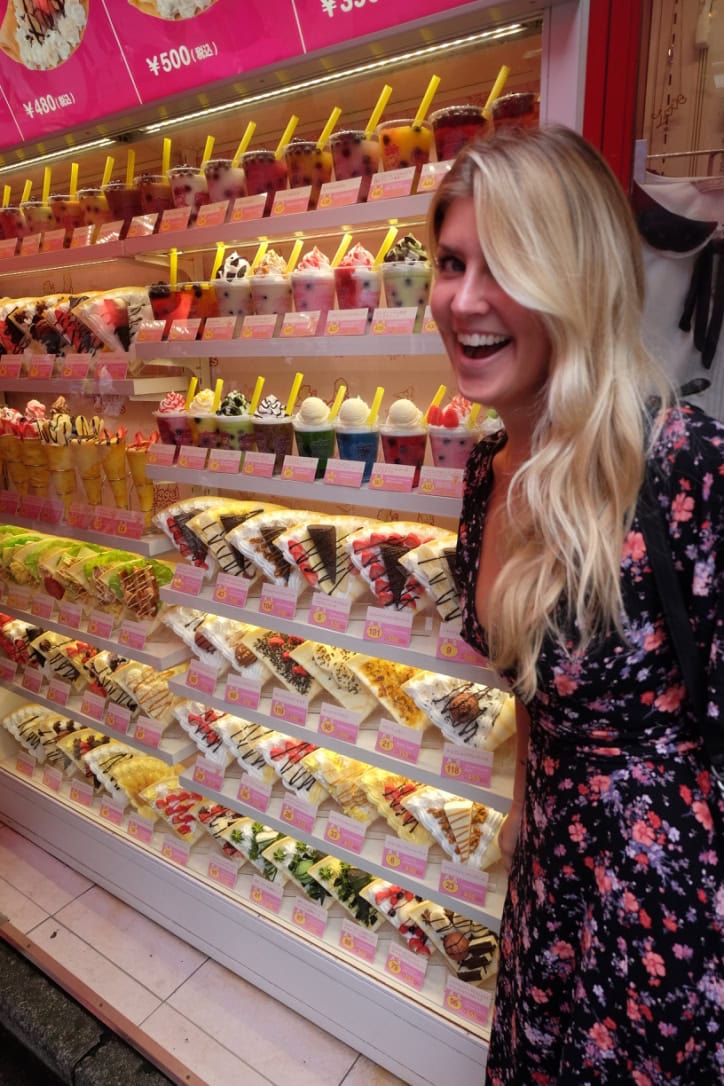 4) SHOP IN HARAJUKU
Harajuku is bananas. B A N A N A S. Walk the streets and go inside positively every shop you pass to find a mix of incredible vintage stores, boutiques carrying fashions for the Lolita girls, and department stores offering the most creative and off-the-wall womenswear in the world. I found furry kitten-heels with plush kitten sewn onto the sides, gloves with painted fingernails, and enormous fluffy pom-pom earrings all at LaForet! There's also dozens of places to satisfy your sweet tooth. The shops alternate with hot pink crepe stands, coffee shops serving marshmallow lattes, and swirls of fresh cotton candy bigger than your head. It's girly, glittery, cutesy, wild, fluffy, furry heaven.
TIP: Go early to try the famous pancake breakfast at Bills, or at Burn Side Street Cafe, served with whipped cream and a big scoop ice cream. You're going to need to carb-load for this marathon shopping day!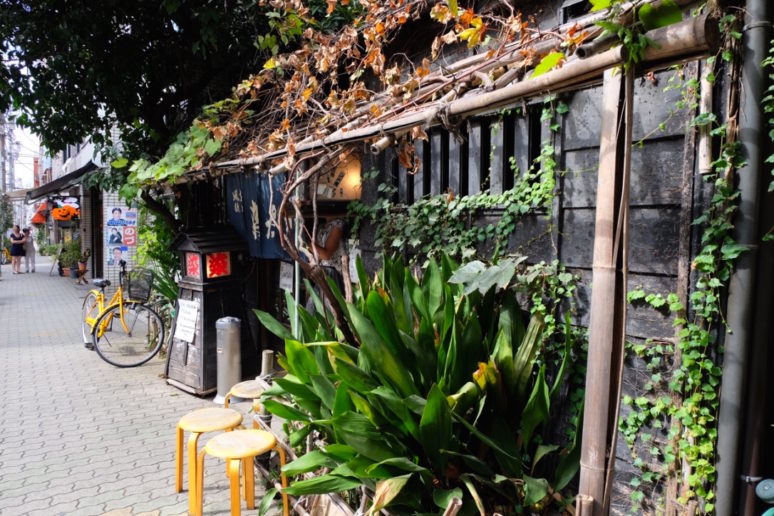 5) VISIT ASAKUSA
Head out east to Asakusa for a taste of old Tokyo. This neighborhood is quaint and charming; think little shops and traditional Japanese restaurants with tables on the floor. You can walk around and find a great lunch spot, and then head to see the city's oldest Temple, Sensoji to get a taste of culture. Walking down Nakamise, a 200 meter street leading up to the temple, was one of my favorite things I did. The street is full of shops, snacks, and sweets, so bring your wallet and your appetite. I had a particularly hard time choosing between the 20-some different flavors of ice cream! If you're a pro in the kitchen, head to Kappabashi Dori to check out the hundreds of kitchen utensil stores and stock up on things you'll never find in America. After exploring the temple, take a boat ride not the Sumida River down to Tokyo Bay.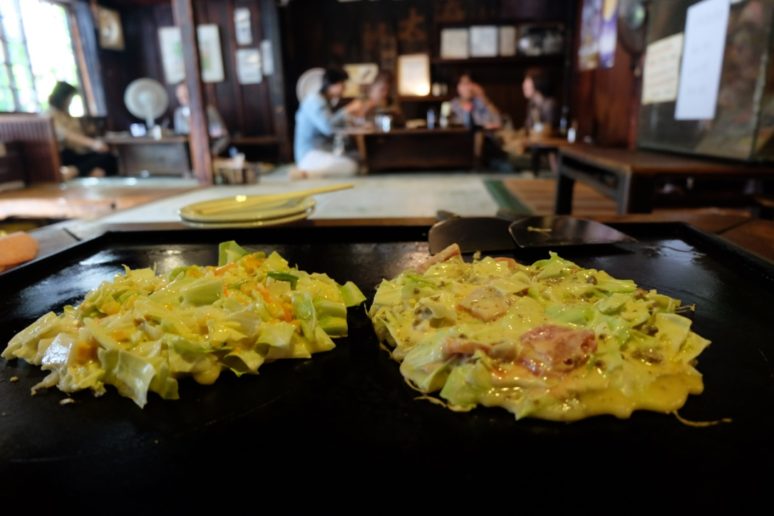 6) HAVE AN UNUSUAL DINNING EXPERIENCE
Eating out in Japan is an unique experience each time since there are so many different types of restaurants. You might be tempted to just play it safe and just keep eating oodles of ramen and sushi, but it would be a big mistake to not try some of the different types of Japanese restaurants. Boil thin strips of pork and beef in your own hot pot at a shabu shabu restaurant, watch chefs grill skewers of food while trying yakatori, try okonomiyaki where you cook your own savory pancakes on a griddle, or indulge in deep fried pork cutlets and pounds of cabbage at a tonkatsu restaurant.
(SOURCE)
7) TAKE IN THE VIEW
The view of Tokyo at night will wow even the most jaded traveler! The sprawling city lit up in neon is not something to be missed during your trip. If you don't mind being a tourist, head up to the top of Tokyo Tower for a stunning view. If you'd rather take in the city while sipping a cocktail, then the iconic American Bar in the Park Hyatt, where Lost in Translation was filmed, is the perfect spot for you. If you love the cult classic, then make sure you order a Suntory Whiskey.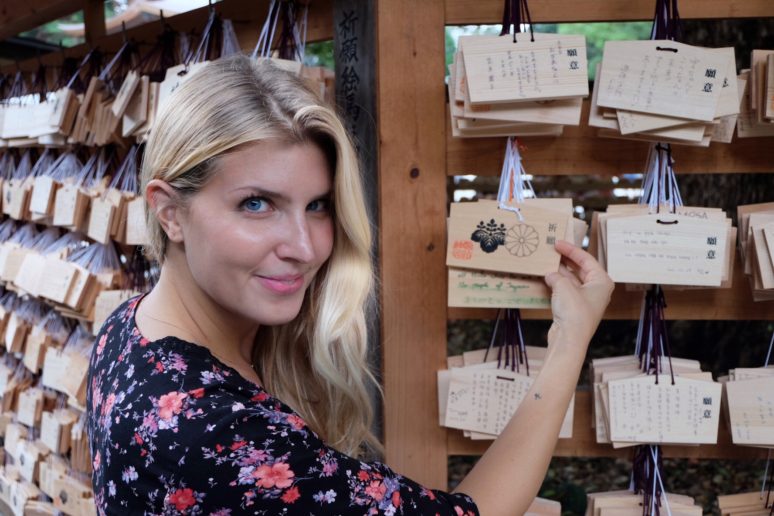 8) VISIT MEIJI SHRINE AND YOYOGI PARK 
Most of your time in Tokyo will be spent among bright lights, towering buildings, and busy streets. Make sure you escape the chaos at least one day and head to the Meiji Shrine and Yoyogi Park for some nature and culture. The Meiji shrine is a Shinto shrine set in a beautiful area off Harajuku. The walk there is serene, and at the temple you can witness people writing their wishes on wooden tablets and hanging them on the wall around a sacred Camphor tree. The priests pray for every wish. The Yoyogi Park is right next to the shrine, so allow enough time to do both and then explore Harajuku. If you're there on a Sunday you'll catch the Lolita girls dressed up and parading around the park, which is an experience not to be missed.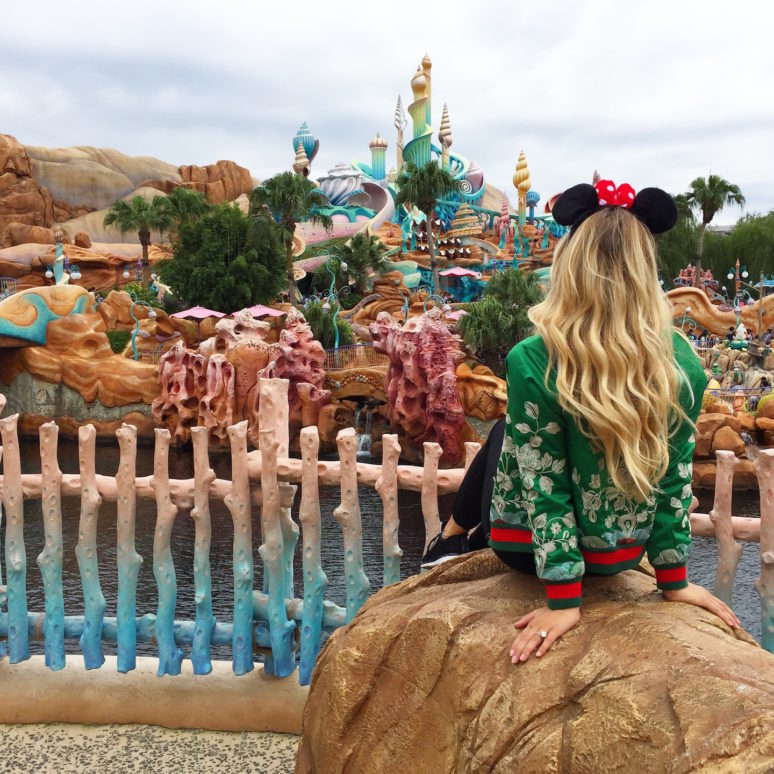 9) VISIT DISNEY SEA
The Disney spirit is more alive at Tokyo's Disney Sea than anywhere else in the world! I have been to every Disney park and nothing comes close to matching the magic of Disney Sea. The design of the park, the level of details everywhere, and quality of the rides would make Walt proud. This is a must-see because everything in this park is completely unique. Explore Mermaid Lagoon, take a ride 20,000 Leagues Under the Sea, or join Indian Jones on a thrilling and scary adventure! The staff genuinely look like they are having the time of their lives just working there, and will go out of their way to help you find your way around, so don't fret the language barrier. But perhaps the best thing about Tokyo Disney is that everyone at the park is dressed up either as a character or in full Disney regale – no matter their age or gender. Matching or coordinating outfits is really big among couples and groups. I turned green with envy when I saw a couple in custom Prince Charming and Cinderella outfits. So if you're going, at least get yourself some ears! This is a really easy day trip from Tokyo, thirty minutes – one hour on the train, depending on where you're starting from, and the park is easy to do in one day.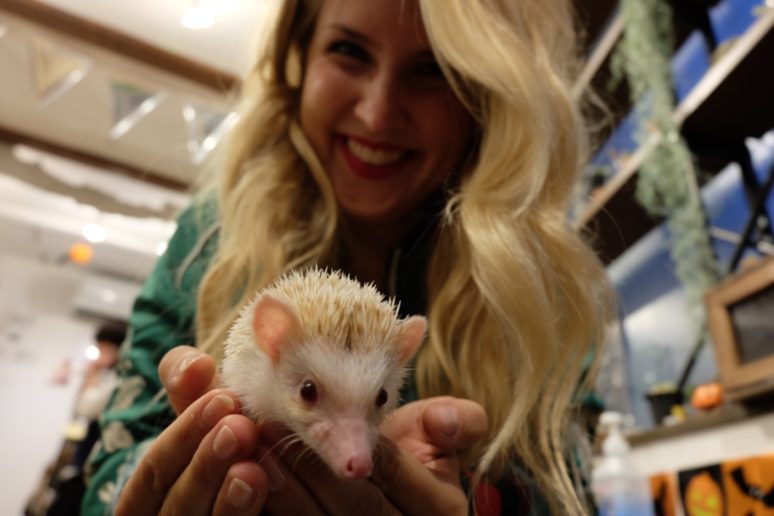 10) GO TO A THEMED CAFE
Japan is the land of the bizarre. Themed restaurants and cafes are all over the city, and are truly part of the young, Japanese culture. You can have an entire meal in the shape of Hello Kitty! There are dozens of funky places to go. Head to the extremely popular Robot Restaurant to see a crazy show with dinner, or take a meal in a popular maid cafe like Cure Maid, where you will be waited on like a master. Cuddle hedgehogs while sipping a coffee at Harry, dine with owls flying overhead at the Owl Cafe, or eat rainbow-colored everything in Harajuku at the Kawaii Monster Cafe. I can't promise the best food, but I can promise an eating adventure you can only have in Tokyo!
By We Are Travel Girls Contributor Anna Kloots of TravelOutsideTheBox.squarespace.com
Connect with Anna Instagram | Pinterest