Have you ever heard of Rottnest Island? I've been traveling around Australia for about five years now. These five years include explorations of local areas, streets, towns, beaches and venues; and also longer trips to the remote islands and wild national parks. While the major tourist crowd goes to Sydney to see Opera House, I prefer to take a chance to see other less popular places, to learn more about Australia, and its treasures. Today I will take us travel girls to an incredible Island in Western Australia to see something you have probably never seen before.

HOW DO I GET THERE?
You can get to Rottnest by Ferry, it's only 18 km away, which is 25 minutes from Fremantle, an Italian town in Perth, Western Australia. You can also take a ferry from Perth CBD. I personally recommend visiting Fremantle and depart from the Shed B from Freo Port. It is much nicer in my opinion. You can plan your trip depending on your accommodations location and if you have some additional time to see Fremantle. Get yourself one of the 'Hello Perth' guides for an additional discount coupon of 10-20%. There will be a bar at the Ferry, where you can get some snacks, coffees or even a beer if you like.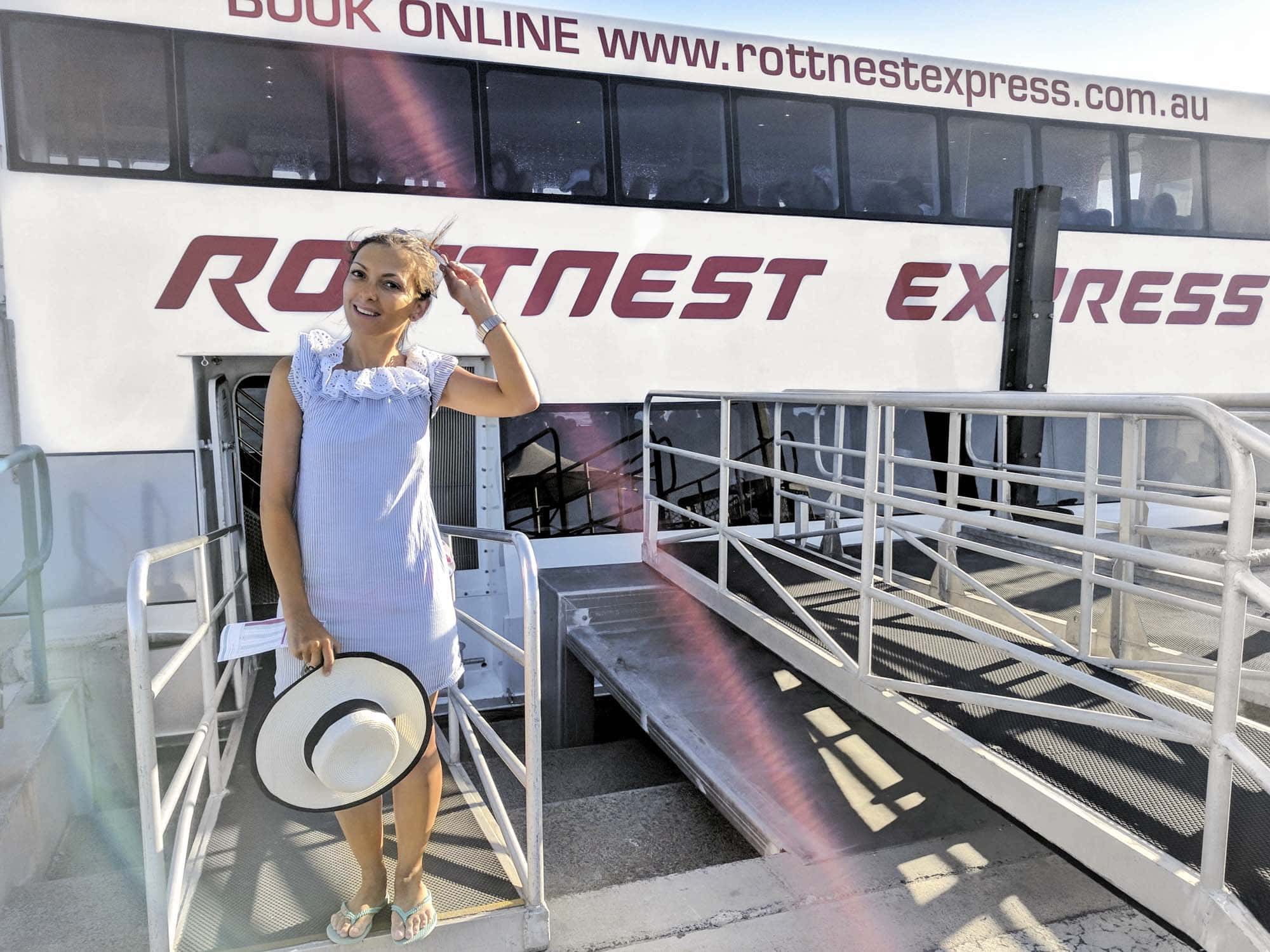 WHY IS THIS ISLAND SO UNIQUE AND SPECIAL?
Rottnest Island is a wonderful wild island with only a few buildings like hotels, shop and a museum near the port where you arrive and then there is pretty much nothing apart from nature and wildness. Whether you feel like relaxing at the SPA and staying at the hotel; or if you prefer riding a bike up and downhills to discover hidden beaches – you can be active or chill, depending on what you prefer to do. There are not only turquoise water and white sand that attracts visitors, but also unusual & funny local friendly animals that smile to you and love taking #quokkaselfies.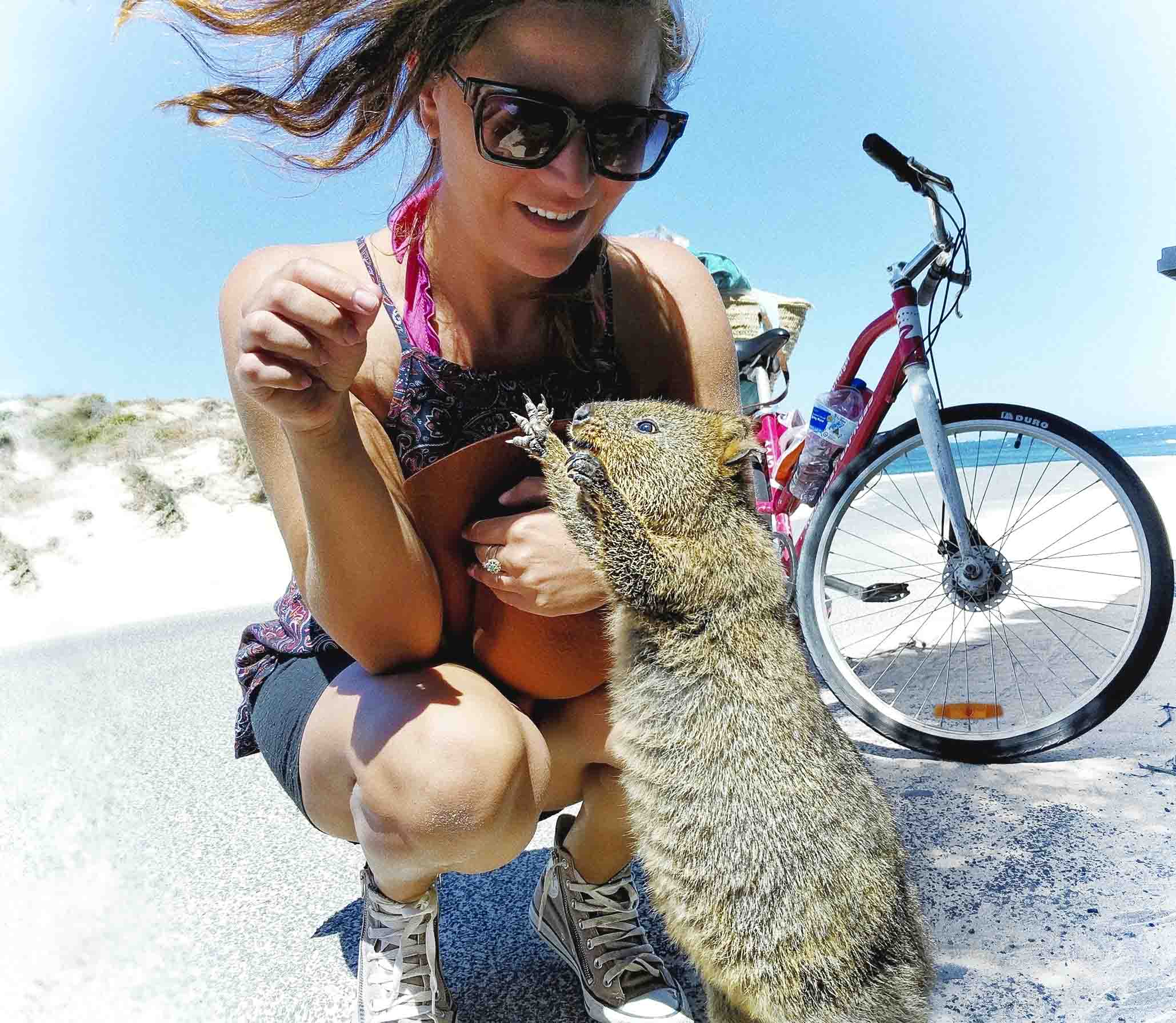 WHO ARE QUOKKAS?
These cute little fellas are wild animals between 2.5- 5 kilos, who can jump and carry their babies in the pouch like kangaroos. Moreover, unlike kangaroos, quokkas can also run and climb short trees. Quokkas of Rottnest Island are used to people, and they are very friendly, they come very close and smile for the photos, however, they are still wild animals and they have teeth, so make sure to be very respectful and careful. The legend says, the Island received this name, because it's visitors though this place was full of rats (but they were actually quokkas!) and they called it 'rat's nest', which has become 'Rottnest'.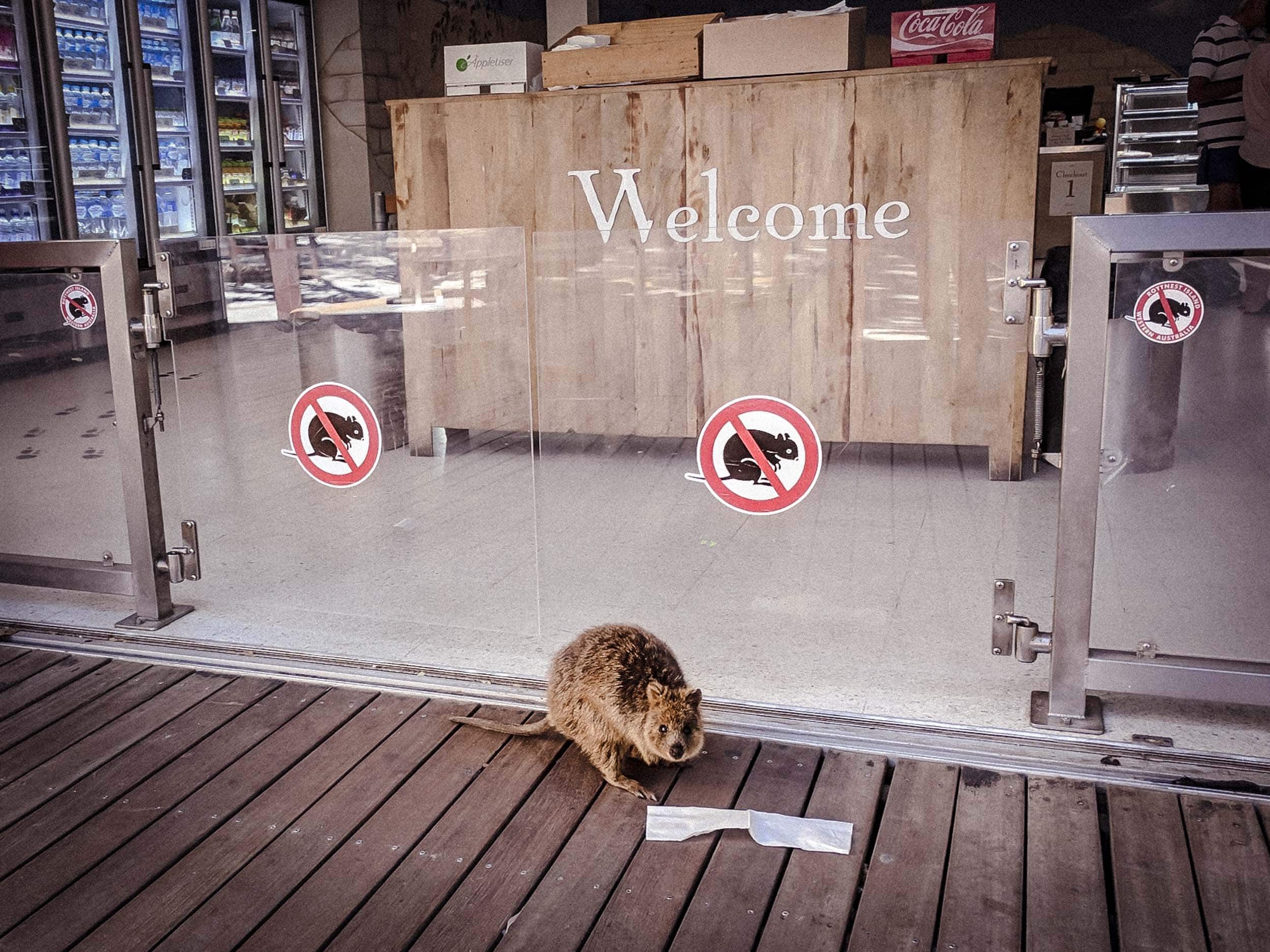 WHAT TO DO ON ROTTNEST ISLAND?
You can see lots of pretty places only in one day. There is a concentration of cool spots! That is why Rottnest needs to be in your bucket list. One full day on Rottnest can be enough to see the main attractive spots and to meet the local wildlife. There are also a few hotels, so you can stay there for more than one night and have more time to relax and enjoy the island life.
Apart from taking selfies with quokkas, you will drive the bike around the island and visit stunning beaches with clear water. You can also see lots of other wildlife, sealife, and birds and, if you are lucky, spot a whale, dolphins, various birds, lizards and more. Make sure to take your portable battery; you may want to take lots of photos!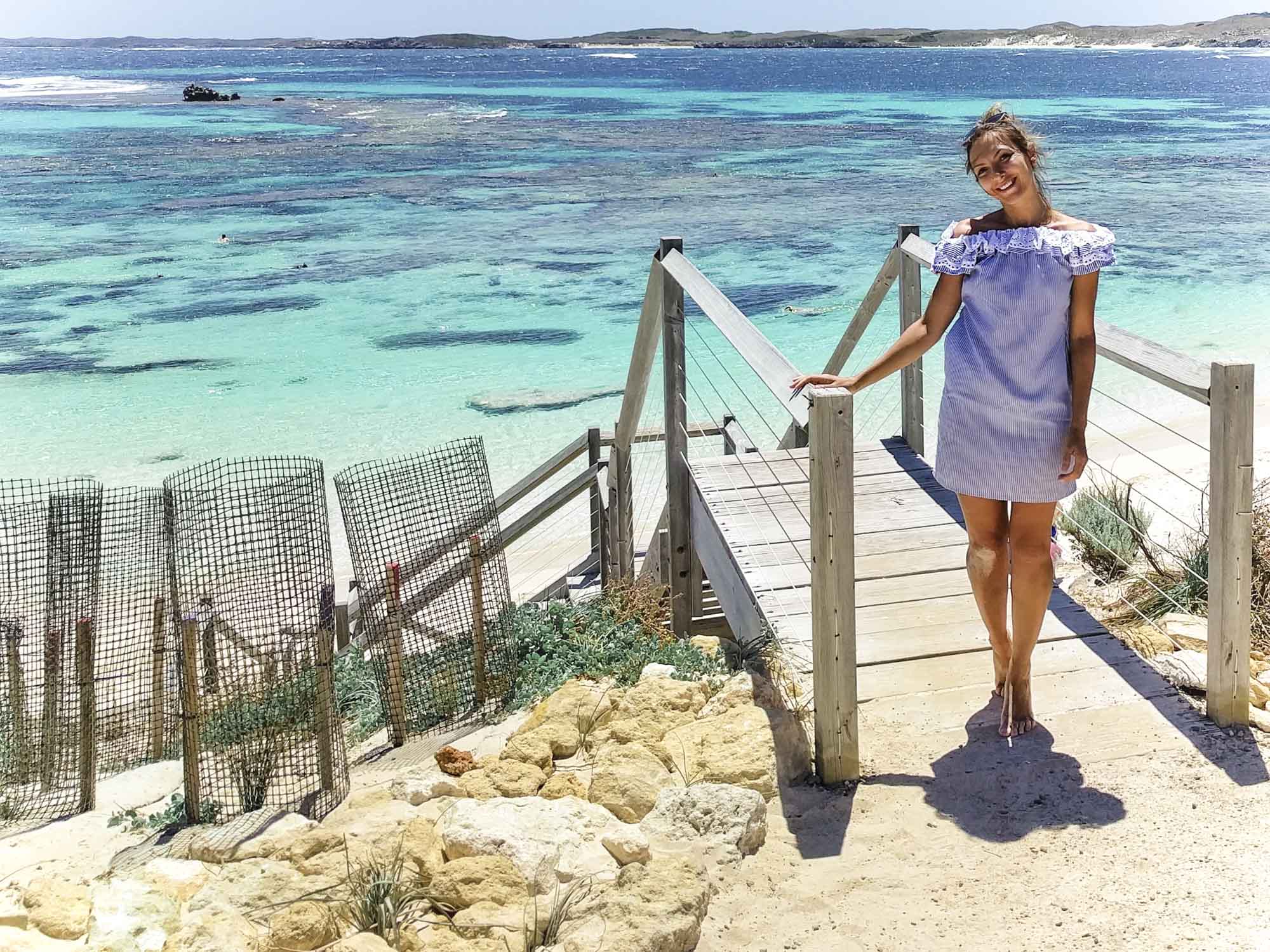 Ferry ticket to Rottnest Island usually includes a bike hire. There are no cars allowed on the Island, and main transport is a pushbike. Get ready to ride a lot and keep in mind the distance back, driving away from the port. Get a map in the information center, because the phone reception may not be always good enough to load your Google Map.
If you are unable to drive the bike, but still would like to go around – no worries! There is also a bus service, which is cruising around a few bus stops.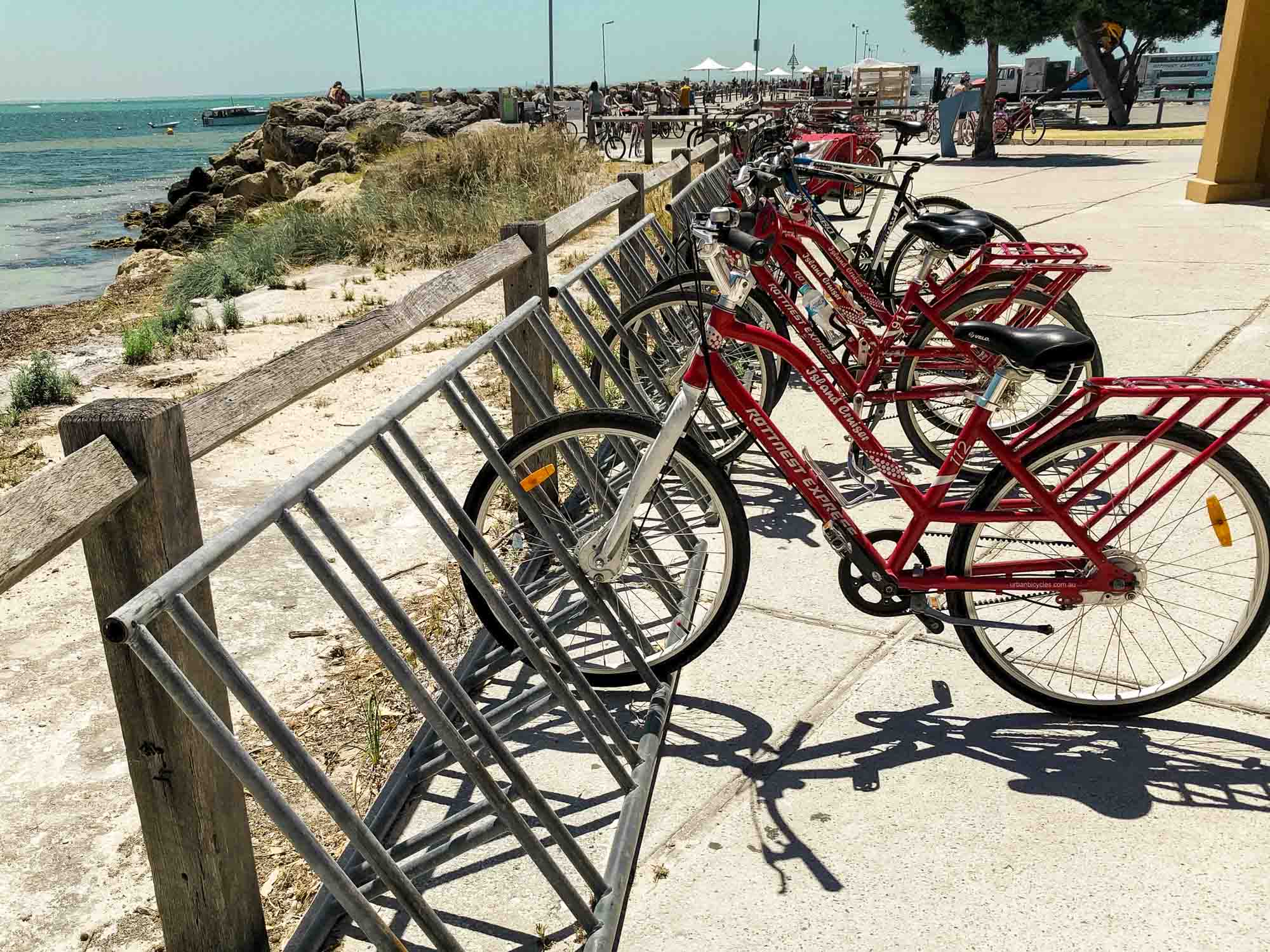 VISIT A PINK LAKE!
The pink lake looks particularly good on the photos and will score you lots of likes for sure! There are a few pink lakes in Australia and one of those you can find on Rottnest.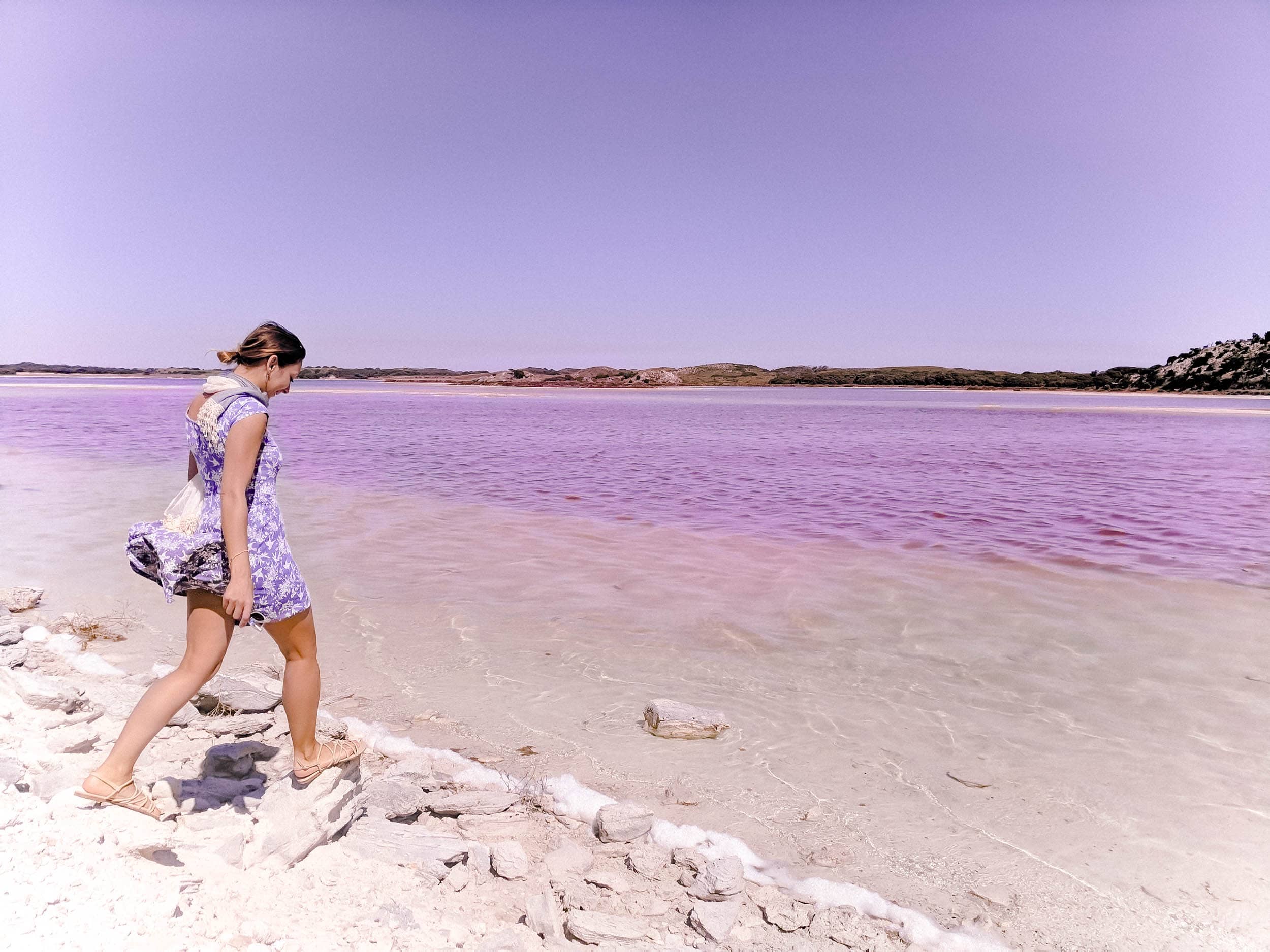 A FEW MORE STORIES
In the 19th century, the government sent convicts to the island and so they used it as a prison. Rottnest also has some military history and to know more about what was happening here you can visit the local museum near the port. There are some big events, like music festivals, marathons, and more things are happening in the Summertime on Rottnest.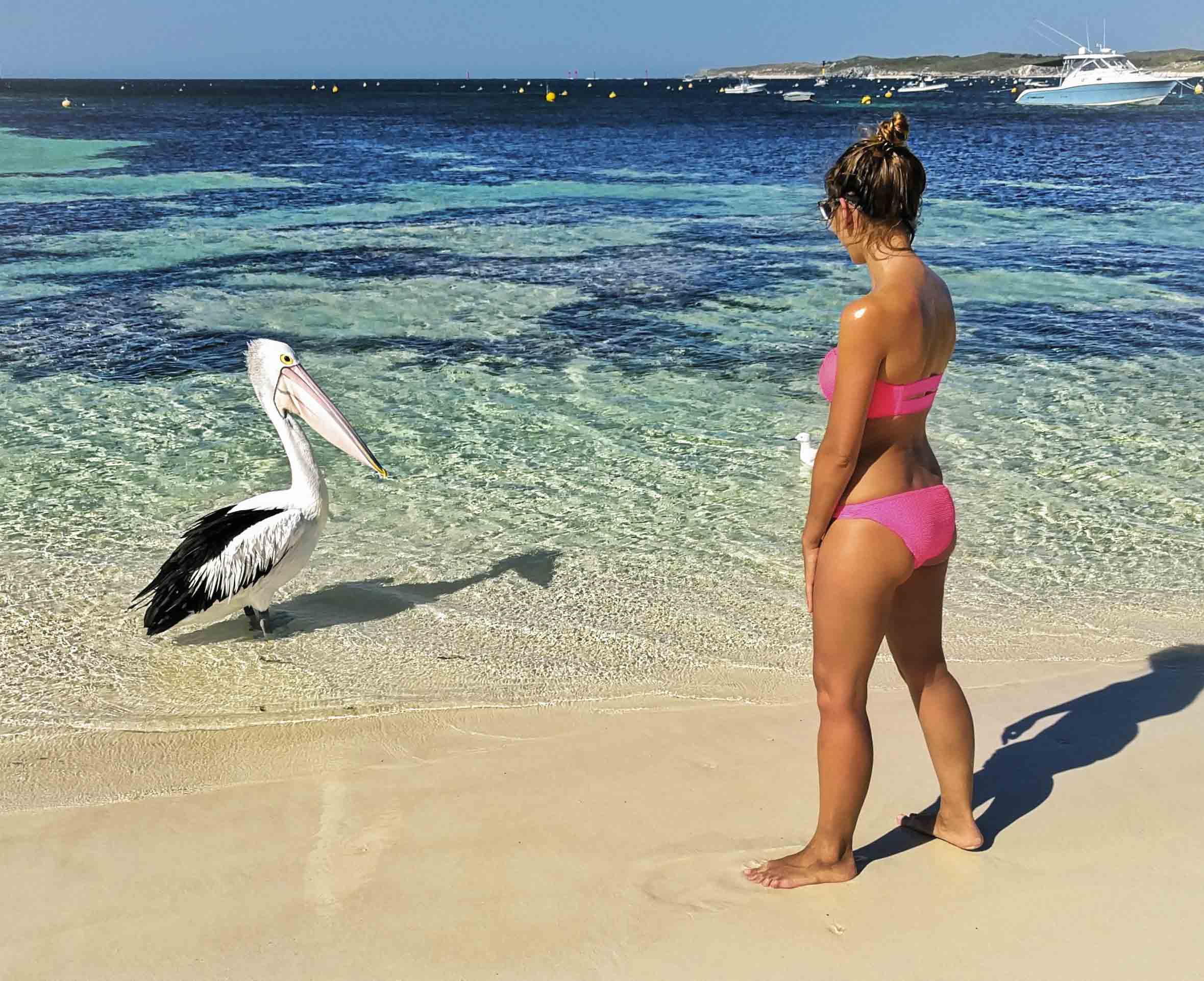 SOME ADDITIONAL INFO
There are lots of uphill and downhill drives, so if you are going downhill, you will need to speed up, as there will be the way up afterward. If you are into fishing, you can look for some fish, octopus and even lobsters. The best place to catch crayfish on the island is Rocky Bay. There are also normally fewer people, so it's a secret spot – do not tell anyone! Rottnest Island is definitely worth a visit and it is a magnificent place you will remember all your life.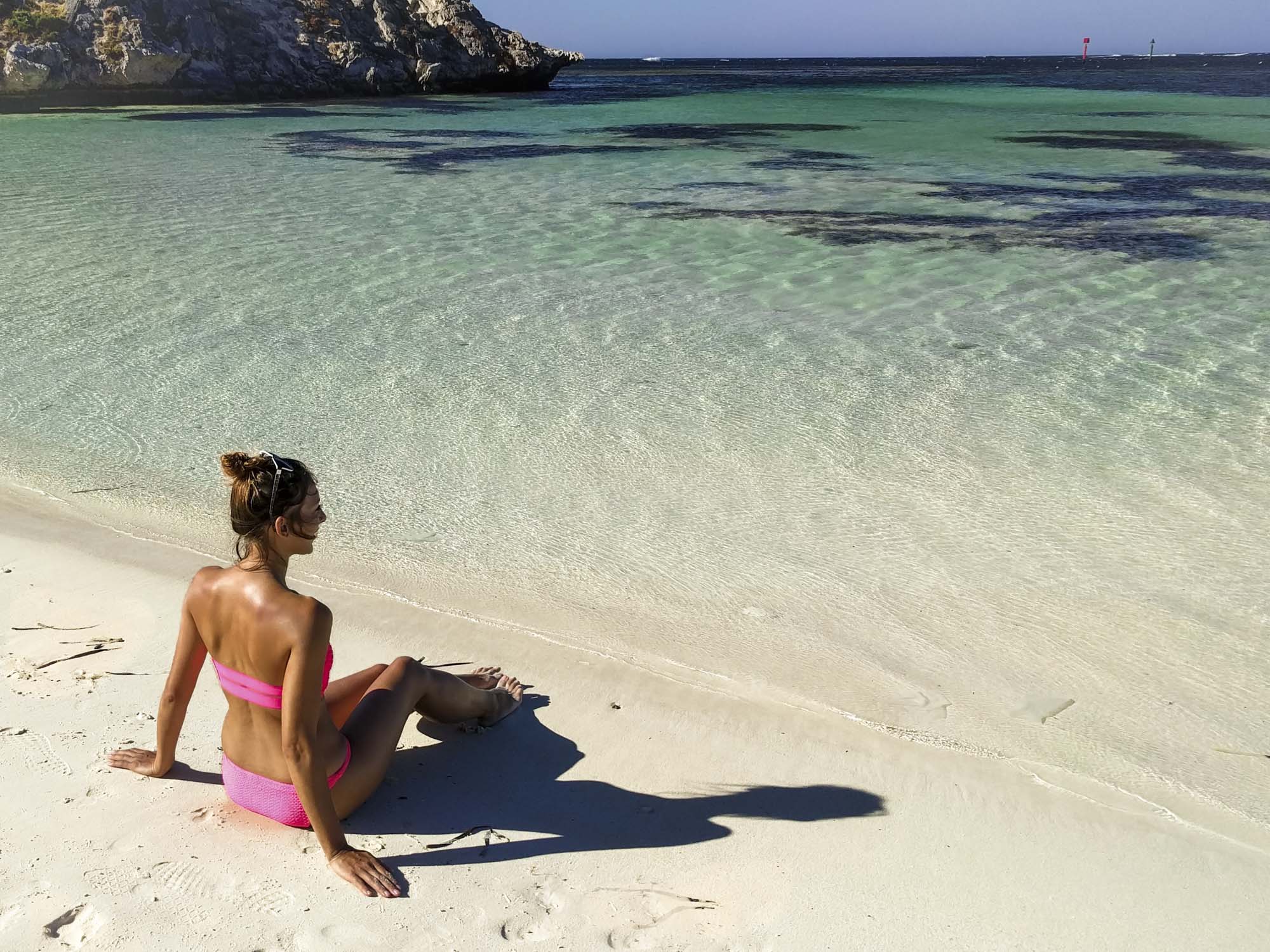 Western Australia has a lot to explore. Even though it is closer to Europe and the rest of the world than Australian East Coast with Sydney and Melbourne, it remains less popular and more undiscovered. If you plan a trip to Australia, I would like to encourage you to visit Western Part.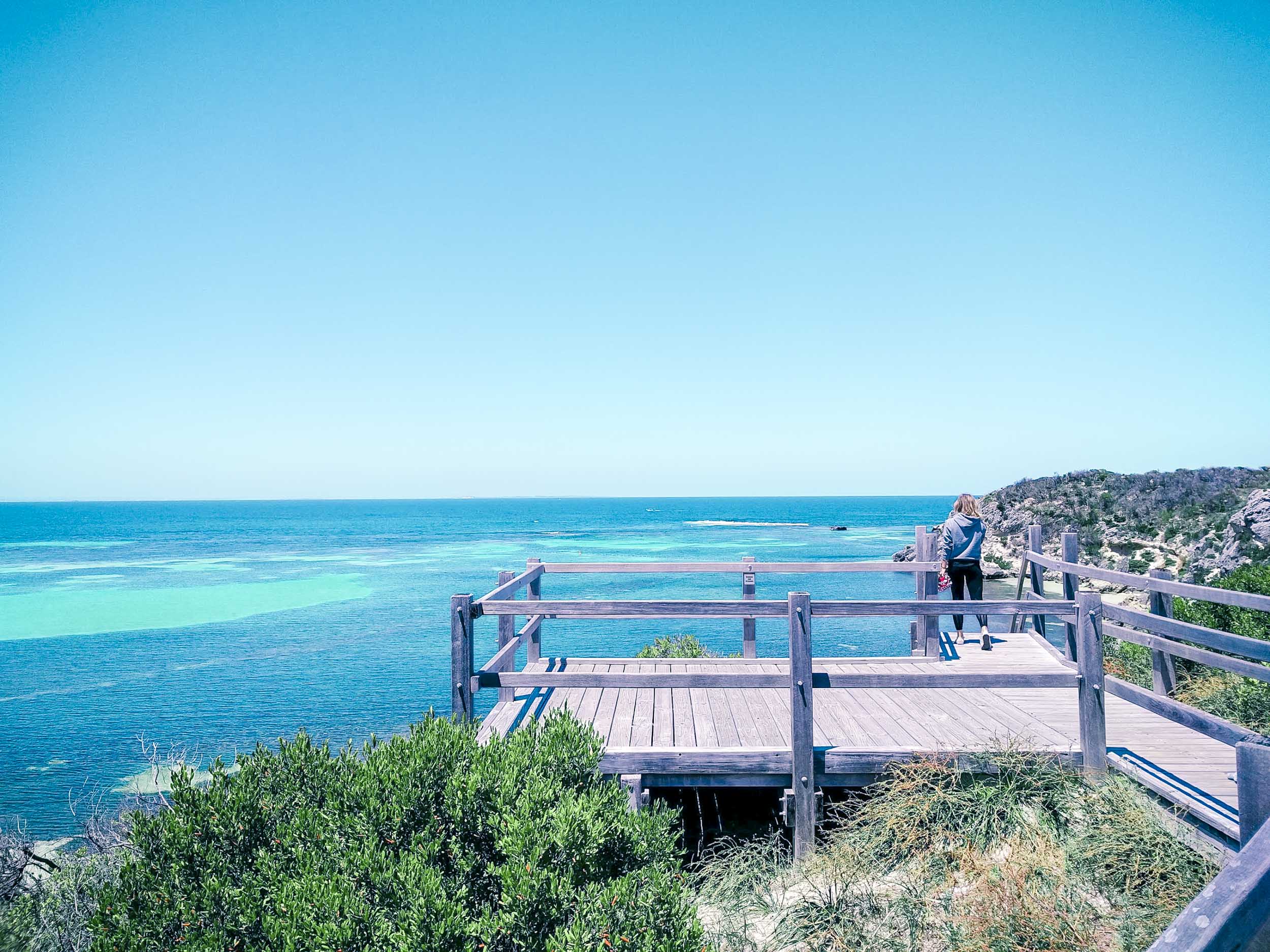 MY PERSONAL TOP TRAVEL TIPS FOR VISITING ROTTNEST ISLAND
Plan your trip to Rottnest Island on Tuesday; it is a half price ticket day ($60 instead of $120).
Take plenty of water. There are not many refill stations in the middle of the island, and you will be very thirsty, driving the bike.
Bring a sandwich and some snacks. There are no shops or restaurant as soon as you leave the port area.
Thoughtfully apply and re-apply sunscreen on your hands, neck, knees, and feet. 99% of people on the Ferry back from Rottnest have these spots sunburned.
Do not feed quokka with human food. They love eating leaves, and human food causes health issues for them.
The Pink Lake may look different on your photographs, and it can be not pink enough on the photos. It often looks much better in real life than on the images. There is a solution! Use Lightroom app to bring the pink color saturation and luminance up to enhance the pink color.
Bring a snorkel and watch an incredible underwater world.

Bring a backpack instead of a shoulder bag. It will make driving much more manageable! Bring a piece of rope to tight your belongings to the bike. You never know when you may need it!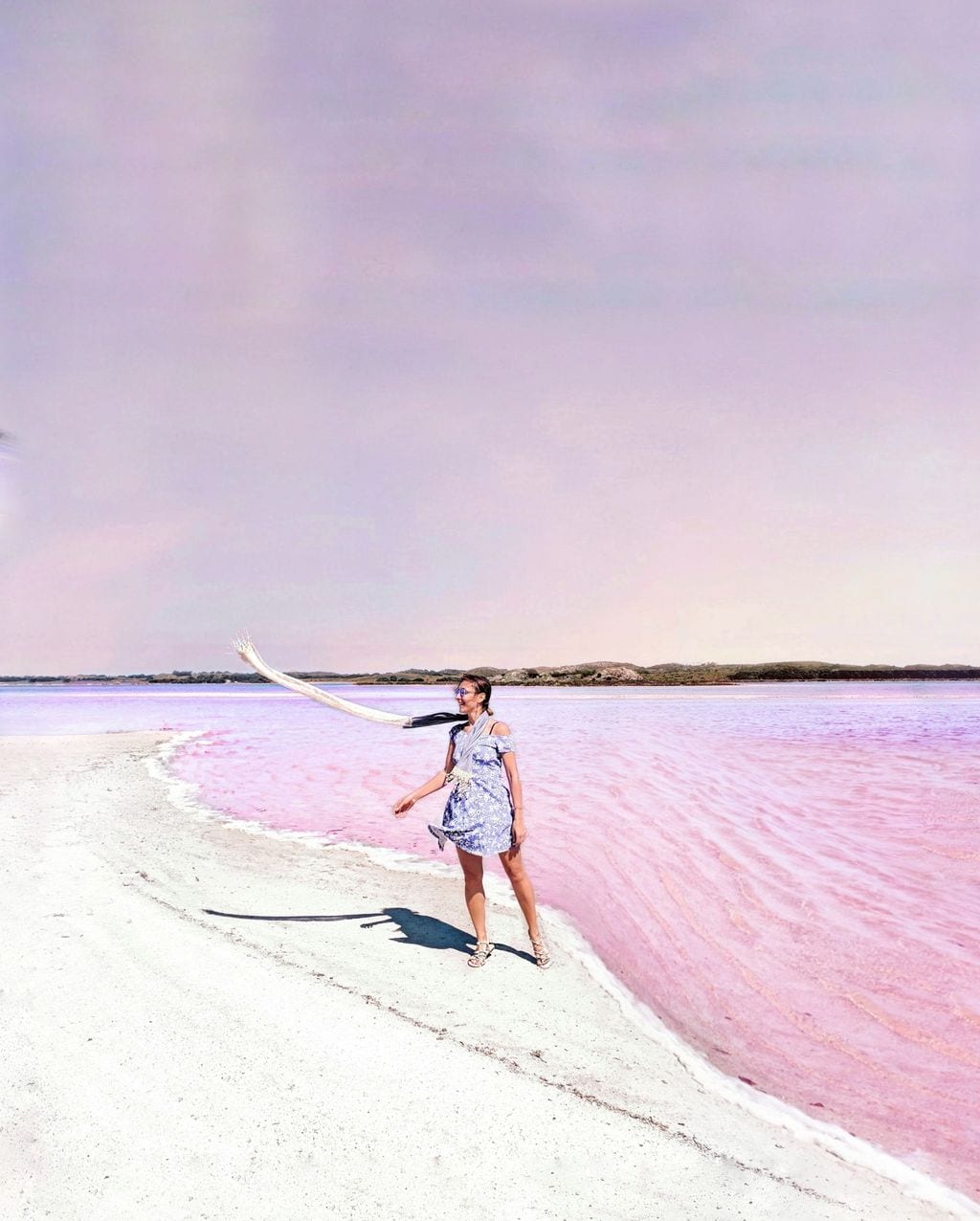 There are many cool islands in Australia you should consider visiting. Just name a few: Rottnest, Fraser, Stradbroke, Wheat Sundays, Penguin Island, Kangaroo Island – you can find an adventure for your on taste and depending on your preferred location to experience the island babe's life!
---
Have you ever been to Rottnest Island, Australia? We'd love to hear your stories, tips or questions in the comment section below!
To receive our articles and reviews straight to your inbox Subscribe Here.
---
Read More About Australia
---
We Are Travel Girls Contributor Inna of InnaGram.com
Connect with Inna Instagram
---
Pin This Article For Later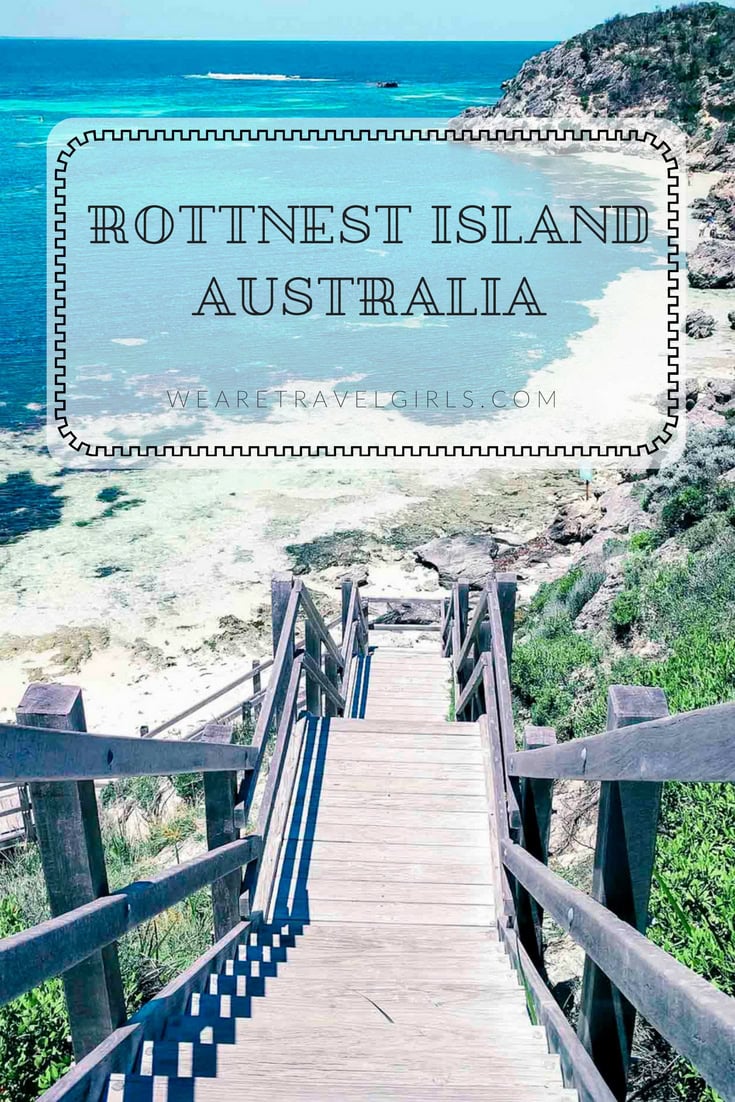 SaveSave
SaveSave