Palm Springs is one of the most popular and hip destinations in Southern California! An easy drive from Los Angeles, Orange County, and San Diego, Palm Springs is a perfect desert getaway.
There has always been an element of "retro" surrounding palm springs, with bright neon colors and vintage furnishings. However, the city also has a wonderful food scene with new healthy cafes popping up almost every day!
Whether you are thinking of visiting Palm Springs for a romantic getaway, a group bachelorette party, or a fun girls' weekend, there are a ton of unique AirBnB's you can book for your stay.
In this article we highlight some of our absolute favorite AirBnB's in Palm Springs, so keep reading to find the perfect place for your next getaway!
---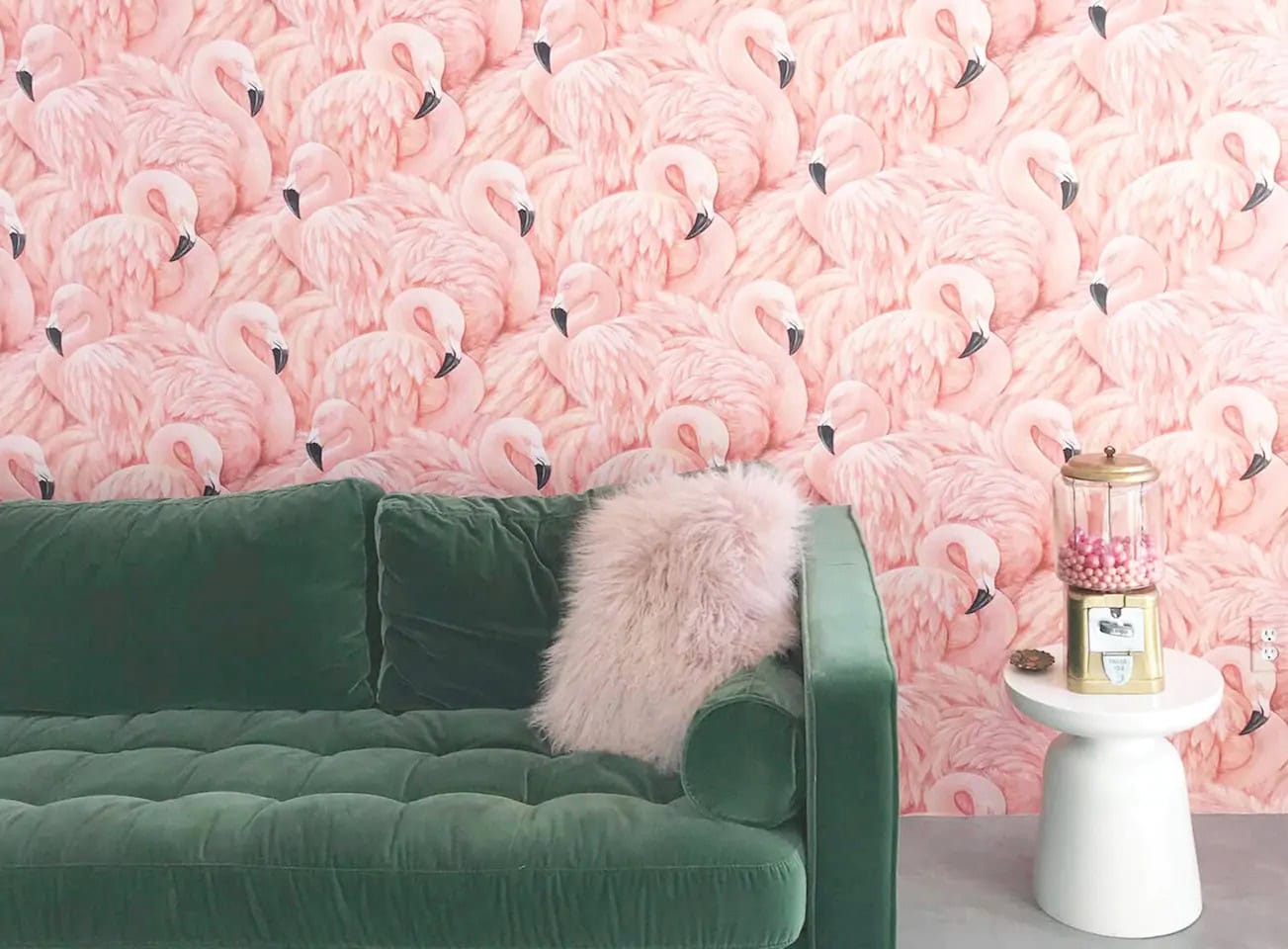 When you think of vintage Palm Springs, something like the Palm Baum probably springs to mind!
Located just outside Palm Springs, the Palm Baum looks like a private version of the famous Madonna Inn. Pink is the name of the game here, with flamingo wallpaper, gold chandeliers, and even a pink tiled hot tub!
This is an ideal place for your weekend bachelorette party, where you and your girlfriends can relax by the pool sipping mimosas during the day and then pop into Palm Springs for a girls' night out!
Sleeps: 6 guests
Size: 3 bedrooms / 3 beds / 2 baths
Price: Starting at $400 per night
---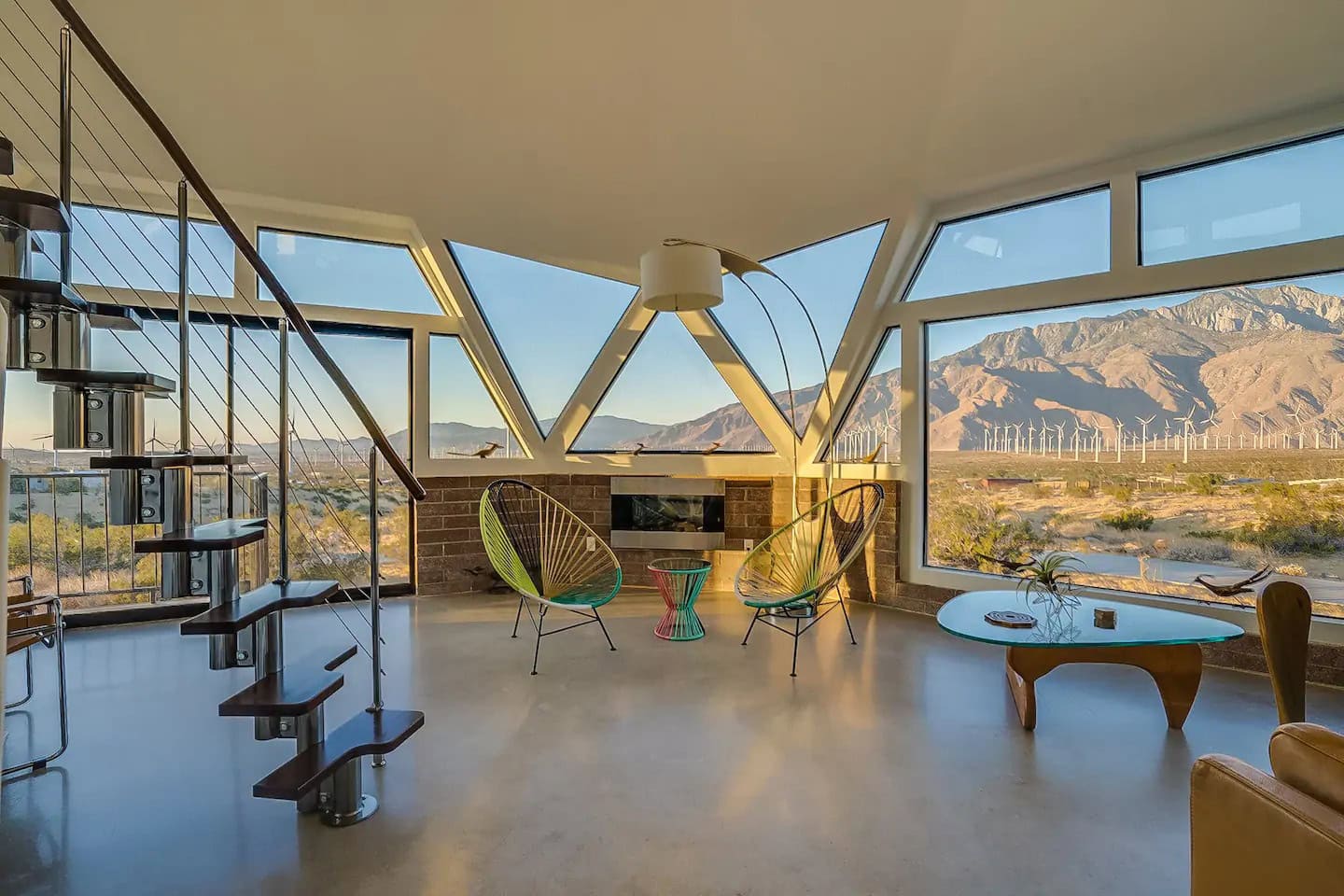 Maybe your group wants a bit more space for your Palm Springs getaway? Then the unique Palm Springs Dome Home is definitely for you!
This rental is set on 5 acres of land so you will have plenty of privacy and room to spread out. Best of all, this is one of the most unique looking AirBnBs in all of Palm Springs!
The Dome offers amazing mountain views all around you, so you can watch the sunset and admire the stars from the comfort of your own private dome. The only thing near the property is some of Palm Springs' iconic windmills, so the only noise you will hear is your group having a great time!
Sleeps: 6 guests
Size: 3 bedrooms / 3 beds / 2.5 baths
Price: Starting at $289 per night
---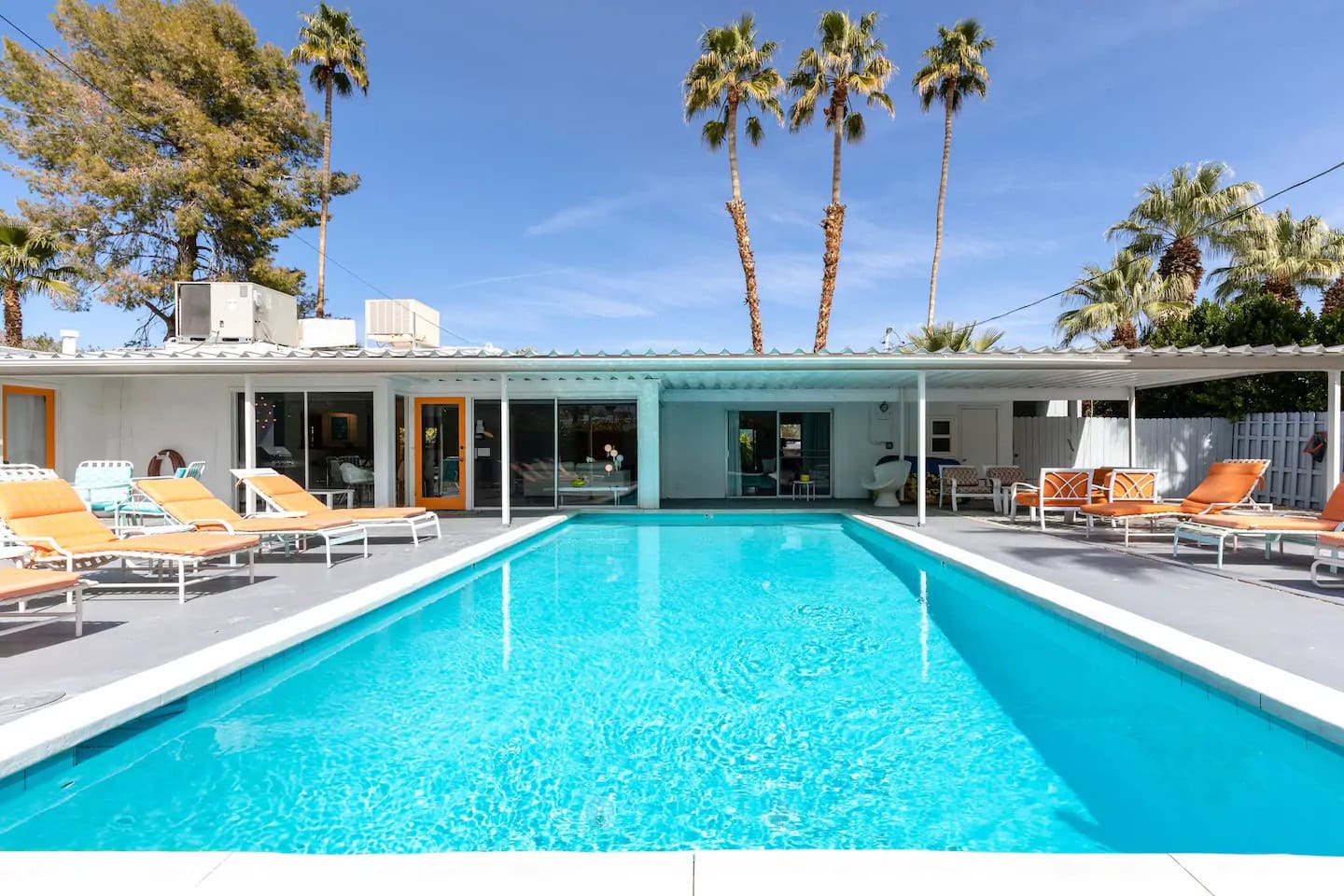 This stunning AirBnB was designed by an architect and it definitely shows! The mid-century modern home is all glass so you will get plenty of the morning light with your breakfast.
One of the most impressive features of this house is the large saltwater pool. Cool off from the heat by going for a dip or swimming some laps in your own private pool!
14 lounge chairs and multiple indoor/outdoor living rooms means your group will have plenty of space to relax and spread out, perfect for a girls' getaway weekend!
Sleeps: 8 guests
Size: 4 bedrooms / 8 beds / 2.5 baths
Price: Starting at $496 per night
---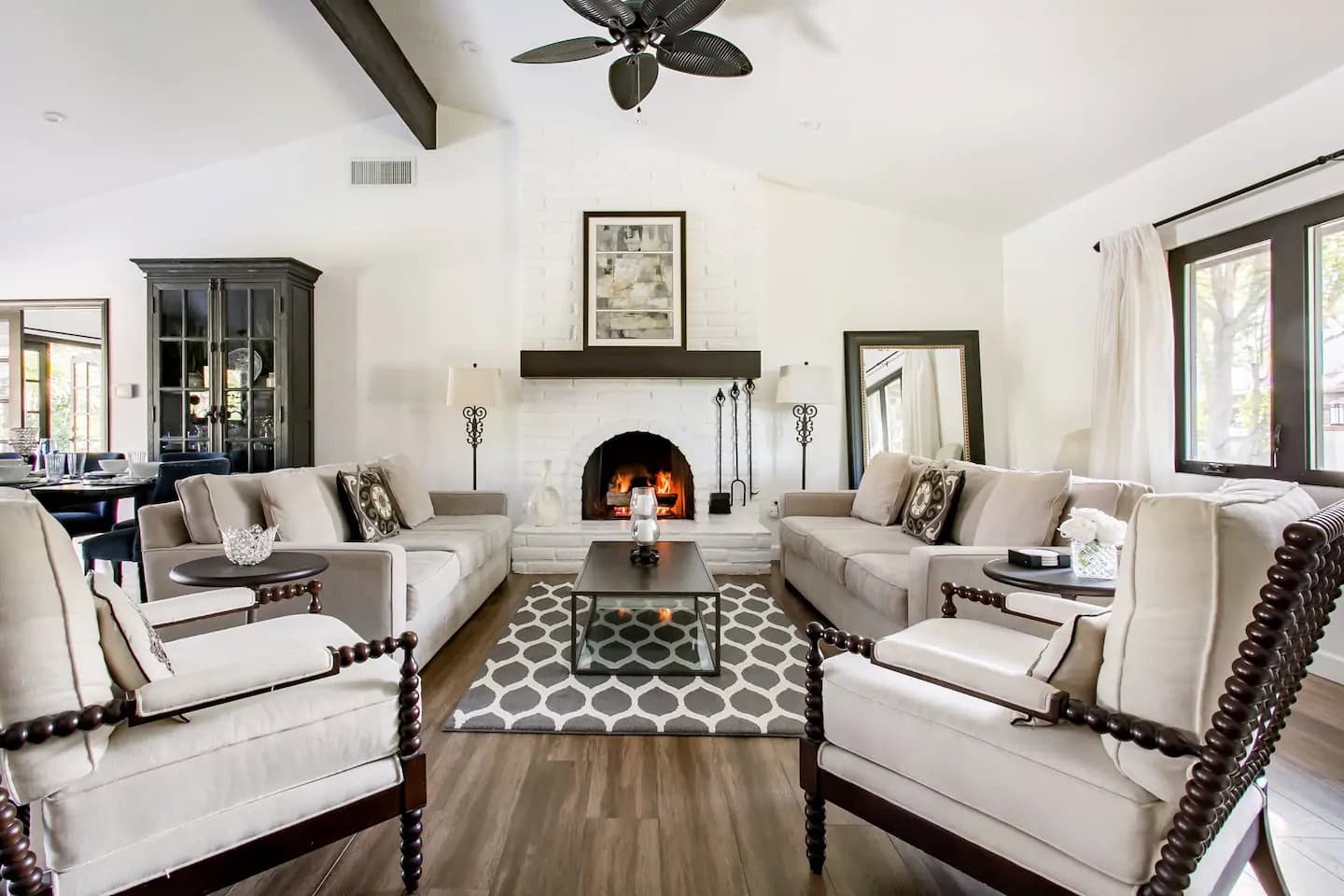 Want to stay in your own private garden oasis but also be close to downtown Palm Springs? Then this beautiful garden AirBnB is perfect for your group!
The outdoor spaces are filled with well-kept gardens, including several of your own tall palm trees. There is a large pool with plenty of chairs, along with several outdoor spaces for your group to hang out in including a gazebo with an outdoor fire pit!
The inside of this AirBnB is decorated very luxuriously as well, with a stunning white living room, new kitchen appliances, and well-appointed bedrooms.
---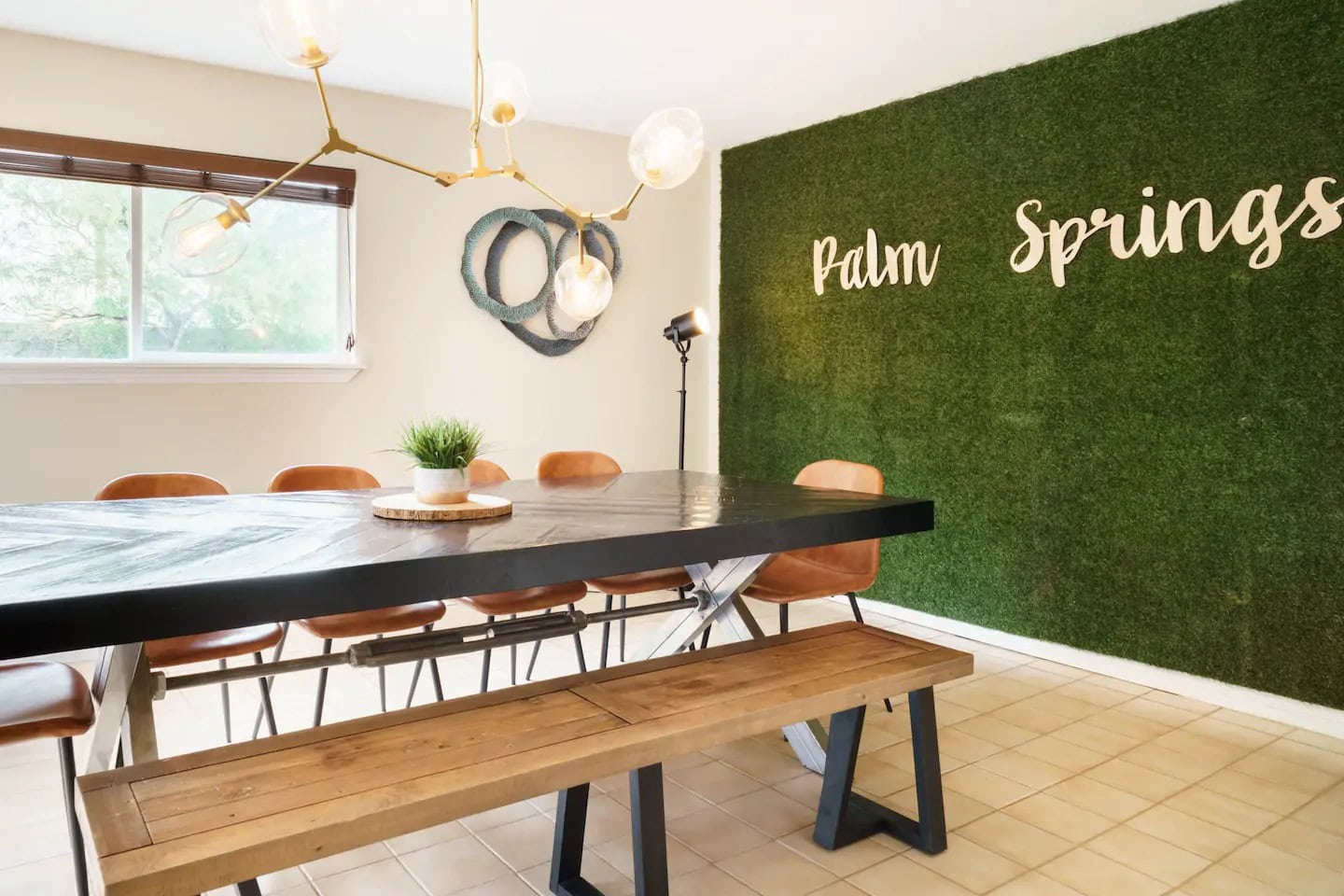 If you are looking for some of the Joshua Tree style inspired boho vibes in Palm Springs, then The Boho Bungalow is a perfect fit!
This large bungalow has all the stylish furnishings you would expect to find for your desert escape. The large backyard has all the essentials for your downtime, including a pool, pergola, koi pond and outdoor fire pit.
The style carries over inside as well, with vintage wooden doors being used as dividers between the rooms and a one of a kind "Palm Springs" grass wall perfect for your Palm Springs Instagram shoot. So cool!
---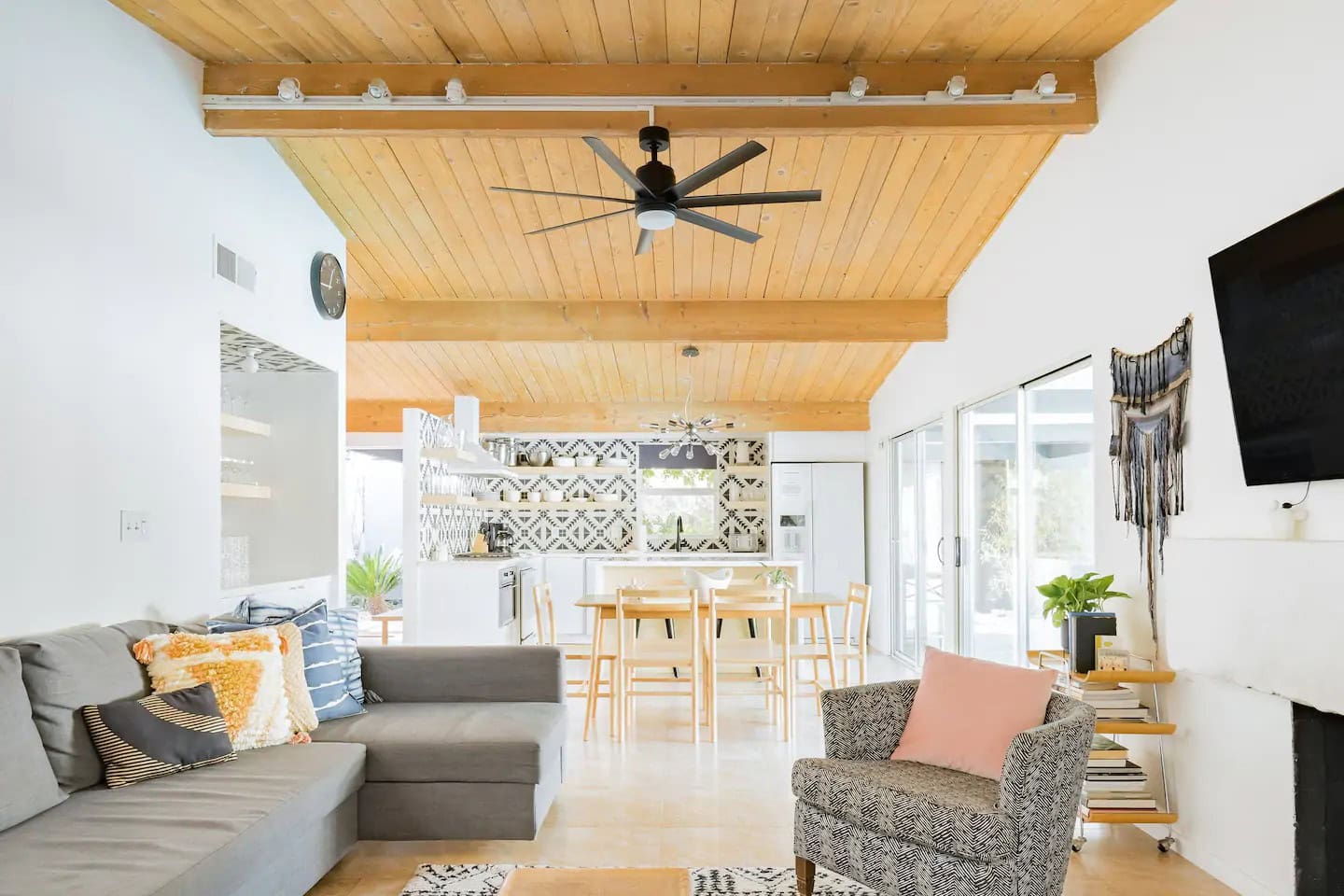 What happens when you combine 1960 Palm Springs style with modern amenities? You get this amazing Modern Territory AirBnB!
The Modern Territory is a beautifully designed rental perfect for a girls' getaway weekend. This rental is styled to perfection, with a comfortable living room and well organized kitchen with a stunning backsplash!
Head outside to relax by the pool and also to find the separate guest casita, perfect if one of your friends wants to call it a night before the others.
Sleeps: 10 guests
Size: 4 bedrooms / 5 beds / 3 baths
Price: Starting from $425/night
---
Ready To Book Your Stay?
Palm Springs is one of the most popular vacation destinations in the US, and with rentals like these it's not hard to see why! There are so many fun activities for your group to do in Palm Springs, making it the perfect city to base your next California group getaway or bachelorette party in.
If you are looking to stay in nearby Joshua Tree, be sure to check out our favorite AirBnBs in Joshua Tree.
Or if a mountain getaway is more your style, read our favorite cabin AirBnBs in nearby Lake Arrowhead and Big Bear.
Do you know of a unique AirBnB that belongs on our list? Let us know in the comments below!
---
Ready to go on a California adventure? Read on for more inspiration
---
---
Pin For Later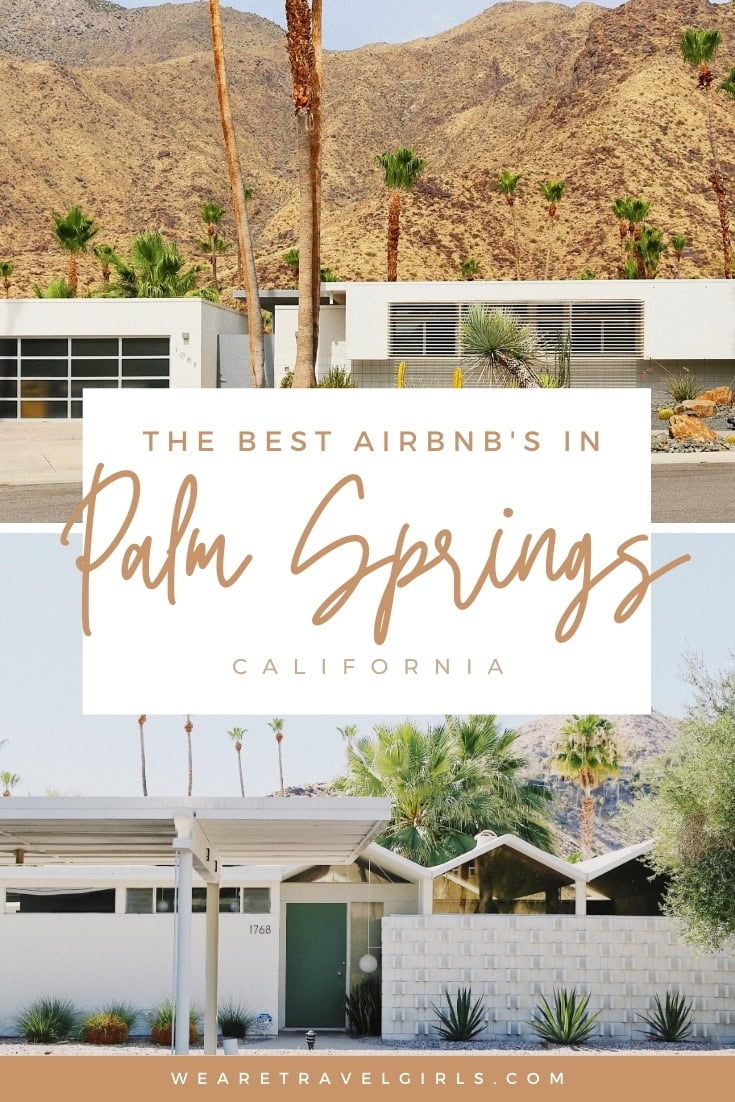 This article may contain affiliate links. As an Airbnb Associate, I may earn a fee when you book from this page. Please see our Disclosures for more information.