Last November I attended my aunt Carrie Fisher's 60th birthday party at her home in Beverly Hills. The usual A-list crowd was there, but I was also pleasantly surprised to meet a cool, down-to-earth girl who was visiting from New York – Haleigh Breest. Haleigh came to the party with a friend of my aunt's. We hit it off right away, and quickly found ourselves ditching cocktails on the patio to jump on a bouncy castle in the front yard. Before the glowing fake moon and stars (other oddities lending enchantment to the celebration), were switched off for the night, Haleigh promised to send me a list of her favorite downtown NYC spots, which she gathered from living in the city for 10+ years, working in entertainment and events. I was excited to see this "Best of New York" list pop up in my inbox just a couple days later, and couldn't wait to share it with our readers. So here is a quick New Yorker's guide to New York with suggestions for your next trip to the Big Apple!

NYC Nightlife
Boom Boom Room (officially known as Top of the Standard) – The rooftop lounge on the 18th floor of the Standard High Line Hotel is host to all the coolest after parties from the Met Gala to Cinema Society premieres. Madonna also shot her music video, "Bitch, I'm Madonna" here. The views and stunning other worldly interior from noted designers Roman and Williams is what keeps celebrities, and chic New Yorkers, coming over and over again. Sunset is the ideal time to visit where you can sit back and watch the sun go down on the Hudson River. The club stays open till late, but note, after 10pm the guest list is private and recommendations are highly recommended.
Mr. Purple – For the ultimate night out on the trendy Lower East Side make sure this rooftop lounge with split indoor and outdoor space (+ a pool!) is on your itinerary. Located atop the Ludlow Hotel, and run by The Gerber Group, the service is as extraordinary as the art popping décor. Keep your eyes open too, major stars like Bradley Cooper and Jennifer Aniston have been spotted here. Reservations recommended for late night.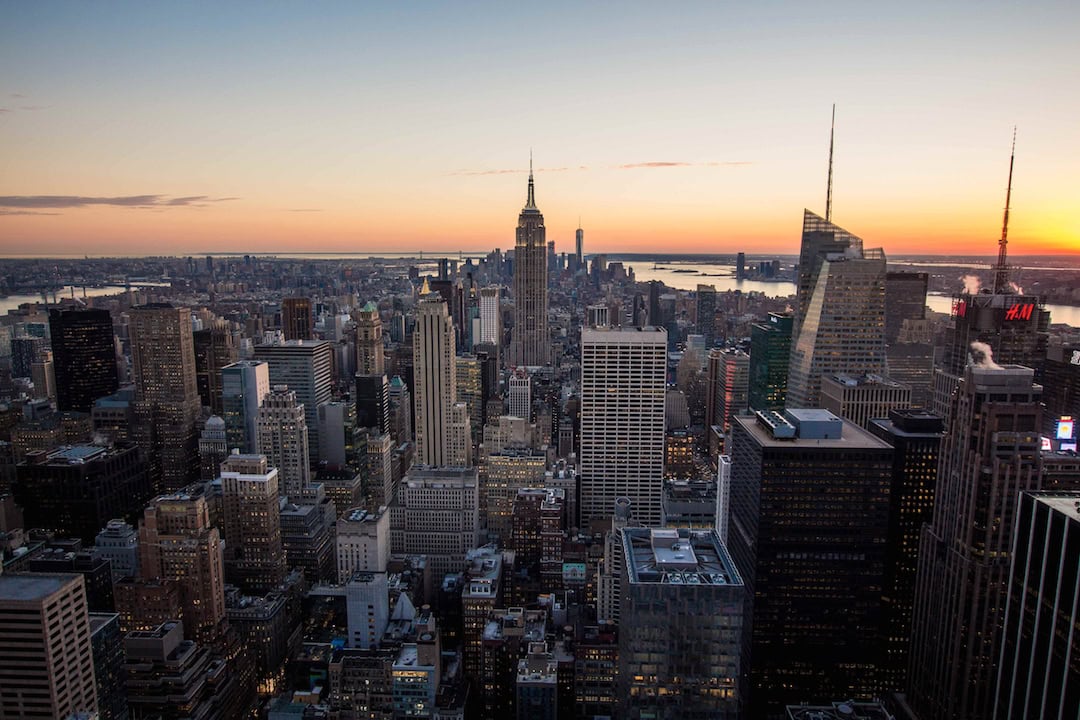 Gallow Green at the McKittrick Hotel – This sometimes spooky rooftop cocktail lounge is housed at the home of the ghostly (meant in the most complimentary way possible!) immersive theater experience known as Sleep No More. Here the vibe changes seasonally so whether you visit the ski chalet in the winter months and curl up by the fire or come when the flowers are in bloom in spring, you're going to have a time to remember. The best though is that there's no need to be on a list and the vibe in keeping with the setting is super chill.
La Piscine at Hotel Americano – If you're visiting in the summer be sure to bring your sun tan lotion and swimsuit to lounge by the Chelsea hotspot's pool. Coming at night? Put on a dress and take the elevator to the 9th floor where you can sip on cocktails from expert mixologists and take in a beautiful view of the Empire State Building.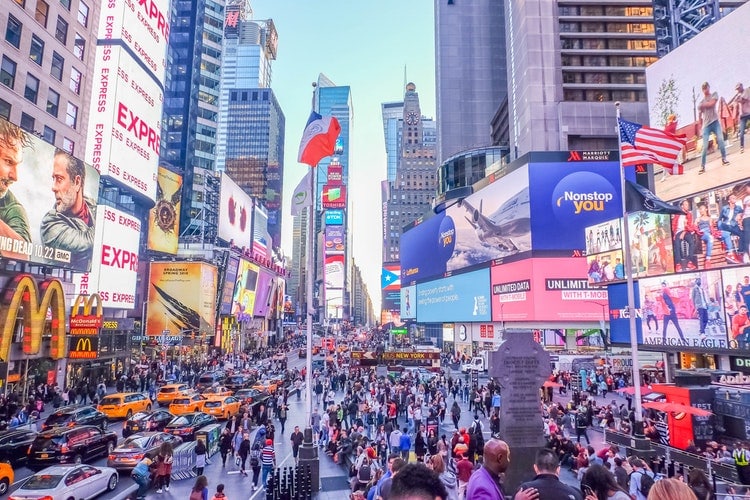 The Blond – This swanky lounge within the 11 Howard Hotel has given new life to Soho nightlife. The intimate space is best for late night revelry where you'll likely be trying to get a drink alongside a designer, actor and model or two.
Jimmy at the James – A sophisticated rooftop bar with spectacular outdoor views like no other of One World Observatory. The ideal place for sunset cocktails, and to take a dip in the pool, should you be so inclined!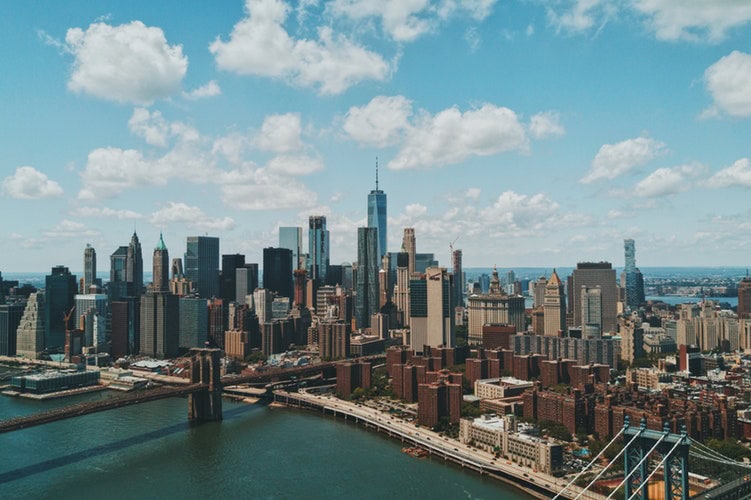 Things to Do In New York
High Line – The High Line is a public park built on a historic freight rail line elevated above the streets on Manhattan's West Side. Along your walk from Gansevoort Street to 34th Street look out for interesting art activations and home grown art instillations in the windows of NYC residents living along the way. Recently posters and art mocking Trump have been a favorite of the dwellers in the liberal neighborhood with even Katy Perry taking notice and posting to instagram. Best to go early morning or late in the evenings to avoid crowds. Be sure to step into the High Line Hotel for a coffee or drink in the lovely courtyard.
Chelsea Market – A sprawling indoor urban food court with a scattering of small shops. In the mood for Cambodian, Japanese, Italian, German, American or Mexican…you get the picture, they've got something for you! Also home to the Lobster Place where year round you can eat the freshest catches including, yes, lobster.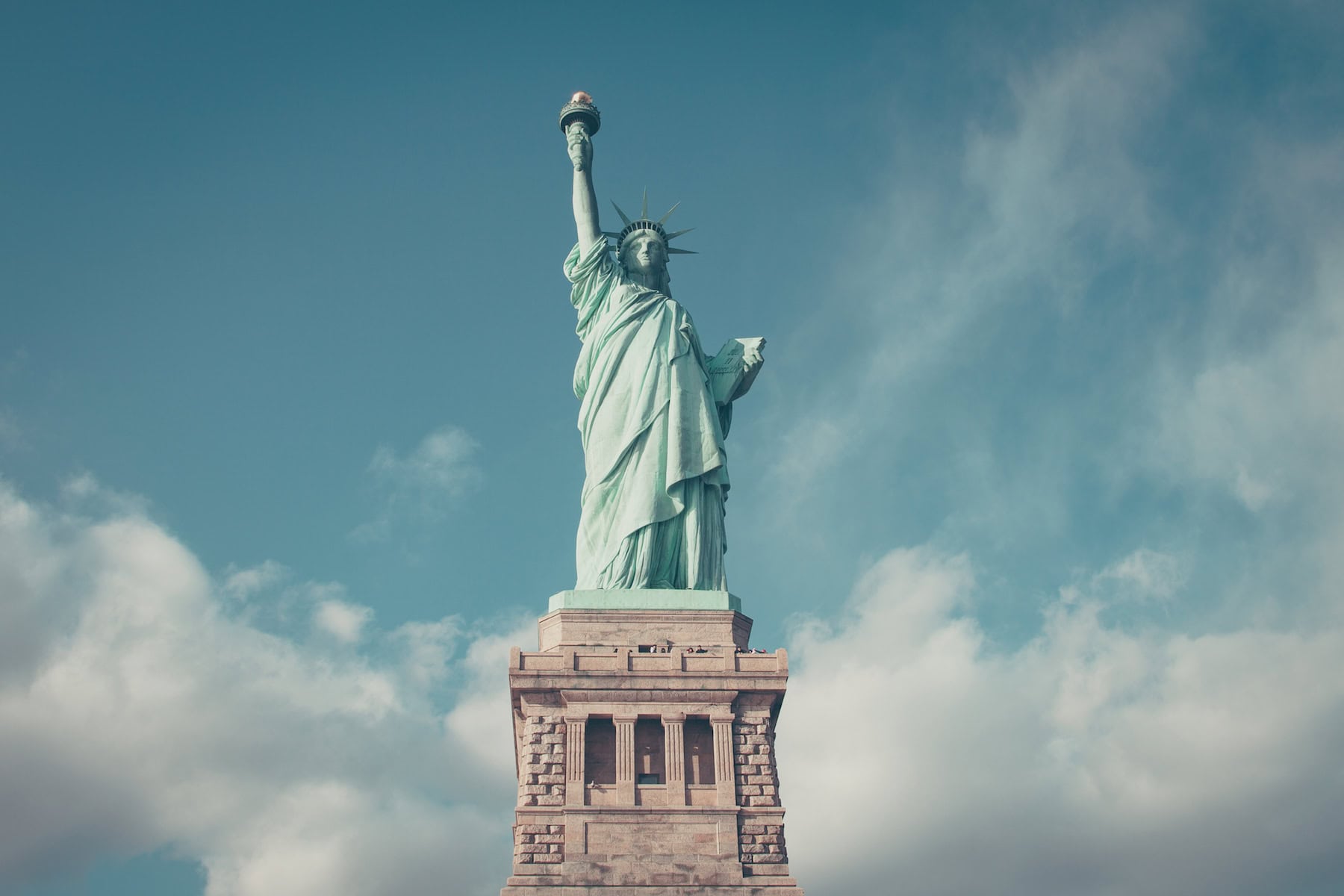 Whitney Museum – The Renzo Piano designed building opened in May 2015 making its mark on downtown Manhattan and exciting art patrons from around the world. Located at the base of the High Line, the 50,000 square foot space houses an impressive collection of American art with the museum's signature exhibition its biennial survey of contemporary art, which has always kept the focus on the present, in the spirit of museum founder Gertrude Vanderbilt Whitney. Major holdings of work include pieces from Alexander Calder, Mabel Dwight, Jasper Johns, Glenn Ligon, Brice Marden, Reginald Marsh, Agnes Martin, Georgia O'Keeffe, Claes Oldenburg, Ed Ruscha, Cindy Sherman, Lorna Simpson and David Wojnarowicz.
Chelsea Galleries – The largest collection of galleries in New York by far lays along W. 15th and W. 35th streets between 10th and 11th avenues where you can gallery hop into hundreds of amazing spots that have something for every taste. The most acclaimed include Gagosian, David Zwirner, Pace, Mary Boone, Milk Studios, Metro Pictures, Petzel, Andrea Rosen and Tanya Bonakdar.
One World Observatory, Little Italy, Federal Hall, Washington Square Park, South Street Seaport, New Museum, Statue of Liberty, East Village and ice skating at the Standard High Line. There are infinite adventures to explore!
Spots to Eat In New York
Le Coucou – The New York Times named this the number one new restaurant opening in New York for 2016 and one bite into the delicious French fare will confirm they are right.
Gemma – The restaurant at the Bowery Hotel is a cool mainstay of the East Village where celebs and locals go for Italian eats. Reservations are only accepted for guests of the hotel.
Clocktower – Three beautiful distinct dining rooms, a pool room and separate gold bar make this an easy place to spend an evening dining on a meal from an acclaimed British Michelin-starred chef.
Chalk Point Kitchen – Market to table lovely restaurant where guests can go downstairs before or after for a drink at the charming Handy Liquor Bar.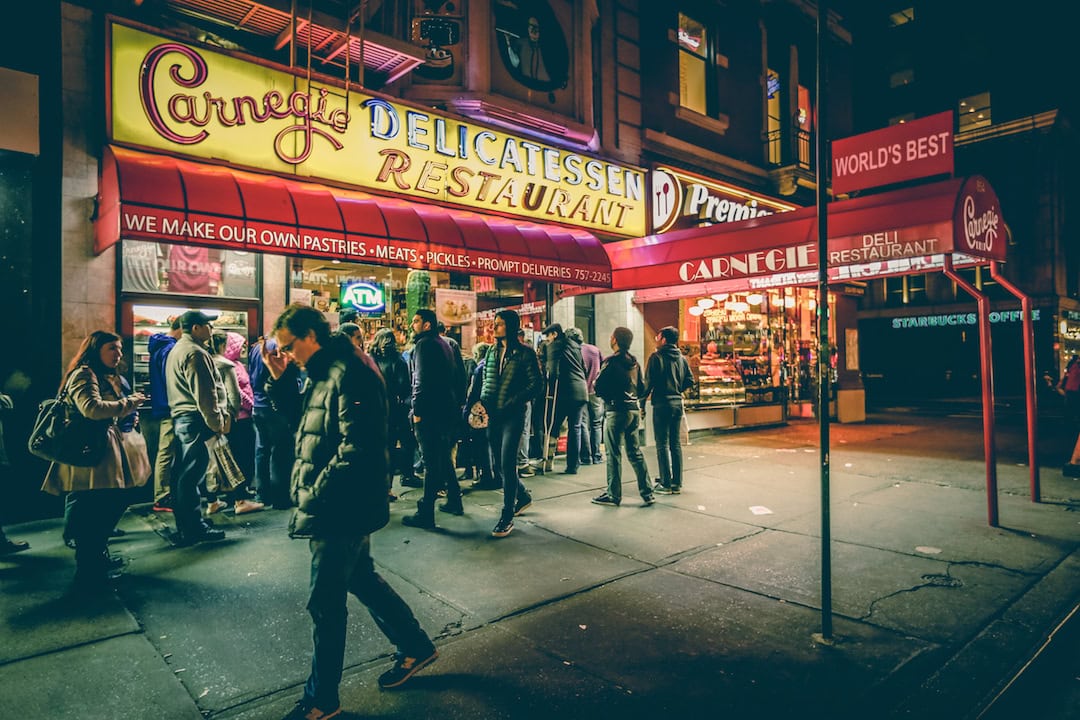 Le District– head here for all things French at Brookefield Place where you can sit down at culinary-specific stations for what you most crave between trips to Paris.
Union Fare- An industrial style restaurant and gastrohall that is the ultimate Union Square lunchtime cafeteria and after work drink spot.
Locanda Verde – The always hot Tribeca restaurant owned by Robert DeNiro and attached to the Greenwich Hotel is always a good idea!
Nix – This is the only Michelin star vegetarian restaurant not only in NY, but in the United States.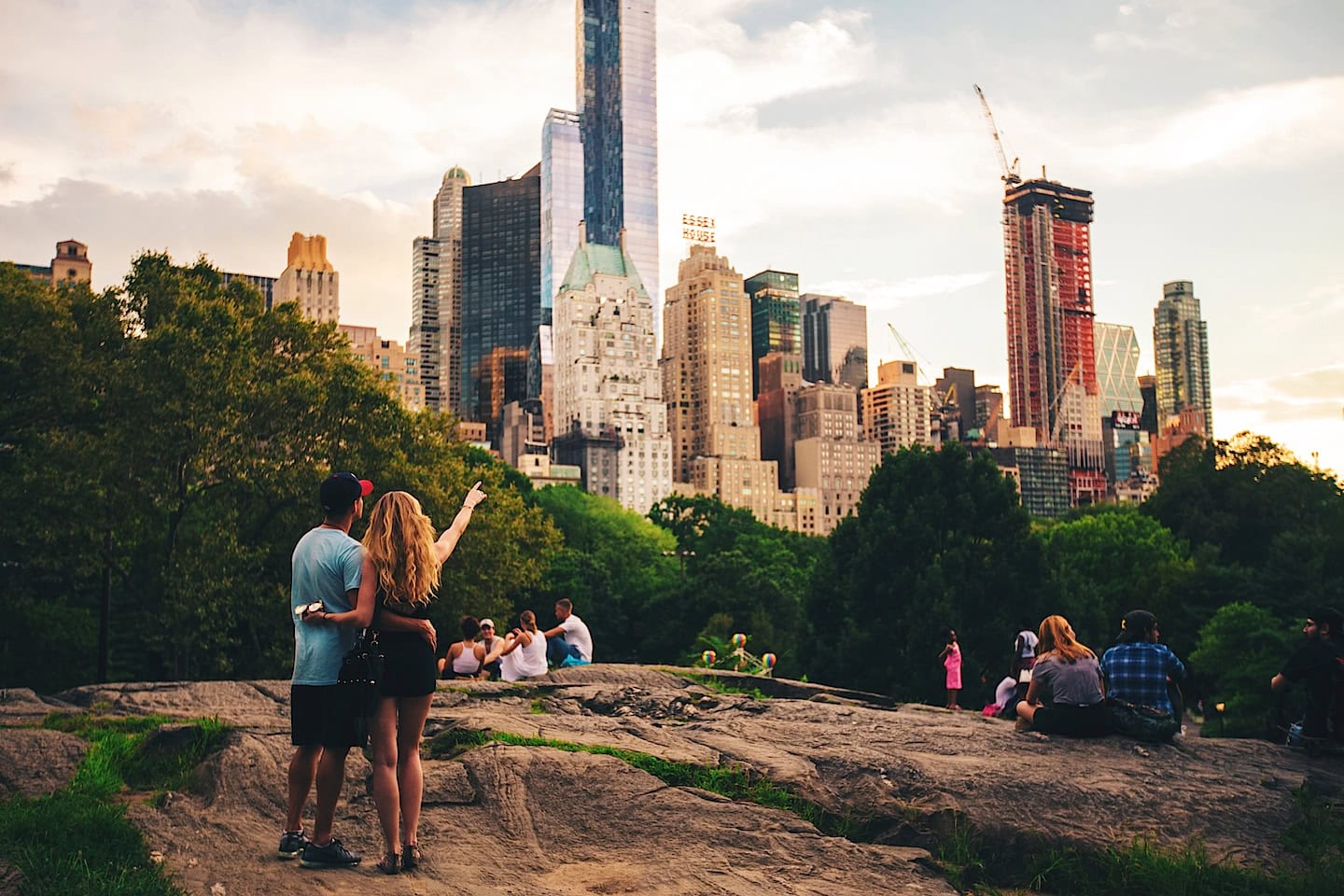 Narcissa at the Standard East – Cool spacious setting, beautiful courtyard and amazing food. Simple as that!
Sugarfish – "Trust Me" you'll want to eat sushi here, and when you do, order just that! (Trust me.)
Motorino – Everyone has their favorite pizza place, this is mine, and Rachael Ray's.
DO – Edible cookie dough in mind blowing flavors!!!
Luke's Lobster – Multiple locations, best lobster roll in the city.
---
We hope that this article has inspired you to visit New York. If you have any questions about the destination please leave these in the comments below.
To receive our articles and reviews straight to your inbox Subscribe Here.
---
Read More About New York
---
We Are Travel Girls Co-Founder Vanessa Rivers of GlitterandMud.com
Connect with Vanessa Instagram | Facebook | Twitter | Pinterest | YouTube
---
Pin For Later