Charities We Love is a monthly series featuring inspirational charities from around the world. At We Are Travel Girls we care about giving back and hope this series will help our readers learn about charities and non profit organizations that are doing incredible work. This month we are excited to feature Healthy Seas.
How can old discarded fishing nets be turned into fashionable clothing? This is what Healthy Seas is all about. Since its founding in 2013, the Healthy Seas initiative has collected 375 tons of fishing nets which have been regenerated by Aquafil into high quality ECONYL® yarn, becoming the basis for new sustainable textile products.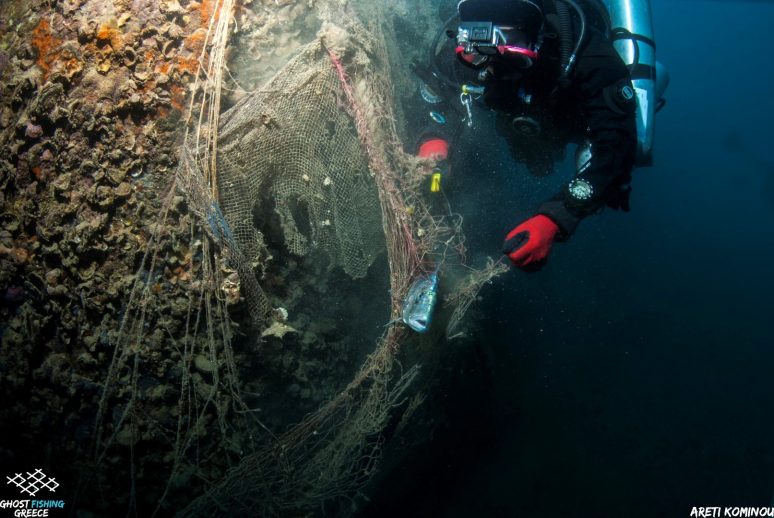 At present, Healthy Seas operates in Europe, focusing on the North Sea, Adriatic and Mediterranean Sea, all regions important for biodiversity and tourism. We collect discarded fishing nets together with various stakeholders such as divers, salvage companies, and fishermen. Healthy Seas also runs education activities together with schools.

THE PROBLEM
About 640,000 tons of fishing gear are left in our seas and ocean every year. The nets, which are made of plastic, are called ghost nets as they appear practically invisible under water. They remain in the seas for hundreds of years and continue to catch and kill marine animals every single day. In the meantime, they lose tiny little pieces, called microplastics, which then further pollute the seas, get into the stomach of fish and other animals and eventually end up in our food chain.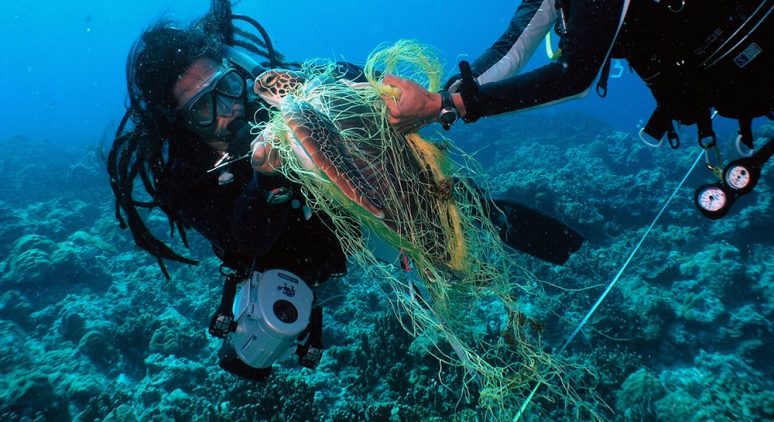 THE SOLUTION
The nets collected by Healthy Seas, in collaboration with divers and fishermen, are first sent to a cleaning facility. After all the non-net parts are removed, the nylon nets are sent to the Aquafil plant in Ljubljana, Slovenia, where together with other nylon waste are prepared for the ECONYL® regeneration system. A wide range of textile products like sportswear, swimwear, underwear and even carpets can be made with ECONYL® yarn. Linear industrial processes are about "Make-Use-Dispose" but in a circular economy, waste is a resource!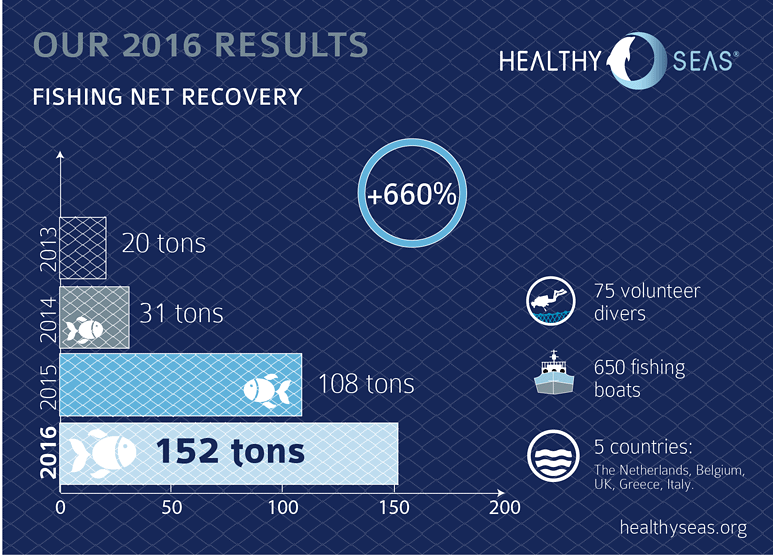 THE HEALTHY SEAS DREAM
For Healthy Seas the ultimate goal is clean seas teeming with marine life. To accomplish this, in addition to the work we do to clean up our oceans, we also focus on education. We raise public awareness on the damage caused by ghost fishing nets and gear and promote the ecological and economic importance of healthy seas. Education and raising awareness are key for achieving a sustainable future.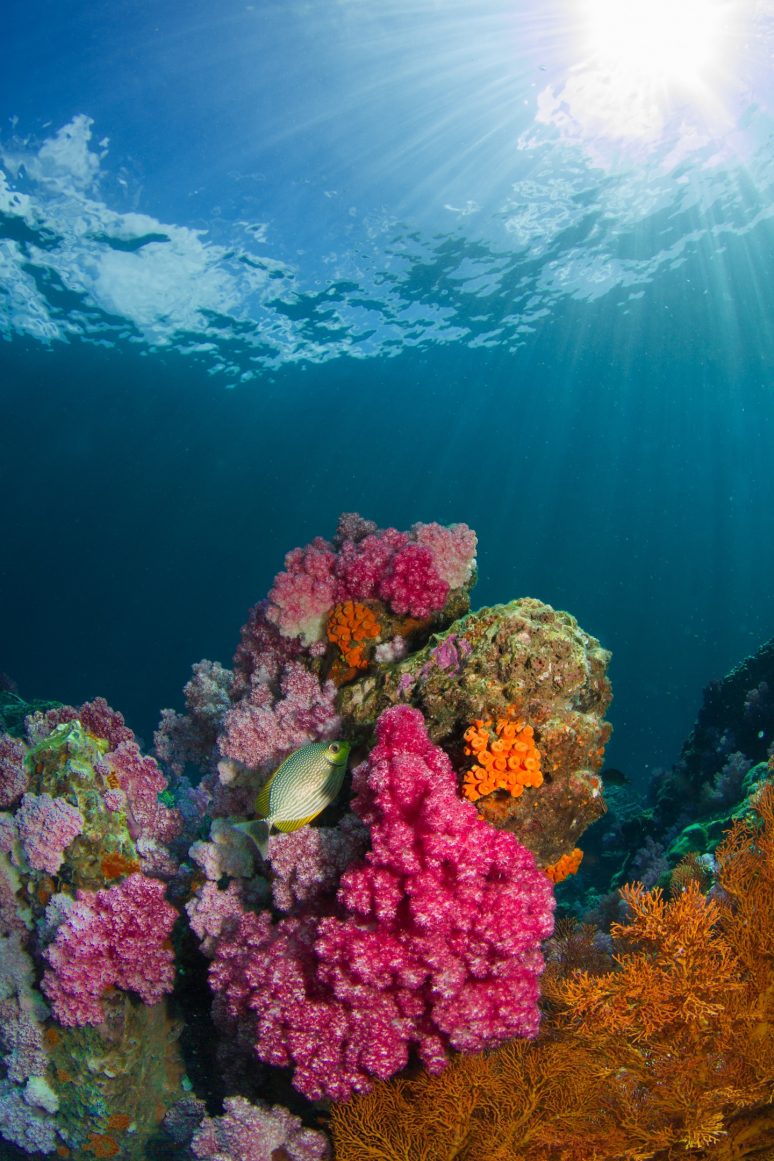 SANTORINI MISSION
To celebrate World Oceans Day on June 8th, 2018, Healthy Seas collaborated with Cousteau Divers and Pierre-Yves Cousteau on a very exciting mission in Santorini, Greece. The Healthy Seas team of expert volunteer divers from Ghost Fishing, supported by Atlantis Dive Center in Oia, recovered a huge ghost net measuring approximately 150 meters. What was even more special about this mission is that it was broadcasted live for educational purposes all over the world, an unprecedented feat! The mission was exclusively sponsored by Italian fabric manufacturer, Carvico.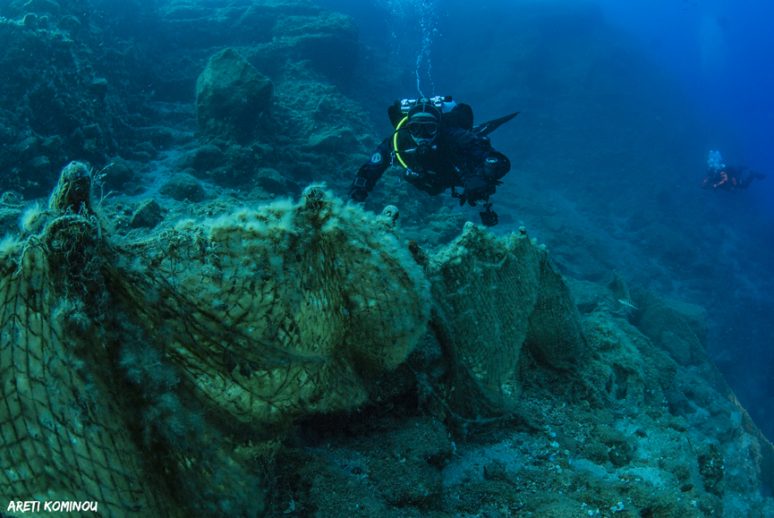 To accomplish this, the Healthy Seas team worked tirelessly for over 3 months! Despite a couple of setbacks, the live stream went on without a hitch. If you want to start a conversation about ghost nets, at home or in the classroom, the video from the dive in Santorini is a fun way to do it! It was the first time that Pierre-Yves Cousteau joined a technical diving team removing ghost nets and in the video he is describing what he is seeing wearing a 2-way communication full face mask. It was not easy to hear or speak with that thing, but he managed very well!
WHY SANTORINI?
For most, Santorini is a dream destination. The Greek island's dramatic landscape is a result of volcanic eruptions over the course of thousands of years and as our divers attest, the island's underwater landscape is just as spectacular! Historical finds from the Minoan Civilization prove that once upon a time the Aegean Sea was well stocked with fish and other marine life. Pierre-Yves Cousteau, who has been diving in Santorini since he was a young boy, said during a TEDx talk in 2012: "Underwater Santorini has very dramatic landscape, very steep walls, caves, posidonia sea grass meadows. But it's like a beautiful theatre and all the actors are gone. The fish are all gone."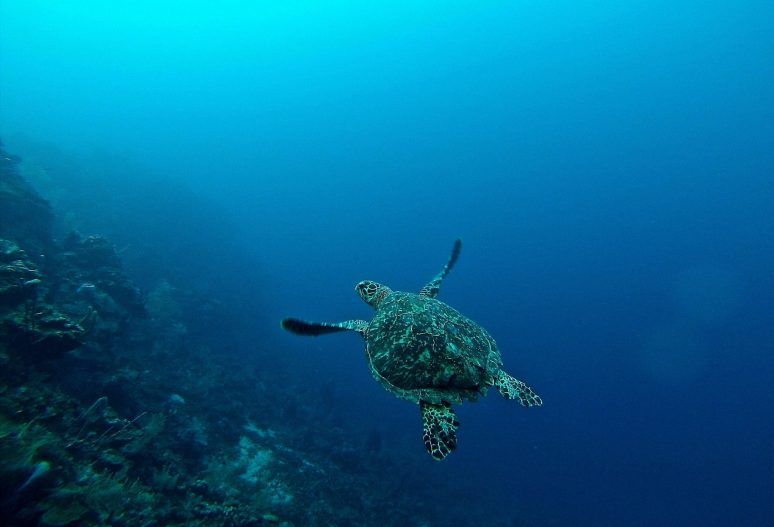 Together with Apostolos Stylianopoulos (Atlantis Dive Center) and local stakeholders, Pierre-Yves Cousteau has been spearheading a project to create a Marine Protected Area (MPA) in Santorini. Healthy Seas thought this was a very worthwhile bottom-up approach initiative which we wanted to support and be a part of. This is why our dive for the ghost net recovery took place within the boundaries of the future MPA. We hope that soon a decision will be made for the establishment of the MPA so that fish stocks will be able to replenish here.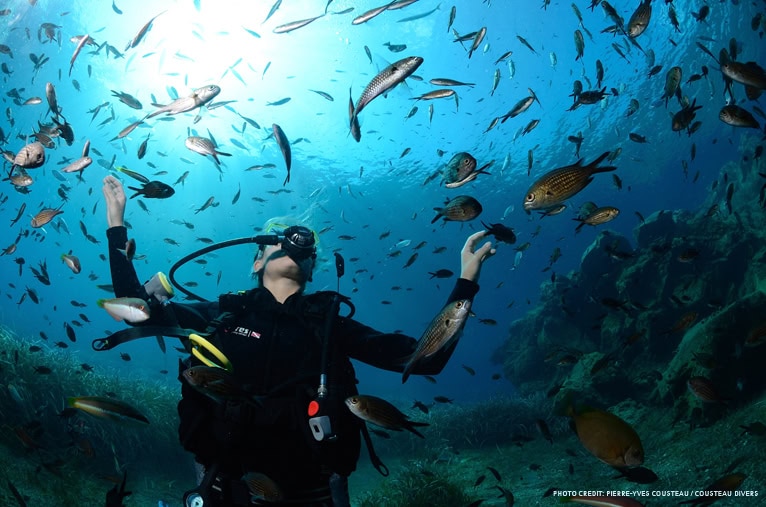 HOW CAN YOU HELP? BUY SOMETHING GOOD
The beauty of a product doesn't just come from its looks, it also comes from within. Healthy Seas helps give consumers a responsible choice of products which tell the powerful story of the journey from waste to wear. So, next time you are shopping around for a swimsuit, why not look at the brands who use our nets as a basis for their products? SUMMERLOVE SWIMWEAR joined forces with Healthy Seas many years ago to fight against deadly ghost nets and donates 1% of every bikini purchase to Healthy Seas.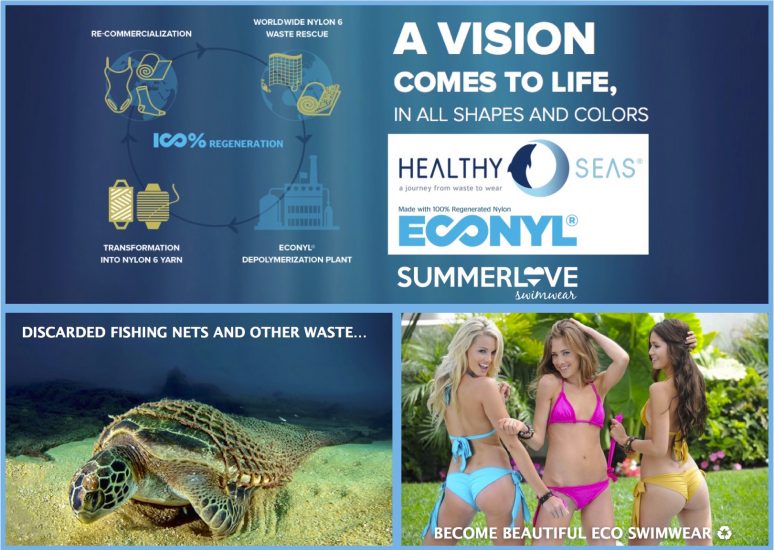 GET INVOLVED WITH HEALTHY SEAS
If you want to join the Healthy Seas journey from waste to wear and be part of the solution to the problem of ghost nets, there are many ways to do it. Our Healthy Seas team is always looking to expand our reach and would love to hear from potential partners. So, if you are a likeminded organization or initiative with an idea for a project, get in touch! If you would like to replicate the Healthy Seas initiative, we would be happy to share our know-how with you.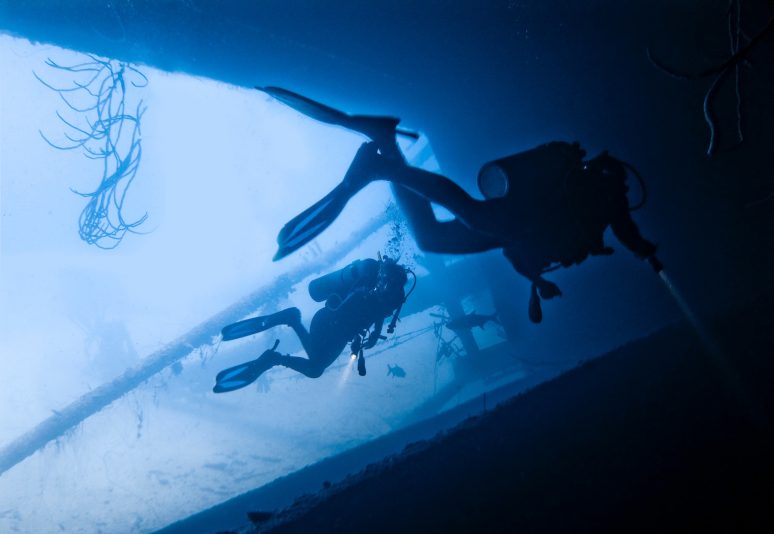 Healthy Seas is funded exclusively by individual and company donations. On our website you will find a list of all who are supporting us. If you would like to contribute to our work, please contact us. Divers are at the center of our marine protection work. If you wish to dive with us on a volunteer basis, we look forward to hearing from you.
SUPPORT THE HEALTHY SEAS INITIATIVE – DONATE NOW!
---
Do you know of an inspirational charity or non profit organization? We'd love to hear your thoughts in the comments below! And if you'd like a charity to be considered for this series please submit their story via our Contribute Page.
To receive our articles and reviews straight to your inbox Subscribe Here. 
---
Read More About Charities
---
Jenny Ioannou of HealthySeas.org 
Connect with Healthy Seas Instagram | Facebook | Twitter | YouTube
---
Pin For Later