As Sweden's second-largest city, Gothenburg is buzzing and bustling, but with a distinctly subdued Scandinavian charm. Unexpectedly, this pint-sized, pastel-washed Swedish town stole my heart.
Perched among the archipelagos of the Western Swedish coast, Gothenburg is equally picturesque as the nature surrounding it, with canals snaking gently through its historic city centre, and elegant, aesthetic architecture. Each neighbourhood in this compact city boasts an entirely different feel, although all are equally charming.
From the downtown-New-York vibes of Olivedal to the wide, regal streets of the city centre, Gothenburg is dynamic, vibrant, yet unhectic; its crowning jewel is the sleepy, traditional area of Haga, home to giant cinnamon buns and Swedish fika.
For a long weekend, Gothenburg is the perfect getaway destination. Read on for my complete itinerary of must-see spots in Gothenburg, Sweden!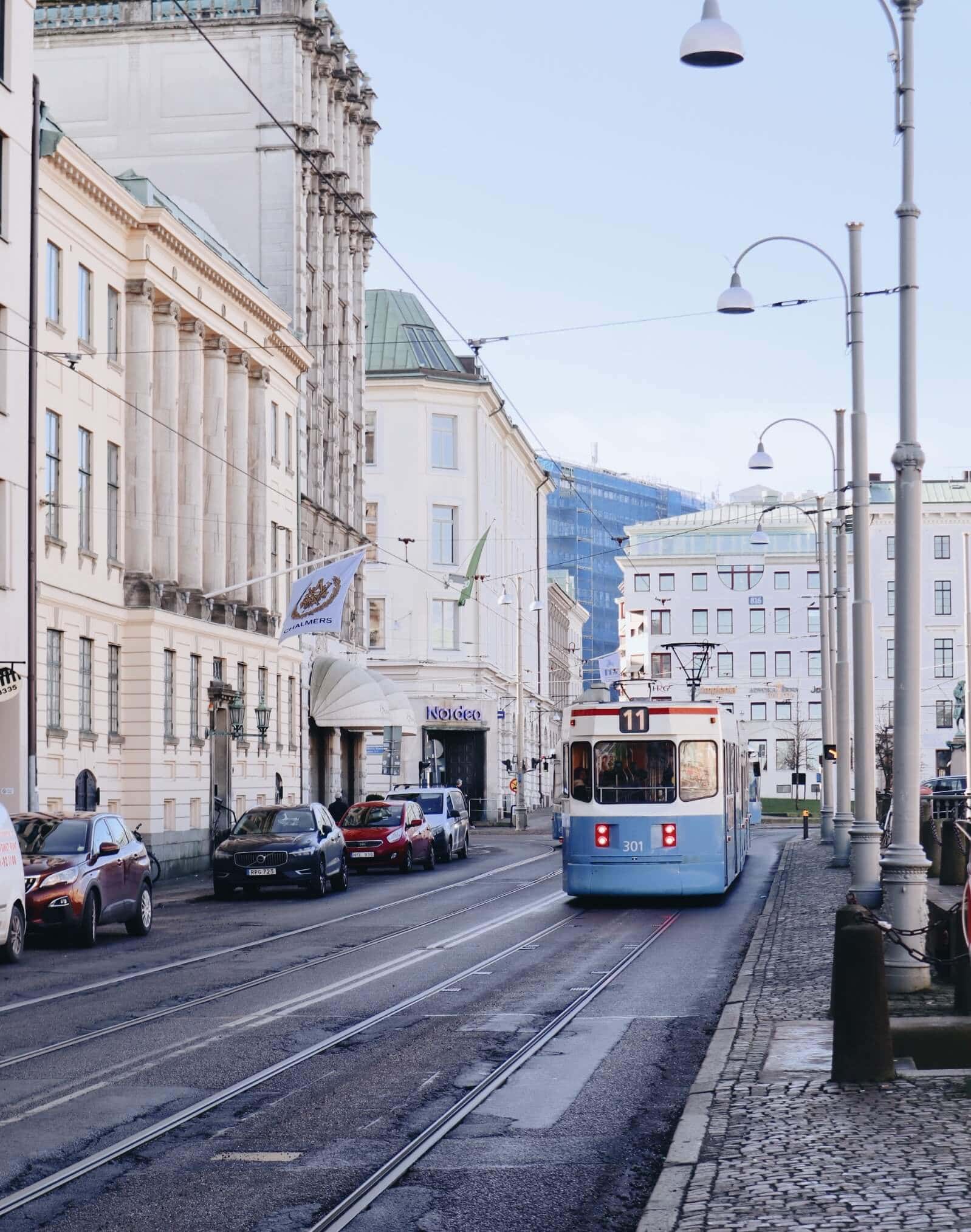 DAY 1
Grab Lunch At Saluhallen Food Hall
Nestled in the heart of the city, overlooking one of Gothenburg's lush green parks, is Saluhallen: a large, high-ceilinged food hall beloved by foodies everywhere. Offering a range of Swedish delicacies – including their infamous pastries and bread – alongside international cuisines, a visit to the Saluhallen is the perfect introduction to the city.
The building itself dates back to the 1800s and has retained much of its old-fashioned charm, with customers perched at stools around the whitewashed banks of the various restaurants and cafes. For Swedish fika, head for Brogyllen, and start your trip as you mean to go on: with copious amounts of coffee and back-to-back cinnamon buns!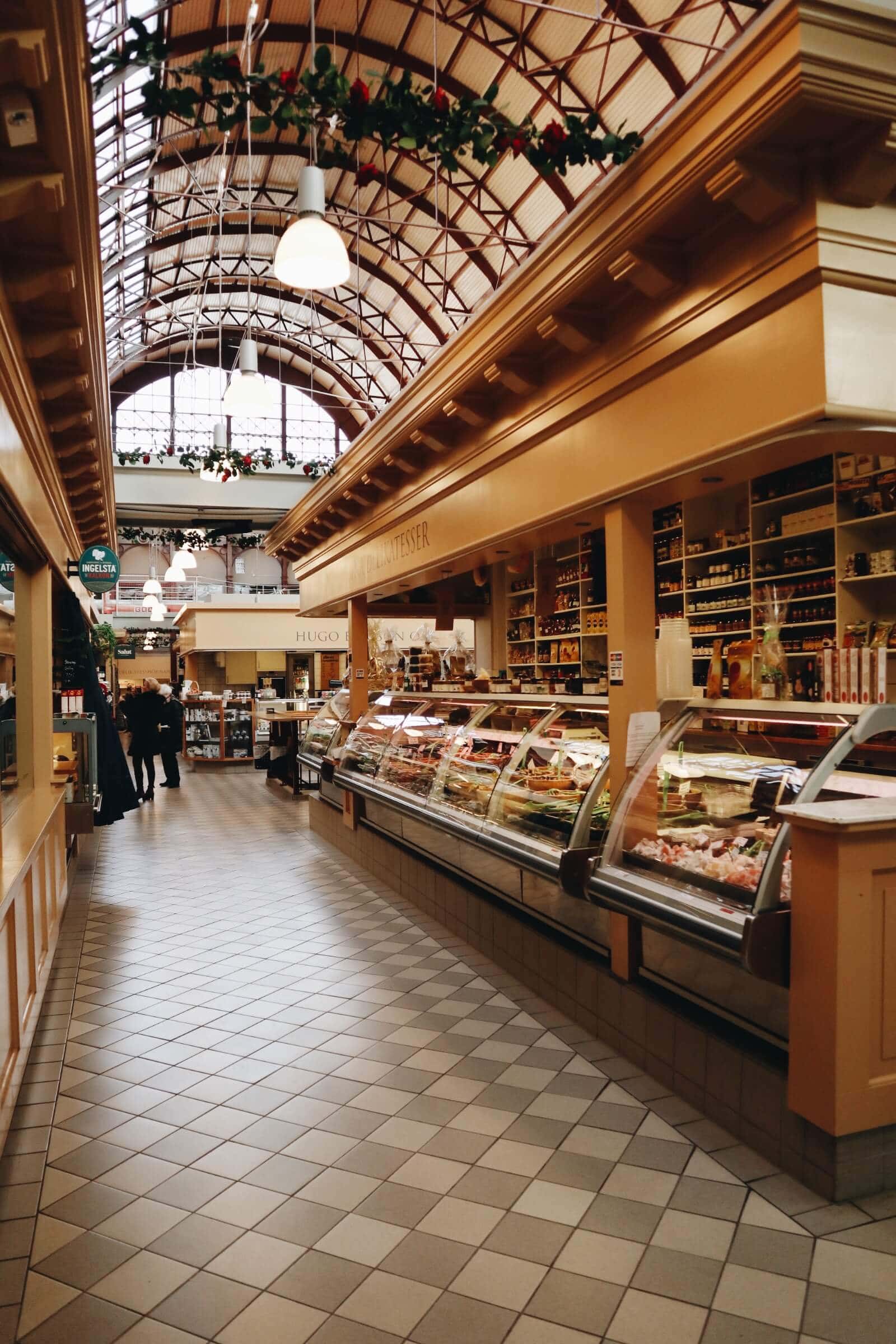 Visit The Cathedral
The tall, uniquely-shaped Domkyrkan sits proudly between the city's two main canals, its bright stone façades glinting in the sun. Surrounded by a small expanse of a well-manicured lawn, its wrought-iron fences lined with trees, the cathedral acts as a haven of quiet among Gothenburg's busier shopping streets.
The crisp, Classical architecture of this church – which dates back to 1633 – fits snugly in among the elegant terraced buildings in the neighbourhood, making its grounds an ideal place to sit and enjoy a book. The interior perfectly complements the exterior, both of which are white, simplistic, and unbelievably elegant.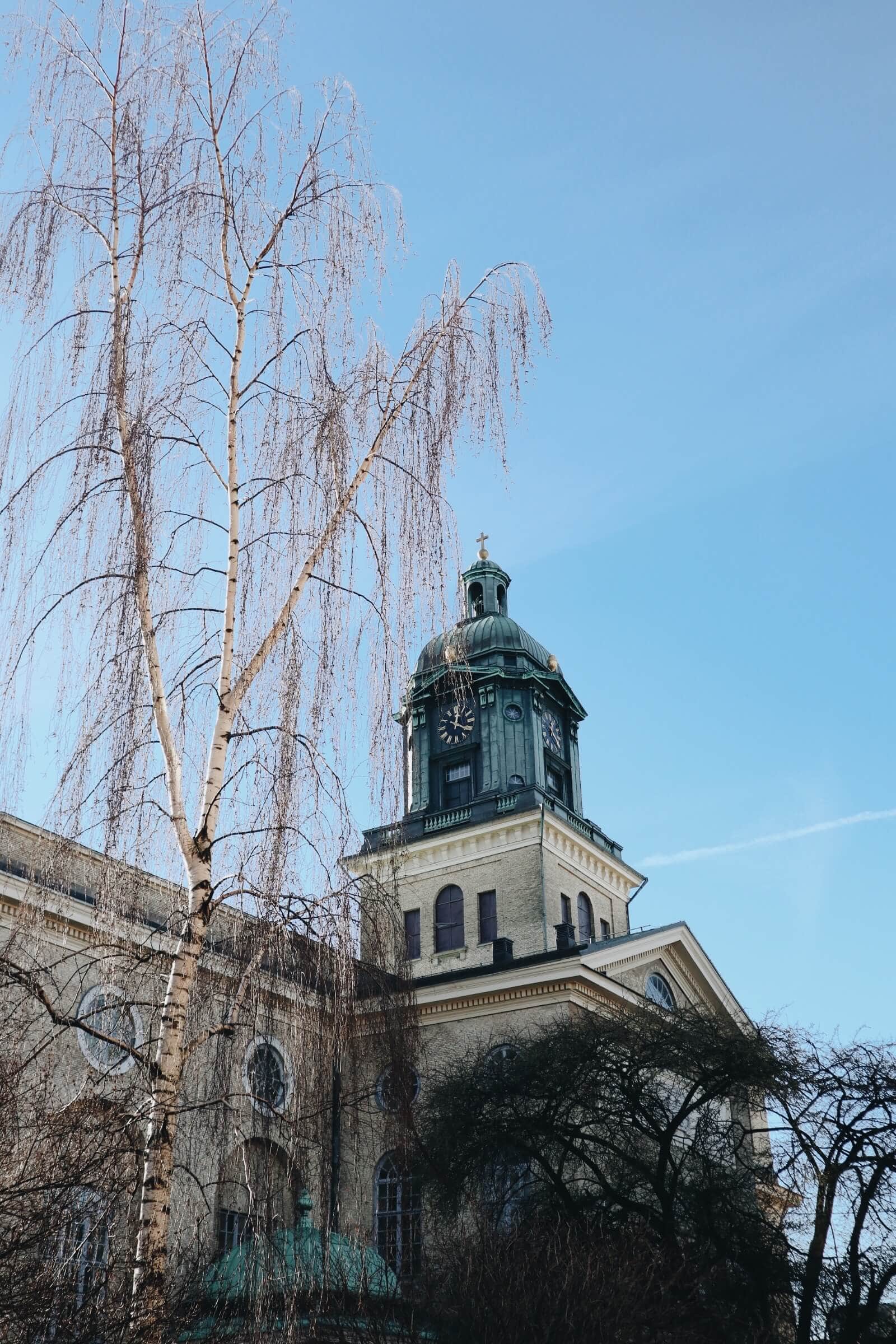 Browse The Shops In Central Gothenburg
Not your average high street, the shops in Gothenburg's centre are unsurprisingly picture-perfect, with interior design stores and sleek fashion houses peppering the cobbles. Combining a range of celebrated European favourites, such as H&M, Weekday and Joe & The Juice, with lesser-known brands like Lagerhaus, it is easy to while away countless hours getting lost among these narrow streets.
This area of town is also home to the City Museum and the town hall (or Rådhuset) and is bookended by both canals, which make a beautiful backdrop to an afternoon stroll. If all the shopping gets a little tiring, there are endless bars and coffee houses to stop at, as you recharge your batteries.
Have A Traditional Swedish Dinner At Smaka
One of the most popular restaurants in the city among its locals, Smaka serves traditional Swedish dishes for reasonable prices. The food is always bursting with flavour and beautifully-presented and can be washed down with a glass of wine from their extensive list. The staff at Smaka are always willing to help, offering suggestions and recommendations from the menu, and helping visitors to choose the best options for the full Swedish experience.
Among the choices on the menu are, of course, Sweden's infamous meatballs, which are doused in creamy gravy and served with a generous helping of mashed potatoes. More daring foodies should try their mixed herring platter with Västerbotten cheese and knäckebröd.
The low lighting and laid-back atmosphere of this restaurant is the perfect place for a romantic dinner, or for a cosy catch-up with friends.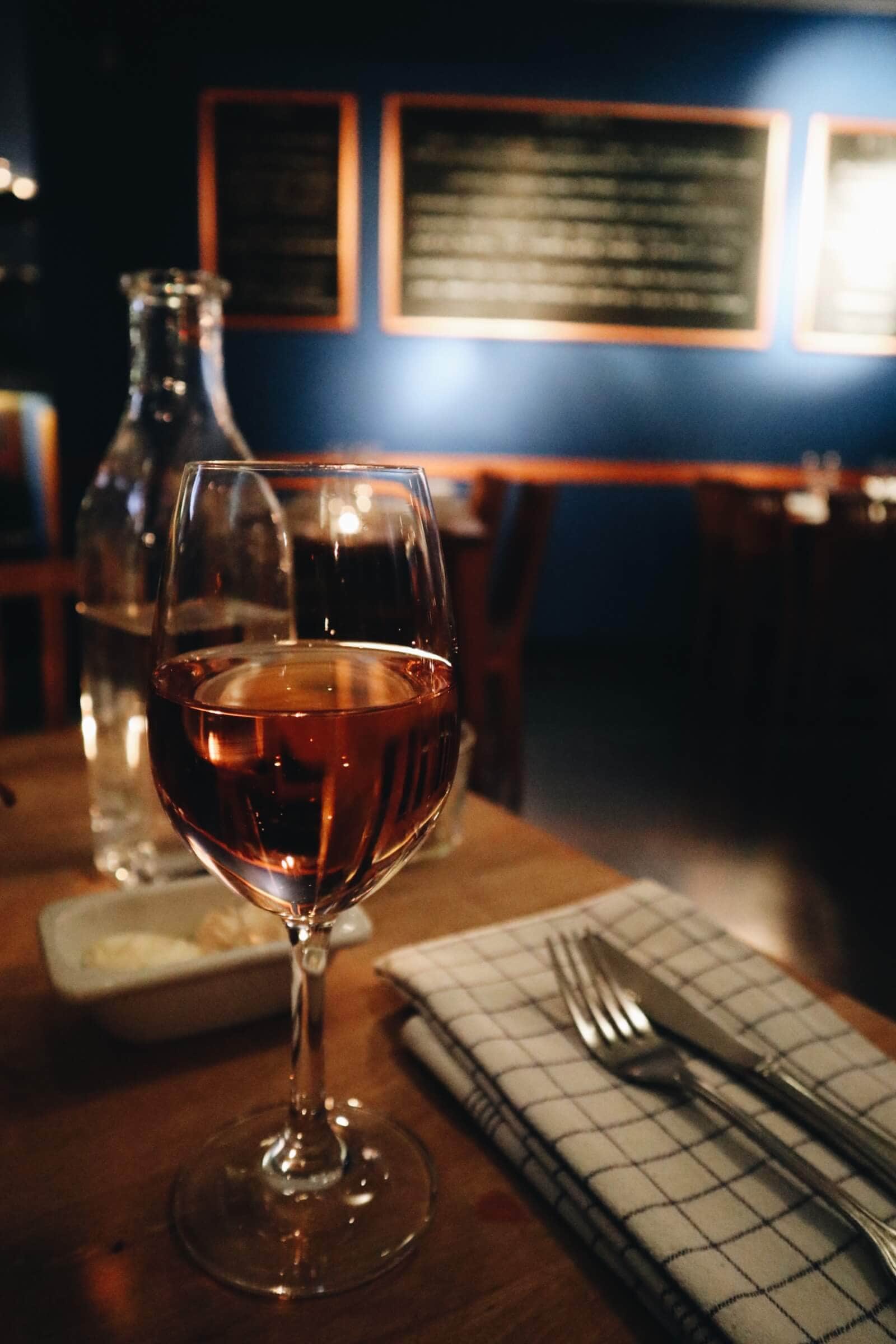 DAY 2
Climb To Skansen Kronan
The highest point in the city is Skansen Kronan: a 1700s fortress built originally to defend against the Danes. It has later been used as a prison, an emergency residency, a military museum, and, now, a centre for private functions and conferences.
Today, climbing up to this impressive building will offer unbeatable, 360-degree views of Gothenburg, looking out over a sea of rustic red roofs.
During the summer, this hilltop is also home to a small café, serving coffee and waffles to weary climbers. The tree-speckled grounds of the fortress, with winding, pebble-clad pathways, make the climb picturesque and the shortness of breath entirely worth it.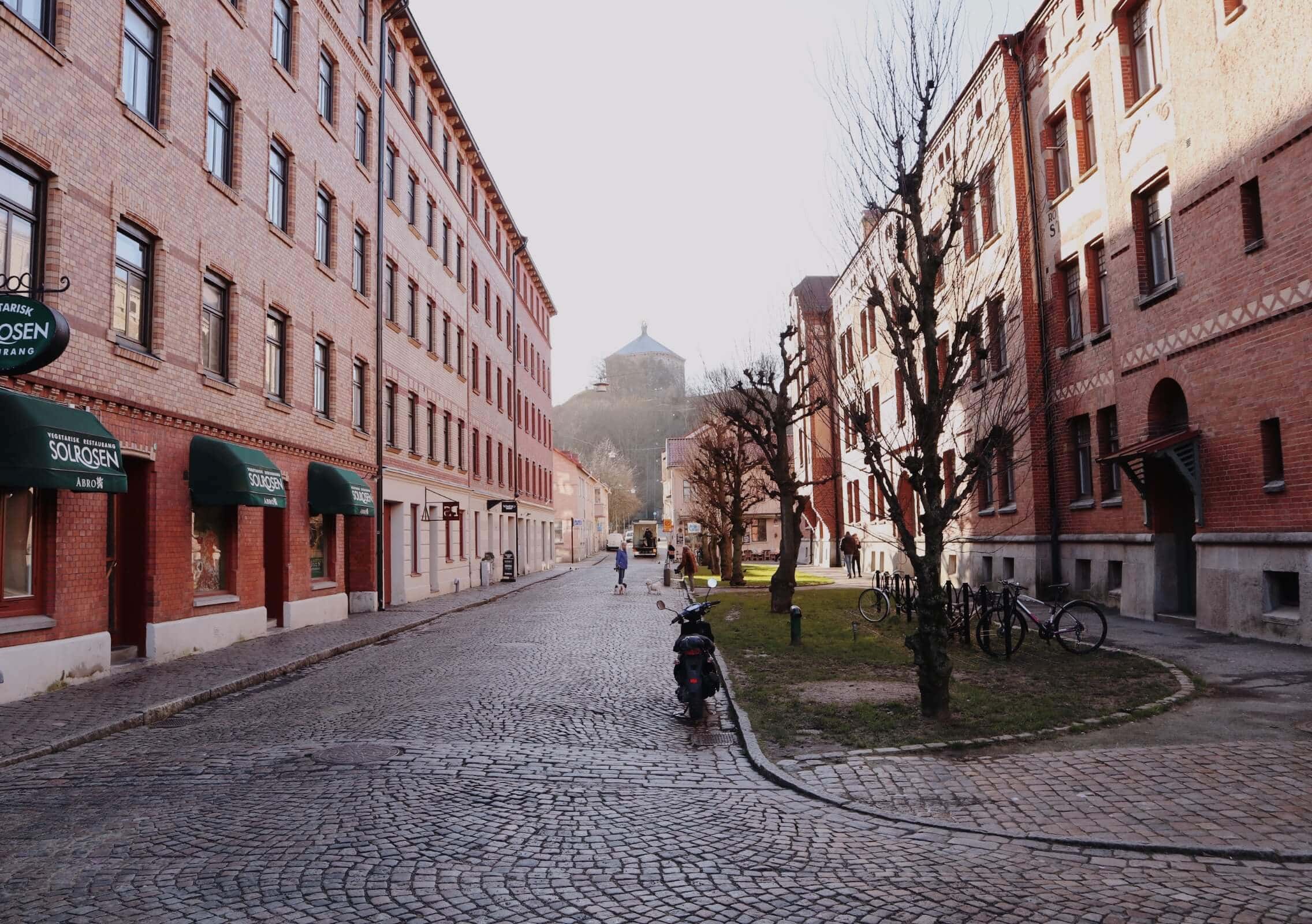 Explore Haga
Possibly the most well-known neighbourhood within the city, Haga is quaint, calm, and undeniably enchanting.
Located at the foot of Risåsberget hill, this collection of narrow streets could have been plucked from a fairytale. Its wooden houses are painted in an array of pastel shades, with coffee houses and boutique stores tucked into every nook and cranny.
The pedestrianised roads are framed by tables and chairs, each covered in colourful cushions and fluffy blankets, to keep the winter chill at bay.
Haga is often crowned the birthplace of Swedish fika: a world-famous concept which encompasses the idea of taking a break from the stresses of life by enjoying a coffee with friends. This warren of picture-perfect streets is definitely not lacking in snug, homey coffee houses, each with their own unique feel.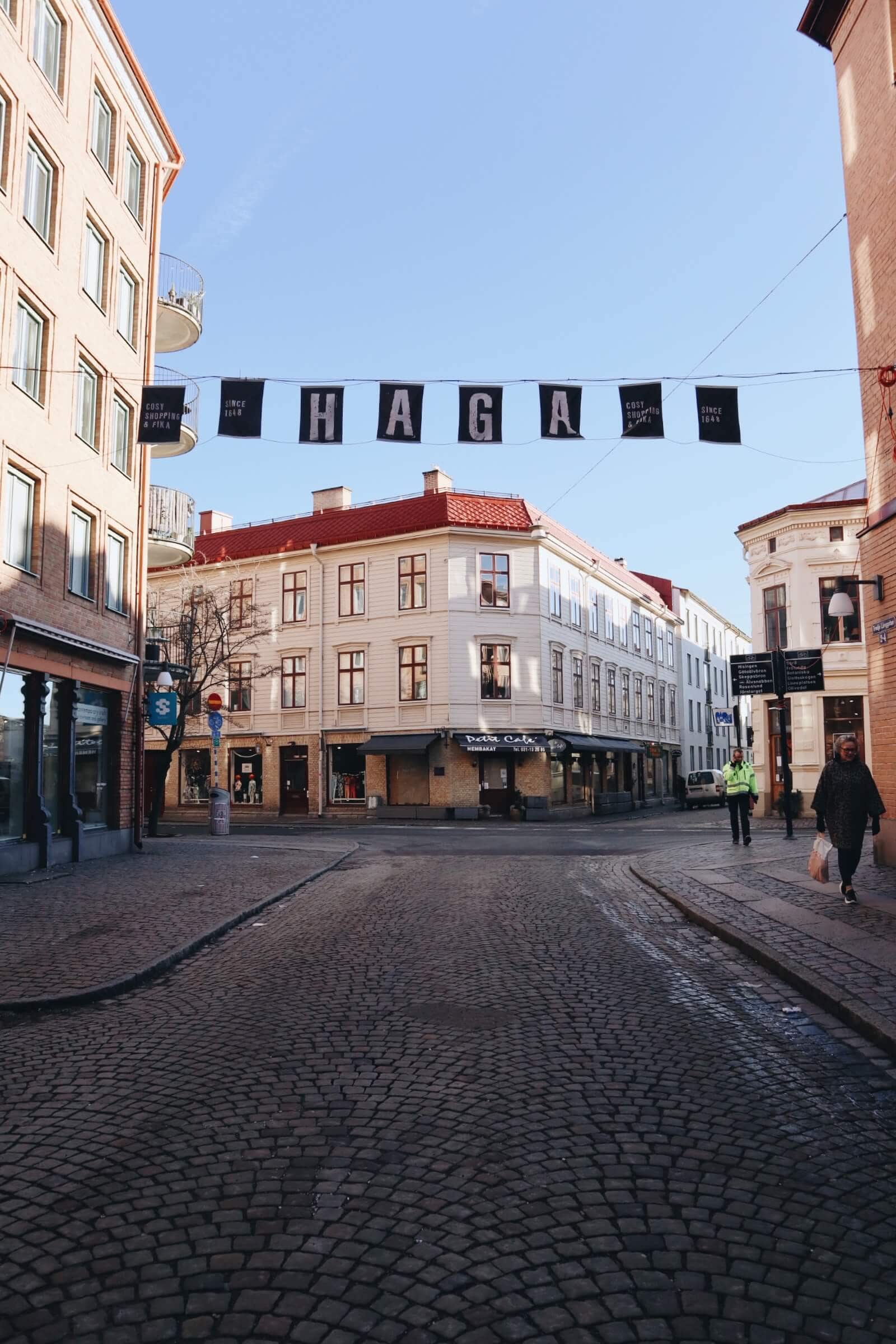 Try A 'Hagabulle' At Café Husaren
Probably the most famous café in Gothenburg – and possibly in Sweden – Café Husaren is decidedly deserving of its wonderful reputation. Housed within an elegant, 19th-century building, this coffee house is a favourite spot among both locals and visitors.
Celebrated mainly for its enormous, delicious cinnamon buns, known as hagabullen, this café also offers a range of other sweet treats and savoury snacks, artfully displayed along the marble counter.
With its ornate furnishings and twinkling chandeliers, this coffee house feels sophisticated yet welcoming, transporting you back in time. During the summer, outside seating decorates the cobbled streets, allowing you to fully immerse yourself in Haga's warm, friendly atmosphere.
Visit The Feskekôka
The unique architecture and unusual shape of this historic fish market make it stand out among the uniformly-elegant buildings of Gothenburg. Settled at the bank of the canal, the Feskekôrka – whose name stems from the market's church-like shape – is one of the most well-visited sites in the city. An indoor market selling local fish and seafood, caught fresh each morning. The market is also home to a small fish restaurant run by famous Swedish chef Johan Malm.
Restaurant Gabriel is located above the market floor and offers both an à la carte menu and a fresh seafood buffet. In-keeping with the catches, and when fresh ingredients are available, the restaurant is only open during the daytime, from Tuesday-Saturday.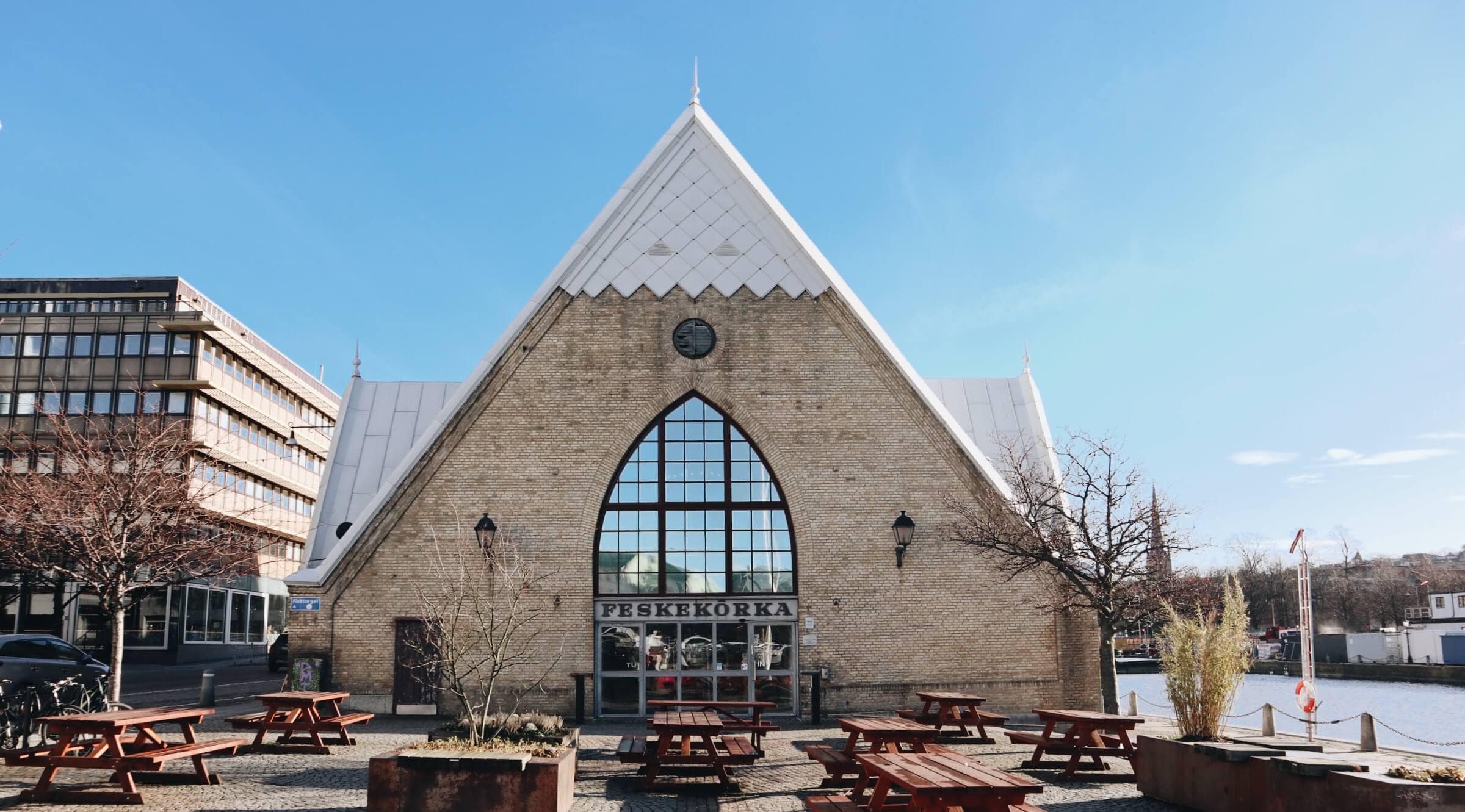 Wander Along The Canals
Gothenburg's two picturesque canals are part of what renders the heart of this city so unique, forming part of a 240-mile-long waterway which connects the West and East coasts of Sweden, via a series of lakes and rivers.
Within Gothenburg itself, you can take a river tour through the canals and out towards the city harbour, ducking underneath low bridges and experiencing some of Gothenburg's most beautiful sights from a different perspective.
Alternatively, a walk along the canal is equally beautiful, with its graceful, stone sculptures and waterside museums.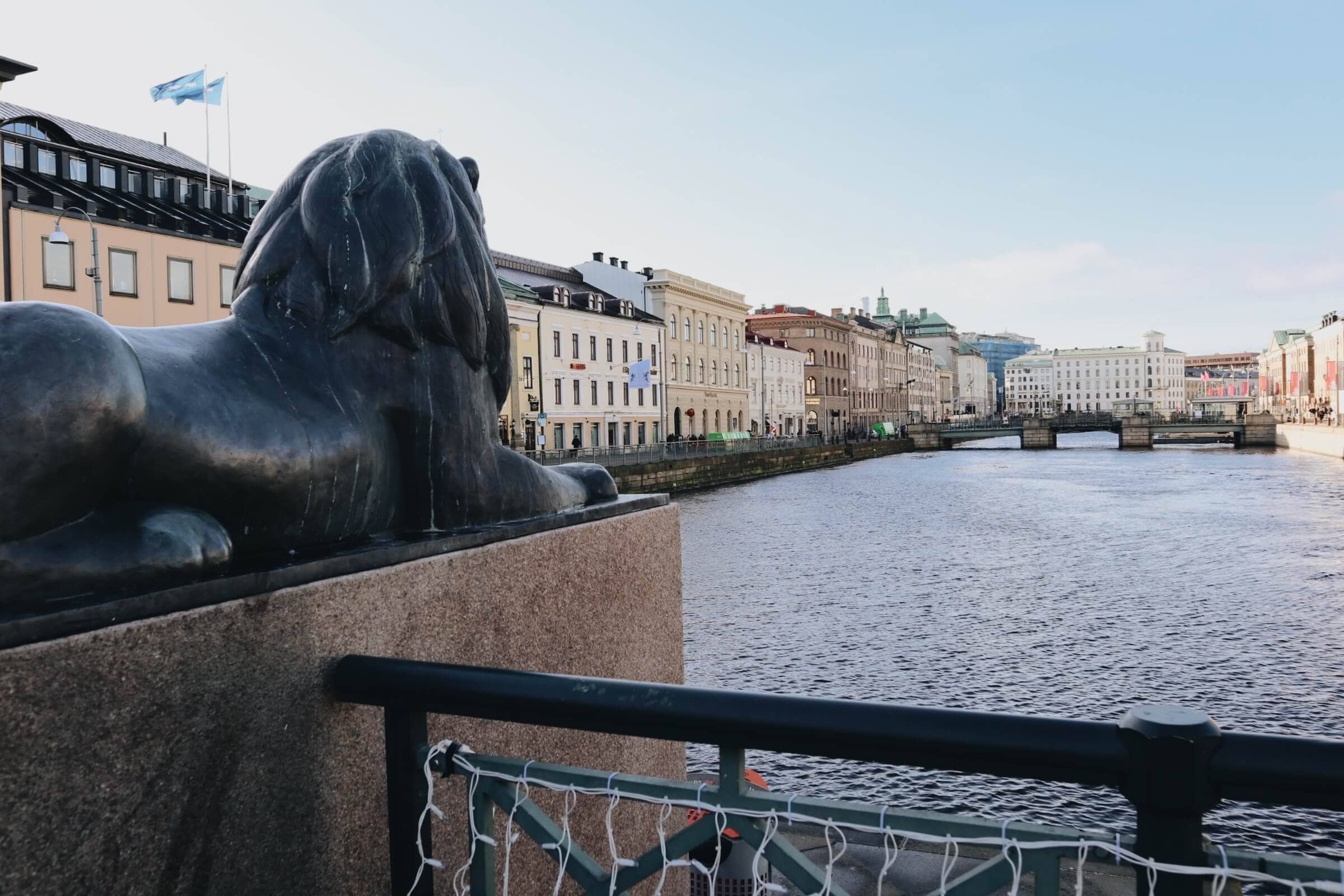 Enjoy The Riverside Parks
As Sweden is renowned for its stunning landscapes and awe-inspiring nature, it seems only right that Gothenburg would also be teeming with greenery. Its riverside parks, although small, are lush and well – kept, making the perfect setting for a sunny afternoon stroll.
The Bältespännarparken, with its grand fountain and stony pathways, is home to the city's Horticultural Society, or Trädgårdsföreningen. Including a colourful rose garden and tropical palm house, the rush of city life seems a million miles from the tranquillity within this garden, which also boasts a small outdoor café, aptly surrounded by a sea of bright flowers.
This, set against the backdrop of the canal, is the perfect place to experience some of Scandinavia's renowned natural beauty, in the comfort of Gothenburg's city centre.
Dinner At Björk Och Bambu
A short tram journey from the town centre lies Scandi-Asian fusion restaurant Björk och Bambu. Located on a street corner of the city's more residential Olivedal neighbourhood, with its distinctly urban downtown feel, this restaurant is unlike anything else in Gothenburg.
Combining traditional Nordic flavours with Asian cooking techniques, Björk och Bambu has become one of the city's most sought-after restaurants since opening in 2013. Its exposed brick interior with a swish, light-wood furnishings remind you that you are sitting firmly within the heart of Scandinavia, whilst the spices and tastes will transport you all the way to Asia.
DAY 3
Check Out The Oscar Fredriks Kyrka
The bright colours and jaunty angles of Gothenburg's Oscar Fredriks Kyrka, which is set atop a hill between the Olivedal and Masthugget neighbourhoods, make it striking among the terraced brownstone buildings.
This Neo-Gothic piece of architecture was constructed in the late 1800s, and is now one of the city's most recognisable landmarks, with bright turquoise turrets and intricate gold detailing framing the geometrically-shaped windows.
Entry to the church is free of charge, although has been closed for renovation from January 2019, and will re-open to the public in December 2020.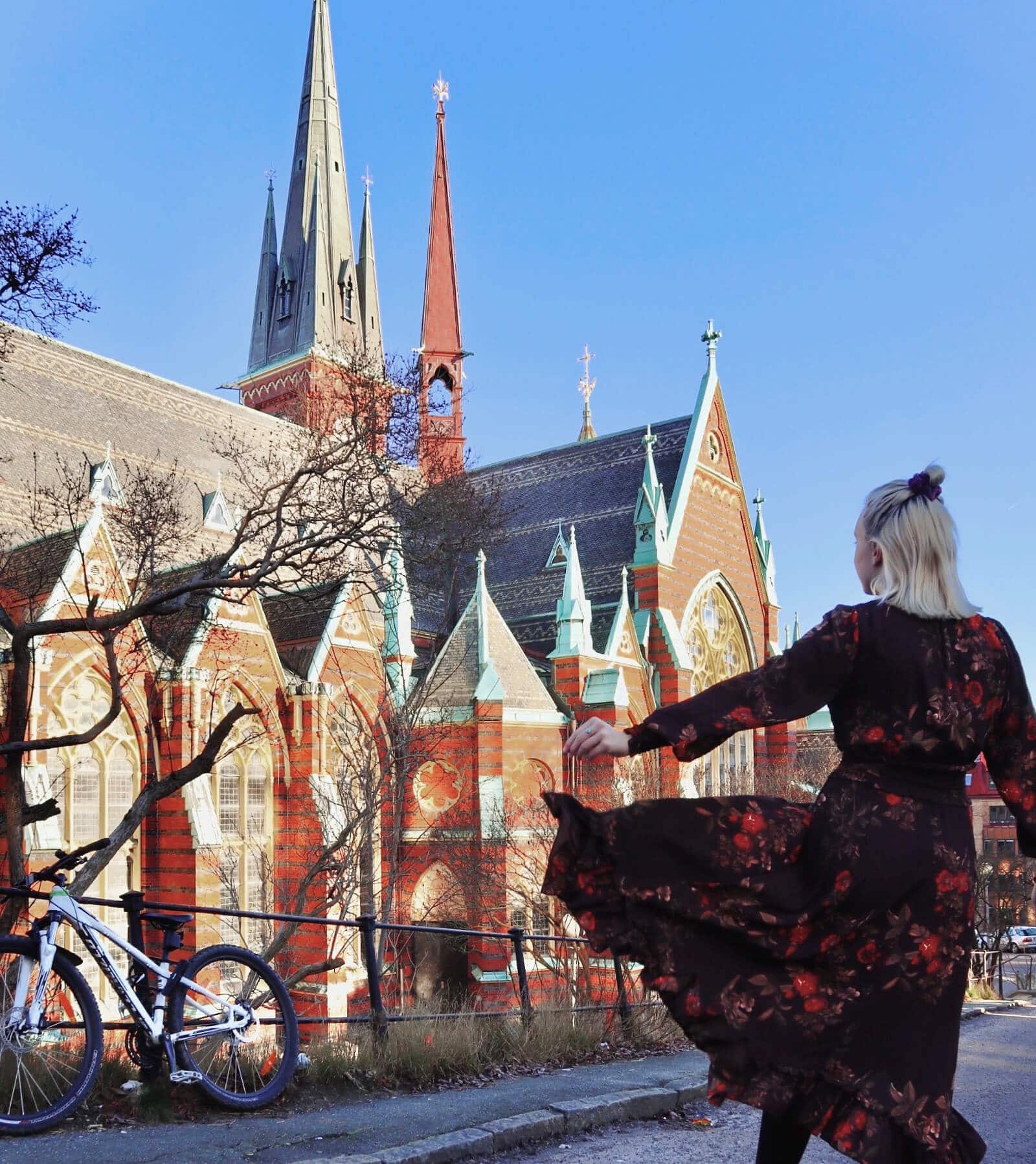 Grab Brunch At Cafeva
Back in the storybook streets of Haga, cosy Cafeva is the perfect place to stop for brunch.
Open since 1983, this café was originally known for its heart-warming soups and homemade bread, but now serves a number of different dishes, including all-day breakfast and a range of delicious, freshly-baked cakes.
During the summer – and, if you're brave, during the colder winter months – enjoy your coffee at one of the street-side tables, draped in matching blankets to keep out the biting Scandinavian breeze.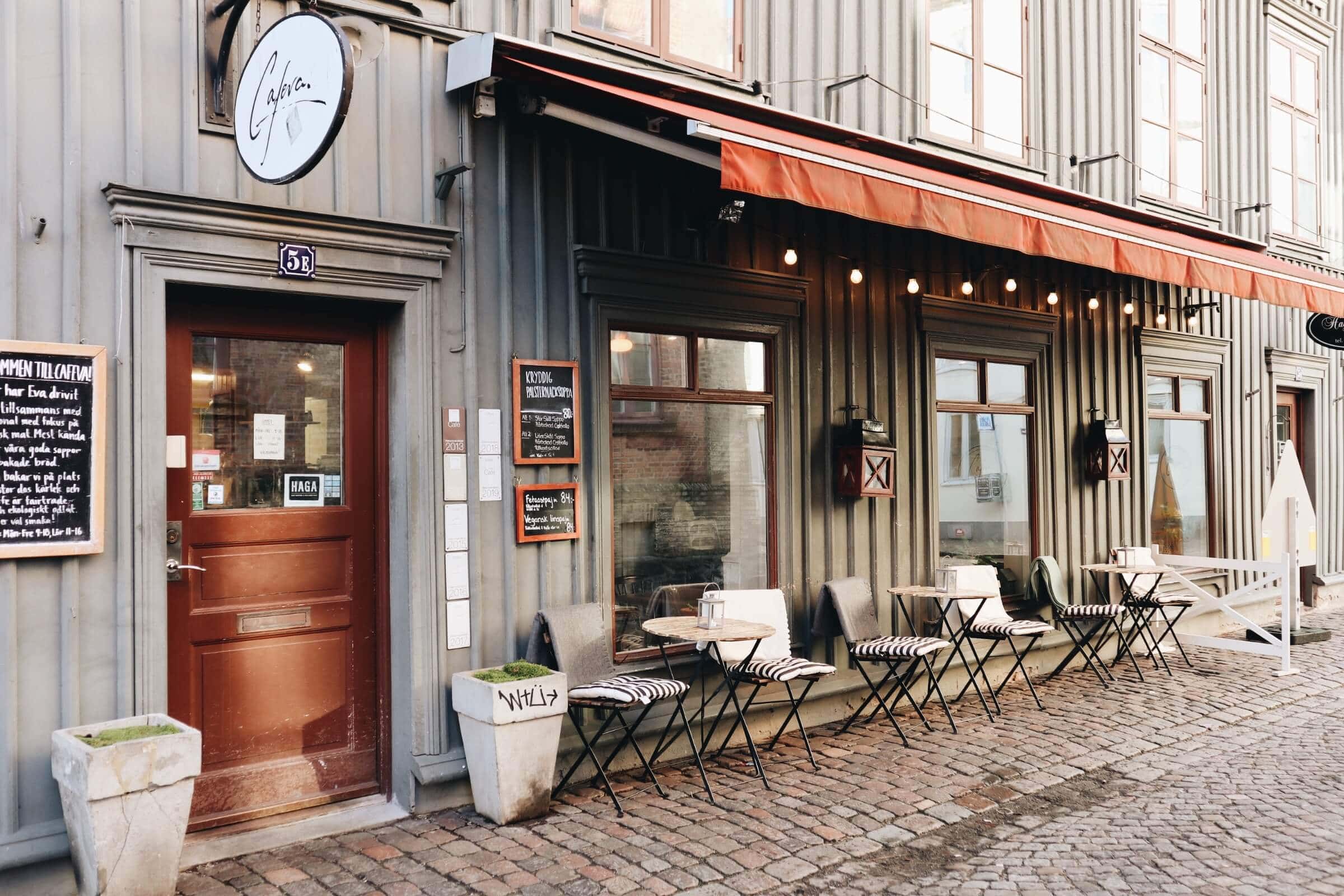 Spend A Few Hours Enjoying The Jubileumsparken
Especially popular during the summer, but equally beautiful in the winter, Jubileumsparken riverside park and the public pool were built to commemorate the city's 400th anniversary. Including a floating public pool, an architecturally-stunning sauna, and interactive art installations, this park is one of the most unique things to visit in the city.
The pool itself juts out over the river and boasts an uninterrupted view across to Gothenburg's centre. The entire park was designed with sustainability in mind, with the unusual sauna constructed from recycled materials.
Where To Stay In Gothenburg
There are a variety of hotels to stay at in central Gothenburg. Some of the highest-rated hotels include:
Upper House: Luxury hotel on the top floor of the Gothia Towers. Includes free entry to city view spa at the hotel!
Dorsia Hotel: Modern hotel with a very good on-site restaurant for a special meal.
Radisson Blu Scandinavia Hotel: Great location near central train station and complimentary in house yoga for guests.
Gothenburg Itinerary Wrap Up
Gothenburg is a wonderful city to visit in Sweden! While many people opt for the more popular Stockholm, Gothenburg offers so many things to do with far fewer crowds. I hope this 3 day itinerary has helped you plan your own visit to this special place!
---
We hope that this article has helped inspire you to visit Gothenburg, Sweden. If you have any questions about the destination or have your own travel tips to share please leave these in the comments below.
Want to share your own travel tips by guest writing for We Are Travel Girls? Go to our Contribute page for guidelines and to submit your article.
---
---
---
We Are Travel Girls Ambassador Abi Prowse of ViaggioMagazine.com
Connect with Abi Instagram | Pinterest | Twitter
---
Pin For Later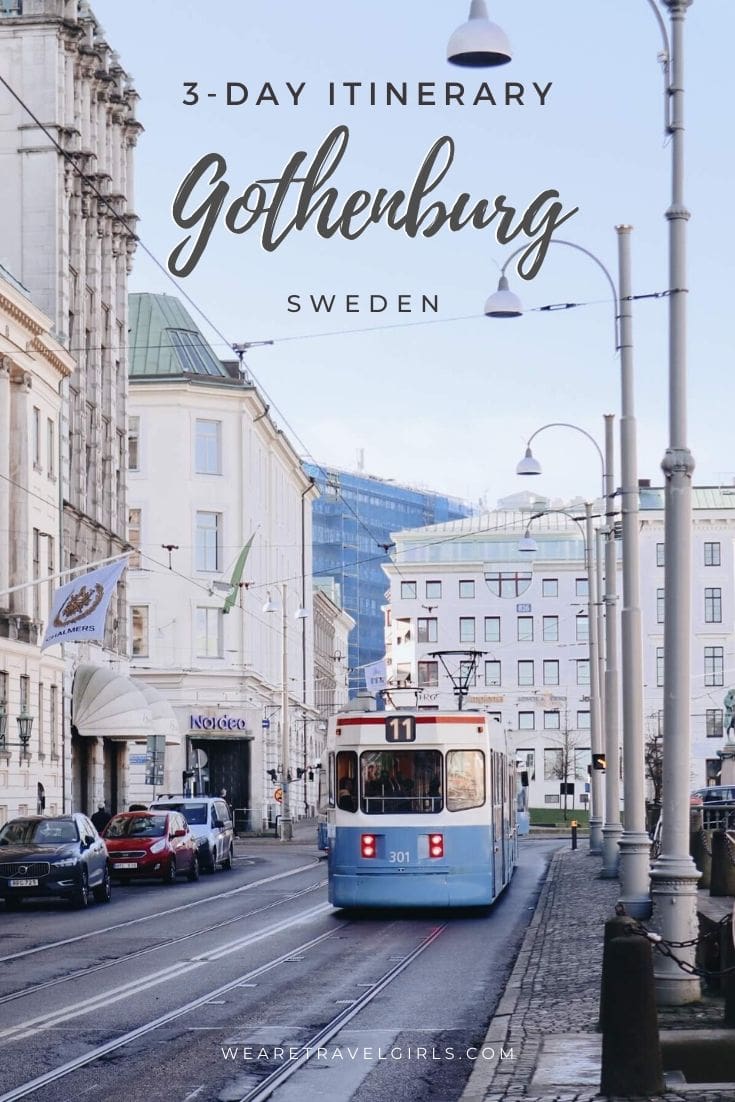 This article may contain affiliate links, if you purchase something using one of our links we may receive a commission. Please see our Disclosures for more information.