Abu Dhabi is the capital of the United Arab Emirates (UAE) but the city often gets overshadowed by it's much larger and glitzier neighbour Dubai just 1 hour down the road. Abu Dhabi, however, is a great place to spend a few days as it can often be much cheaper than Dubai, plus there are more and more tourist attractions opening all the time! It is also a very safe city, and whilst Arabic is the official language, English is spoken widely as there is a very large expat community. I spent almost 4 years living in Abu Dhabi so let me share with you my favourite tourist attractions, restaurants, and hotels in Abu Dhabi!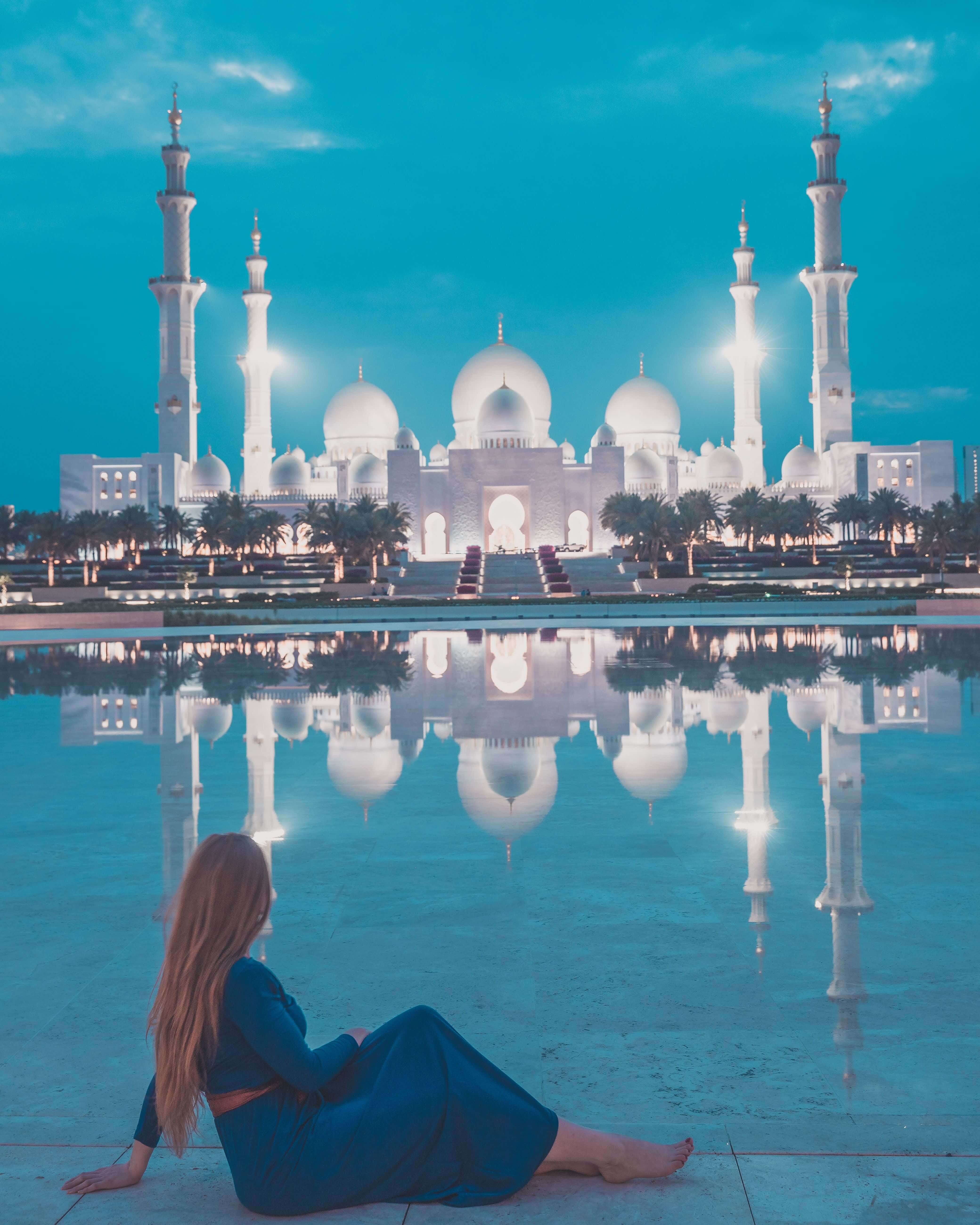 SHEIKH ZAYED MOSQUE
Sheikh Zayed Mosque, also known as The Grand Mosque, is Abu Dhabi's most famous attraction and for good reason – it is simply stunning! With its white marble walls, 82 intricately detailed domes and reflective pools in the courtyard, many people believe this to be the most beautiful mosque in the world. It is also one of the world's largest mosques (it can fit a staggering 40,000 people inside) and houses the world's largest carpet and third-largest chandelier (covered in Swarovski crystals)! It cost half a billion USD to build!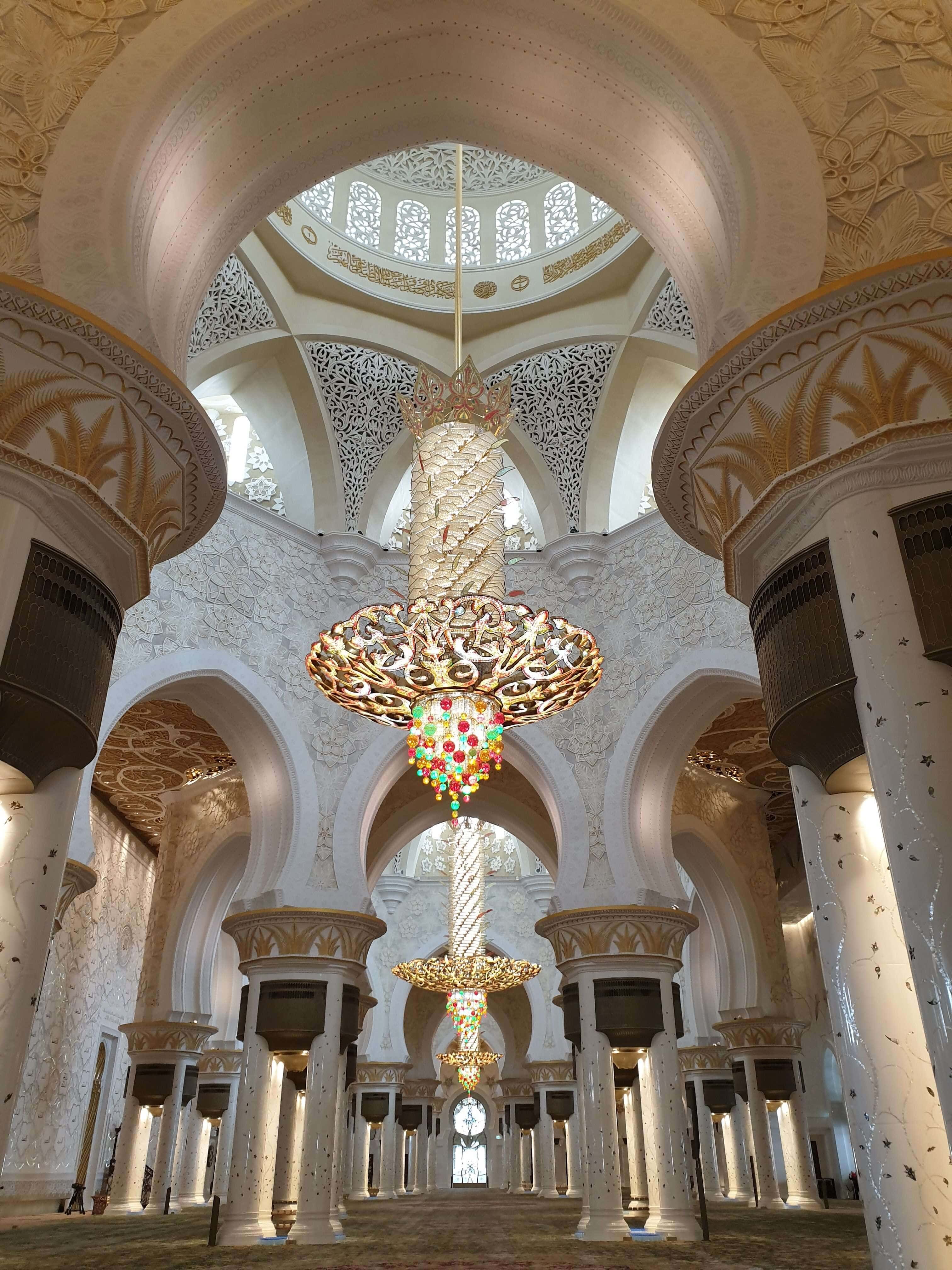 As it is a holy place of worship you must dress appropriately. If required, women will be loaned an abaya to cover themselves up with as they must be covered from their wrists to their ankles, as well as have their hair covered.
Sheikh Zayed Mosque is open daily from 9 am until 10 pm except on Fridays. Friday is the holy day in Islam so opening times on a Friday are from 4.30 pm-10 pm. It is free for tourists to visit and it does get pretty busy here so arrive first thing to avoid the crowds as much as possible. At night time it is lit up beautifully so it is also nice to visit just after sunset.
Across from Sheikh Zayed Mosque is Wahat al Karama park – head here for a fabulous view of the mosque. There are very few people here even during sunset.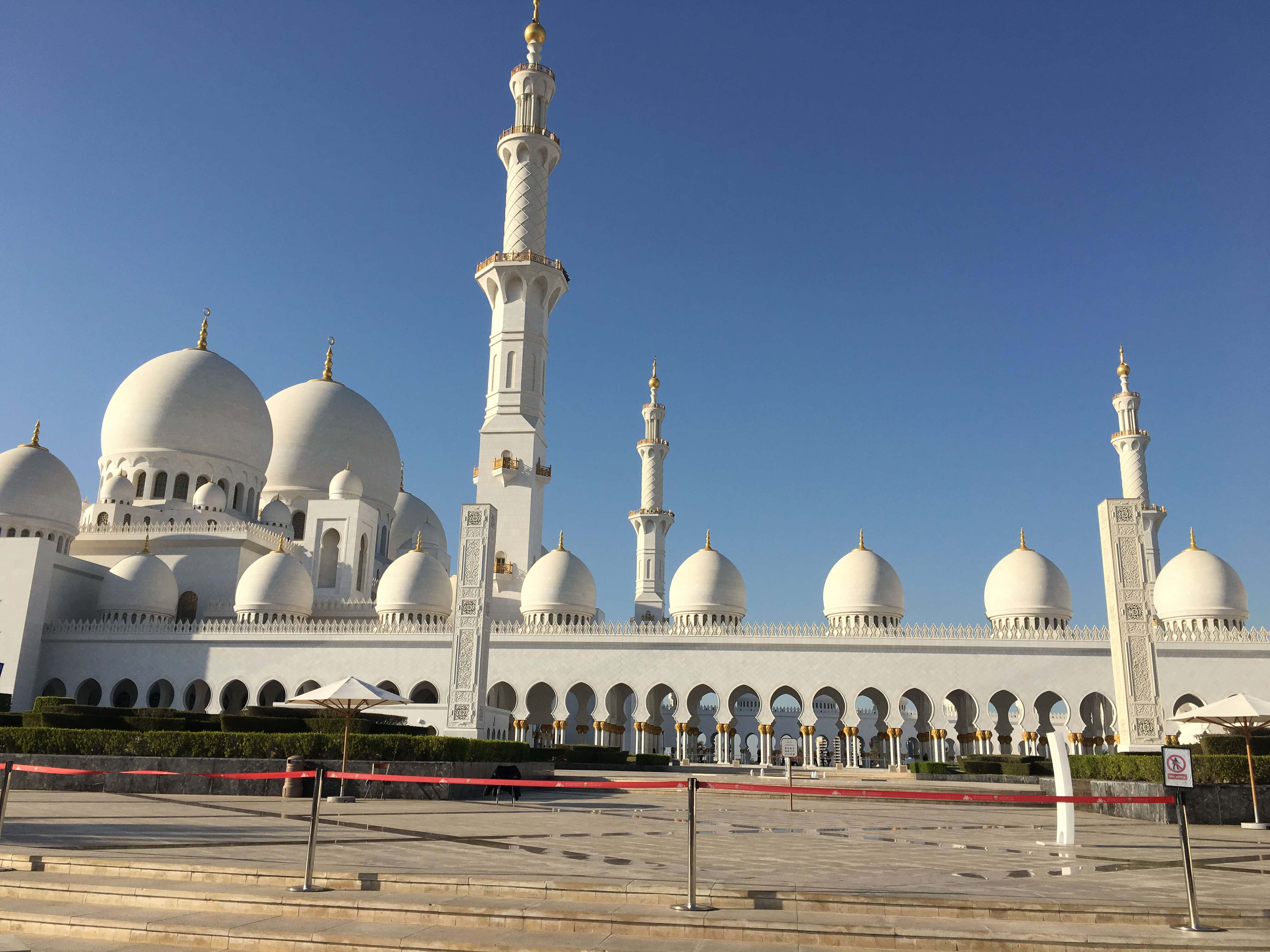 DESERT SAFARI
No visit to Abu Dhabi is complete without doing a desert safari! The desert is less than an hour away and a desert safari is a really fun adventure. You can do morning or evening safaris, or even an overnight one camping in the desert!
By far the most popular one is the evening safari which usually lasts from 3 pm-9 pm as guests get to watch the sunset in the desert which is really magical. It also includes pickup and drop-off, dune bashing, sandboarding, riding a camel, holding a falcon (the national bird of the UAE) and then a BBQ buffet and a belly dancing show at a Bedouin-style camp under the stars in the desert. It is a really special and exciting experience and you definitely shouldn't leave Abu Dhabi without experiencing it!
There are many companies that offer very similar desert safaris for a very reasonable price. Check here to see a few options of desert safaris available.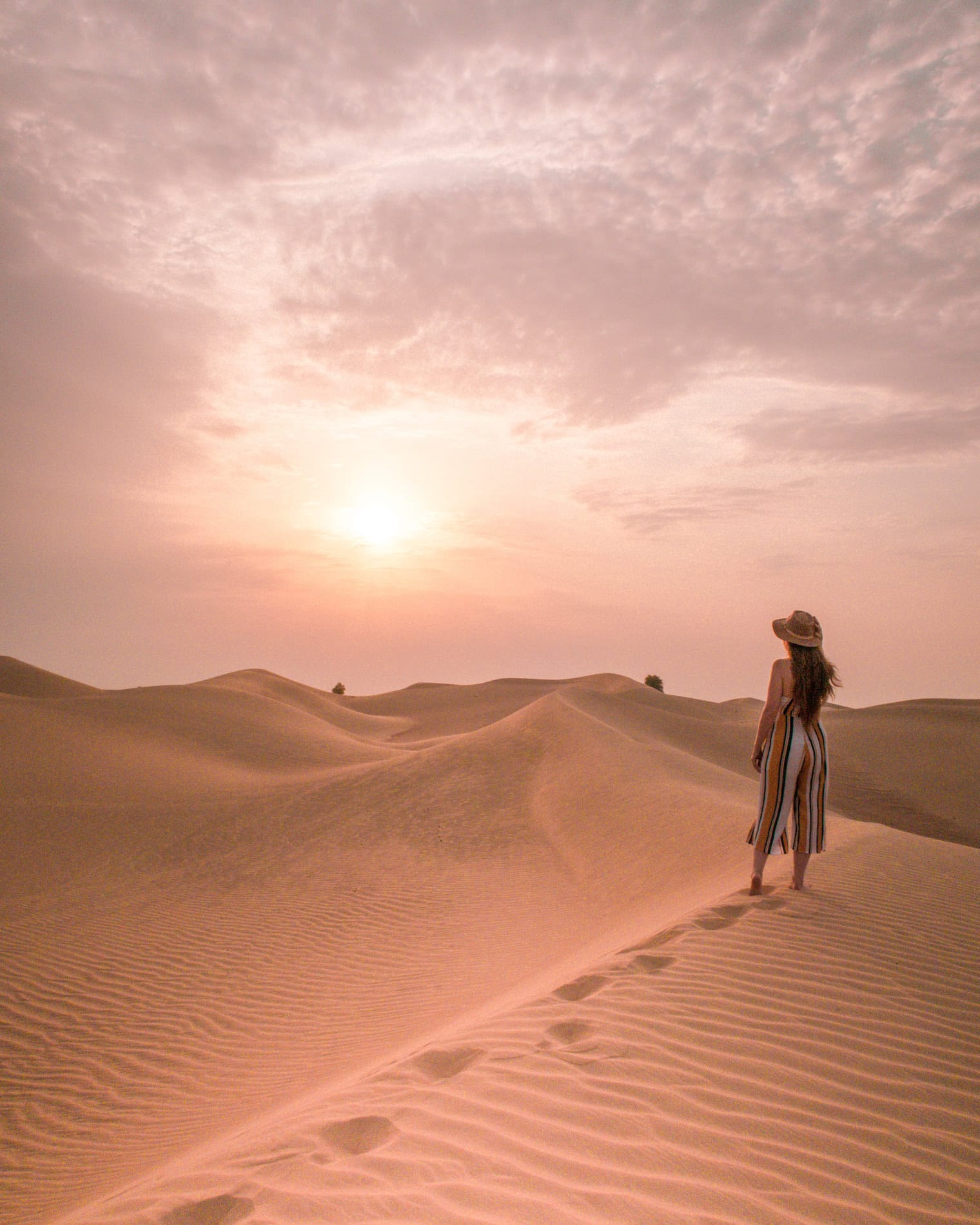 LOUVRE ABU DHABI
Even if you are not into museums it is definitely worth it to check out the impressive Louvre Abu Dhabi on Saadiyat Island, just a 10-minute drive from downtown Abu Dhabi. Opened in 2017, the Louvre Abu Dhabi is the first of it's kind to open outside France. The building itself is a masterpiece – the roof is metallic and looks almost like a cosmic dome! Natural light pierces through the latticework and creates a beautiful illusion inside.
The collections here are very impressive and include civilisations all over the world, from ancient times until the present day. They also feature pieces from Monet, da Vinci and Van Gogh.
Click here to view the opening times. Note Louvre Abu Dhabi is closed on Mondays. Entrance is 63 dirhams ($17).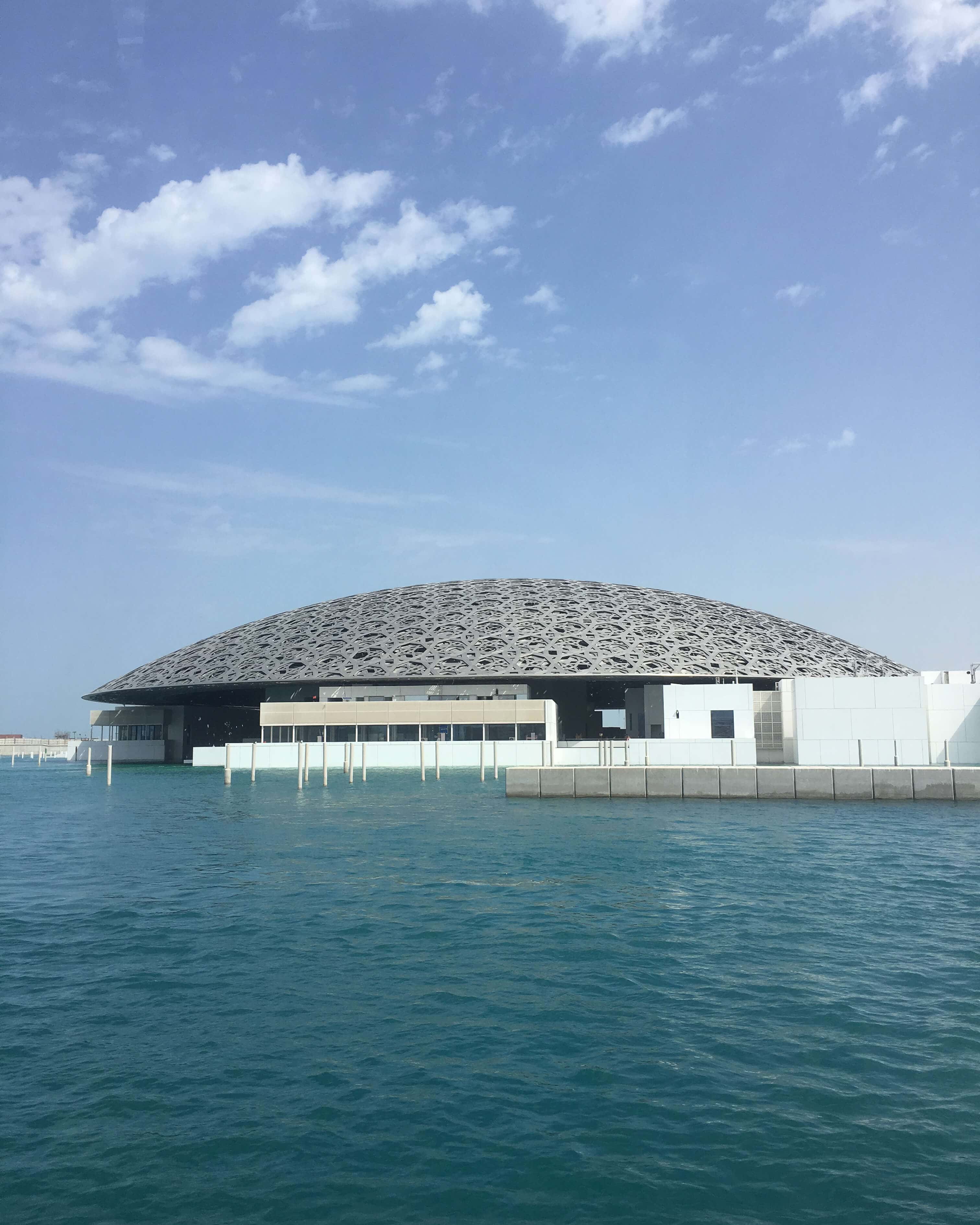 GOLD CAPPUCCINO AND ICE CREAM AT EMIRATES PALACE
Emirates Palace in Abu Dhabi's most iconic hotel. This elaborate and grand hotel is beautiful both on the outside and on the inside, yet it is far too expensive for most people to stay in (the cheapest rooms start at $560 per night!). However, you can visit the Palace for free to have a look around and take in the grandeur and beauty of the floor to ceiling marble and gold.
What's more, you can head to Le Cafe in the lobby to experience the renowned Palace cappuccino! This cappuccino is sprinkled in 23 karat gold flakes (yes they are real!). If coffee isn't your thing, try the vanilla and chocolate ice-cream covered in 23 karat gold. I've tried both of them and they are equally delicious! The coffee is priced at 60 dirhams and the ice cream at 40 dirhams.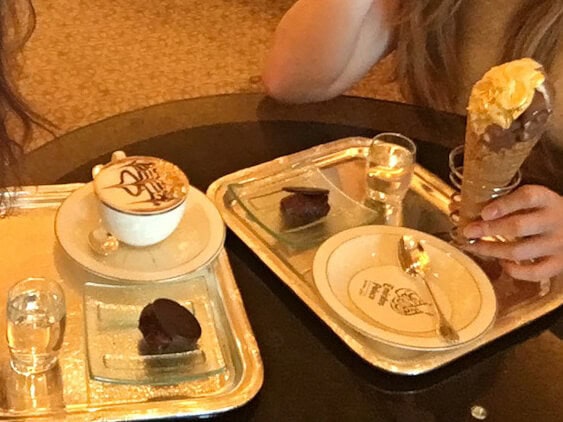 CORNICHE
A walk along the Corniche (seafront) is a must when in Abu Dhabi. It stretches for 8km along the coast but the most popular part is around the Corniche Beach/Family Beach area, just a few minutes walk from Emirates Palace. The pedestrianised promenade along The Corniche is very elegant and relaxing and there are several restaurants and cafes you can stop in along the way which offer beautiful views of the beachfront.
YAS ISLAND
Yas Island, a 30-minute drive from downtown Abu Dhabi features a whole host of activities. Ferrari World, Warner Brothers World, Yas Waterworld – that's enough theme parks to keep you entertained for a while! Ferrari World features the world's fastest rollercoaster that reaches 240km/h (150mph) whereas Warner Brothers World has the world's largest indoor theme park.
Additionally, Yas Island features the huge Yas Mall as well as the Formula One circuit. The Formula One takes place each November in Abu Dhabi and is a really fun event! Nearby Yas Marina also offers a nice vibe in the evening with several nightlife options available.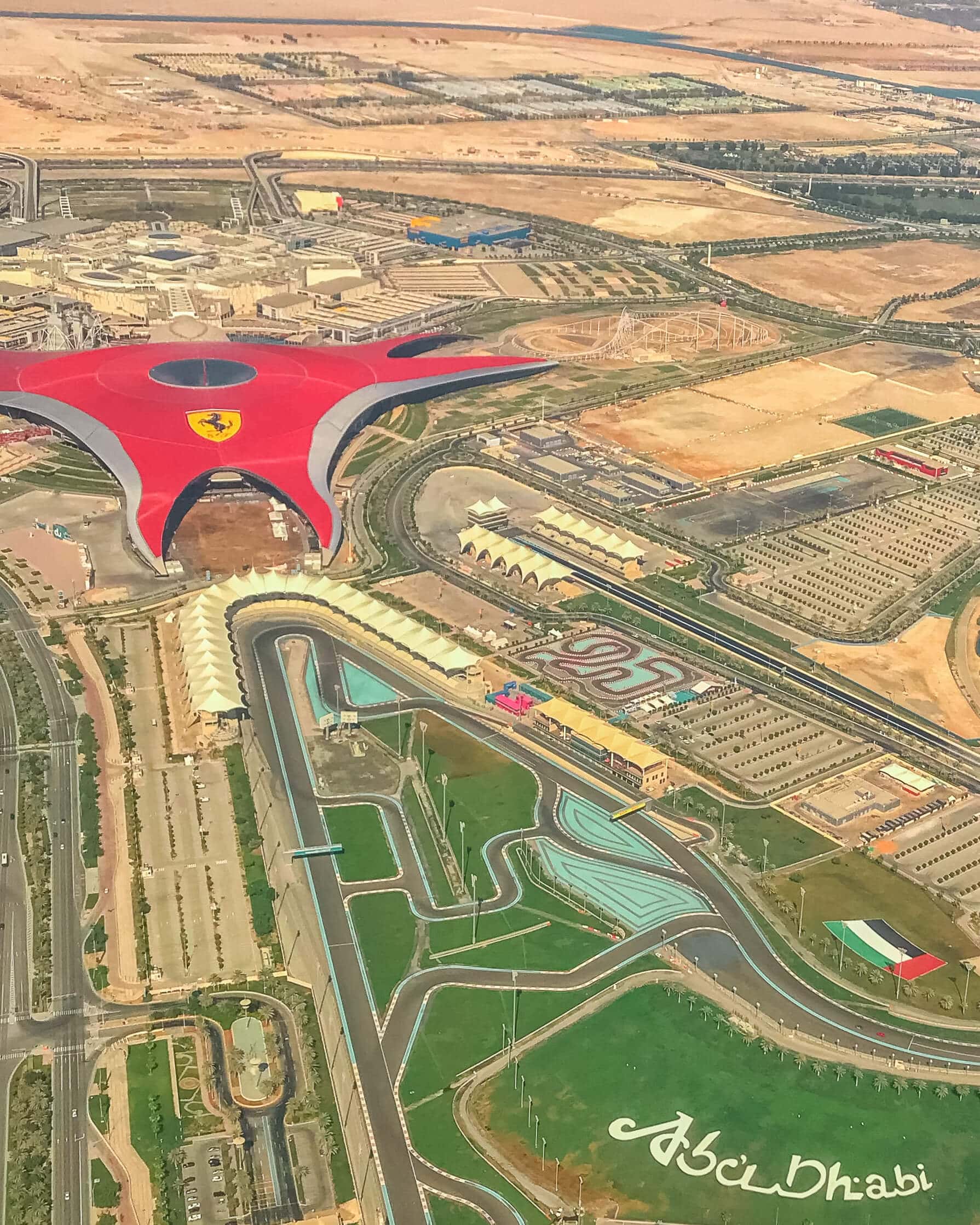 VISIT THE MANGROVES
For something a little different and to keep you in shape on your trip to Abu Dhabi head to the Eastern Mangroves for some Stand Up Paddleboarding or kayaking. The natural mangrove forest is really beautiful and home to a variety of marine life. It is very calm here, certainly a world apart from fast-paced Abu Dhabi! For 2 hours paddleboarding, the price is 140 dirhams per adult. Click here for more info.
If you fancy trying some other water sports whilst you are in Abu Dhabi you can go surfing at Saadiyat Beach or jet skiing at Yas Beach.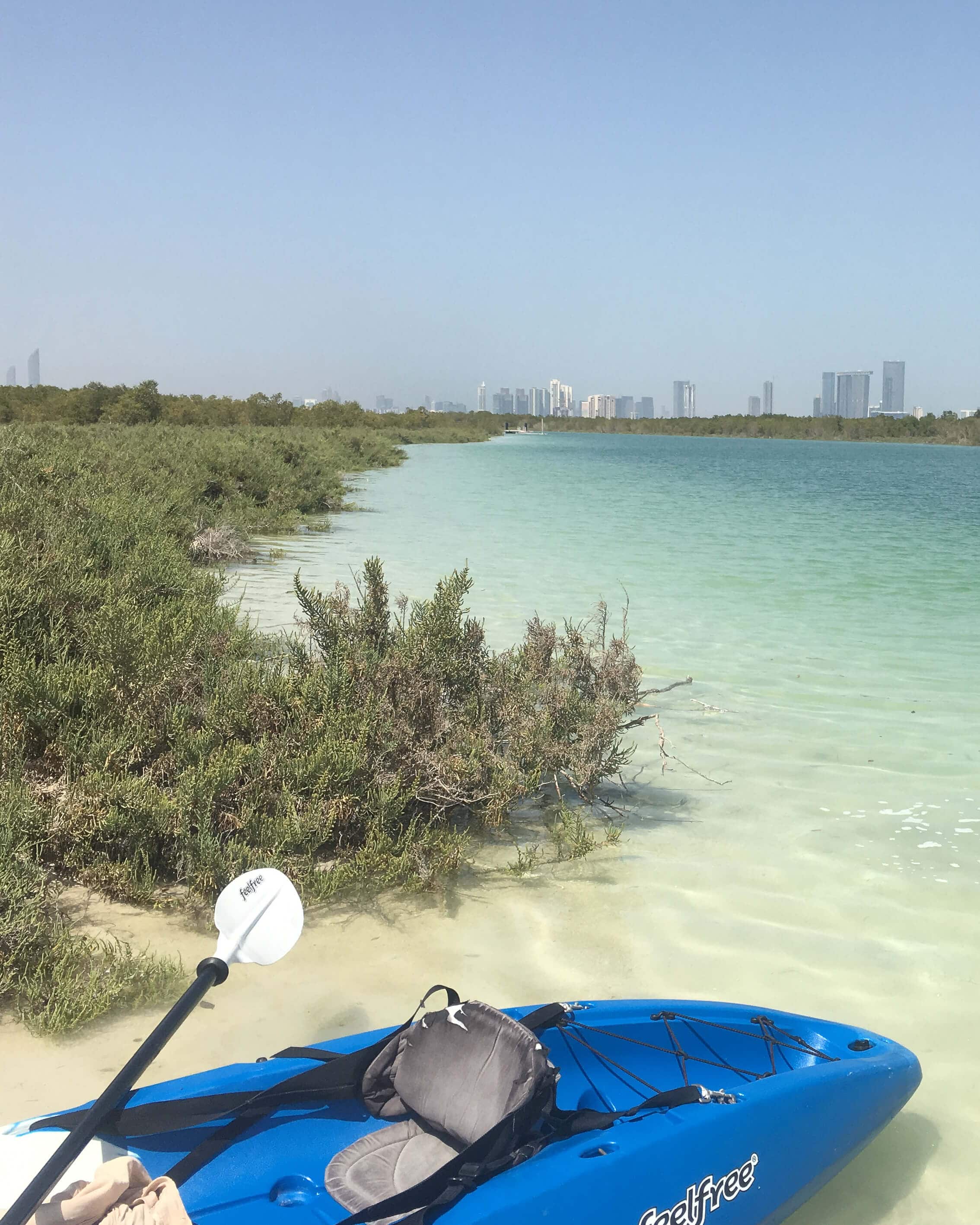 SIGHTSEEING BOAT TRIP
Abu Dhabi is made up of over 200 islands so the best way to see the city is from the water! Jalboot does a really great boat sightseeing tour of Abu Dhabi. It covers the best sites of Abu Dhabi, from the striking skyline of downtown Abu Dhabi to Emirates Palace, going past the Grand Mosque and even heading down to Yas Marina.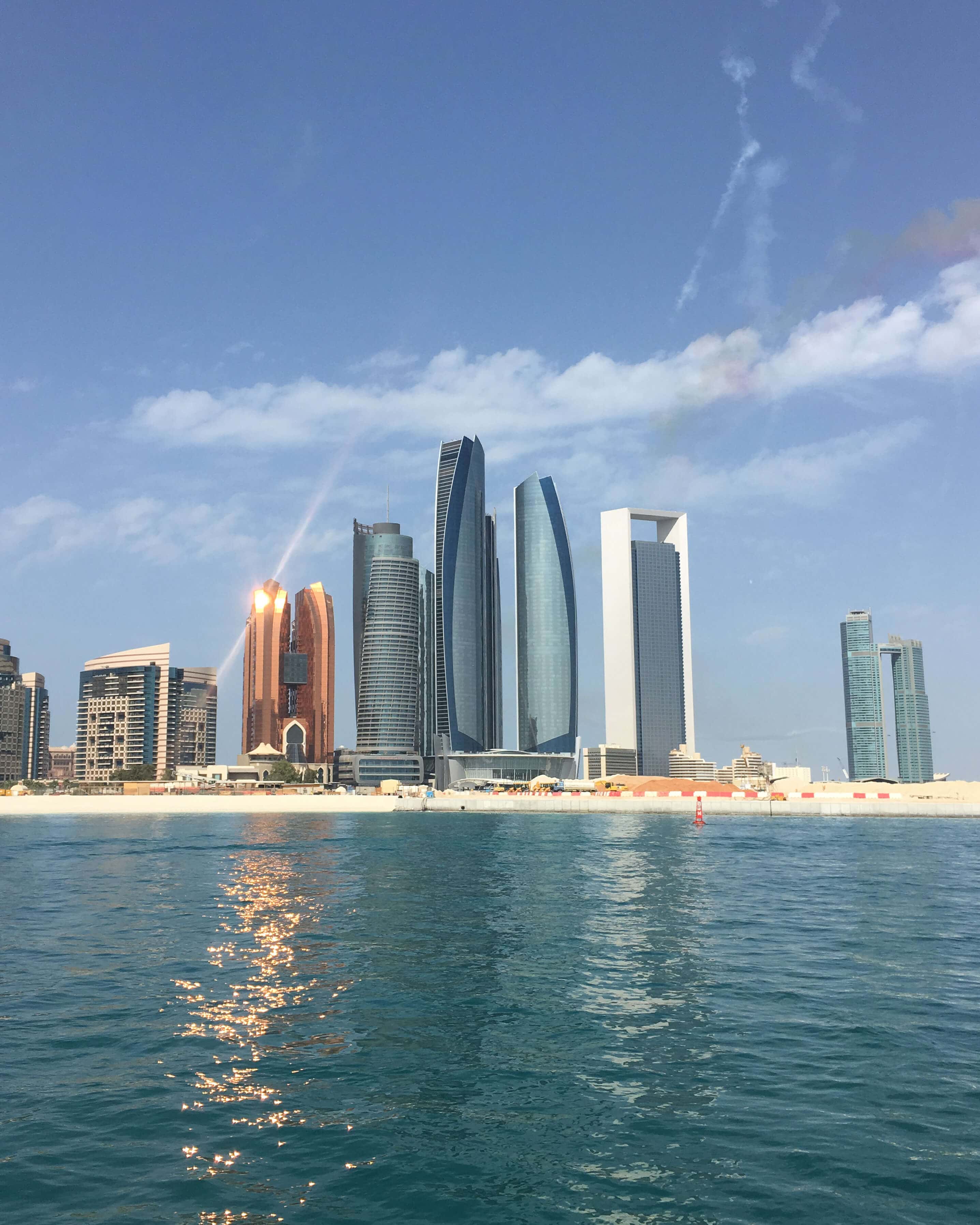 RESTAURANTS IN ABU DHABI
Abu Dhabi is a cosmopolitan city. It has residents from many different countries and its restaurants are a reflection of this. The variety of cuisines available in this city is genuinely impressive! And from award-winning restaurants to eateries with more modest prices, there is something to suit every tastebud and pocket in Abu Dhabi!
As a general rule of thumb, restaurants specialising in Arabic food will often be cheaper than restaurants serving international cuisine. Many of Abu Dhabi's finest and expensive restaurants can actually be found inside its top hotels. Some of these restaurants that I really recommend include:
The restaurants listed above are all on the pricey side but are perfect for a special occasion. More reasonably priced restaurants that I also love include: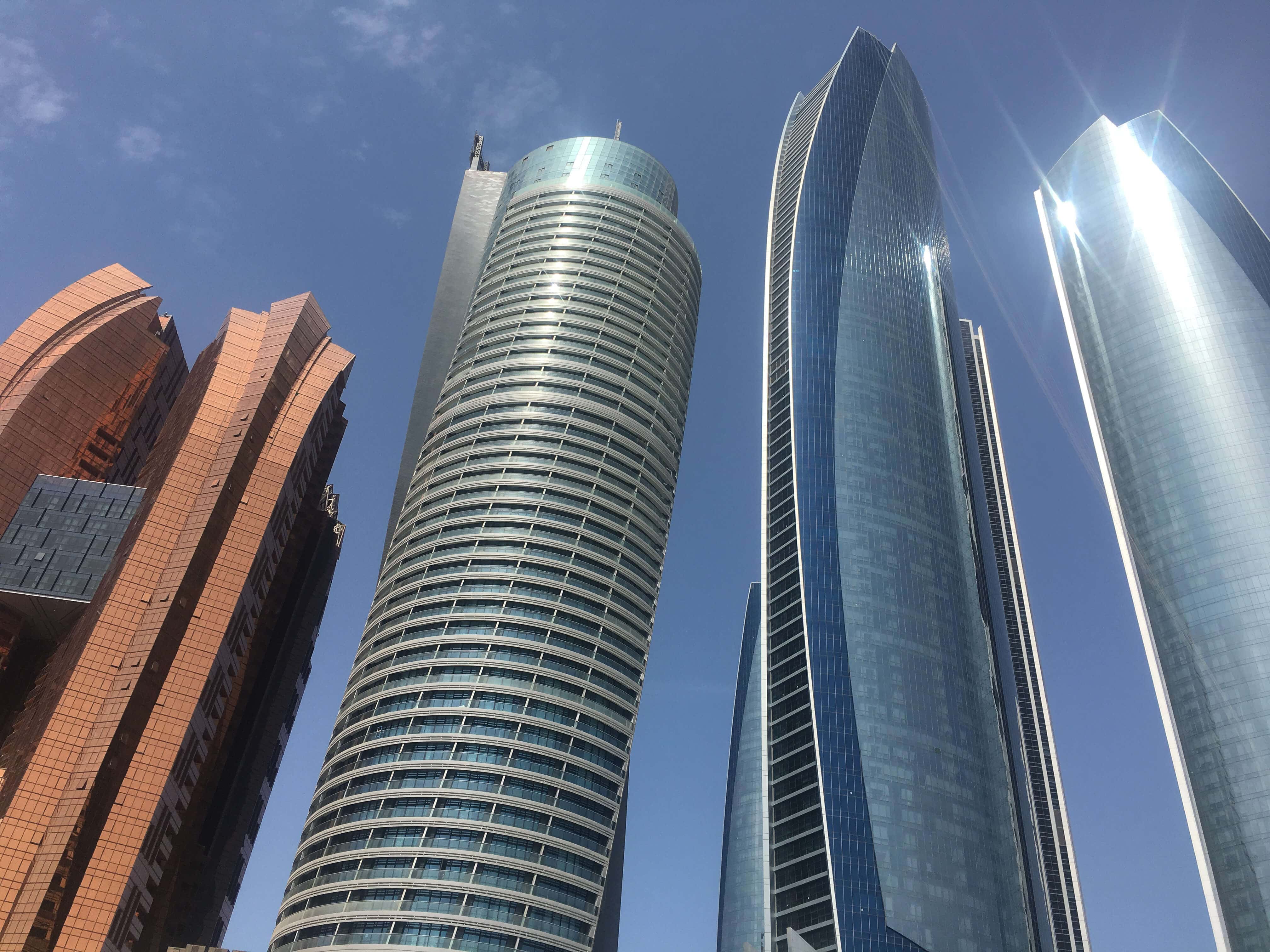 WHERE TO STAY IN ABU DHABI
The great thing about Abu Dhabi is that there are so many hotels to choose from. Before you start looking at hotels though, decide your budget. Hotel prices vary greatly in Abu Dhabi, although you can get some good deals. You'll also want to check on the map which area you would like to stay in. Abu Dhabi is quite a spaced out city without a real main centre as new areas are constantly being built.
Think would you prefer to stay on trendy Yas Island (such as the unique and very reasonably priced Yas Hotel), or do you want a view of the Grand Mosque (at the more expensive Shangri-la and Ritz Carlton Hotels). Or perhaps you want to be downtown near the Corniche where there is a vast choice of hotels to choose from, or you would prefer something a little further away on Saadiyat Island (such as The St Regis) – although generally, the most expensive hotels are on Saadiyat Island.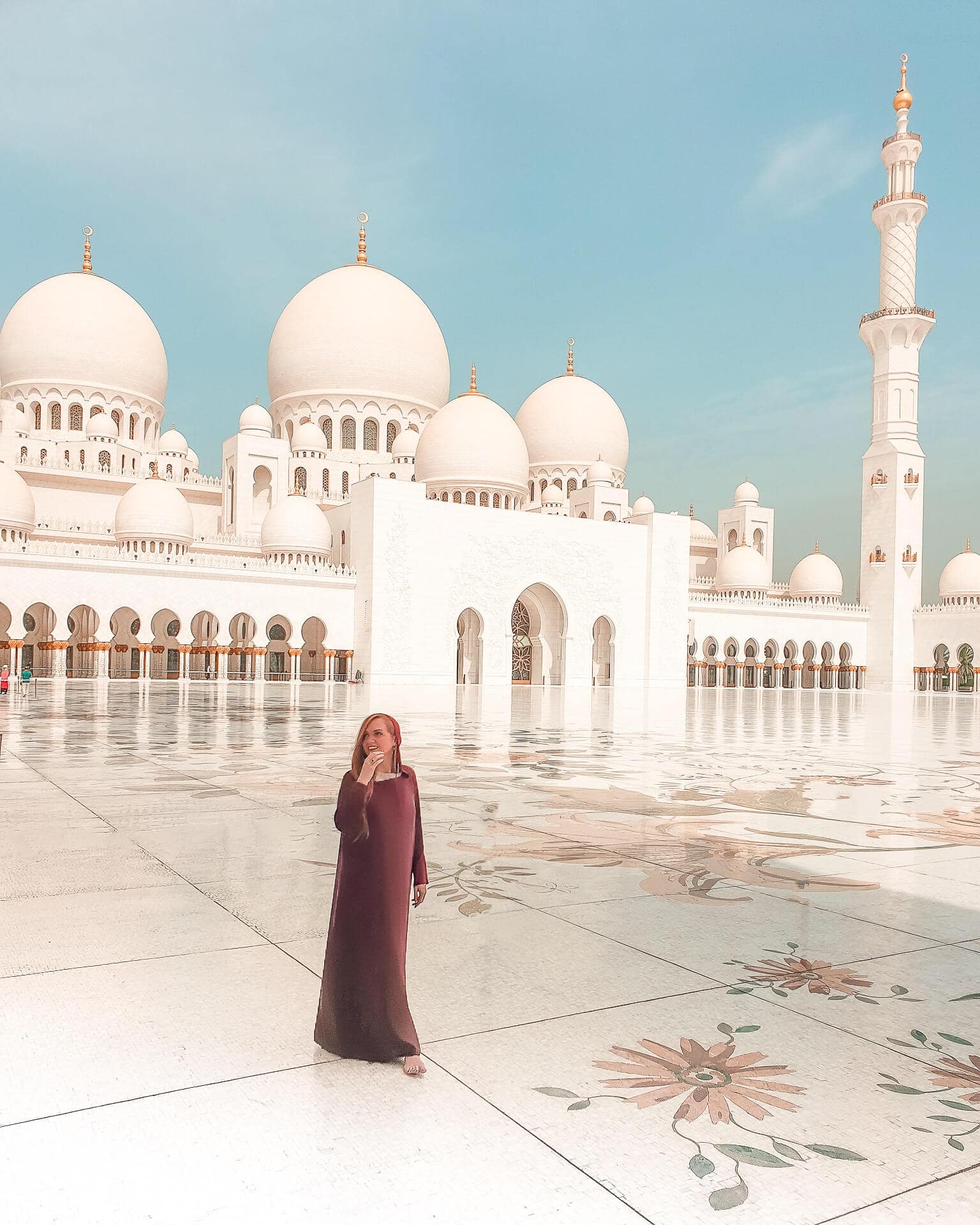 Alternatively if you fancy a change of scenery you can stay in one of Abu Dhabi's desert hotels. This is where you can really experience the uninterrupted beauty and tranquility of the desert. Qasr al Sarab is the ultimate in luxury, or for a much more affordable option, head to Tilal Liwa.
Both are a couple of hours drive from Abu Dhabi into the desert and you will need a car to get to both of these hotels as there is no public transport. Staying in one of these desert hotels is highly recommended as it really gives you a chance to relax and recharge your batteries.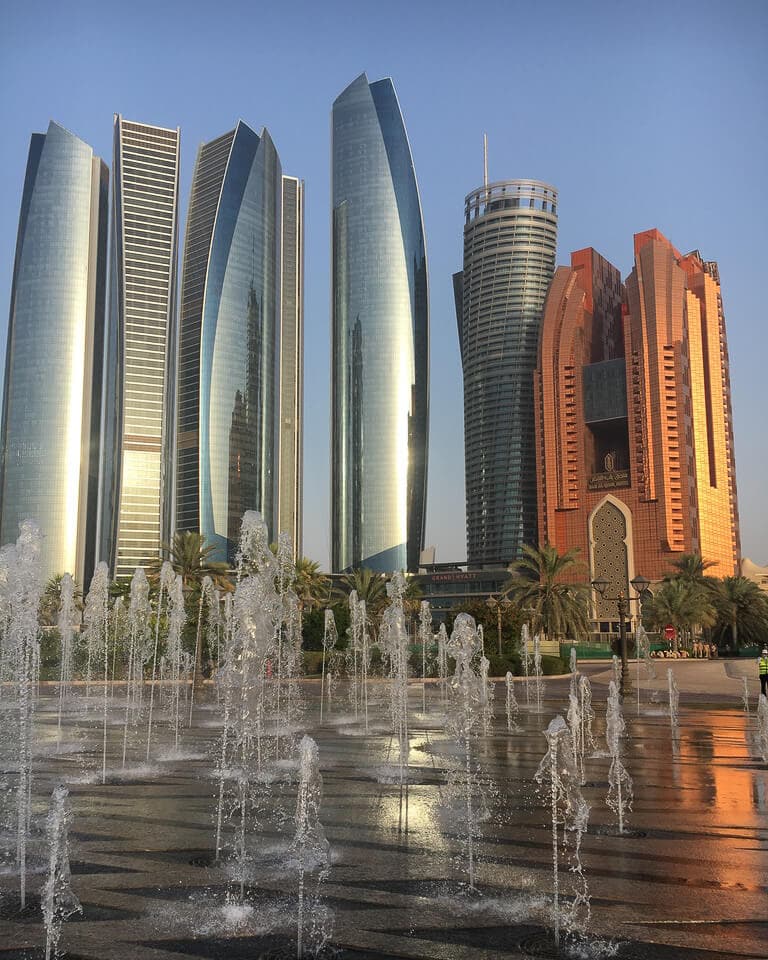 WHEN TO VISIT ABU DHABI
The cooler months from October until April is the perfect time to visit Abu Dhabi. This is when the weather is at it's most pleasant and when the majority of tourists visit Abu Dhabi.
From May to September it is unpleasantly hot as temperatures reach over 40 degrees Celsius (105 degrees Fahrenheit) on a daily basis. The UAE is very hot and humid in the summer, and despite the excellent aircon, it is very difficult to withstand the outside temperatures. Locals and residents even avoid being outside as much as possible during this time. Hotel prices though are much cheaper as there are a lot less people around.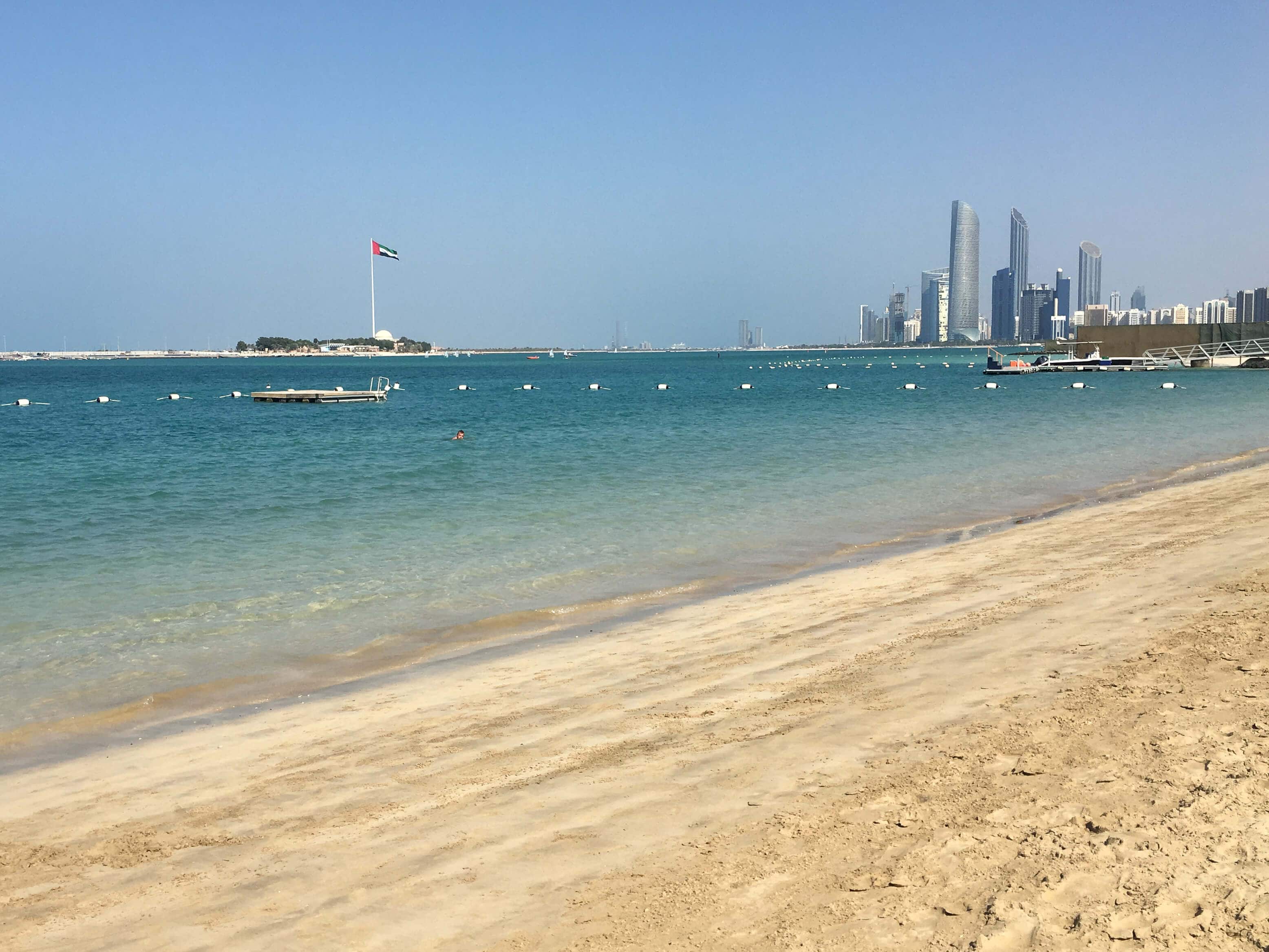 GETTING AROUND IN ABU DHABI
TAXIS
Taxis are very reasonably priced in Abu Dhabi. They are always available and are considerably quicker than the buses so this is the preferred mode of transport for most people here. Abu Dhabi taxis are usually grey in colour and they all have CCTV inside them for safety and security reasons. Some even have wifi inside them too! Currently, taxis in Abu Dhabi only take cash so make sure you have enough for the journey.
RENTING A CAR
Renting a car in Abu Dhabi is fairly reasonably priced. There are many car hire companies available at the airport and you can often hire cars for around 100 dirhams per day (around $25).
However, beware there are many speed cameras in UAE and there is no longer a speed buffer! Therefore if the road sign says 120 km/h you can not go faster than this. Even if you are doing 121 km/h you will get a fine if caught by the speed cameras! Abu Dhabi has also just recently introduced toll gates across 4 of the bridges in Abu Dhabi. Therefore be aware of this and how you have to pay.
Even for experienced drivers, driving in the UAE can sometimes be challenging. Just keep very alert of the other drivers and you will be fine!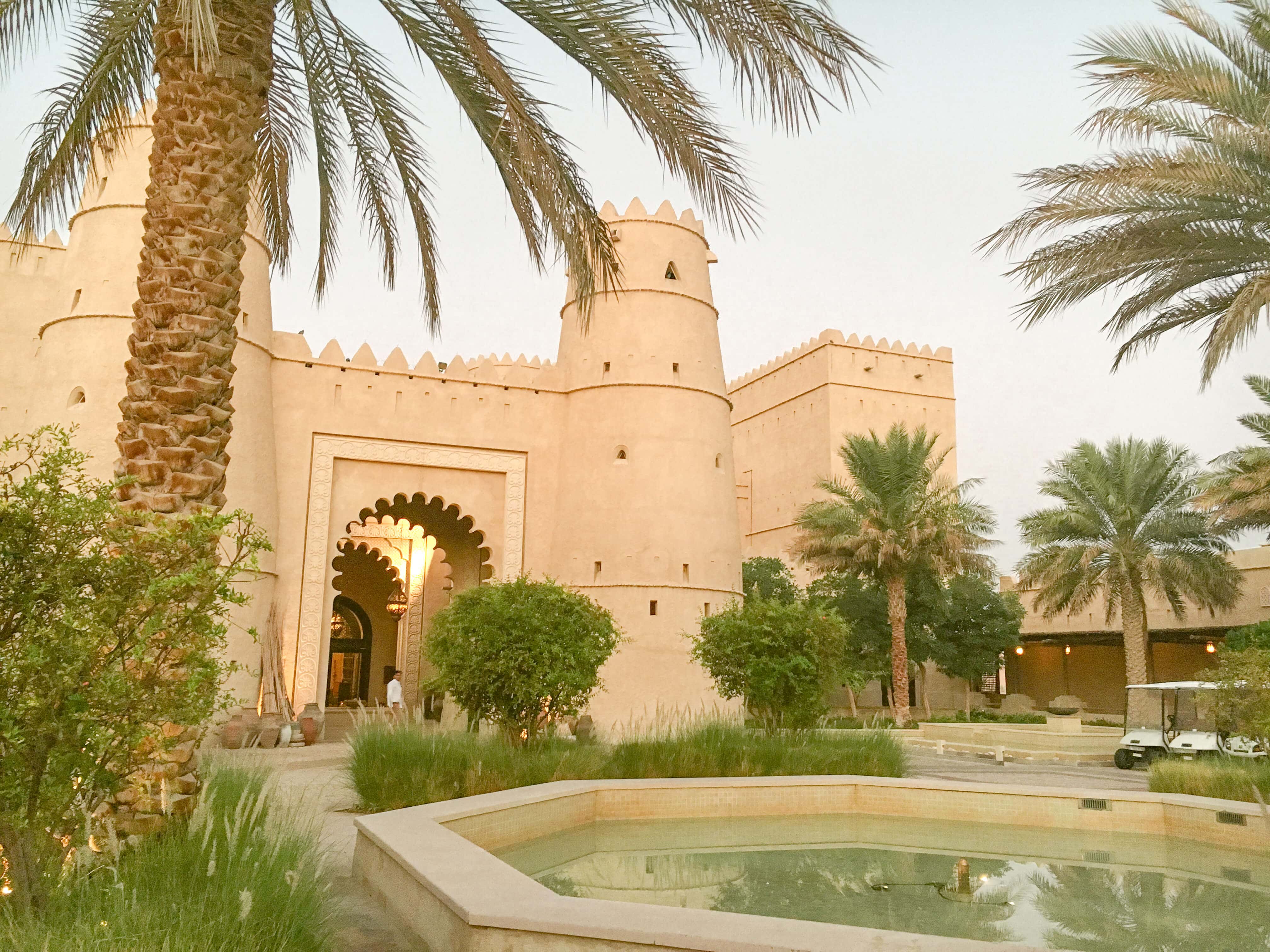 HOW TO GET TO ABU DHABI
Abu Dhabi International Airport (AUH) is located 30 km from downtown Abu Dhabi. To drive to the Corniche takes just over 30 minutes, but to drive to Sheikh Zayed Mosque or Yas Island it will take around only 15 minutes.
Etihad Airways is the national carrier of the UAE with the airline's hub being located in Abu Dhabi. Most people flying into Abu Dhabi will therefore arrive with Etihad Airways. But many other international airlines fly into Abu Dhabi too such as British Airways, Turkish Airlines, Alitalia, Air France, Lufthansa and KLM.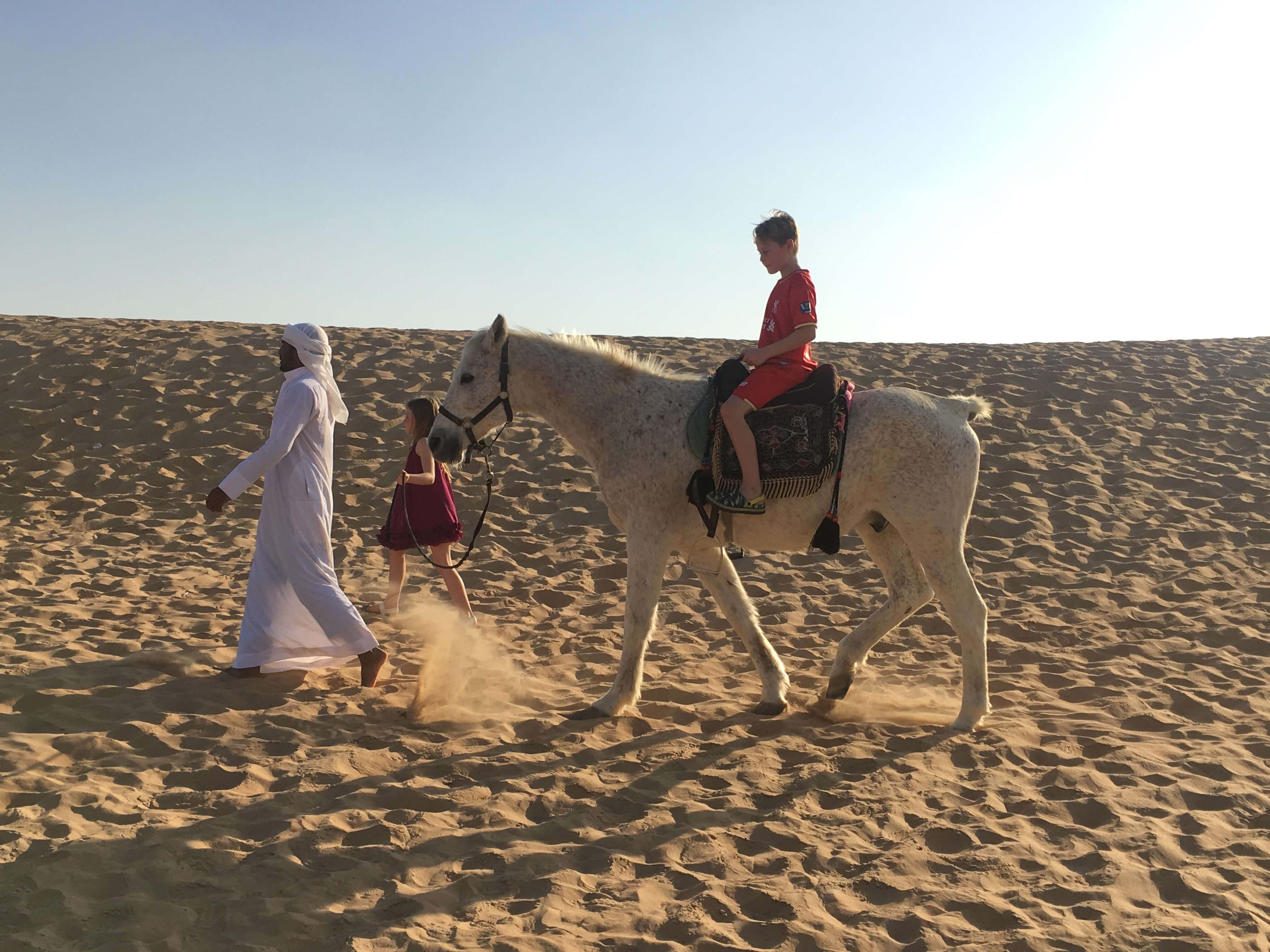 TO GET TO DUBAI FROM ABU DHABI
From Abu Dhabi, it is a 1-hour drive to Dubai. A taxi will cost around 200 dirhams ($50). Alternatively, you can take the coach for 25 dirhams ($7) from Abu Dhabi bus station. Just look for the number 100/101 red bus going to either Ibn Battuta or Al Ghubaiba. Buses leave every 20 minutes.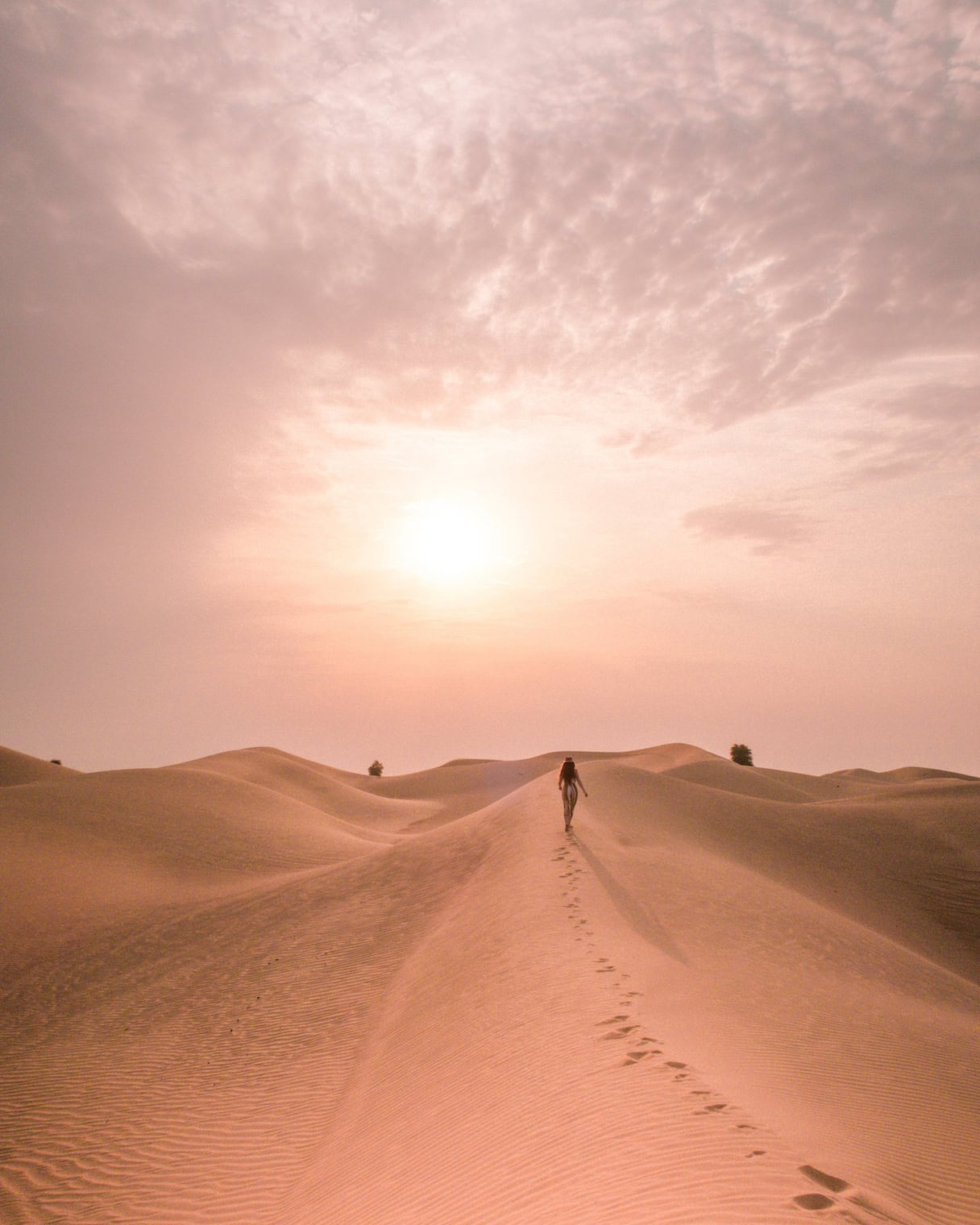 ABU DHABI WRAP UP
Over recent years Abu Dhabi has become very popular as a tourist destination. With many nationalities granted a free visa on arrival, more and more people are also using it as a stopover for a few days before continuing their journey elsewhere.
The modern buildings and attractions constantly popping up makes a nice contrast to the Arabian traditions that are firmly rooted into this region. With year round sunshine and it being named the world's safest city in 2019, it's only a matter of time before you'll be planning your trip to Abu Dhabi!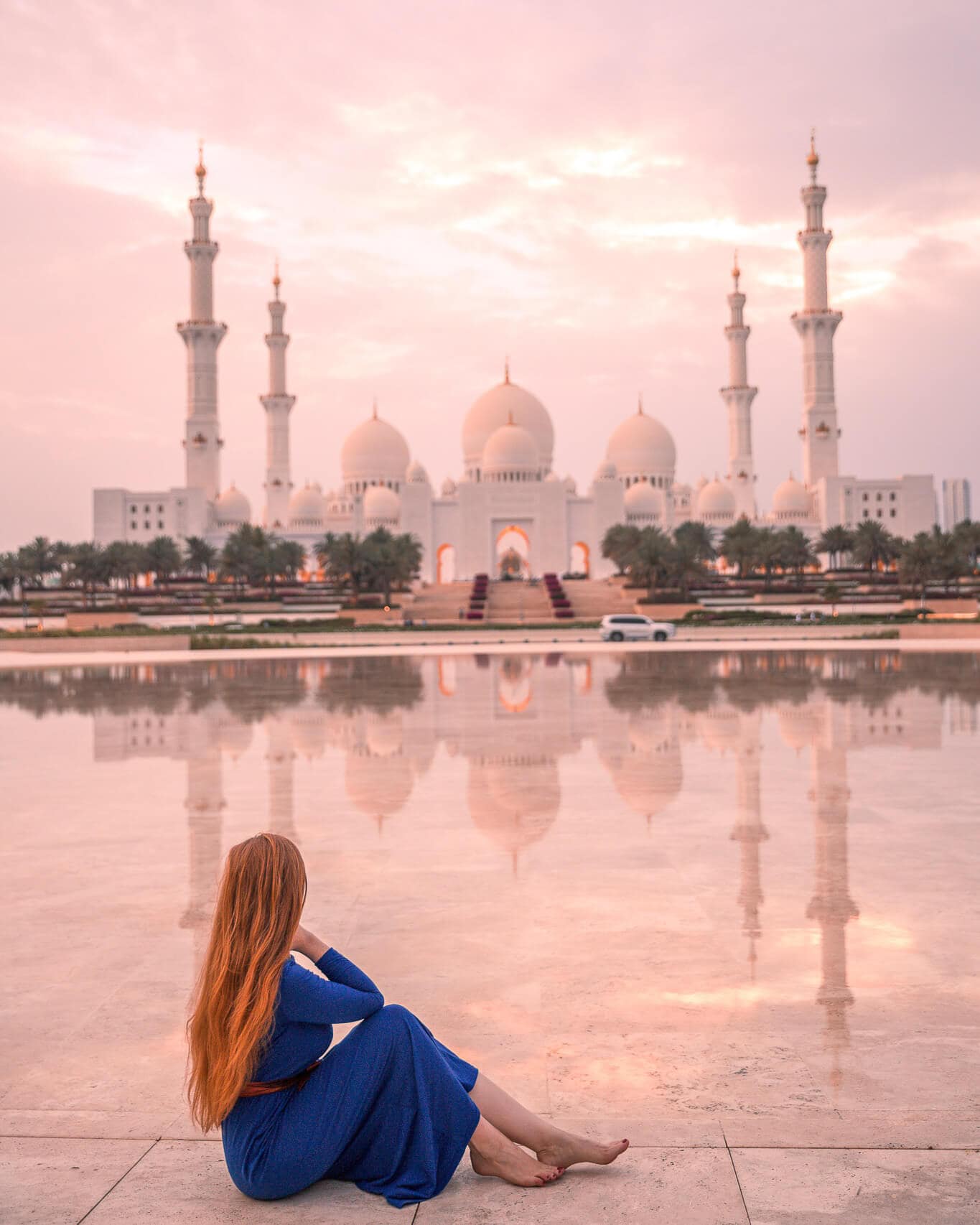 ---
We hope that this article has helped inspire you to visit Abu Dhabi. If you have any questions about the destination or have your own travel tips to share please leave these in the comments below.
Want to share your own travel tips by guest writing for We Are Travel Girls? Go to our Contribute page for guidelines and to submit your article.
---
---
Our Top Places To Stay In Abu Dhabi:
---
Read More About The Middle East
---
We Are Travel Girls Contributor Catrina McGrail of 24HoursLayover.com
Connect with Catrina Instagram | Pinterest | Facebook | Twitter | YouTube
---
Pin For Later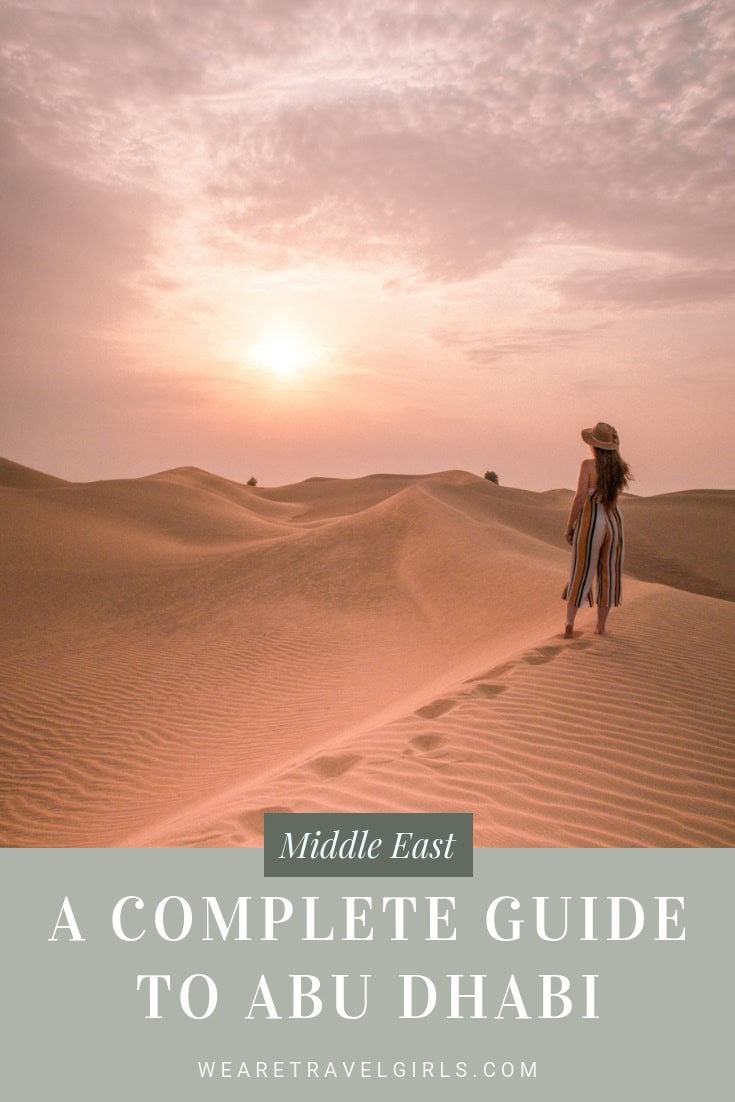 This website is a free resource and to keep it free for our readers we may use affiliate links in our articles. If you make a purchase via the links on our site you will pay the same price, but we may receive a small percentage which helps us to keep bringing you new and informative travel content every day! Any products we endorse we personally use and love. Please see our Disclosures for more information.