If you find yourself in the United Arab Emirates then a visit to Abu Dhabi's Grand Mosque – Sheikh Zayed is a must because it's certainly the Grandest Mosque I've ever seen and to be honest it's worth planning a trip to the UAE just to see it! I visited the Sheikh Zayed Mosque whilst I was in Dubai so here are 9 tips and pieces of information to help you plan your visit and know what to expect when you arrive.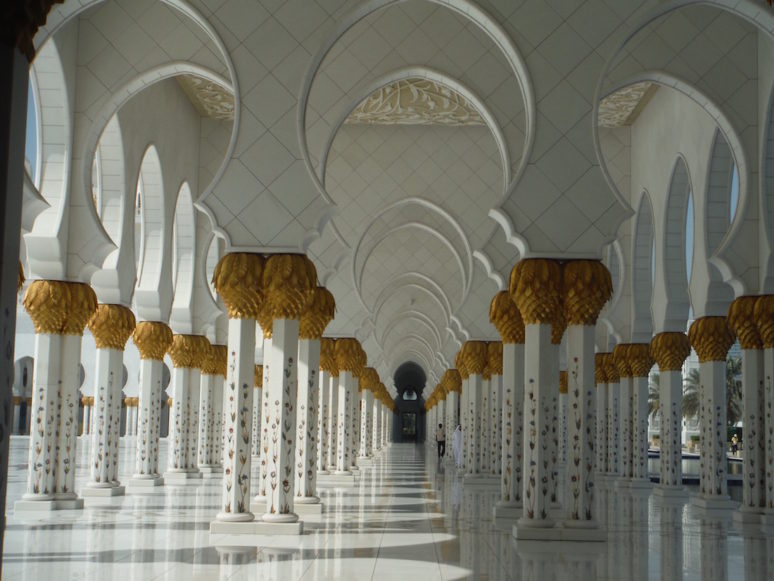 1. GETTING TO SHEIKH ZAYED GRAND MOSQUE
If you're staying in Abu Dhabi you'll find it very easy to get to the Sheik Zayed Mosque by taxi, however, if you're staying in Dubai which is 150km away then do not let this put you off going!
When I was researching how to get to the Mosque from Dubai there appeared to be a bus that goes from Dubai bus station to Abu Dhabi bus station, however I couldn't find much information on it and it would have involved getting 4 taxi's either side of the bus so in the end my friend and I decided to get a taxi for the whole journey.
It took about 90 minutes each way and cost 250-275 AED (see current exchange rate) each way. Our taxi driver from Dubai had no issues with taking us there and there were taxis waiting outside of the Mosque when we finished who had no issues with taking us back to Dubai either and I can imagine they're very used to it.
Best Accommodation Near The Sheikh Zayed Grand Mosque:

2. HAVE BREAKFAST BEFORE YOU GO
Again, when I was first researching how to get to the Sheikh Zayed Mosque and what we would do I thought we could get a coffee from somewhere before or after we visited or take a walk and see more of Abu Dhabi.
On the map, there is some greenery and water nearby, but once there we realised it didn't feel like a very walkable area due to the many big roads so we ended up heading back to Dubai as soon as we finished. However, looking at the map now it seems like there's a Coffee Club across the road so you may well be able to get a coffee now!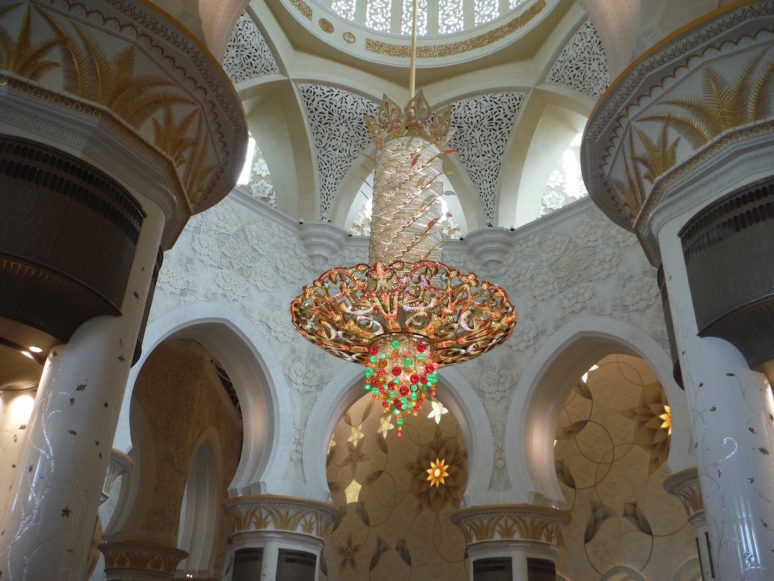 3. IT'S FREE TO ENTER THE SHEIKH ZAYED MOSQUE
Unlike many tourist attractions, it's completely free to enter so there is no reason to miss this beautiful mosque when you are in UAE! There are also free guided tours which last about 45-60 minutes (see below for more information).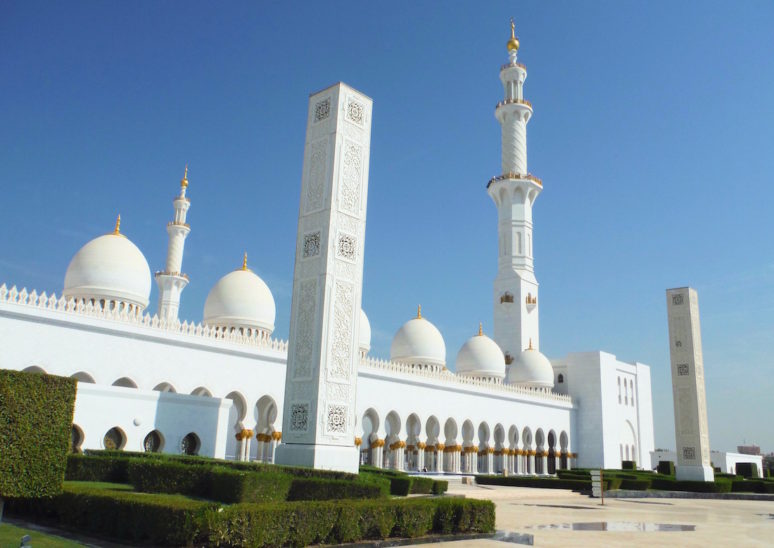 4. SHEIKH ZAYED MOSQUE OPENING TIMES
Opening times are 9:00am-22:00 Saturday-Thursday and 16:30-22:00 on Fridays. As with many destinations, it's worth visiting during the week to avoid crowds. But as you can see from the pictures the scale of the mosque, compared to the size of its visitors means you will not feel crowded there.
You'll probably know if you're in the UAE during Ramadan and if you are, note that the opening times change to 9:00 am-14:00 pm Saturday-Thursday and the mosque is completely closed on Fridays. They also only offer tours at 10:00 am on the days they are open.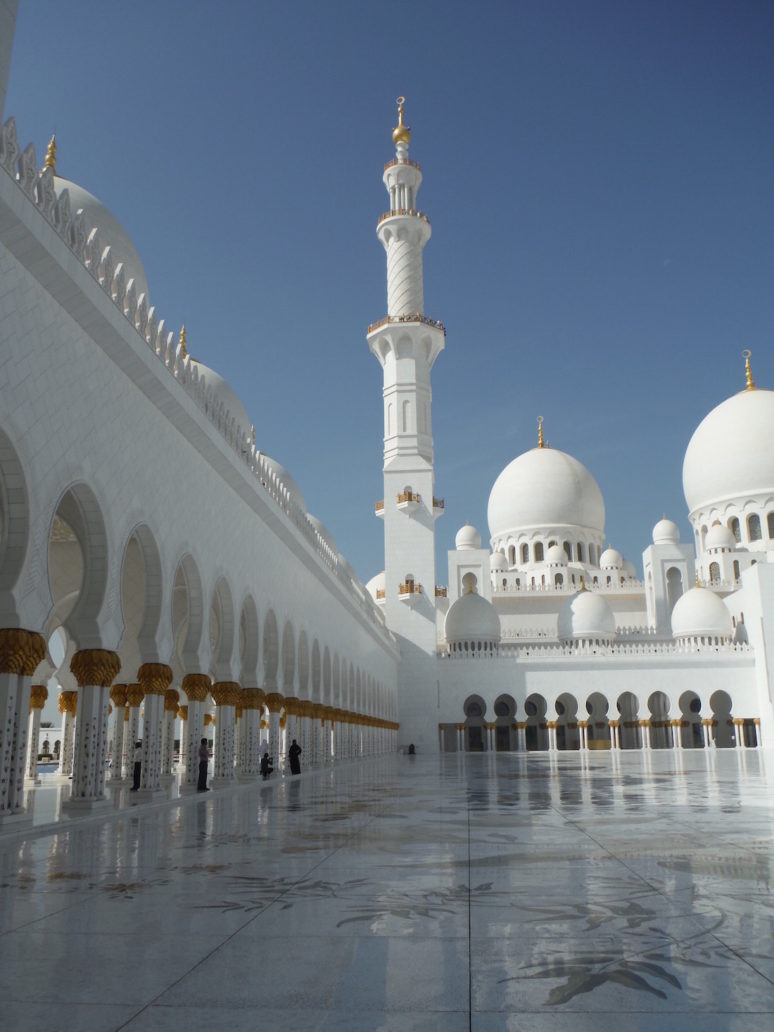 5. BEST TIME OF DAY TO VISIT SHEIKH ZAYED MOSQUE
Any time of day is a good time to visit the mosque, however due to the heat you're best visiting early morning or late evening. Also, if you're into your photography then you might want to visit at sunset or just before sunset during golden hour as the photos I have seen from this time make the building look even more beautiful as the sun is shining off of it!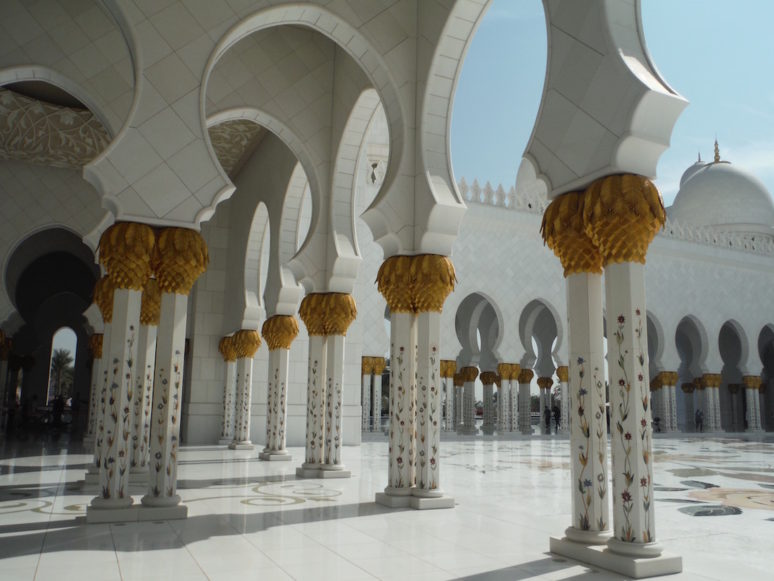 6. DRESS APPROPRIATELY
As this is a Muslim site you do need to cover up and understandably they are very strict with the dress code. They do however provide women with a black Abaya free of charge which they have in a few different sizes. On arrival, you are directed to a room where you change before entering the Mosque.
*Update 2019: This review was written with information from 2015. Please double check that Abayas are available on the Grand Mosque website before you visit and ensure your own outfit is appropriate and includes a headscarf.
I wanted to wear my own outfit so it looked nicer in pictures (my main concern obviously!) so I wore a loose black maxi dress and took a headscarf and something to cover my arms, but they weren't happy with it and made me wear one of their Abayas anyway. I got the feeling they like everyone to wear them so you are fully covered.
Therefore, I would suggest arriving with the attitude that you're happy to wear one and if you want to add a bit of colour and style then bring along your own headscarf, otherwise you'll have to use the hood of the Abaya. Also, be prepared to take your shoes off and walk barefoot. For more information on the dress code, see the Mosque Manners section on the official website.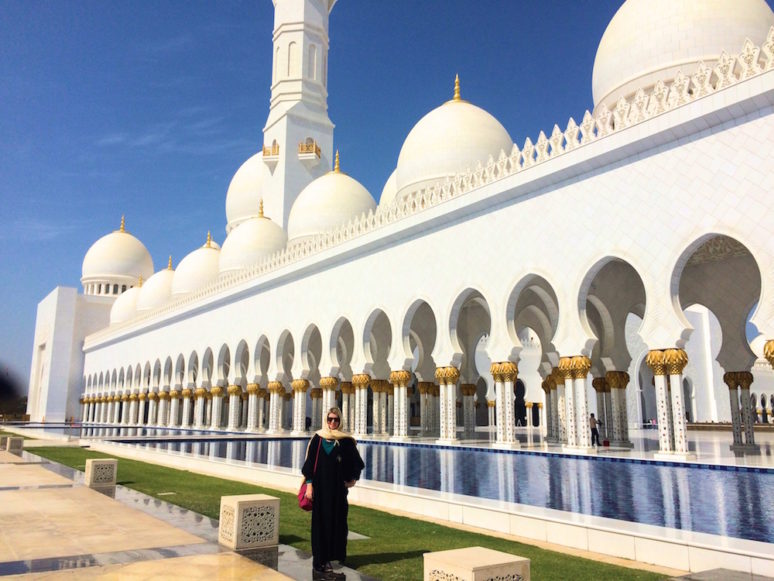 7. BRING SUNGLASSES
You'll probably have your sunglasses on you anywhere as you're in the UAE, but make sure you do pack them as the white building and the strong sun can make it practically blinding!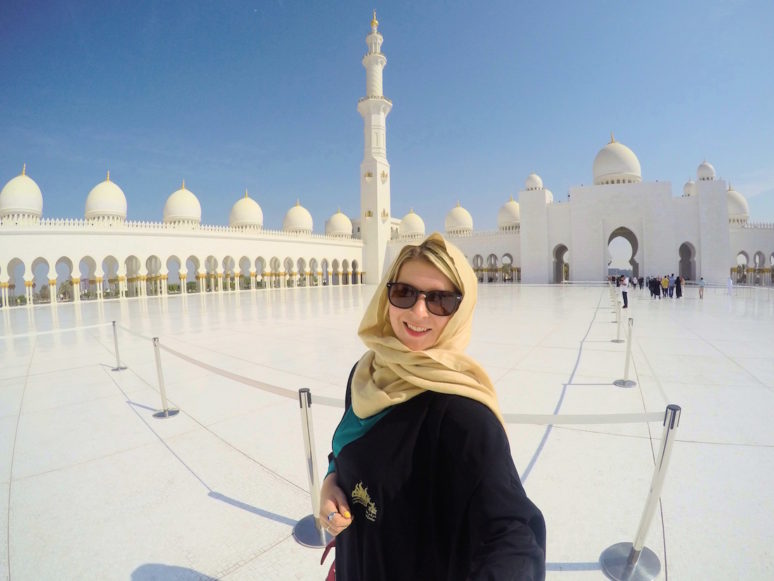 8. TAKE THE FREE GUIDED TOUR
Free guided tours are available at various times during the day depending on the day. We got there just after the first tour started and didn't want to wait for the next tour to start so we walked around on our own but I can imagine the tour would be very interesting and worthwhile!
The tours are offered in English and Arabic and children are welcome. You can find the tour times on the official Grand Mosque website.
9. ENJOY IT!
It really is an incredible building and one of the grandest Grand Mosques in the world! Enjoy the culture, learn something about religion, take plenty of photos and be respectful. I hope that this article about the Sheikh Zayed Grand Mosque in Abu Dhabi has inspired you to visit this incredible piece of architecture.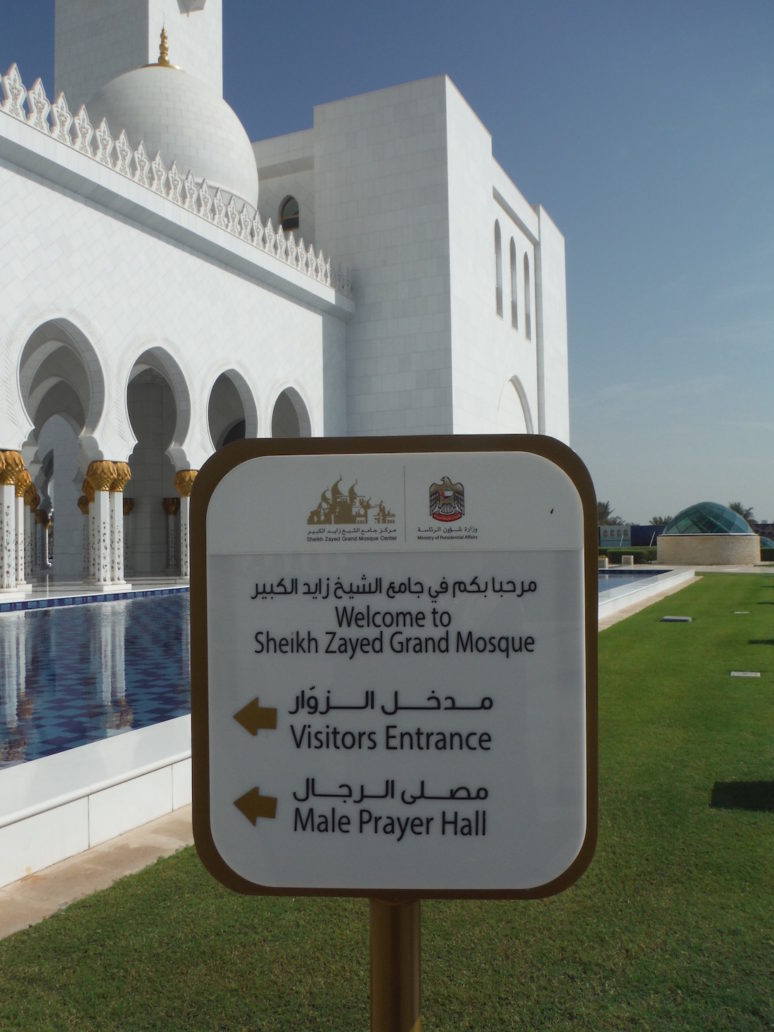 ---
I hope this article helps you to plan your own visit to the Sheikh Zayed Grand Mosque. If you have questions, tips or updated information about visiting the Sheikh Zayed Mosque, please share them with readers in the comments.
Want to share your own travel tips by guest writing for We Are Travel Girls? Go to our Contribute page for guidelines and to submit your article.
---
---
Our Top Places To Stay In Abu Dhabi:
---
Read More About The Middle East
---
We Are Travel Girls Contributor Ellie Quinn of TheWanderingQuinn.com
Connect with Ellie Facebook | Twitter | Instagram | You Tube | Pinterest
---
Pin For Later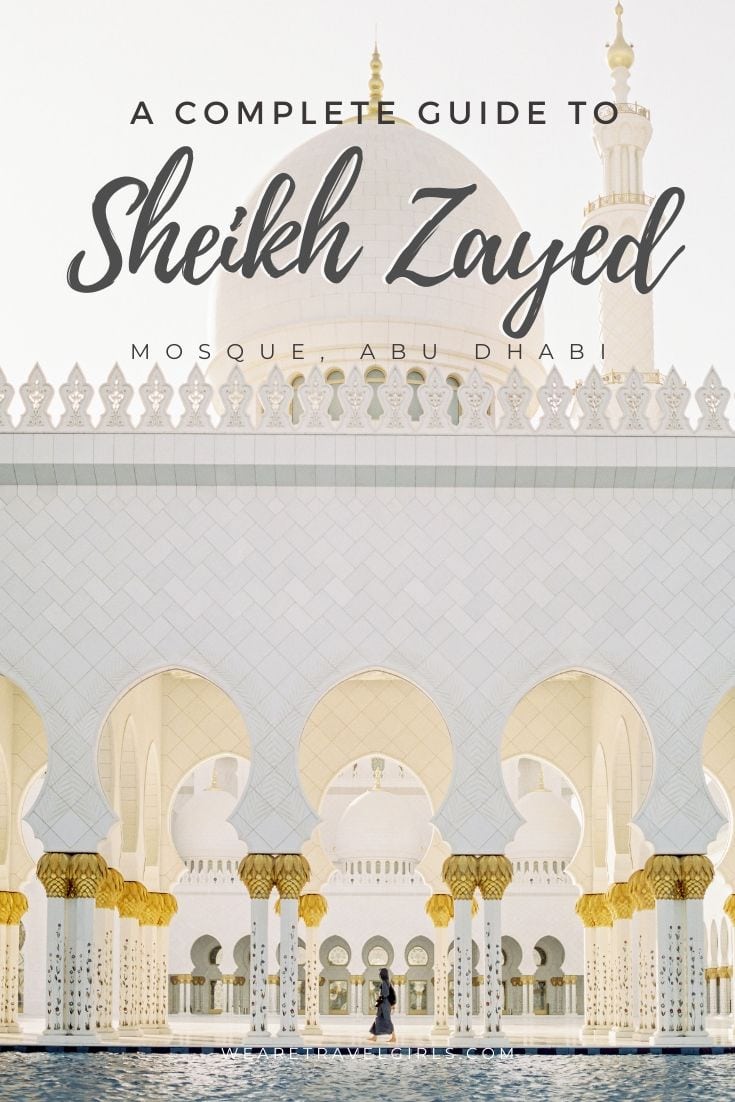 This website is a free resource we may use affiliate links in our articles. Please see our Disclosures for more information.