Attention all Star Wars fans! I have just returned from a galaxy far, far away, where I visited the planet of Batuu. If you haven't heard, both Disneyland and Walt Disney World are transporting travelers to a smuggler's outpost in a brand-new land, Star Wars: Galaxy's Edge.
Disney Cast Members and select media had the chance to visit Star Wars: Galaxy's Edge before the official opening on August 29th. The new Star Wars land is absolutely incredible and is sure to be a big hit this fall.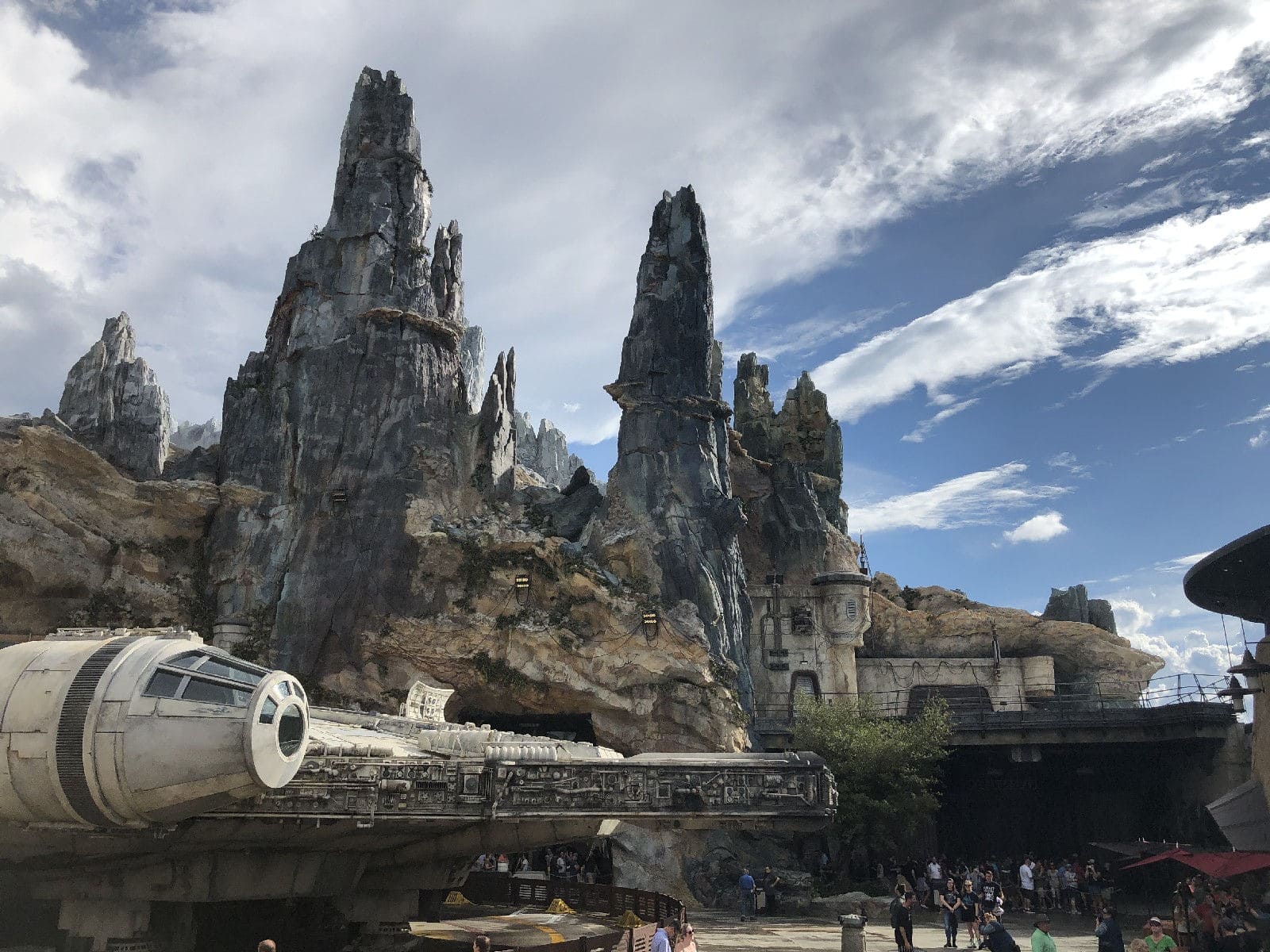 STAR WARS HISTORY
Batuu is located at the edge of the galaxy and is home to Black Spire Outpost—what used to be a bustling restocking depot in the early years of hyperspace travel. It has since fallen into disrepair and has instead turned into a meeting place for smugglers, unsavory characters, and sometimes members of the Resistance and Empire. You can check out the full history of Batuu.
Since concluding my bounty-hunting activities at the Black Spire Outpost, I have returned to my home planet to provide you with some insider tips and important information to consider while planning your trip to the new Star Wars land at Disneyland and Disney World.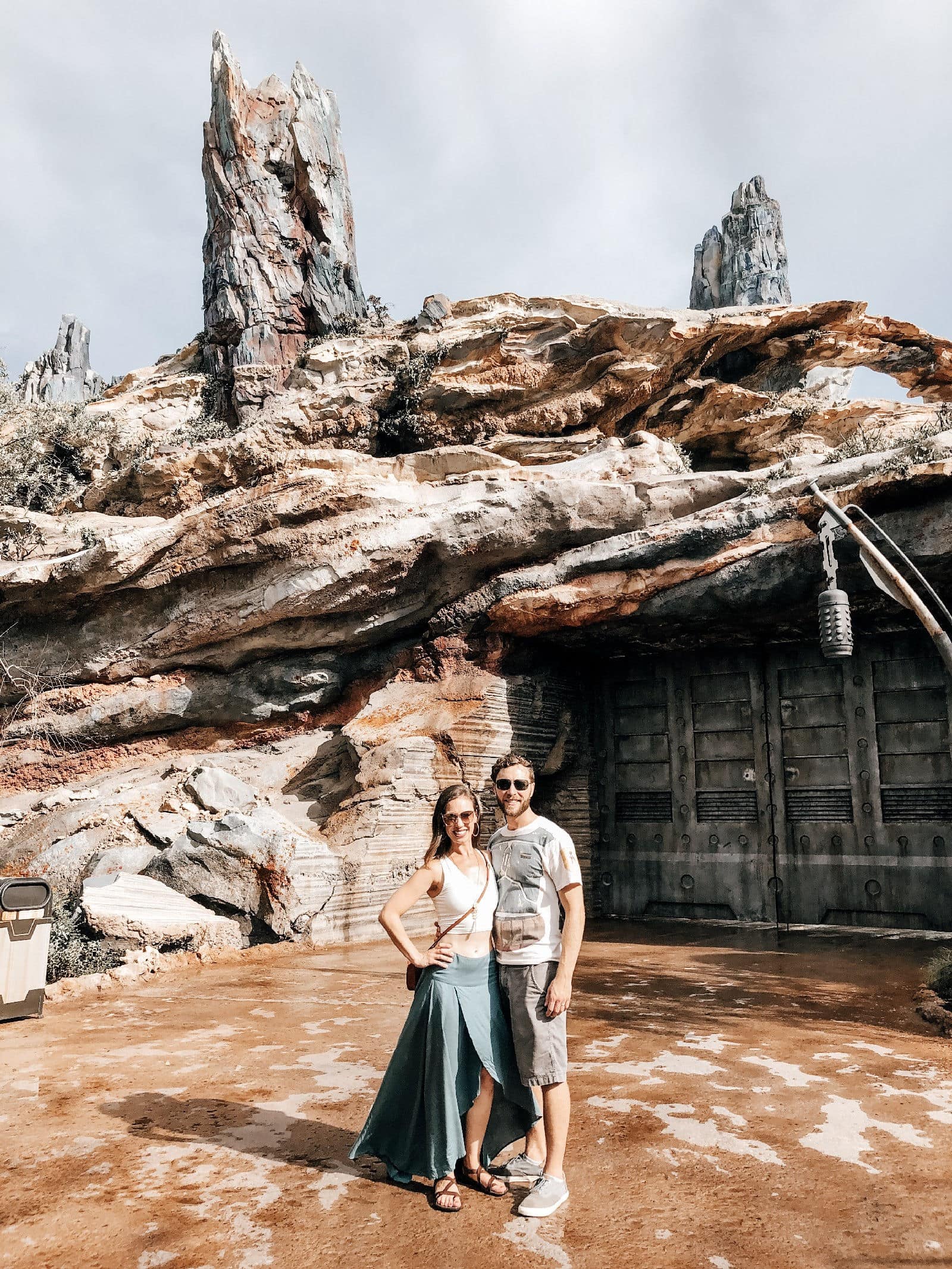 LEARN THE STAR WARS LINGO
As a traveler, I've always been a proponent of learning some basic phrases in the local dialect. Batuu is another planet, after all, so you will hear many colloquialisms and even a different language.
Check out the beautiful Aurebesh language, which you can see inscribed on buildings throughout the outpost. You can even use your datapad (smartphone) to decipher some of the phrases – just ask a local (Cast Member) how!
The common greeting while traveling during the day is "Bright suns." Or, if you are visiting in the evening, "rising moons."
Check out a glossary of terms here.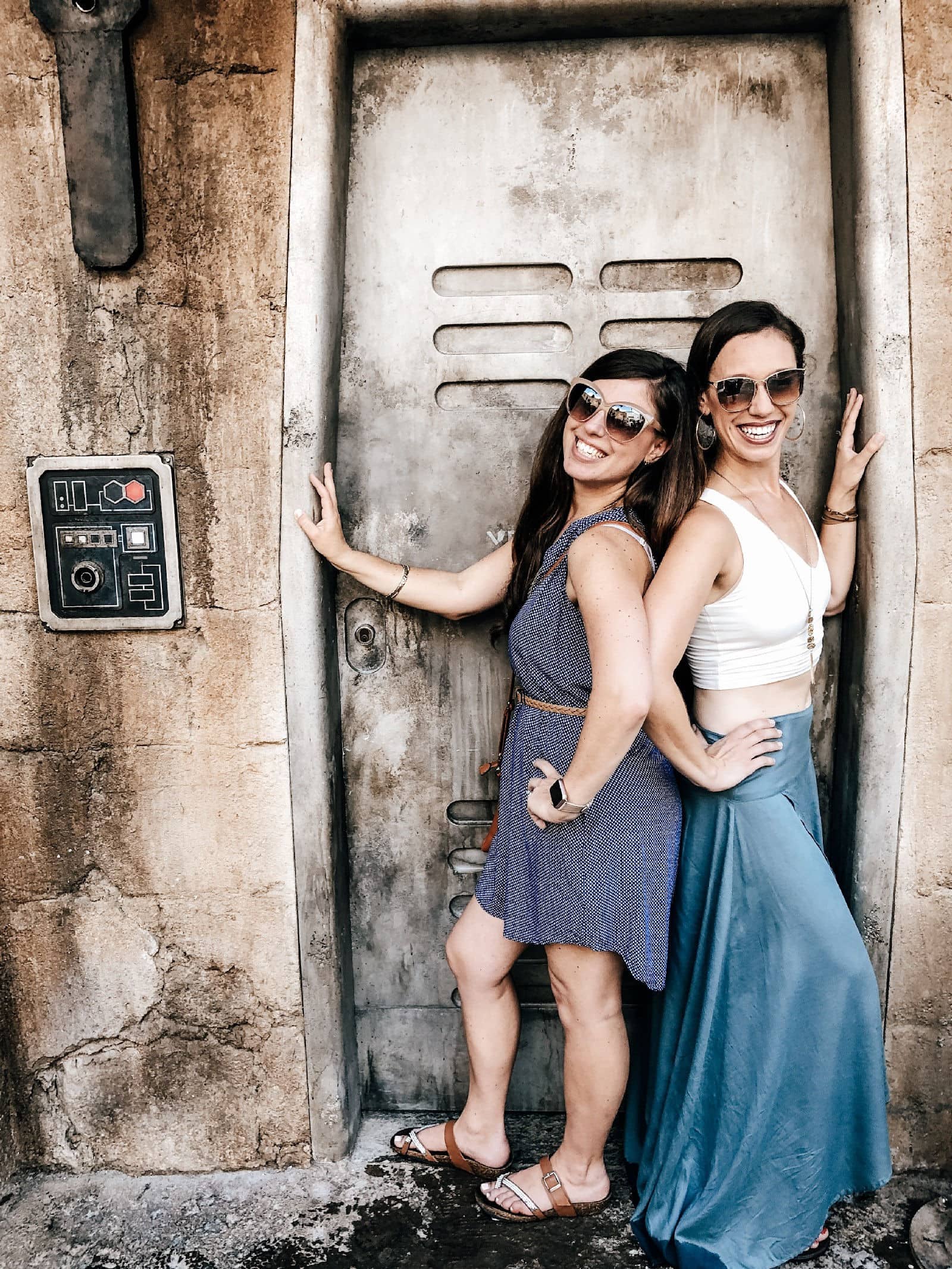 BOOK YOUR ACCOMMODATION NOW
If you want to enjoy the new Star Wars land at Disney World with fewer crowds, book a stay at a Walt Disney World resort. Guests staying on a Walt Disney World property will have access to Extra Extra Magic Hours at Disney's Hollywood Studios starting at 6 am (at least through October).
Complimentary transportation from any Disney resort is always provided, but if you don't want to wait for a bus, there are some resorts that will get you closer to the action.
Disney's Boardwalk Inn Resort and Disney's Yacht & Beach Club Resort are both within walking distance of Disney's Hollywood Studios (about 15-20 minutes), or you can take a complimentary water taxi.
The next closest (and more moderately priced) options would be Disney's Pop Century Resort, Disney's Caribbean Resort, or Disney's Art of Animation Resort (great for families!). In addition to the complimentary buses, these resorts will also be served by the new Skyliner as of September 29th.
A helpful hint – while booking your accommodation, be sure to book your SWGE experiences, as well. Here are links to Oga's Cantina, Savi's Workshop (to build your own lightsaber), and the Droid Depot (to build your own droid).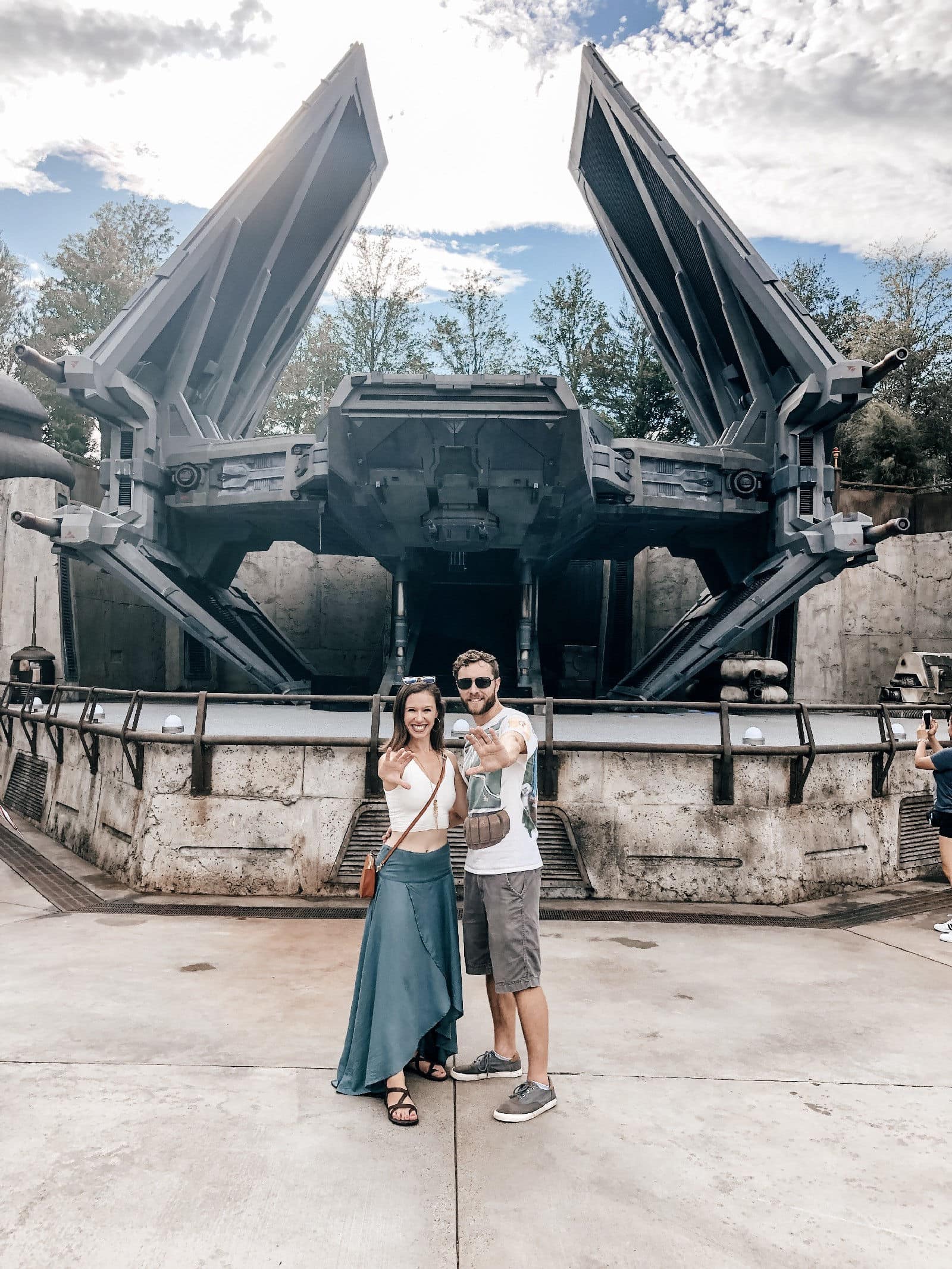 DOWNLOAD THE PLAY DISNEY PARKS APP
Grab your datapad (smartphone) and download the free Play Disney Parks mobile app to fully enjoy Batuu.
Travelers using the mobile app may be commissioned for a smuggling job or choose to decipher Aurebesh codes. The assistant producer of the app explained your experience in the land may be different, "depending on the choices that you make about what you interact with, as well as the different factions you decide to ally yourself with. If you decide to do a lot of things for the First Order, you're going to have a different experience than those who decide to help the Resistance."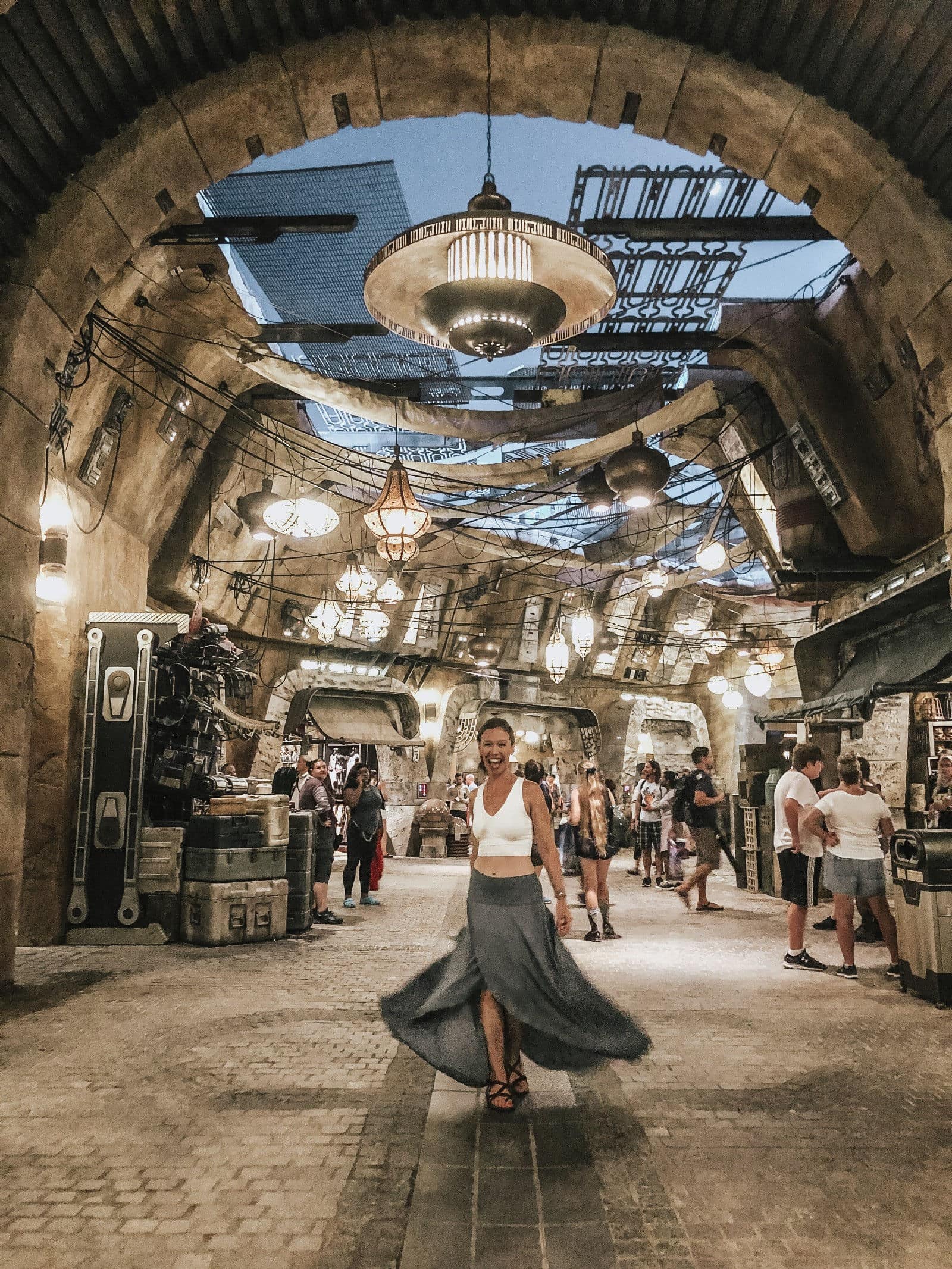 GET READY TO GET YOUR INSTAGRAM ON
The new Star Wars land is other-worldly and it's full of Instagram-worthy photo ops.
I made sure to dress Batuu-chic and spent a good amount of time taking photos, since everything about the land is impressive.
Get to Star Wars: Galaxy's Edge right at the start or the end of the day when the park is at its emptiest. The land is also gorgeous at night, so be sure to bring a camera that can capture photos in low-lighting. Or, if you want the best photos, ask any of the Photopass Cast Members to capture some images. My favorite spot is in front of the Millennium Falcon at night.
If you know you are going to want a bunch of photos from the Disney photographers, invest in a Memory Maker package. It's not too expensive (plus, you can split it with your friends and family), and then you get digital downloads of all your photos from your entire trip! That includes any attraction or dining photos. Make sure to order it ahead of time for a discount.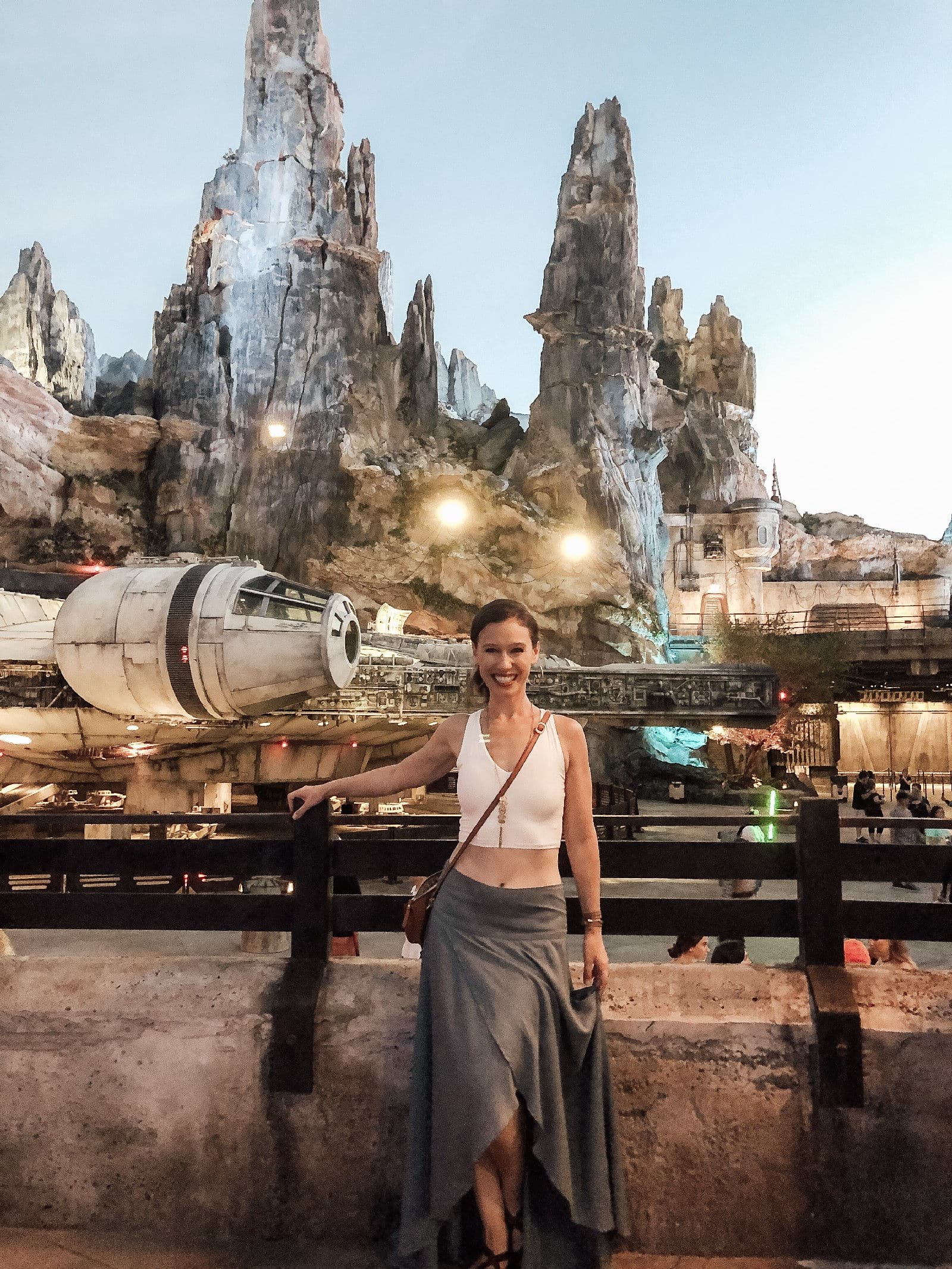 PRACTICE YOUR GAMING SKILLS FOR SMUGGLER'S RUN
Get ready to ride the fastest hunk of junk in the galaxy on Millennium Falcon: Smuggler's Run. You're going to want to ride multiple times if you want to try all three positions – engineer, gunner, and pilot. Your performance driving the ship will impact the experience, so if you want a smooth ride, make sure your pilots know how to drive!
Pay particular attention to the state of the Millennium Falcon after leaving the cockpit. You may notice that the state of the hallways differ based on how your team performed, as well.
Since this is the only attraction currently open in Batuu, it is going to be very popular. If you aren't on a private tour, make sure to sign up for Fastpasses as soon as your booking window opens (30 days prior or 60 days prior if you are staying at a Walt Disney World Resort). If you don't have a My Disney Experience Account, sign up for free and link your ticket so you can reserve attraction times for your entire trip!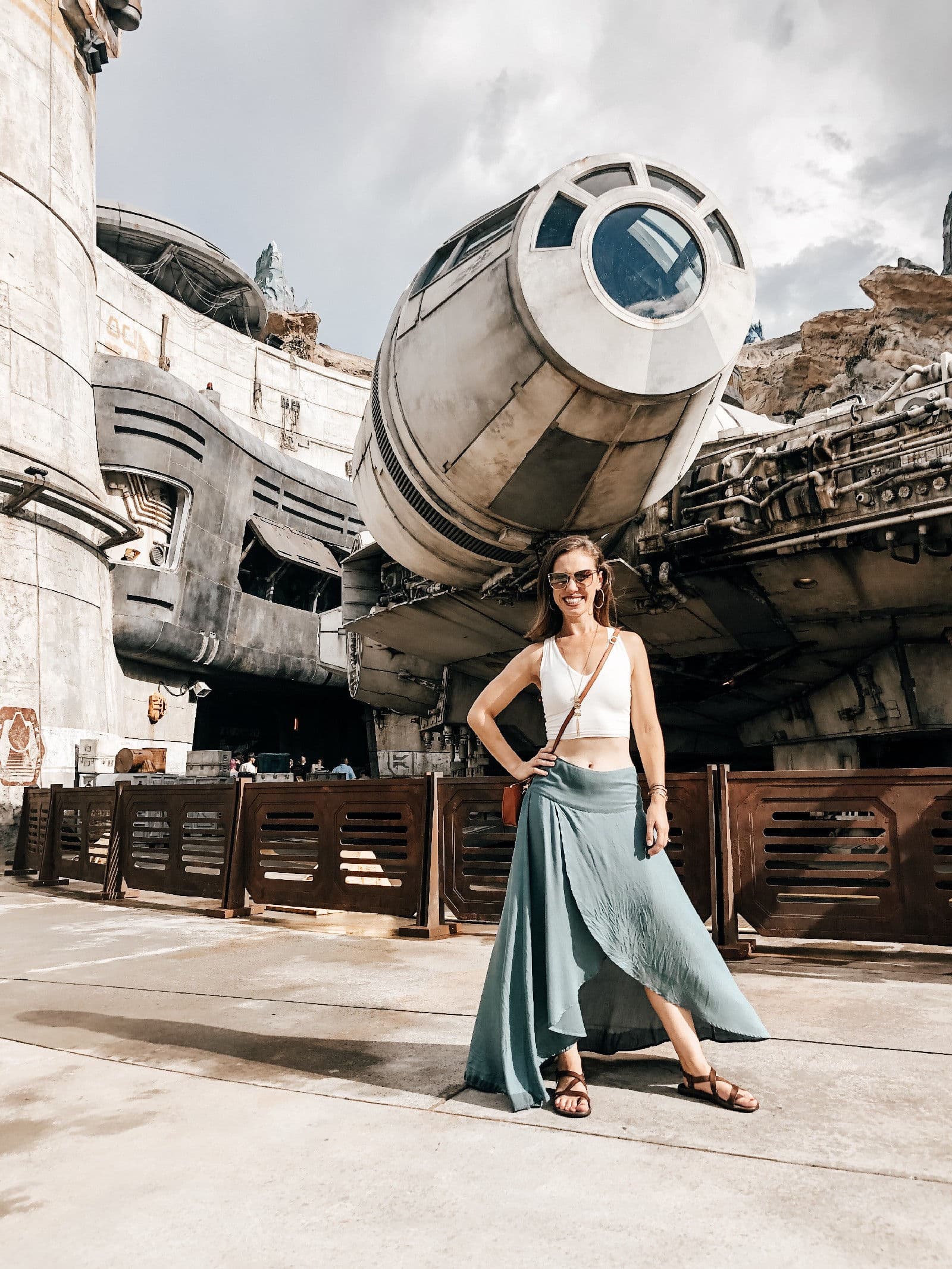 TRY ALL THE FOOD
Batuu is home to an array of delectable flavors. Try the Ronto Wrap at Ronto Roasters or the Tip-Yip salad at Docking Bay 7. And, of course, you can't leave without trying the Blue Milk – which has been deemed more popular than the Green Milk, but both are worth a try! (There is even an option to add alcohol.)
I definitely recommend taking a trip to the local cantina – Oga's. Great music, drinks, and atmosphere make this a favorite amongst the travelers of this smuggler's outpost.
If you want to try something really unique, go for the Fuzzy Tauntaun (it'll leave your lips tingling!), or if you want something a bit more on the light side (see what I did there?), I loved the Jedi Mind Trick.
But if you want to get into Oga's (which I definitely recommend you DO), make a reservation!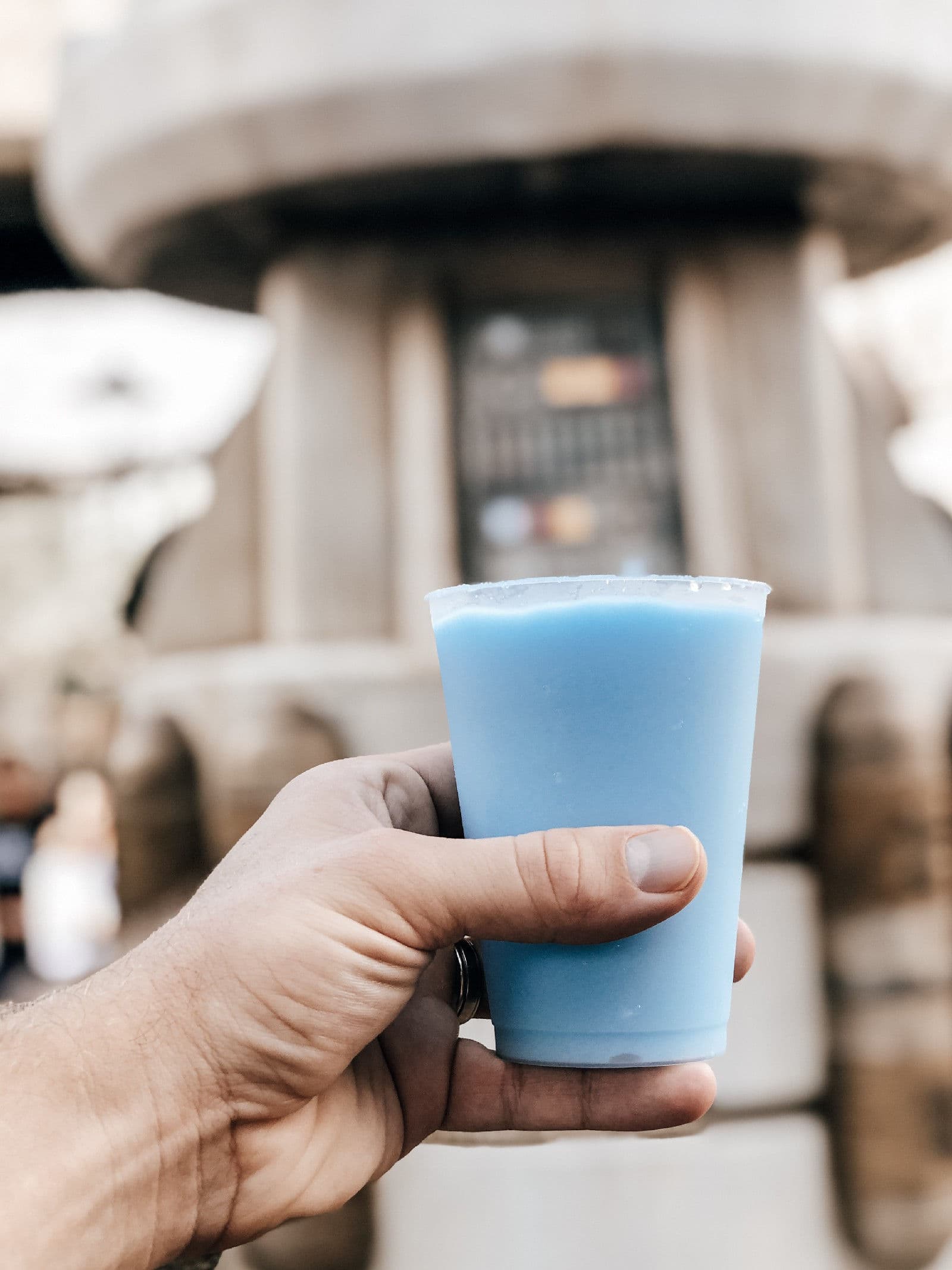 BOOK A PRIVATE TOUR
If navigating the crowds of Batuu seems overwhelming for you, Walt Disney World offers private tours, which allow you the ability to enjoy some of your favorite attractions across all four parks efficiently. After I took a recent private tour, I can attest that it definitely made our experience incredibly enjoyable!
REALLY PAY ATTENTION TO THE DETAILS
Walt Disney Imagineering (WDI) really put a lot of time into the details of Batuu. For avid Star Wars fans, treat this land like a museum of curios and movie call-backs. Take your time in the merchandise locations, in particular.
As a former costuming manager, I really appreciate the fashion choices of the Cast Members of Batuu. The costumes are all made from the same color palette, so they look very cohesive, but the Cast Members have options while accessorizing their costumes – making it their own.
Finally, keep your eye out for roaming characters. Instead of formal meet and greets, you will notice characters roaming around and interacting with the land – and sometimes guests!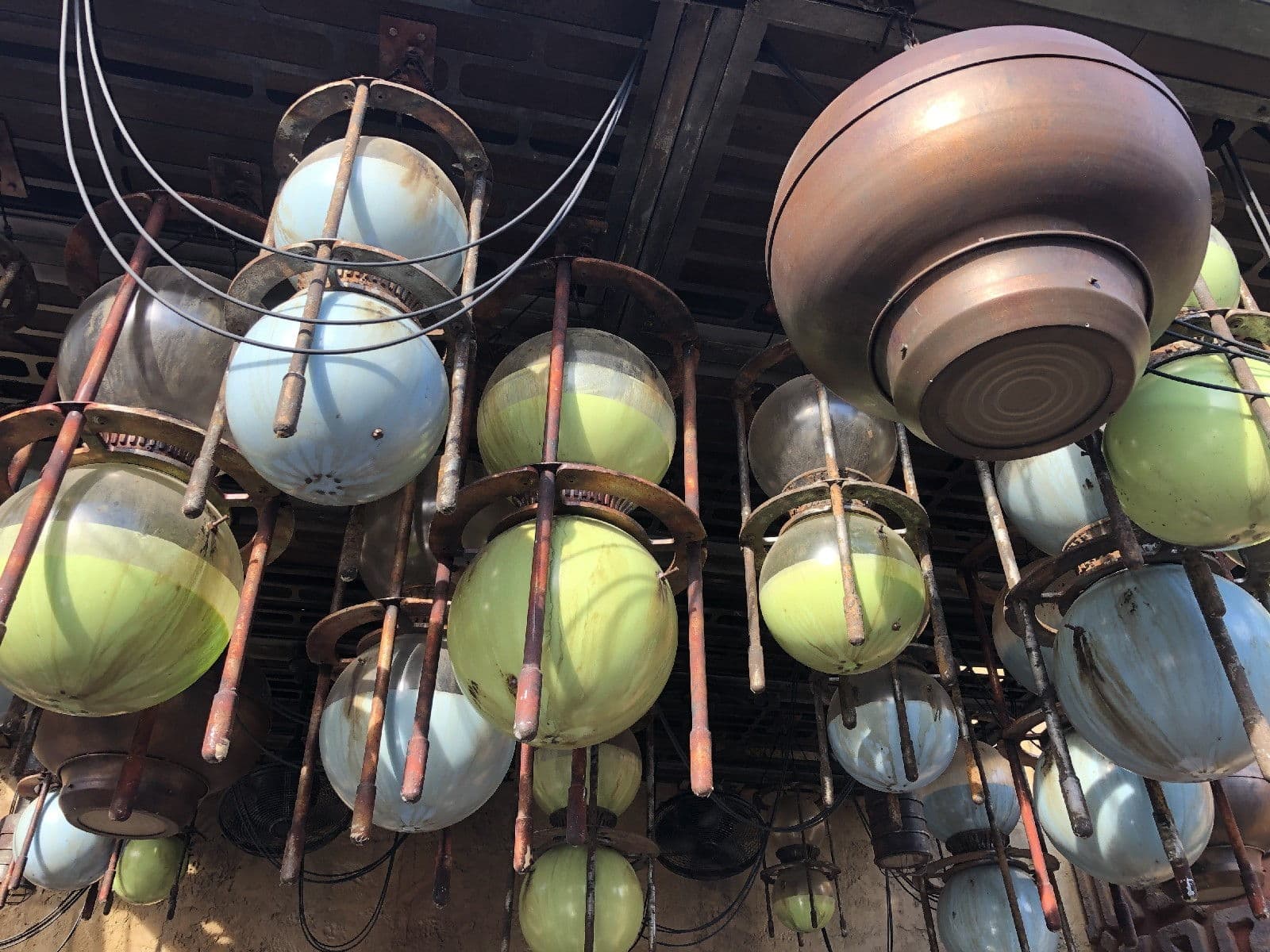 STAR WARS: GALAXY'S EDGE WRAP REVIEW
Having been to every Disney Park around the world, I can say with confidence that Star Wars: Galaxy's Edge is the most immersive land created to date. The details are intricate, the storytelling draws on decades of Star Wars content, and the planet is really brought to life by the Cast Members and characters who "live" there. Plus, the land is just beautiful! We went in the early evening to see how everything changed from daylight to nighttime and it was a magical experience.
If you can't make it to Disney World this year, it may be worth waiting until early 2020, when a second attraction will open – Star Wars: Rise of the Resistance. This has been touted as one of the most immersive experiences Walt Disney Imagineering has ever done. If it is anything like Pirates of the Caribbean at The Shanghai Disneyland Resort (which is my absolute favorite Disney ride), then it is sure to be incredible.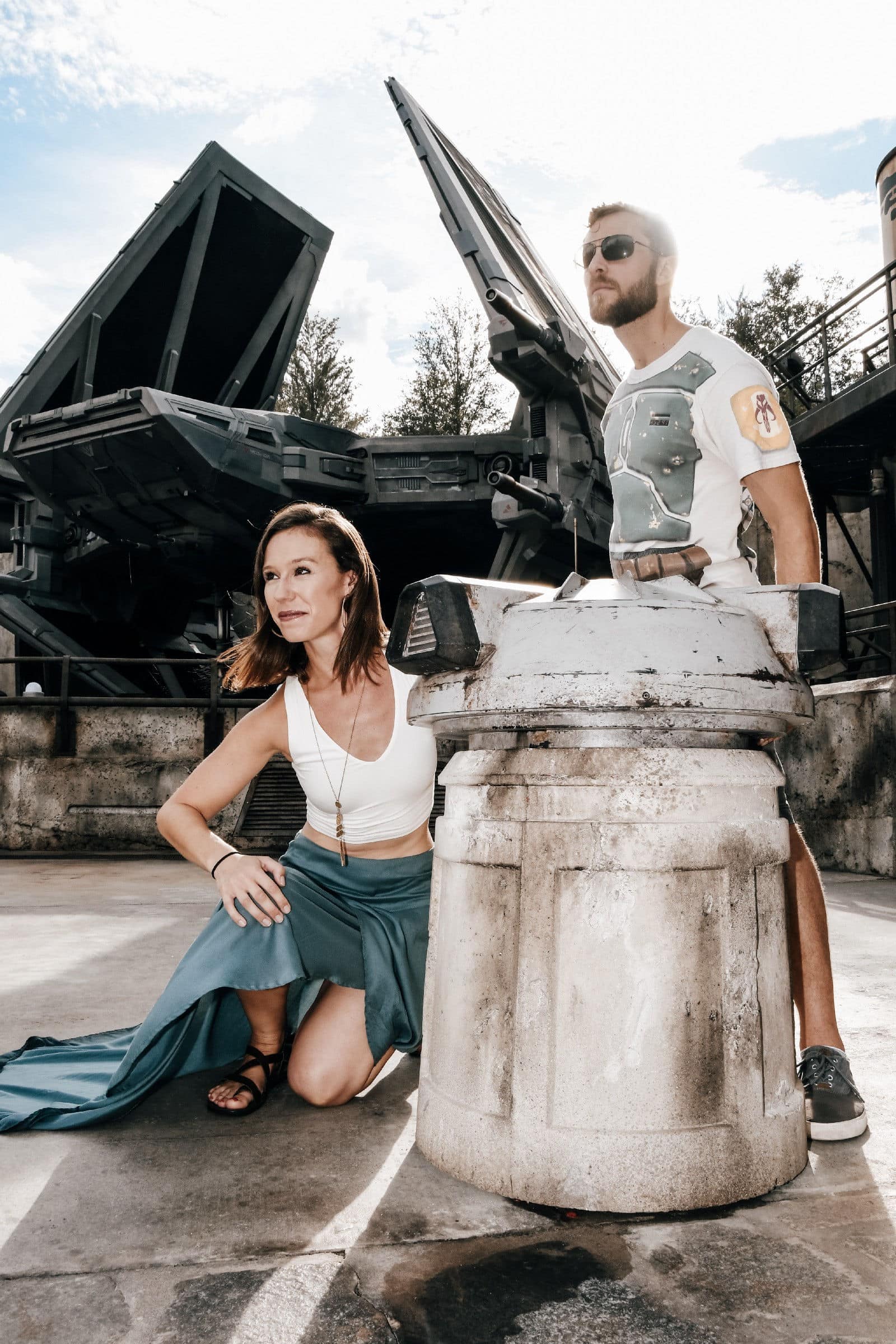 I hope you enjoy your journey to this distant planet! Let me know what you think when you return to earth. Till the spire!
---
We hope that this article has inspired to visit Star Wars: Galaxy's Edge at Walt Disney World. If you have any questions about the destination or have your own travel tips to share please leave these in the comments below.
Want to share your own travel tips by guest writing for We Are Travel Girls? Please visit our Contribute page for guidelines and to submit your article.
---
---
Our Top Places Near Walt Disney World, Orlando:
---
Read More About Florida
---
We Are Travel Girls Contributor Caitlin Busscher of CaitWithoutBorders.com
Connect with Caitlin on Instagram | Pinterest
---
Pin For Later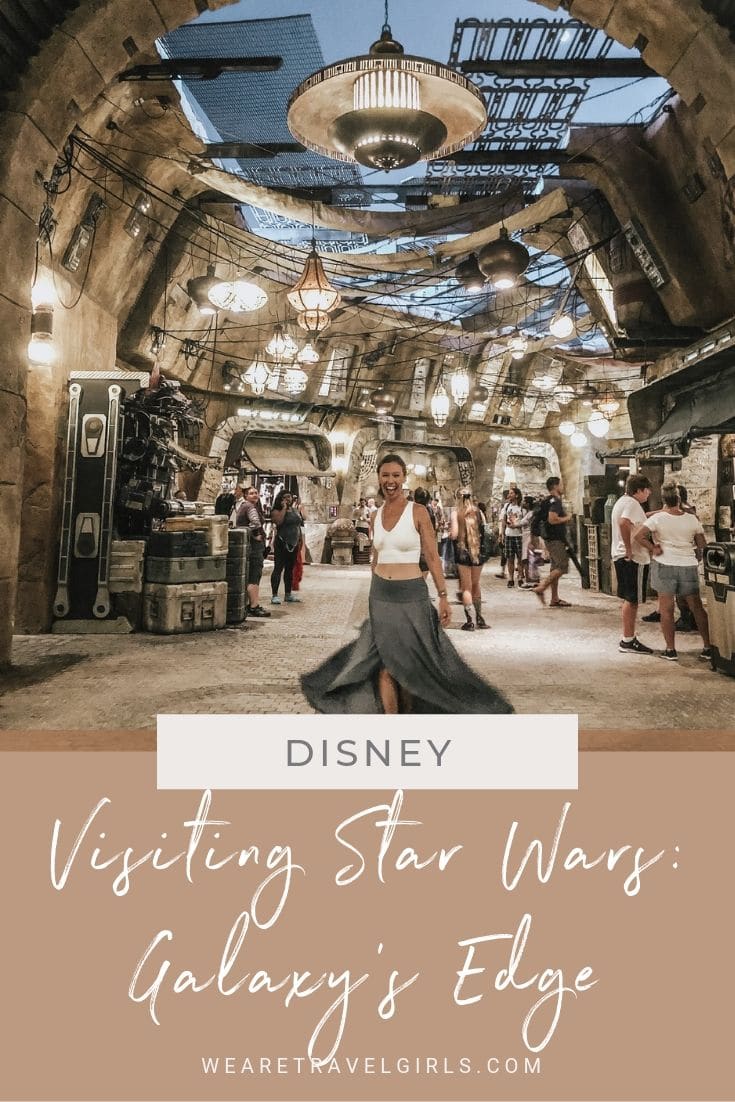 This website is a free resource and to keep it free for our readers we may use affiliate links in our articles. If you make a purchase via the links on our site you will pay the same price, but we may receive a small percentage which helps us to keep bringing you new and informative travel content every day! Any products we endorse we personally use and love. Please see our Disclosures for more information.