Social media is changing how we travel. Once sleepy, hidden destinations can become viral overnight, drawing in thousands of visitors. One of the earlier examples of this phenomenon lies in the middle of the Austrian Alps: The Emerald Lake near the village of Tragöss. After a single viral Facebook post, this lake rose to international fame and found its way onto thousands of bucket lists. Though still popular, the hype has somehow declined and the Emerald Lake remains an beautiful and quaint place to visit! Here are seven tips for visiting Austria's Emerald Lake.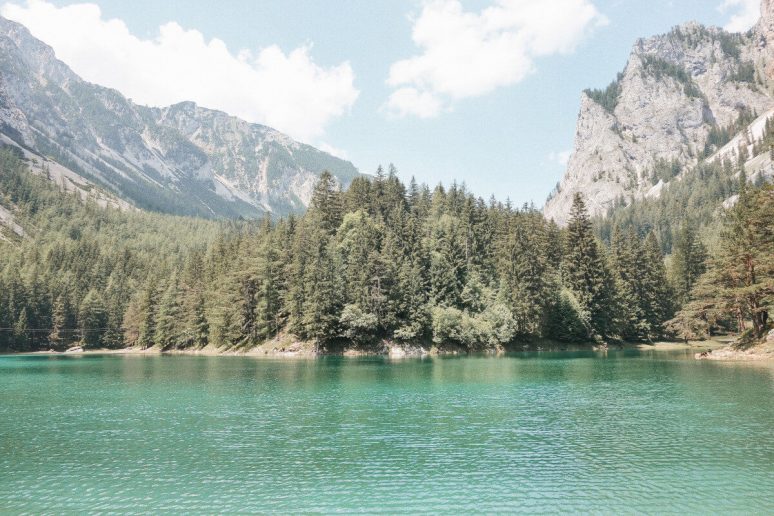 This small mountain lake got its name due to the bright, vivid shades of green and blue, previously known amongst locals and avid scuba divers only.
However, in 2014, Ashton Kutcher shared an underwater photo of the lake on his Facebook page with the caption "this magic moment." Although there was no proof that Kutcher had actually been there himself, the worldwide interest in the lake spiked up rapidly. Thankfully, the buzz has died down a bit and you can expect a bit more solitude on your visit. Keep these tips in mind on your trip to Austria's Emerald Lake to make sure you have the best experience possible!
1) BEFORE YOU GO
Part of the world's fascination with Emerald Lake derives from the fact that it's always changing. The body of water fluctuates immensely in depth and size throughout the year. As it is almost entirely sourced by meltwater from the surrounding mountains, the lake may be a little pond in winter but reaches its maximum water level in late spring/early summer. Several trails and benches get submerged during spring and summer. During this time, the water has extreme clarity with visibility up to 50 meters!
Concerns that the increasing amount of visitors would affect the fragile ecosystem, a ban on any kind of water sports (swimming, snorkeling, scuba diving) has been in effect since 2015. Also, the water stays freezing cold, reaching a maximum of 10 degrees Celcius in the summer. Hiking is the best (and so far only) way to enjoy its full beauty!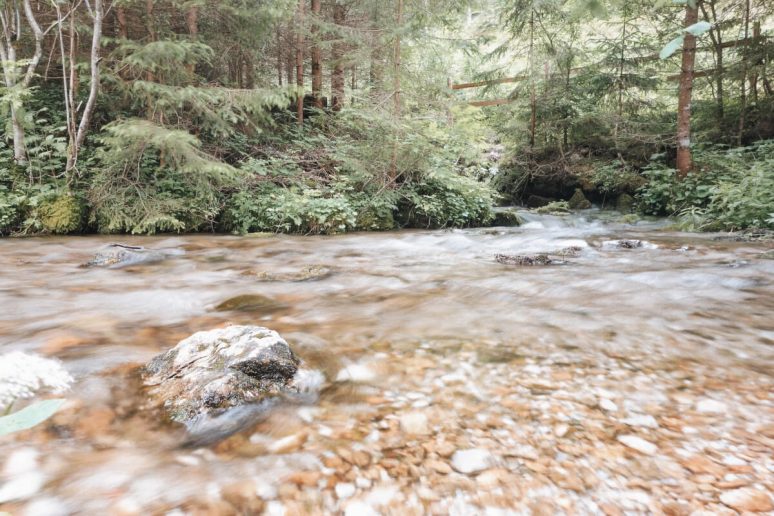 2) WHEN TO GO
While the region is scenic year-round, if you want to see the Emerald Lake in its full size, you should schedule a trip in the months of May to July. Try to get there early or on a weekday. Weekends can get busy, especially on a nice spring or summer day. On the other hand, you may have the lake almost for yourself during the week!
It's also worth visiting at other times. A lower water level allows you to access other trails, and I can only imagine how beautiful it must be when the forest and mountains are covered in snow! As an added benefit, the lake will be much more deserted in winter months so you'll likely have it to yourself.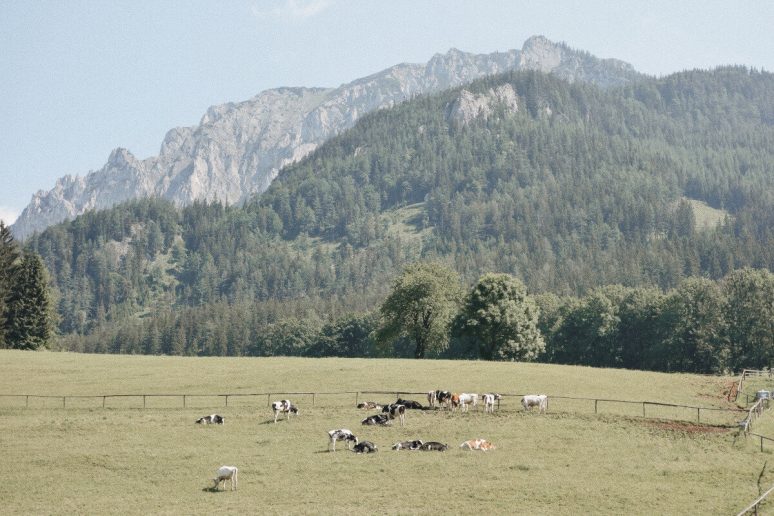 3) HOW TO GET THERE
The Emerald Lake ("Grüner See") is about a two-hour drive from Vienna or 1 hour 15 minutes from Graz (Austria's second largest city). The parking lot charges a small fee but admission to the lake is free. If you don't have your own vehicle, it takes a little more patience to get there by public transportation, but it's totally doable.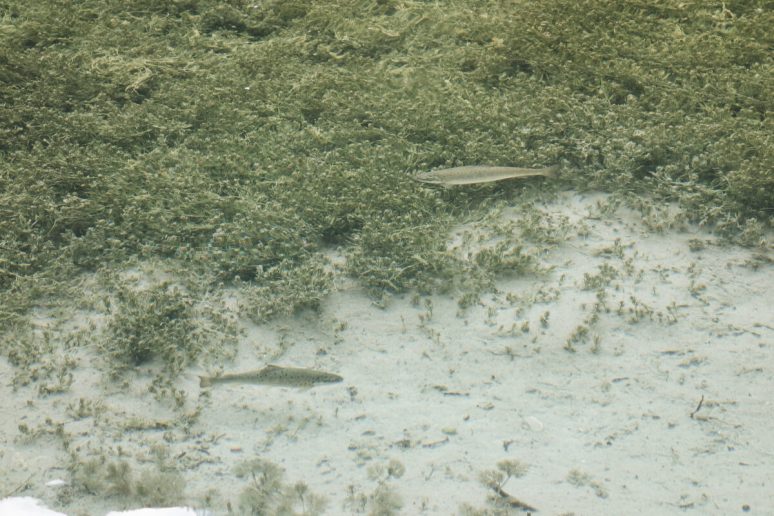 The nearest railway station is Bruck an der Mur which lies between Wien and Graz (one hour from Vienna, 35 minutes from Graz by train). From Bruck an der Mur, take the local bus No. 175 to the final stop Tragöss Oberort (approx. 45 minutes). Follow the signs to "Grüner See" while you walk through beautiful country and mountain sceneries until you reach the lake (approx. another 45 minutes).
Caution: There are very few buses per day. Make sure you catch the last bus back as there are usually no cabs around. Use the official Austrian Railway Site ÖBB to look up schedules and buy tickets.
Tip: The earlier you book, the cheaper the tickets get!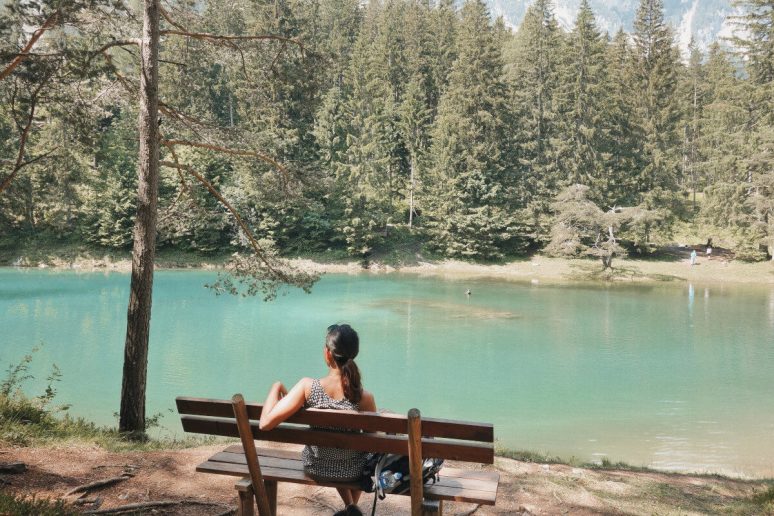 4) WHAT TO BRING
Keep in mind, this is an Alpine territory and the weather can change rapidly. Bring a light rain jacket, sunscreen, and enough water and snacks. There is a restaurant near the lake which has a small menu, but the food is average at best and it may not be even open on the day you visit. Hiking boots are recommended. Don't forget your camera, you certainly want to capture the incredible colours as well as some gorgeous mountain views!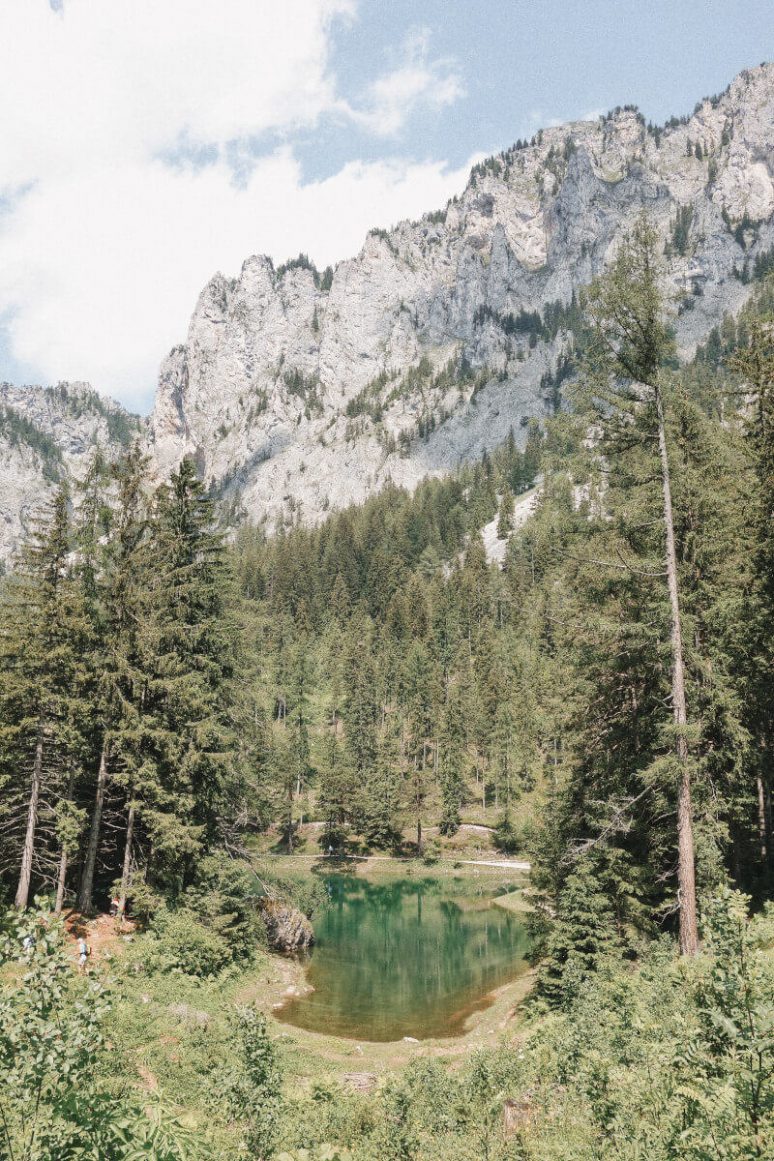 5) HIKING TIPS
A well-marked trail leads you around the lake. It's mostly flat and fairly easy, however, the path is rocky and muddy at times. Therefore it's not accessible for wheelchairs and strollers. In theory, completing the full circle takes only 1.5 hours. But thanks to some nice resting spots and dozens of photo ops, you will definitely want to spend more time making the loop.
Aside from Emerald Lake itself, you'll want to take some time to explore the surrounding area. Near the parking lot, you'll find two smaller ponds (Kreuzteich and Pfarrerteich) which shouldn't be missed. Additionally, the whole wildlife area has so much fantastic hiking beyond the Emerald Lake circle. You can find a great source for routes here.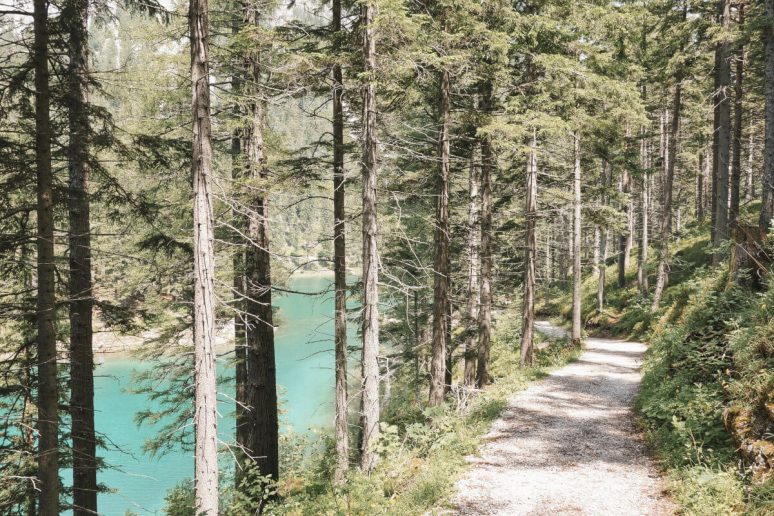 6) WHERE TO STAY
While most people come on day trips, there's certainly enough to see and do in the area to keep you busy for days, especially if you're into hiking. The nearest village, Tragöss, is very quiet with a few restaurants and hotels. You can find more information on its official tourism site (German only). Larger towns in the area include Bruck an der Mur, Leoben, and Kapfenberg. Each of these historic old towns offer plenty of cultural activities, dining, and shopping. A great resource for all kinds of activities and accommodation is the Hochsteiermark regional website.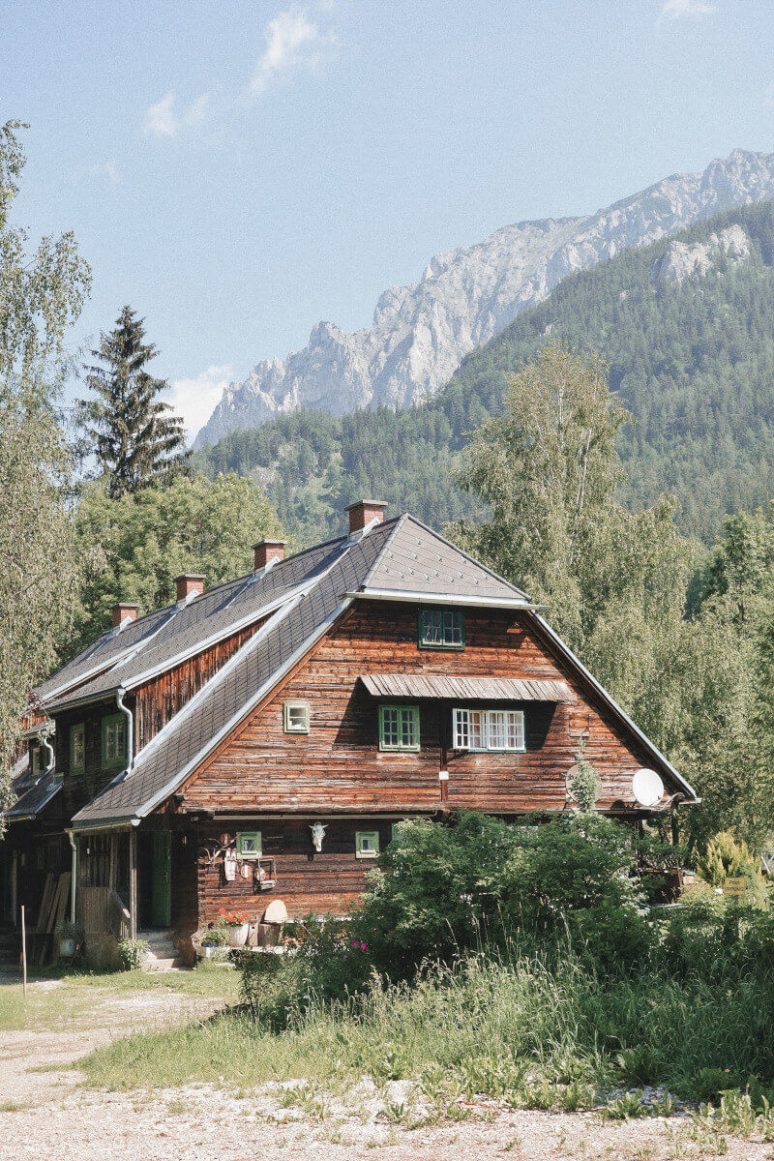 7) WHAT TO SEE NEARBY EMERALD LAKE
Only a short ride from the lake is Oberkapfenberg Castle, overlooking the town of Kapfenberg. Soak in the view, wander the medieval grounds, check out one of their events, or get close to the majestic falcons in the falconry. There's something for everyone at this family-friendly place. Find all relevant information on its website.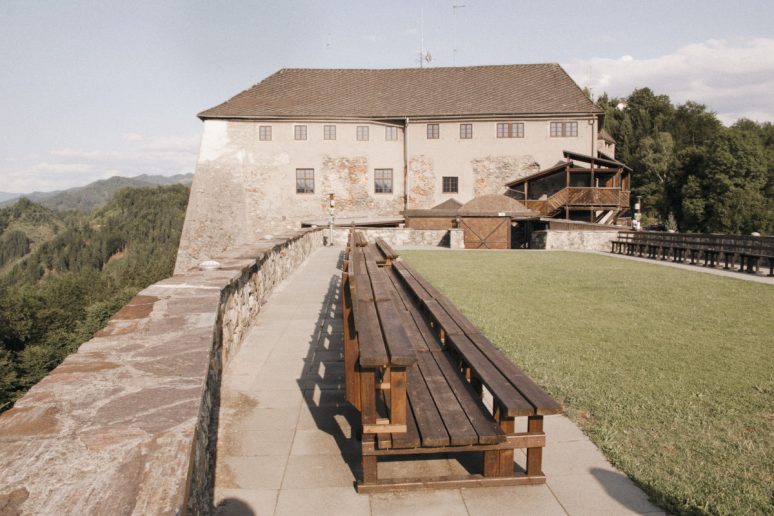 Emerald Lake is a natural wonder and is one of Austria's most beautiful lakes and mountain regions. In light of its recent rise to fame, the lake, dubbed the "Carribean" of Styria, needs extra care and protection from its visitors. As a mindful traveler, this nature reserve will reward you, and hopefully many generations to come, with an unforgettable hiking experience!
---
Have you been to Emerald Lake or Austria? If you have any additional tips for our readers or questions please leave these in the comments below.
To receive our articles and reviews straight to your inbox Subscribe Here.
---
Read More About Austria
---
Author
We Are Travel Girls Contributor Julia Joestl of SweetEscapes.net
Connect With Julia Instagram | Facebook | Twitter | Pinterest
---
Pin For Later