Last spring, my boyfriend and I flew out to San Francisco to embark on a road trip down the Pacific Coast Highway. With only a long weekend off of work, we wanted to see as much as possible on the coast within just a short five-day time span. A trip from Napa Valley, in northern California, down to San Diego, in the southern part of the state, is at least a week's worth of exploring, if not two. But if you're short on vacation days or money, this itinerary will take you 500 miles down the California coast in just 5 days.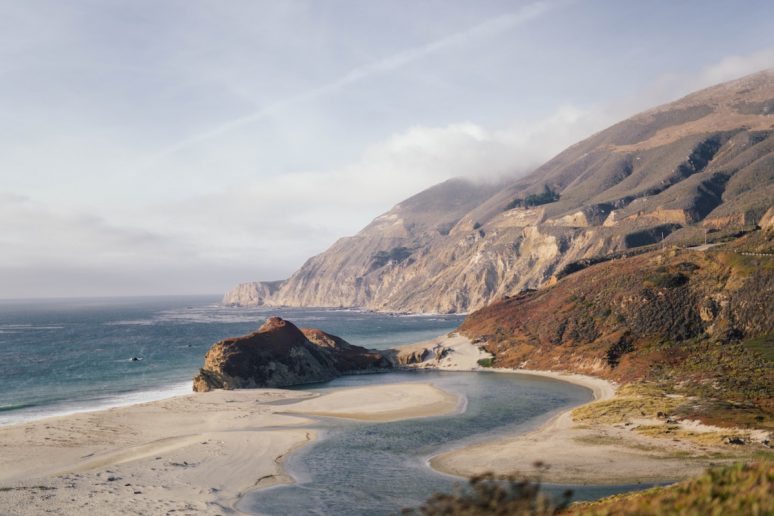 DAY 1 – SAN FRANCISCO
It's easy to spend a day in San Francisco, making the city a perfect place start to your Pacific Coast Highway adventure. The weather can be finicky, but even in the foggiest conditions, being on the edge of the Pacific Ocean is breathtaking.
WHAT TO DO
Fisherman's Wharf and Pier 39 is definitely touristy, but worth wandering around if it's your first time to the city. Walk through the shops on the Pier, see the seals sunbathing on the docks and if you get a fog-free day, celebrate the sunshine with a frozen drink at Wipeout.
Visit Golden Gate Park, rent bikes and ride west along the waterfront from Fisherman's Wharf to the Golden Gate Bridge. The views are amazing and the Presidio hosts lots of festivals, fairs and events throughout the year. In just a few blocks on Chestnut Street, you'll find dozens of bars and restaurants. Tacolicious, The Tipsy Pig, and Blackwood cover all of your needs – from tacos, to moonshine to pumpkin fries.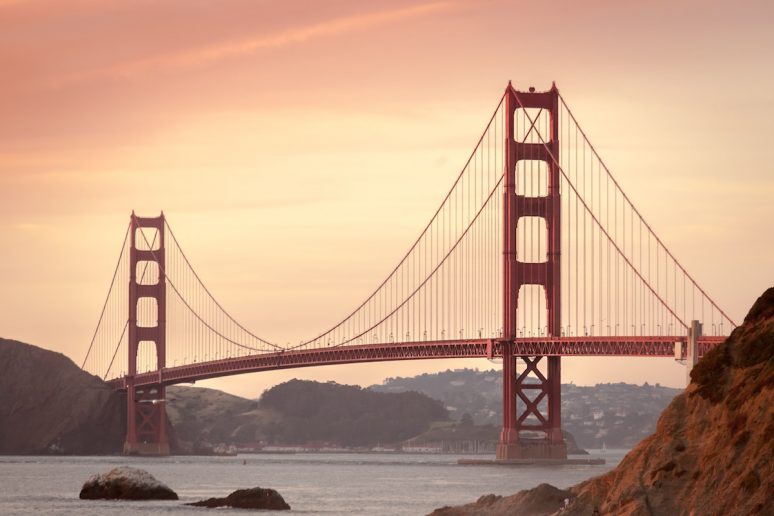 WHERE TO STAY IN SAN FRANCISCO
North Beach: If you want to be close to the "must-see" attractions for tourists and first-timers, the Fisherman's Wharf area affords visitors an easy walk to Pier 39, Ghirardelli Square, Lombard Street and Golden Gate Park. There are a handful of your typical chain hotels in the area (Sheraton, Marriott, etc.) as well as a couple of boutique hotels like the artsy, nautical themed Hotel Zephyr.
Pacific Heights: While you'll be hard pressed to find a hotel chain in the neighborhood, you're much closer to Chestnut Street where you can rub elbows with San Francisco residents rather than tourists. You'll still be a walk or quick Uber ride away from the waterfront attractions, but have a community-feel when you return back for the night. Airbnb has great options for a small or large group in the area. Before heading out of town, we stopped at Pink Elephant for brunch and their bottomless mimosa bar. If you find yourself in San Francisco on a Sunday, don't miss their make-your-own mimosa spread and Sassy Bacon.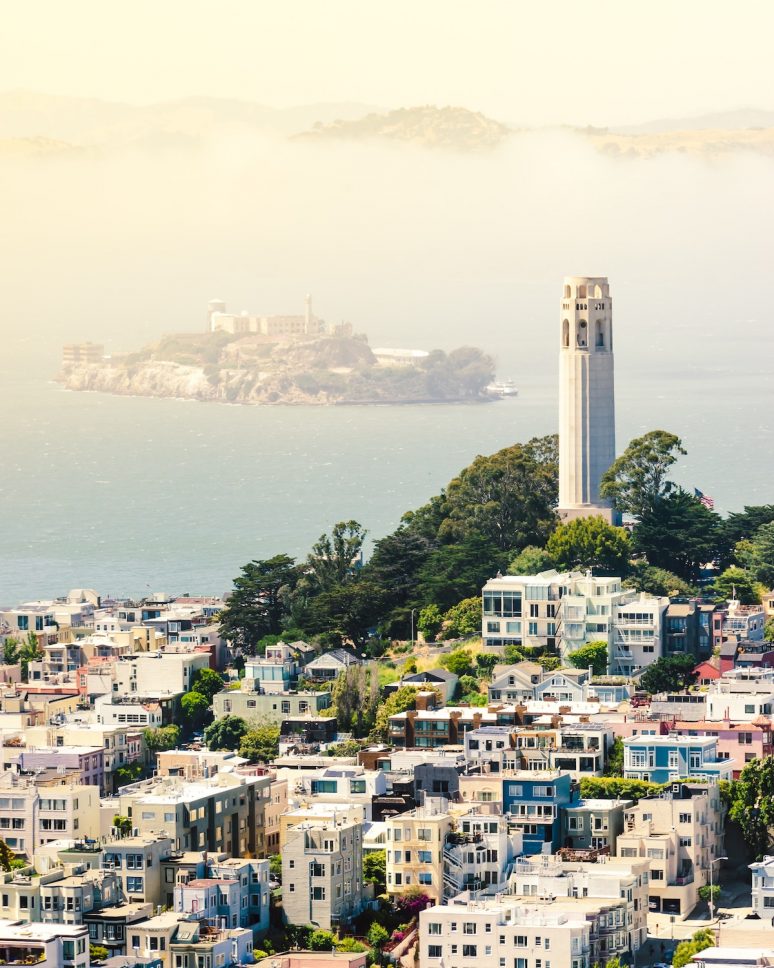 DAY 2 – SAN FRANCISCO TO MONTEREY
Drive down the Pacific Coast Highway from San Francisco to Monterey, which will take about 2 hours and 45 minutes
ALONG THE PACIFIC COAST HIGHWAY
Natural Bridges State Park (1 hour and 45 minutes from San Francisco) is a great photo op! Subject to the Northern California fog, the state beach is haunting and beautiful. Visit during a clear sunset and you'll be treated to a beautiful view of the sun through the natural rock formation.
Santa Cruz Boardwalk (2 hours from San Francisco), offers one of the most historic boardwalks in the state. The Santa Cruz boardwalk is a fun place to stop along the drive South to play a quick game of mini golf and snack on saltwater taffy! Not to be confused with San Francisco, Monterey also has a Fisherman's Wharf (2 hours and 45 minutes from San Francisco), with small shops and restaurants. Before leaving town, be sure to follow the sound of the seals to see them sunbathing underneath the docks.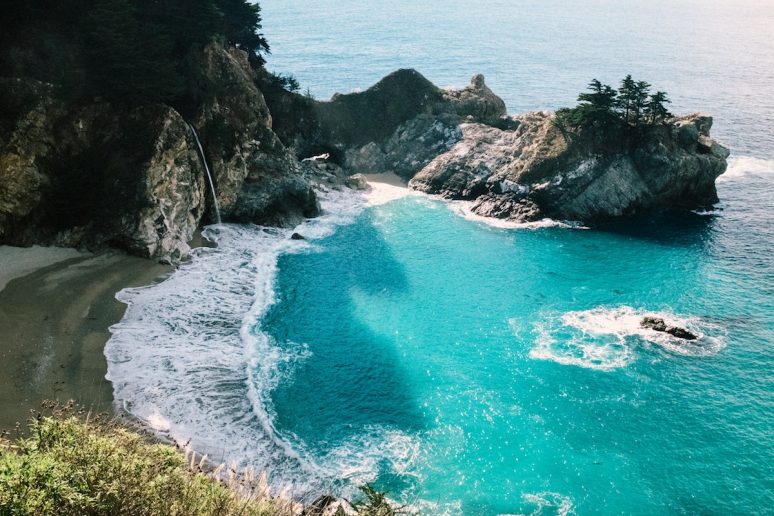 WHERE TO STAY IN MONTEREY
The waterfront in Monterey isn't anywhere near as sprawling as San Francisco. Much of what you find for hotels will be near Fisherman's Wharf and the waterfront. Near Fisherman's Wharf there's a Marriott, the Monterey Hotel, and Portola Hotel & Spa.
Not knowing much about the area, we were pleasantly surprised by the Portola. The hotel is located across the street from the ocean in Portola Plaza, a cute little courtyard with a gallery and a French crepe bakery. The hotel itself had a casual pub as well as a more upscale restaurant with local seafood.
Near the Aquarium, about 2 miles up the coast from the Wharf, there are a few more upscale hotel options. Both the Intercontinental Hotel and the Spindrift Inn are within walking distance of the Monterey Bay Aquarium as well as another small area of shopping and dining.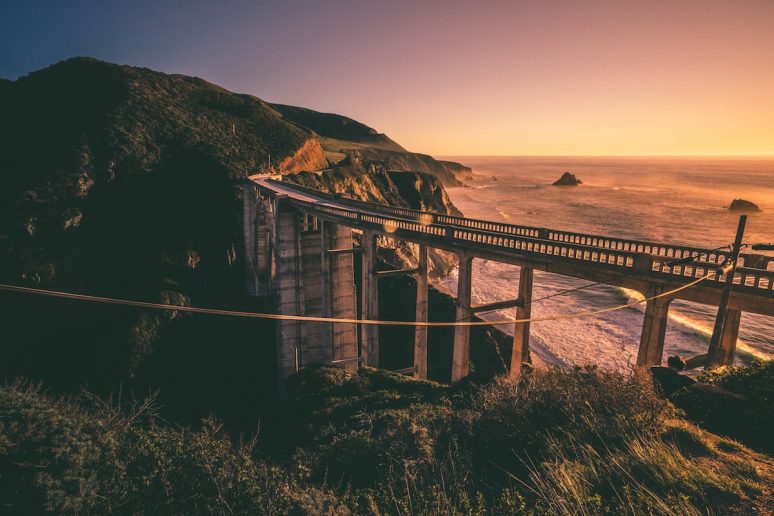 DAY 3 – MONTEREY TO SANTA BARBARA
Continue down the Pacific Coast Highway from Monterey to Santa Barbara, about 4 hours
ALONG THE WAY
Check out Pebble Beach and 17-Mile Drive (15 minutes from Monterey). Following Route 1 south from Monterey will bypass Pebble Beach, but the detour is worth it, especially if you're traveling with a golf fan. The resort is one of the top courses in the world, nestled off of the 17-mile drive through the Del Monte Forest. The winding drive will add about a half hour to an hour to your commute south but it's a worthwhile stop to check off of your bucket list. Shortly before entering Big Sur, you'll cross the Bixby Canyon Bridge (40 minutes from Monterey). It is a popular scenic overlook point and one of the prettiest bridges along Route 1.
Big Sur (1 hour from Monterey) is a must-visit while driving down the Pacific Coast Highway. I wish we had more time in Big Sur, but we took time to stop at most of the scenic overlooks to take photos of the cliffs, waterfalls and Pacific Ocean views. Be sure to pull over for Pfeiffer Beach and McWay Falls. Hungry? The most popular place to have a meal with a view is Nepenthe (which has gorgeous ocean views), but we stumbled upon the Whale Watcher's Cafe, a little farther down Route 1 and loved the charm of the little diner.
Hearst Castle (2 hours and 40 minutes from Monterey) is another must-visit. Up on a hill south of Big Sur sits the Hearst Castle – a popular tourist destination for a good reason: the mansion is beautiful. The tours up to the castle end at 4 o'clock, so be sure to get through Big Sur with time to stop.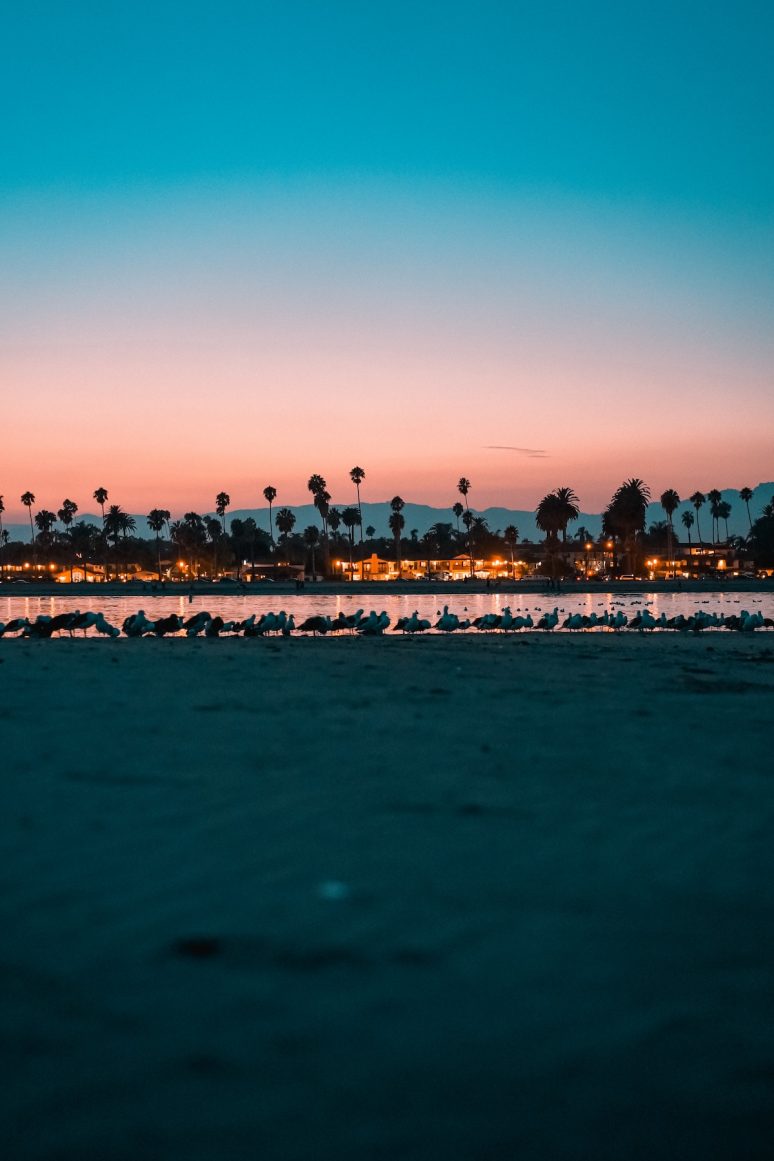 WHERE TO STAY IN SANTA BARBARA
The main street along the beach in Santa Barbara, Cabrillo Blvd, is flush with small inns and hotels, all a quick walk to Stearn's Wharf. We checked into Hotel Milo and were pleasantly surprised by the private balconies and communal fire pits in the hotel's courtyard. There are about a dozen of these small hotels within a two block radius; each offering its own interpretation of a laid back California vibe.
Downtown Santa Barbara is only a mile and a half walk from the water and offers more shopping, dining and galleries. The Kimpton Canary in downtown has an amazing rooftop pool for guests.
Read top things to do in the city in our Santa Barbara Bucketlist article.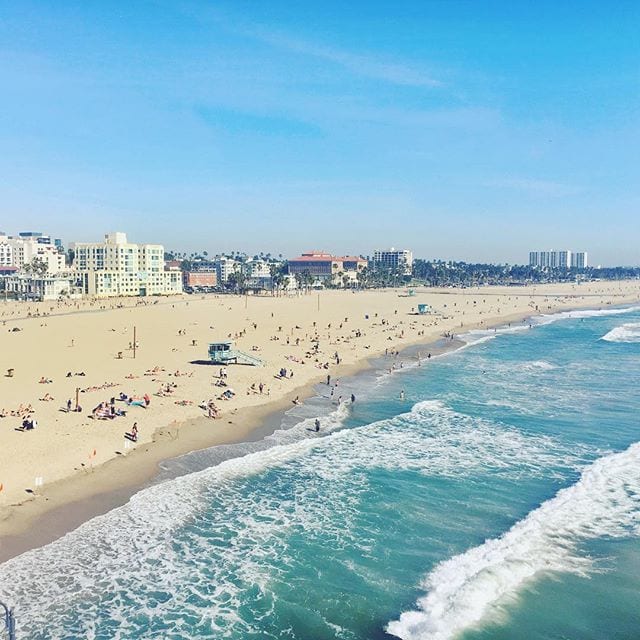 DAY 4 – SANTA BARBARA TO SANTA MONICA
Take the Pacific Coast Highway from Santa Barbara to Santa Monica, a journey of about 2 hours.
After a few days of intermittent fog, waking up to warm sunshine in Santa Barbara was literally a breath of fresh air. The drive from from Santa Barbara to Santa Monica takes about 2 hours depending on traffic. We didn't have any planned stops on the quick drive down to Santa Monica, but the upon entering Malibu the views of mansions on the left, and beaches on the right non-so-subtly signal your entrance into the glitz of greater Los Angeles.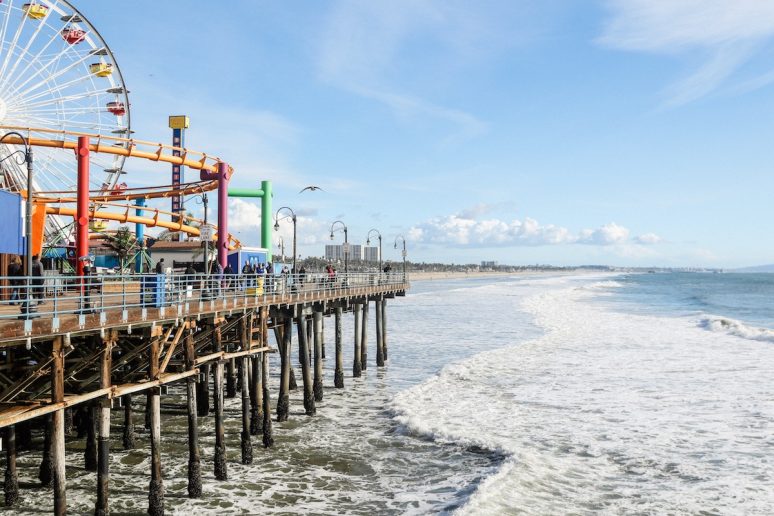 ALONG THE WAY
Venice Beach (2 hours from Santa Barbara) is one of the most artistic, free spirited neighborhoods of Los Angeles. You'll come across sidewalk performers, skate parks and a slew of small bars along the water. Iconic Santa Monica Pier is located just a couple of miles up the beach from Venice and worth a visit. A massive dock with carnival games and rides, full restaurants and live entertainment, the Pier is an easy place to spend a full day.
WHERE TO STAY IN SANTA MONICA
Unless you're continuing South, you'll likely be flying out of LAX which is about a half hour drive from Santa Monica. We stayed in Venice for the night, but you could easily spend the night in Playa Del Ray or downtown Los Angeles. The L.A. city limits are so sprawling that we decided to stay just north of the city and save downtown for another trip.
Almost a year later and I'm still romanticizing our stay at The Rose Hotel in Venice. A small beachside inn, the property has only a dozen rooms – half of which share restrooms. It's definitely a community space, but the buttery croissants and fresh coffee press in the morning will make up for any noise you might experience. If you're looking for a local experience, definitely try an Airbnb or boutique inn in Venice.
In Santa Monica, right on the beach, there is a beautiful Loews Hotel, as well as the Hotel California for fans of quirkier décor (although it is a bit more touristy). Up the street, a few blocks from the pier, is the downtown Santa Monica shopping area with a half a dozen hotel properties close to Nordstrom, spin studios and a slew of bars and restaurants.

DAY 5 – VENICE BEACH
We had an early flight back to the east coast, but the last day of our trip we took one last walk down Venice Beach to get a final dose of California sunshine. If you live closer to California and don't have to utilize a full day to travel home, this fifth day would be a great time to venture south to L.A. to wander around Beverly Hills or do a Hollywood studio tour before your flight.
PACIFIC COAST HIGHWAY WRAP UP
I hope you enjoyed this itinerary for the Pacific Coast Highway! It is truly one of the most beautiful and fun drives down the California coast.
---
I hope this article helps you to plan your own visit down the Pacific Coast Highway! If you have questions, tips or updated information about visiting the Garden Route, please share them with readers in the comments.
Want to share your own travel tips by guest writing for We Are Travel Girls? Go to our Contribute page for guidelines and to submit your article.
---
---
Plan Your Trip
---
Read More About California
---
Author
We Are Travel Girls Contributor Rachel Gates
Connect with Rachel on Instagram
---
Pin For Later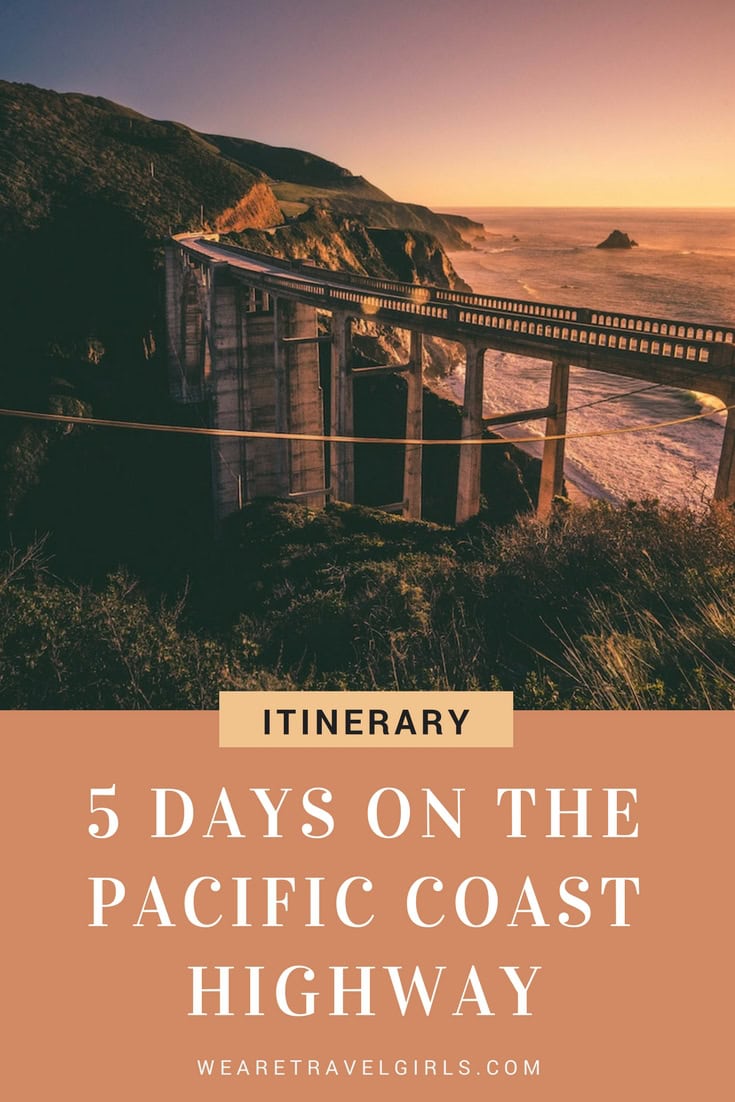 This website is a free resource and to keep it free for our readers we may use affiliate links in our articles. If you make a purchase via the links on our site you will pay the same price, but we may receive a small percentage which helps us to keep bringing you new and informative travel content every day! Any products we endorse we personally use and love. Please see our Disclosures for more information.