As a fitness and travel influencer, I'm always up for an adventure, but I also want to stay fit and healthy while I'm traveling around the world! So I have put together my top 5 simple ways to make sure you get your workout in while on vacation.
1. TAKE A HIKE
If you aren't into hiking, how about a bike ride or a fun stroll around? A vacation to me is about exploring and to discover something new. There isn't a better way to experience sights than by getting your feet on the ground rather than sitting in a car or bus. Always take the most adventurous, route because you will be burning more calories without even knowing it!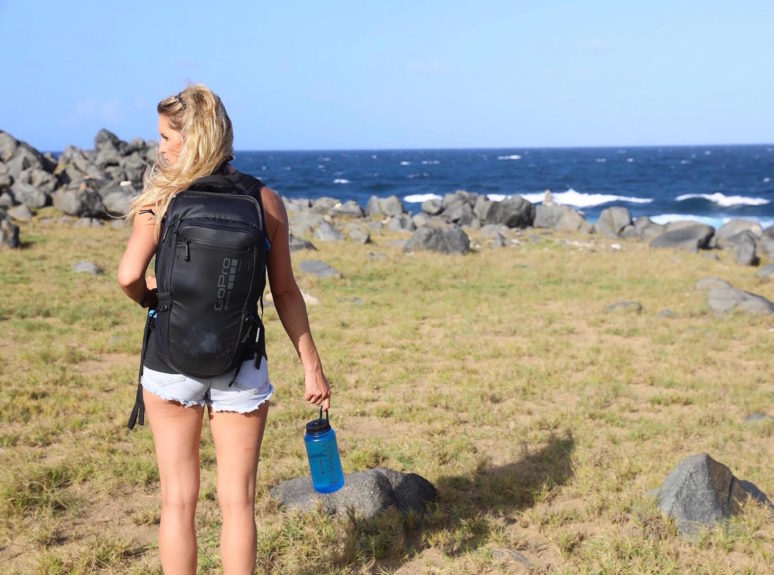 I took some time to walk around Laguna El Junco while on the Galapagos Islands in Ecuador. There were many stairs to get to the top and it was totally worth the climb. The sights were incredible, I felt like I got a workout in and it was accomplishment! While on another island in the Galapagos we did a 4 hour bike ride in the hot sun, we were able to stop at many different beaches along the way and one of these spots was where we got to swim with a penguin. Absolutely one of the best moments of my life! You could not get here by car, but don't be afraid to push yourself while on vacation.

2. HIT THE WATER
If you are vacationing in a tropical location, or one that has a pool, go for a swim. Swimming is great exercise and if you are not used to the activity you will certainly feel like you are getting a great workout in. While in the Galapagos, I visited Kicker Rock, where I did some excellent snorkelling.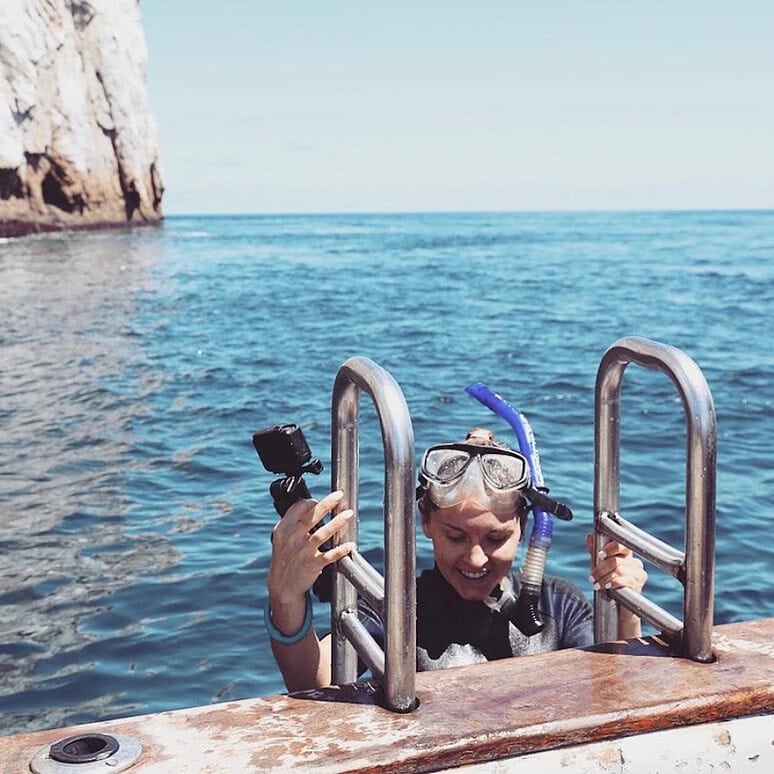 There was a strong current that gave you a little more resistance when you swam, at the time I didn't feel the workout because I was too busy swimming around with turtles! When you're having fun and being active, it doesn't feel like a chore. You'll also sleep better at night because your body needs the rest and most important you will have some cool stories to tell when you get back home!

3. DO YOUR HOMEWORK
Before I travel, I always do my research. I want to know what the hotel offers, where exactly they are located, and if they offer any resort activities. For instance, when preparing for my trip to Cozumel, Mexico, I found The Explorean Cozumel. They have several pools and lounge areas, including a zen pool that I found to be perfect for my yoga practice!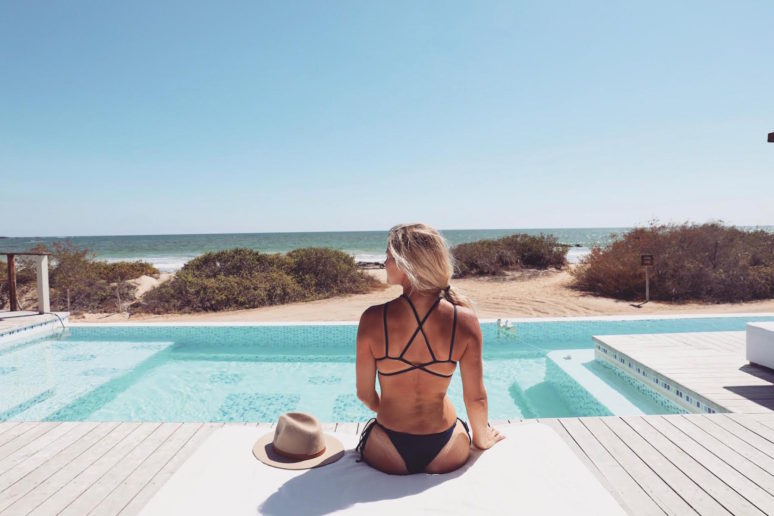 Plan ahead, and think about what you want to do while on your vacation. If you want to spend most of your time at the resort, check to see if they have a fitness center. If you want to go exploring, make sure that the accommodation is centrally located so that you can walk or bike to many points of interest. It takes more time, but you'll be glad you planned!

4. PACK SMART
Sometimes when I'm working out, I like to use weights, but there's no way I'm packing dumbbells in my luggage! So I pack smart – a simple yoga mat and a resistance band is all I need to get a good workout in while on vacation. My own YouTube workouts are around 10 minutes each and can be done with zero equipment, so there really is no excuse. To get started check out my Bikini Arms workout from Cozumel!
You can do squats, lunges, and crunches basically anywhere. Another thing I like to do is just grab some water bottles when I'm at my destination and fill them with sand or stones and voila! Makeshift weights that I can use to increase my burn during the workout.

5. KEEP A SCHEDULE
Finally, keeping a schedule should be a priority. I know that you're on vacation and you just want to have fun, but being all over the place with your fitness and eating can take its toll. You can avoid the bloating, indigestion, and sluggishness by sticking to your normal schedule. That means waking up, going to bed, and exercising at roughly the same times you do at home.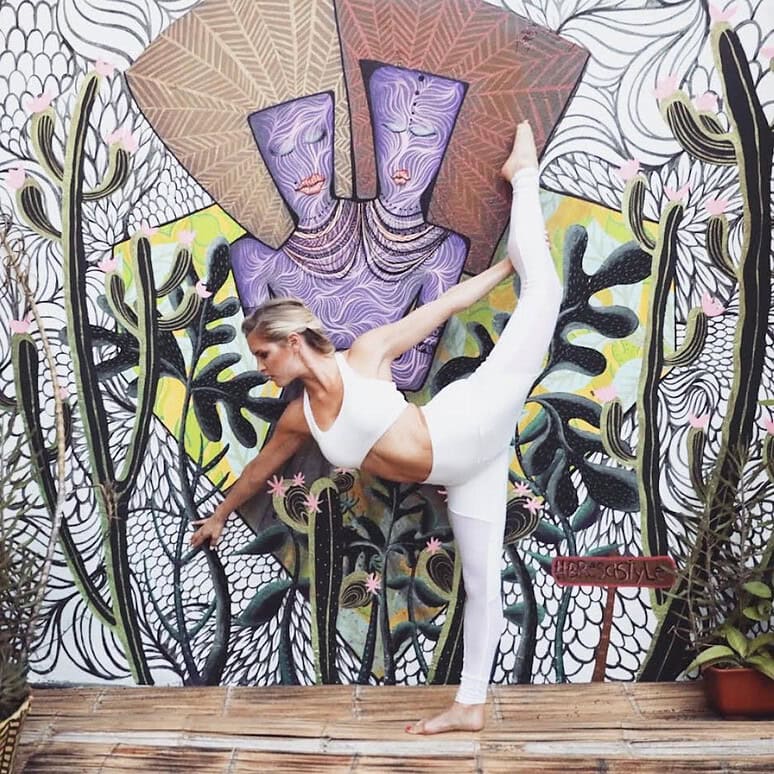 I always say that staying fit and healthy is 20% exercise, 80% nutrition. Be sure to eat consistently, pack healthy snacks, and stay hydrated. Happy traveling, everyone!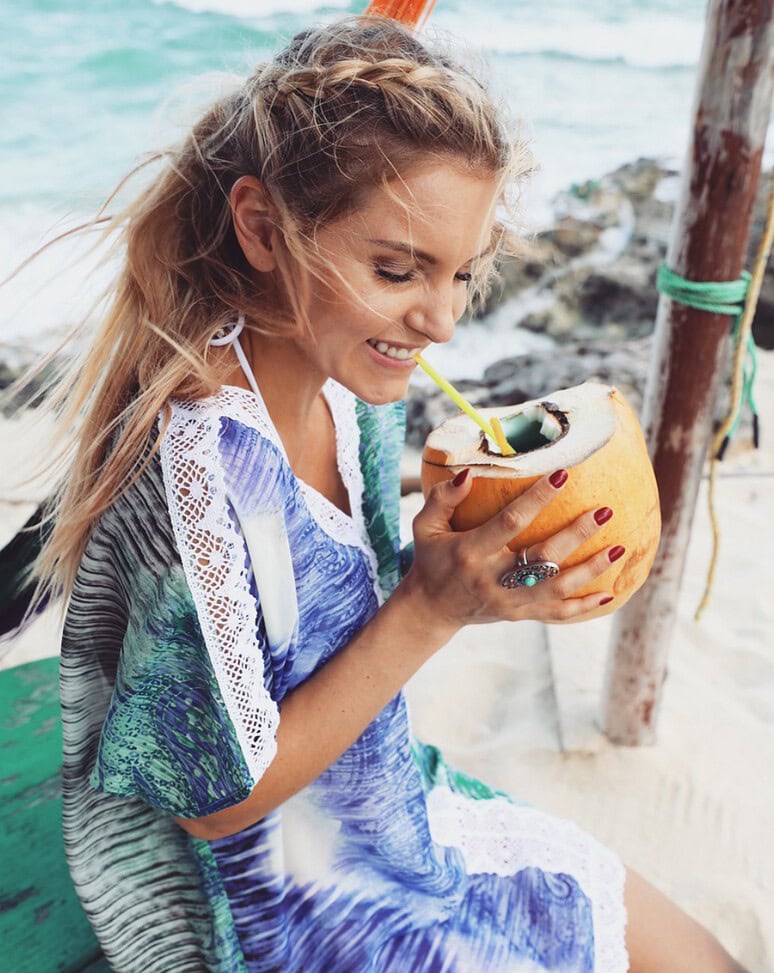 Please share your own workout tips and ways to stay fit whilst travelling with our readers in the comments below. Read Next > How To Prepare For Your Workout
By We Are Travel Girls Senior Contributor Rebecca Louise of Rebecca-Louise.com
Connect with Rebecca Instagram | Facebook | Twitter | Pinterest | You Tube