I'm a seeker of rarity. I love an off the beaten track experience in nature or with a cultural phenomenon. Maybe it's just me, but I'm constantly avoiding crowds by visiting monuments by dawn or under the cover of stars. I'll go to considerable lengths to find places not yet frequented by the masses. I do this because I have a strong dislike of lines, avoid tourist traps like the plague, and can save copious amounts of money on travel costs. But, beyond those three important reasons, I also find few things more captivating than the untamed earth. I find so much joy in listening to local lore of the natural sites that don't fill our guidebooks. There's something soothing about arriving at a unique wonder you've only heard a few illustrious tales of.
My penchant for hidden gems contributed to me swimming with jellyfish as it rained down on a remote Indonesian island. Kakaban is the name of the fascinating and uninhabited island. It's a place in the Derawan Archipelago, off the coast of Kalimantan (the Indonesian portion of Borneo), with daunting limestone cliffs and a dense jungle.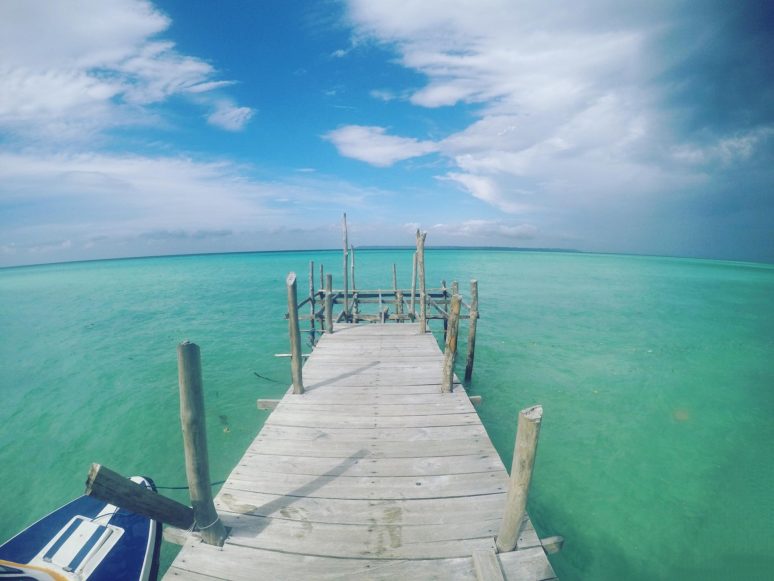 Getting To The Lake In Kakaban
To visit the lake on Kakaban, you'll first fly into Berau airport, then you'll take a two to three hour car ride across Eastern Borneo. The car ride is not very entertaining, but you will sadly have a view of the rampant illegal logging, as well as slash and burn fires that are devastating the environment in this area. After this, you'll take a 30 minute boat ride to the Derawan where you can stay during the trip. Unless you choose to stay at the farther removed, but incredibly beautiful Maratua Island, the most popular accommodation on this island is Maratua Paradise Resort.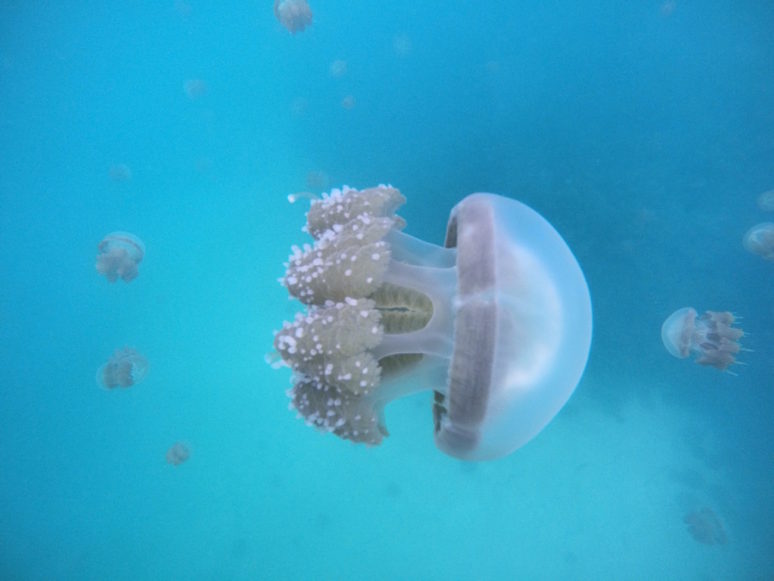 Where To Stay
On Derawan I stayed at the Derawan Dive Lodge. Alternatively, you can try the Sari Cottages, where you can stay in an overwater bungalow with rooms starting at about $9 USD (with fan) or $15 USD (with AC). As you can see this trip can be done on a budget, particularly if you find people to split the cost of transportation with!
Now, I think it's fair to make the claim that Palau in Micronesia is on the bucket list of many travellers. The jellyfish lake there has been the center of significant news coverage, particularly because they are not harmful to humans and many people have been posting images to social media swimming with them. In spite of the popularity and fame of Pulau, in more recent years there has also been talk that the jellyfish population declining. This past May, National Geographic reported that the throngs of golden jellyfish in Palau have started to vanish, so Kakaban offers an alternative to Palau where you can swim with four different species of jellyfish that have also evolved without stingers
To reach the lake you wander through the jungle for around 10 minutes. Once there you can enter the lake, which is a pleasant temperature of 28°C or 82°F and immediately be greeted by thousands of jellyfish. Swimming with jellyfish that lack stingers was a totally unique activity that not every traveller has had the opportunity to experience and I would thoroughly recommend it.
As an alternative to Kakaban or Palau, for readers in Southeast Asia, there is a similar lake in Siargo (The Philippines) and one in the Togean Islands (Indonesia)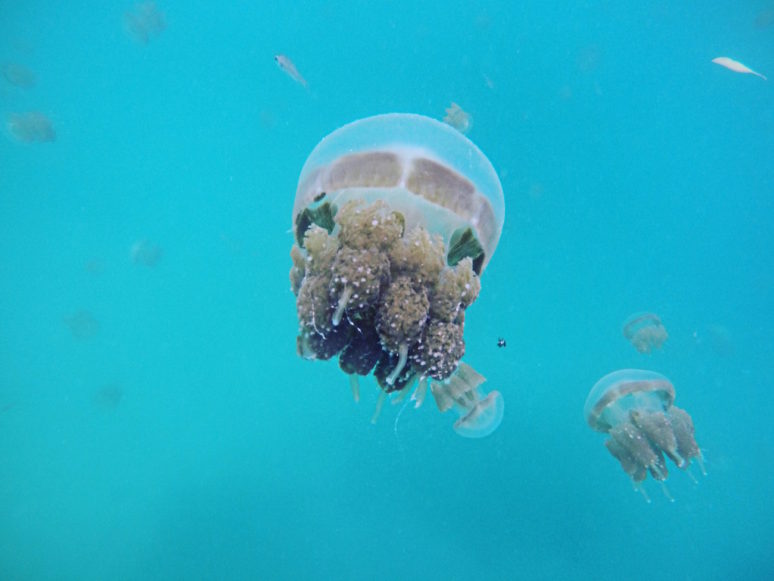 ---
By We Are Travel Girls Contributor Tatyana Ray
Connect with Tatyana on Inst
---
Pin For Later