When my friends ask me which destination is my all-time favourite, Iceland is always top of my list. Their next question is when is the best time to go, so I wanted to put together a guide to help plan your visit!
I love Iceland. It's a country of extreme diversity. From vibrant cities with trendy cafes and bars, to vast rocky landscapes and gigantic glaciers blanketed in snow, to wild black-sand beaches and moss-covered lava fields formed by volcanic eruptions many hundreds of years ago.
The weather is equally as intense. It's not uncommon to experience sunshine and rain showers at the same time, followed by dark storm clouds rolling in with heavy snow and brutal wind squalls. The wild, unforgiving landscapes of Iceland give off the impression that nothing would survive here. Yet cute puffins migrate here to nest in the spring and summer time, and little unique-looking horses have adapted to withstand the harsh winter conditions.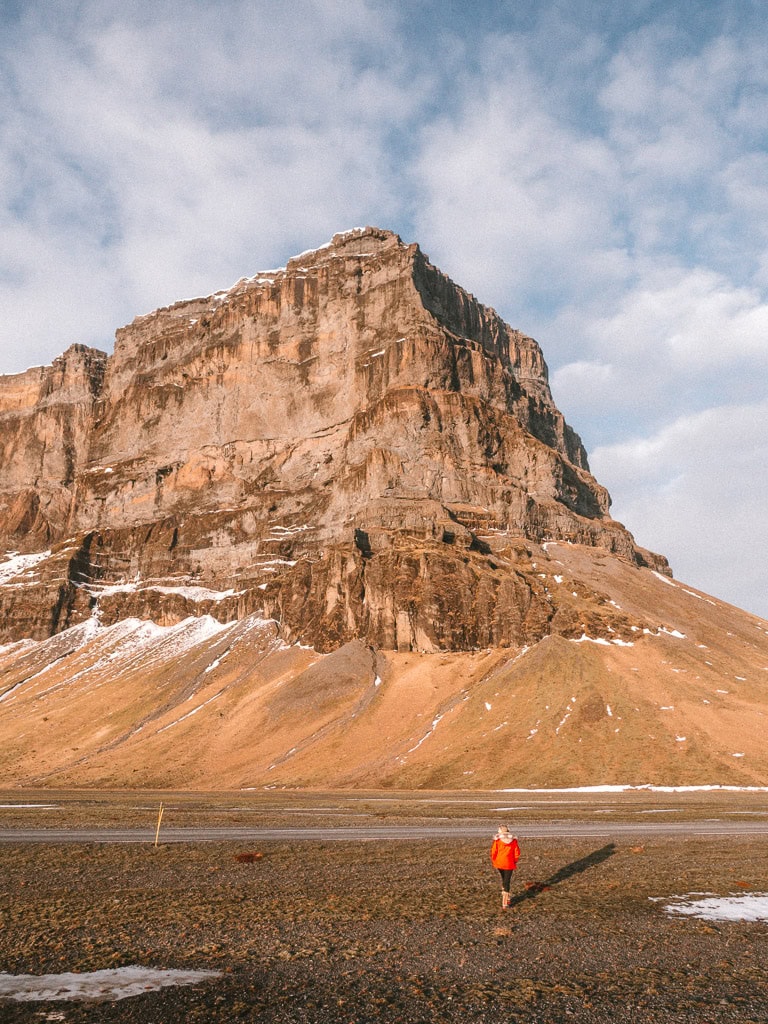 Iceland's seasons are vastly different. So how do you decide which season is the best time to visit Iceland? The answer to that question is far from simple. There are so many things to see and do in Iceland during the Spring, Summer, Winter or Fall.
This article breaks down the best time to visit Iceland in terms of some of the key highlights and activities that Iceland has to offer. This will help you to decide which time of year to plan your trip. However, if like me, you fall head over heels in love with Iceland, you might end up planning a second or third visit to experience this beautiful country at different times of the year.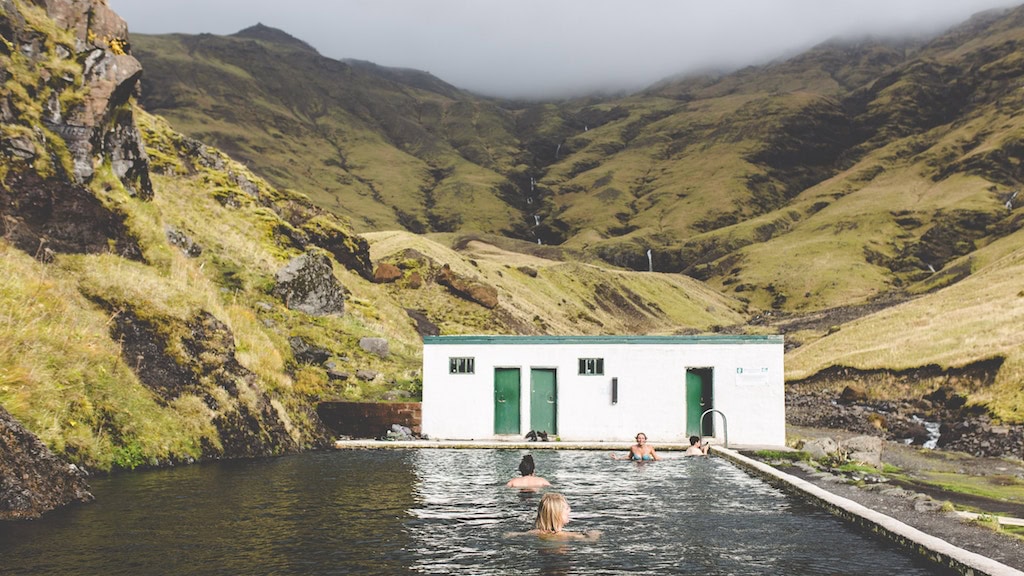 BEST TIME FOR A ROAD TRIP
It's possible to drive all the way around Iceland's Ring Road, a 1300km loop around the island, any time of year. The summer-time (June to September) offers the best driving conditions, particularly if you don't have a lot of experience driving on snow and ice.
However, the most popular road-trip in Iceland is the Golden Circle and South Coast routes. Doing this trip in 7 days is possible. But if you have your heart set on doing the full Ring Road trip around the entire island, you will want to allow at least 10-14 days.
During the winter, extra caution must be exercised while driving. It's advisable to hire a four-wheel drive and brush up on your ice-driving skills. Many roads are well-cleared of snow, and the Icelandic Met Office provides daily updates on road conditions. However, during extreme snow-storms or heavy wind, many roads will be closed.
The F-roads (mountain roads only accessible by 4WD) are generally closed in the winter. So, if you plan to go exploring the mountainous parts of Iceland, then you're best to plan your trip between mid-June to mid-September. F-roads should generally be avoided unless you have experience driving on all-terrain.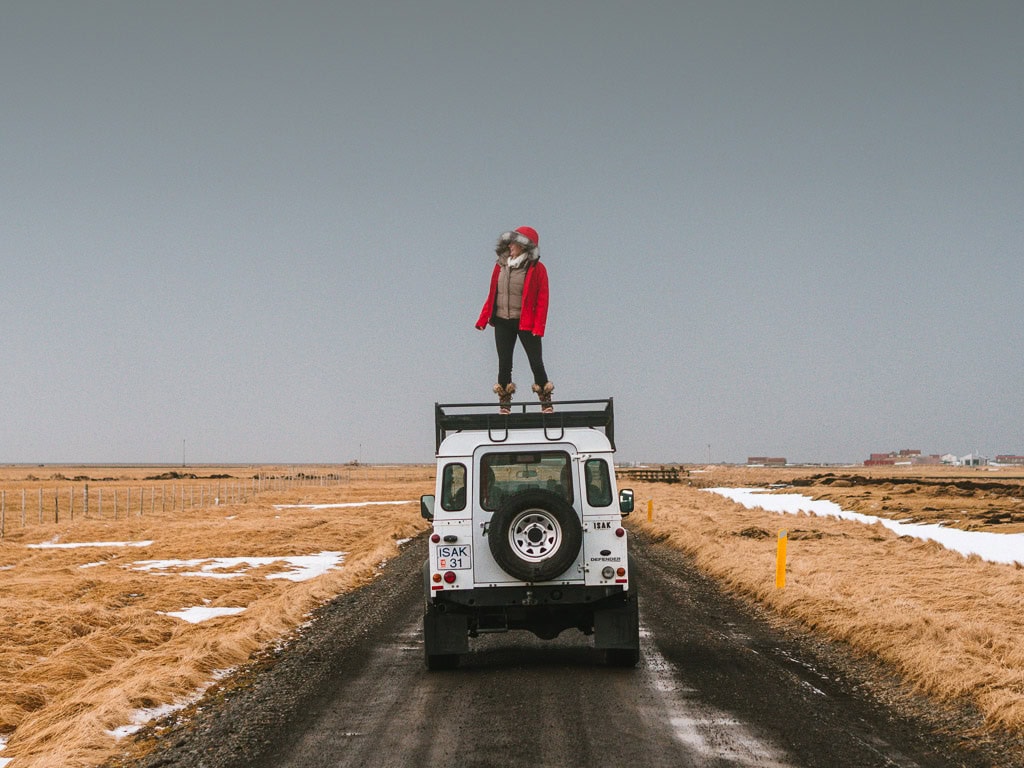 BEST TIME TO VISIT ICELAND TO SEE THE NORTHERN LIGHTS
The best time of year for viewing the Northern Lights is November to March. However, it's possible to see them as early as mid-October up until early April.
However, the one warning I give most people about the Northern Lights in Iceland is, there are no guarantees. It's not uncommon for storms and cloudy skies to get in the way of optimal Northern Lights viewing conditions. It's not advisable to visit Iceland solely to see the Northern Lights, as you might end up disappointed.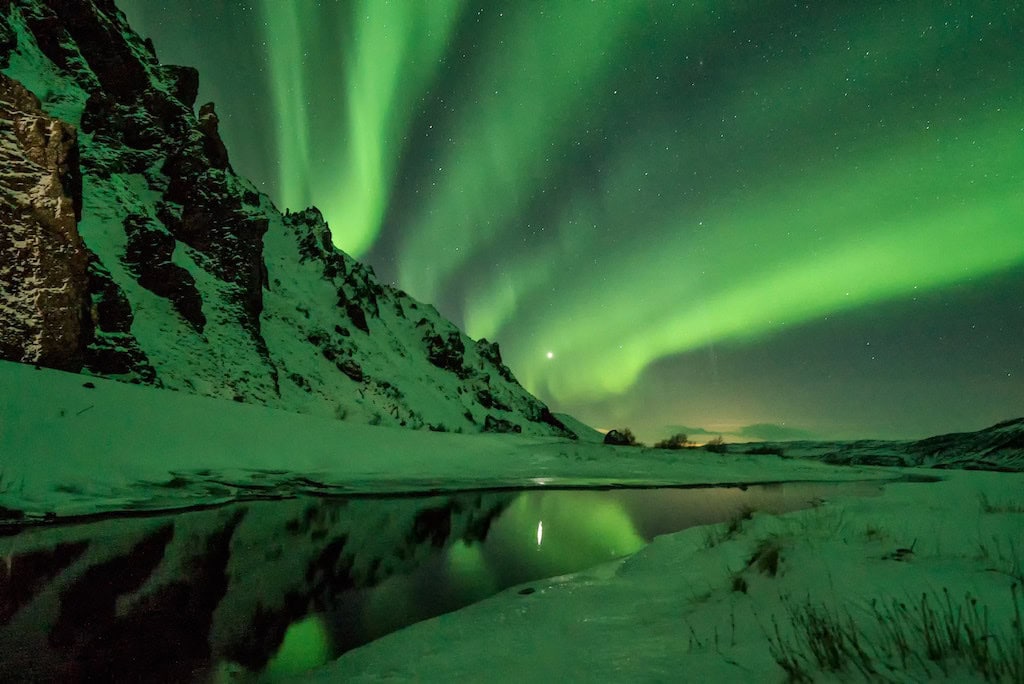 BEST TIME TO VISIT THE BLUE LAGOON
The Blue Lagoon is open to visitors year-round. However, the Summer (June through to August) offers extended opening hours because of the midnight sun. The least crowded hours are generally closer to closing time. Unfortunately, you can't just show up and get in anymore. The popularity of this unique tourist attraction means you now need to book online before arriving.
Winter can also be an excellent time to visit as it's possible to witness the Northern Lights while floating in the lagoon. Late-Fall can bring strong winds and colder temperatures, which might make you think twice about stripping down to swimwear.
If you're looking for a less-crowded Blue Lagoon experience, consider staying at the Silica Hotel or The Retreat at the Blue Lagoon. These hotels have their own private lagoon for hotel guests only.
There are also many naturally-occurring hot springs in Iceland which can be accessible all-around, but they can sometimes difficult to reach in winter if the only accessible route is via F-roads. Always be careful bathing in unknown hot springs, as the temperatures can sometimes reach boiling point.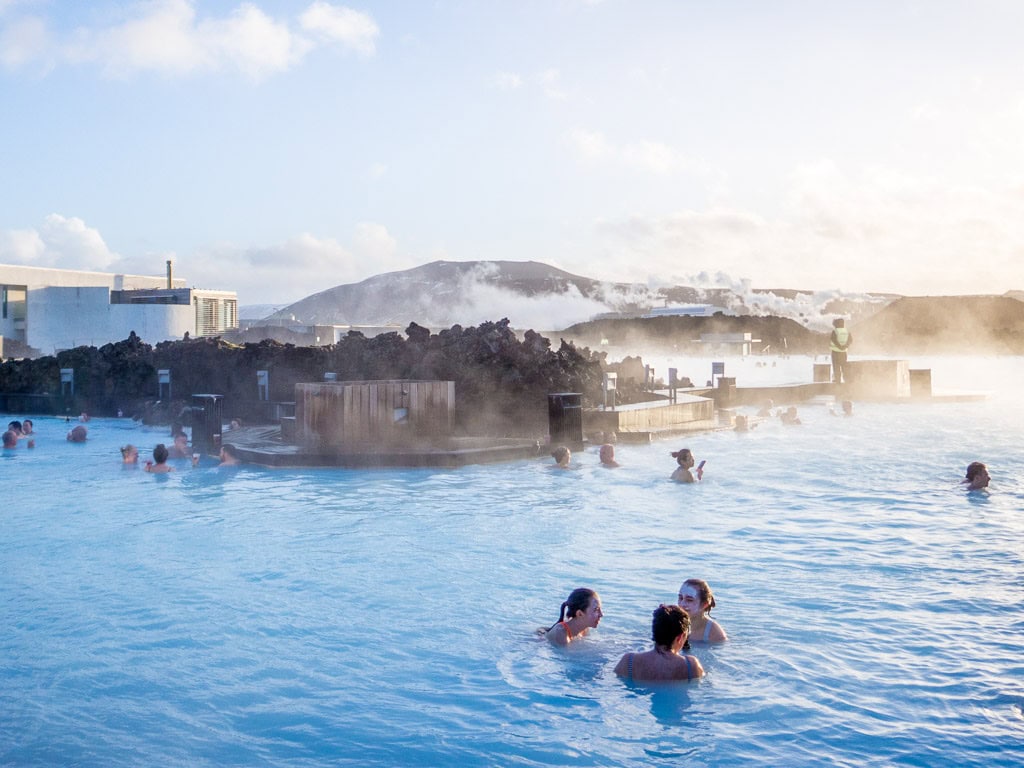 BEST TIME FOR GLACIER ACTIVITIES
Snowmobiling
Snowmobiling on the glacier is an incredible experience and one that is offered year-round, depending on the weather. Visibility can change from being perfect to having zero visibility in a matter of minutes.
But when is the best time to book this activity? Spring is usually the best time for snowmobiling on the glacier, with plenty of fresh snow and the weather getting better at this time of year. We went snowmobiling on Langjökull in the middle of Winter and were blessed with absolutely perfect conditions and even got to see inside an ice cave.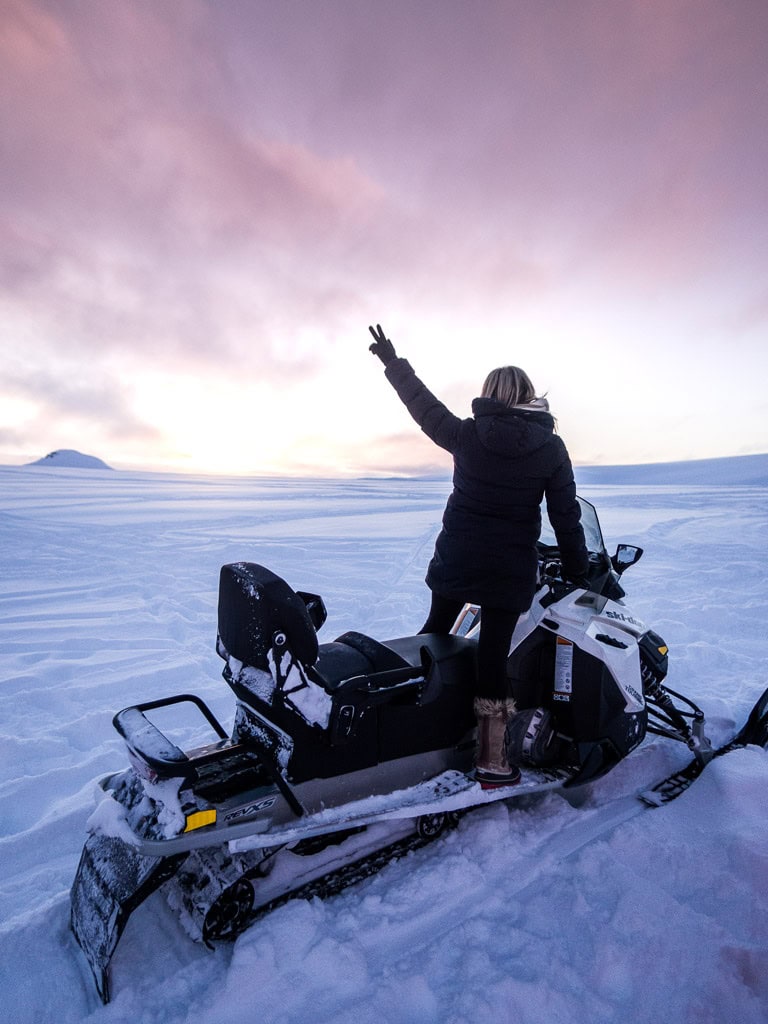 Glacier Hiking & Ice Climbing
Glacier Hiking and Ice Climbing are year-round activities in Iceland. However, glaciers are very active, moving all the time, more so in the Spring and Summer when the weather warms up and the ice begins to melt. For this reason, tours may be cancelled at any time if it is deemed unsafe.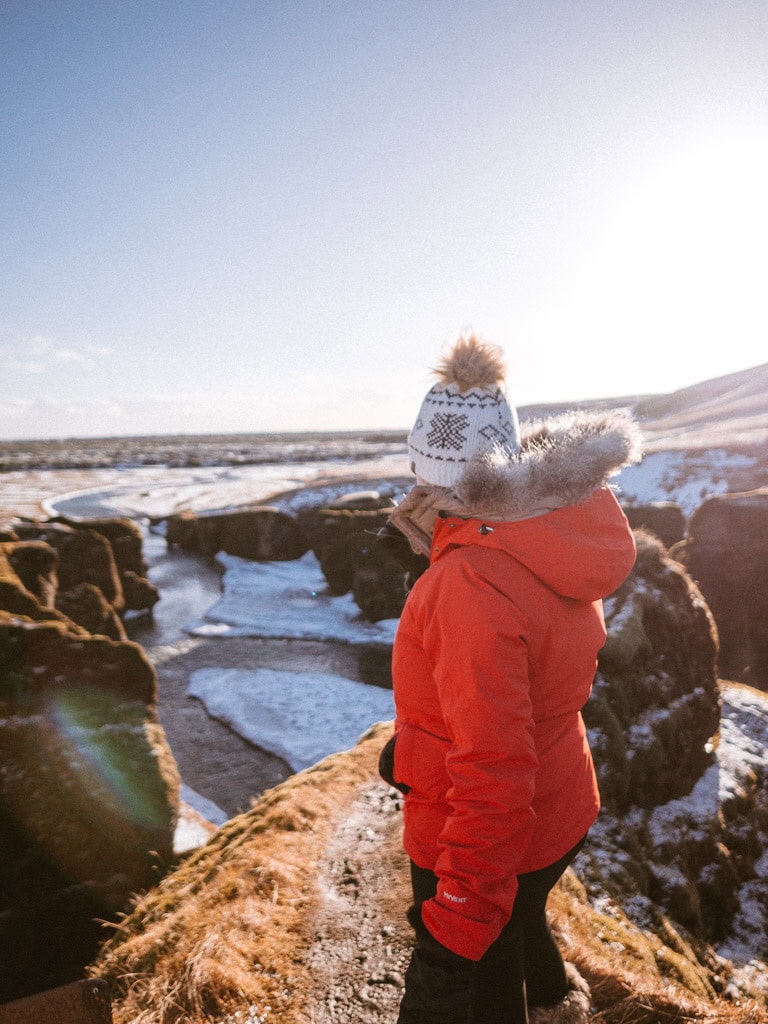 Ice Caving
Ice Caving is generally only offered during the winter. The Ice Caving season ends around the beginning of Spring, which is when the caves begin to fill up with water and are inaccessible. Be aware that on occasions the Ice Caving tours may also be cancelled during the Winter, if intermittent heavy rains may render the caves unsafe to enter.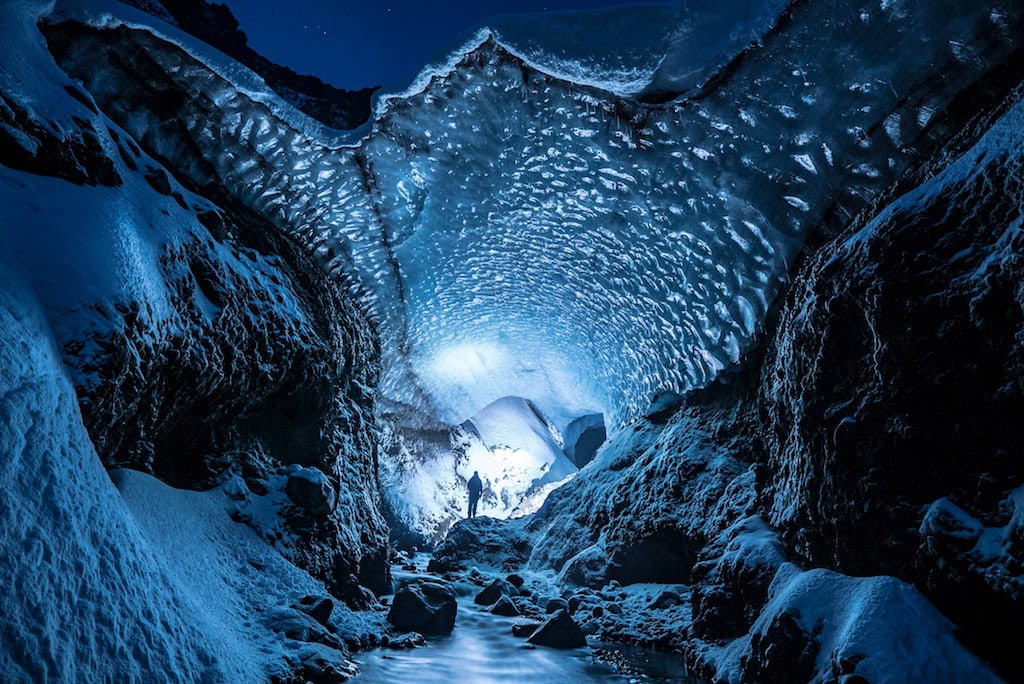 BEST TIME TO VISIT ICELAND TO GO CAMPING
The absolute best time to go camping in Iceland is Spring and Summer. However, Summer-time brings with it a lot of campers, so expect the campgrounds to get crowded.
When I visited in winter, we met a couple who were campervanning around Iceland, and we thought they were crazy, as the temperature drops to around -10°Celsius (14°F) on average at night. However, on the positive side, they managed to witness spectacular Northern Lights displays right from the comfort of their bed.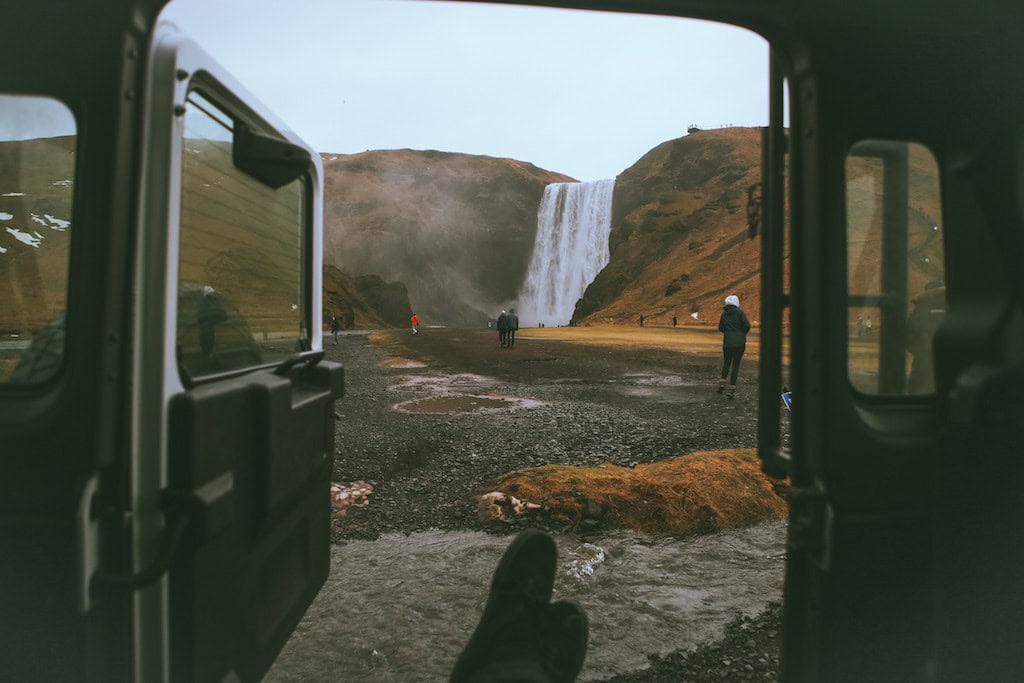 BEST TIME TO SEE THE PUFFINS
The puffins begin to migrate back to Iceland's coastal regions during the Spring, between mid-April and mid-August. You can go on a Puffin-watching tour and see these cute birds nesting in their natural habitat. The best spots for puffin viewing are Vestmannaeyjar, Lundey-Akurey, Látrabjarg, Vigur Island, Dyrhólaey, Papey, Tjörnes and Grímsey.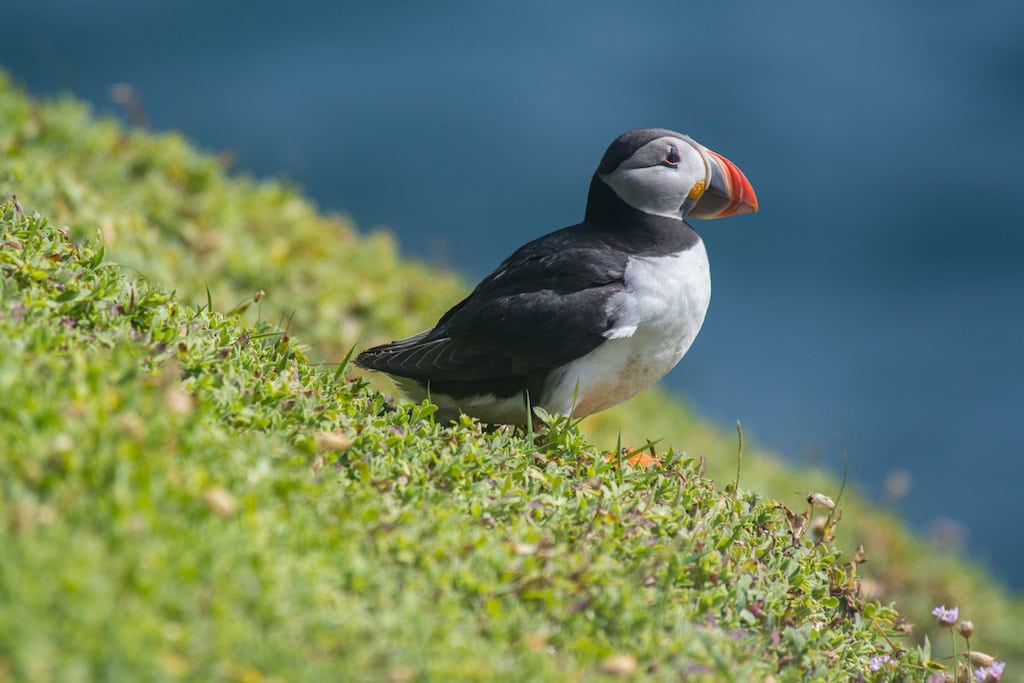 BEST TIME TO VISIT WATERFALLS
The intensity of the waterfalls ramps up during Spring as the ice begins to melt with the warmer weather. This offers spectacular viewing and an opportunity to walk around behind Seljalandsfoss, which cannot be accessed during the winter due to slippery ice.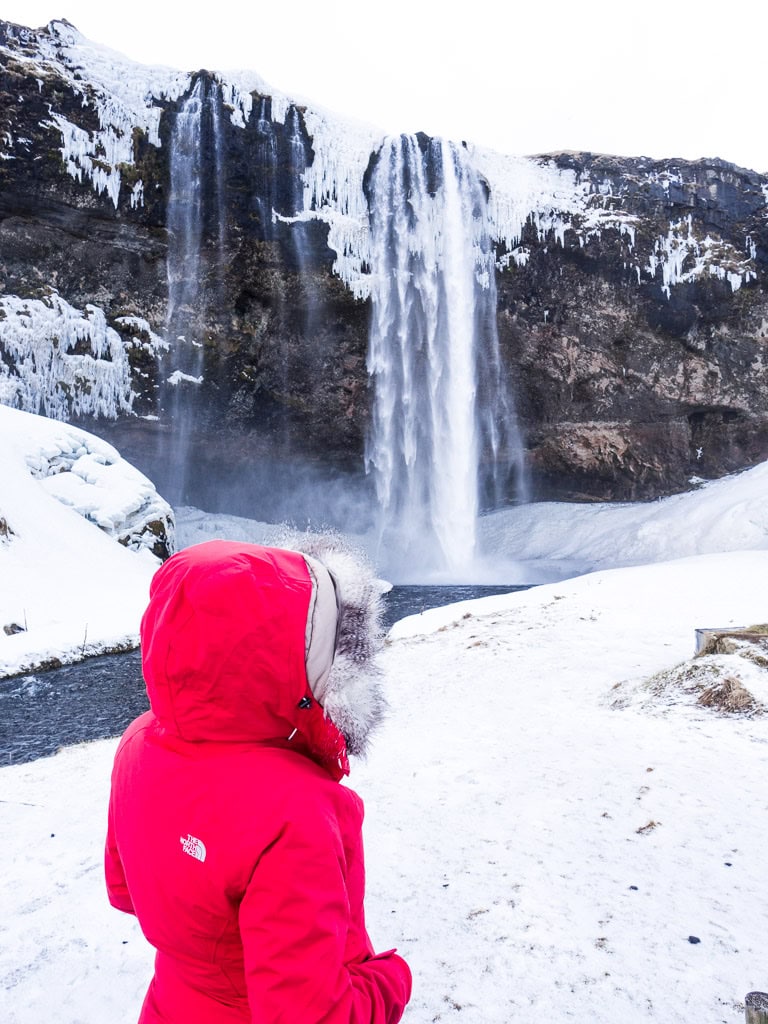 BEST TIME TO GO DIVING IN THE SILFRA FISSURE
Diving or Snorkeling in the Silfra Fissure is a must-do activity on many people's Iceland bucket list. In fact, it is a great activity to do any time of year. The water temperature actually only varies around 2°C (34°F) between summer and winter. So, if you have your heart set on swimming between the two tectonic plates, then you're going to have to squeeze into a dry suit and withstand near-freezing conditions no matter which season you choose to do it.
BEST TIME TO GO WHALE WATCHING
April to October is a great time to go Whale Watching because of the longer days and better weather conditions. But the best months are June and July, when visits from humpbacks, minke and blue whales are not uncommon. Orcas tend to visit the west coast around Snaefellsnes peninsula during the first half of the year.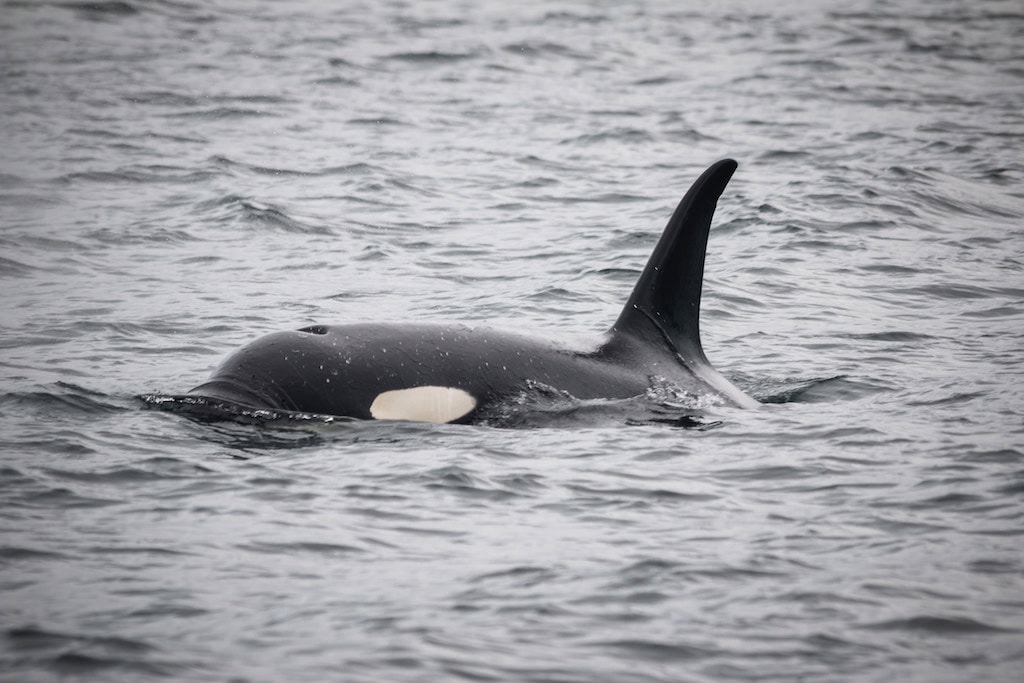 BEST TIME TO GO HORSE-RIDING
Who doesn't want to see the cute and fluffy Icelandic horses? Better yet, try getting up close to them on a horse-riding tour. While some tour operators shut down during the winter, mainly in the North, many operators are open year-round. Again, tours are always dependent on the weather forecast, so you'll have to be flexible.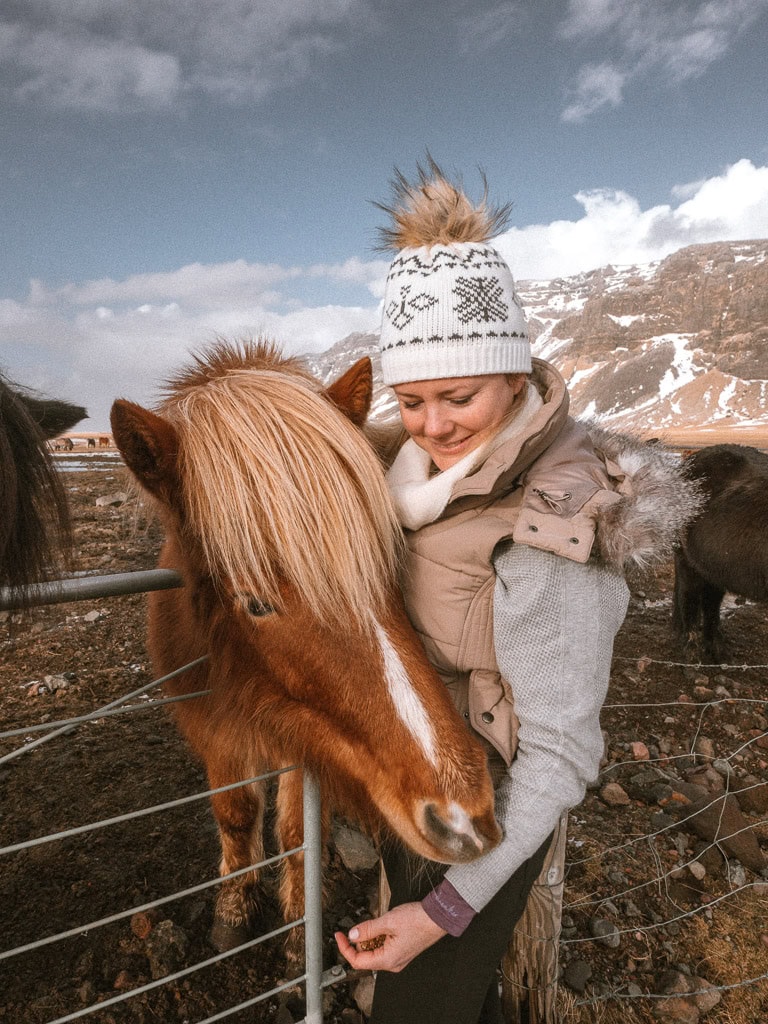 BEST TIME TO VISIT ICELAND TO AVOID THE CROWDS
Iceland has become such a popular tourist destination that the question is not when to visit to avoid the crowds, but where. Summer (June to August) is by far the peak tourist, associated with a rise in accommodation occupancy and rates.
To avoid the crowds in Iceland during peak season, consider exploring the North Ring Road section or the West Fjords. Fewer tourists visit these areas, as they take longer to reach by car. Or perhaps you can plan a hiking trip to get away from the crowds. Also, with the midnight offering up to 21+ hours of daylight, the Summer offers the perfect opportunity to visit Iceland's main tourist attractions when most people are asleep.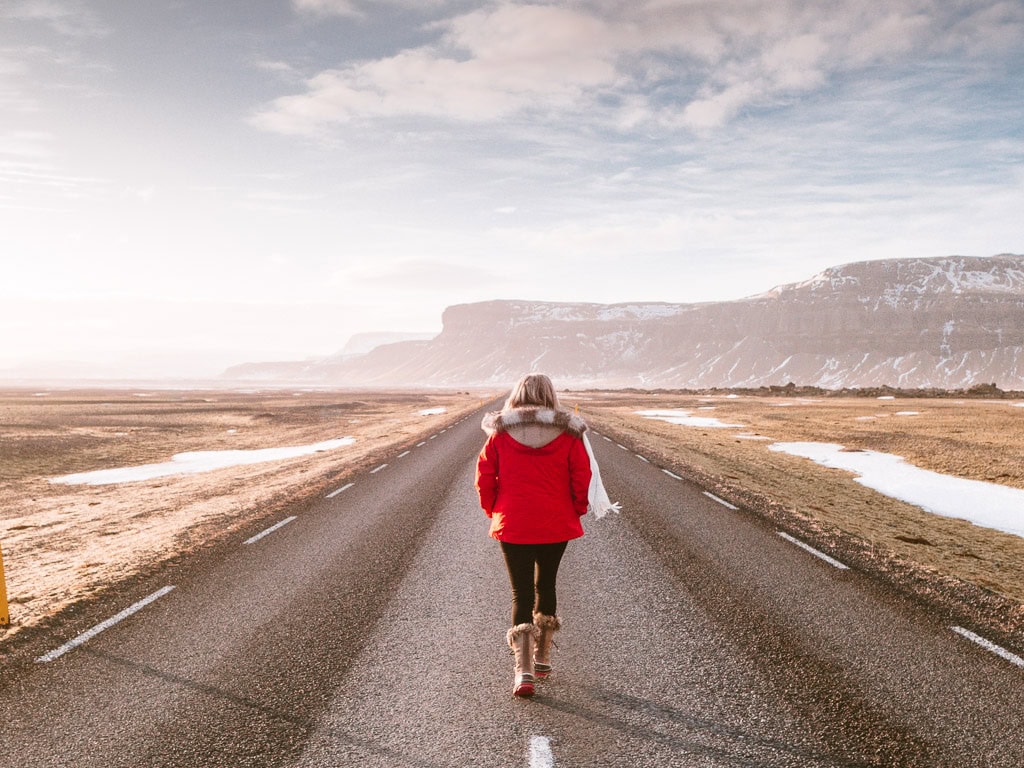 December through February (Winter) are the least crowded months, which also means accommodation is cheap. Be mindful that these months also have the least daylight hours. Iceland has firmly cemented itself as a winter destination over the past few years, so it's not unusual to see crowds at the most popular tourist attractions during winter. The winter also offers some spectacular scenery for photographers.
Theoretically, the Fall (September-November) is classed as the off-season. So, this is also an excellent opportunity to avoid crowds and save a bit of money on accommodation.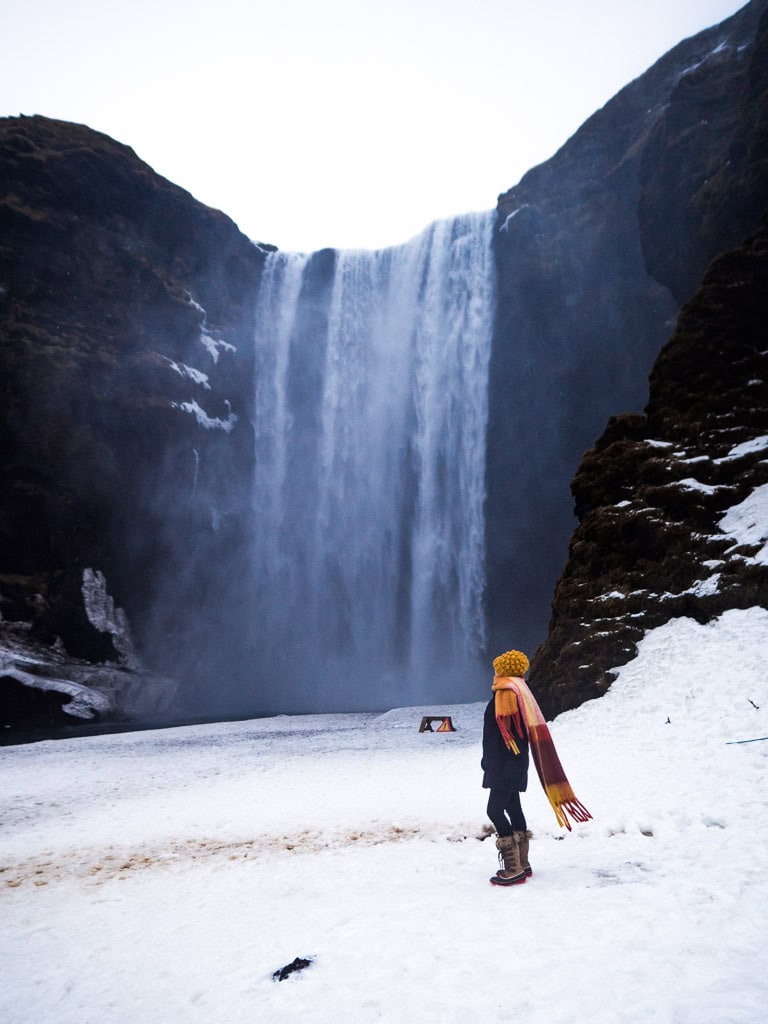 SOME ADDITIONAL TIPS FOR YOUR TRIP TO ICELAND
What to Pack– Layer-up! No matter what season you visit, be sure to pack thermals, sweaters, jackets and weather-proof clothing. Think raincoats, water-proof puffer jackets and weather-proof pants. Ski Gear is also a good option. Iceland's weather is unpredictable any time of year, so it pays to be prepared.
Getting Around– Outside of Reykjavik, public transport is limited. Unless you book on a tour bus, you're best to hire a car (or 4WD) and self-drive around Iceland.
Language– Icelanders speak Icelandic, but English is also widely spoken.
Safety – Iceland is a very safe country. If you're driving on the roads in the winter, be mindful of the risks of black ice and take it easy.
Budget – Iceland is not a budget-friendly destination. With the increase in tourism, prices have become quite expensive over the years. Be sure to do some research and factor the higher costs into your daily budget.
Book Early During Peak Tourist Season – Even when we visited in Winter, I found some hotels were fully booked out as early as 5 months before.
First Time Visiting Iceland?– Read more tips on what to expect when visiting Iceland for the first time here.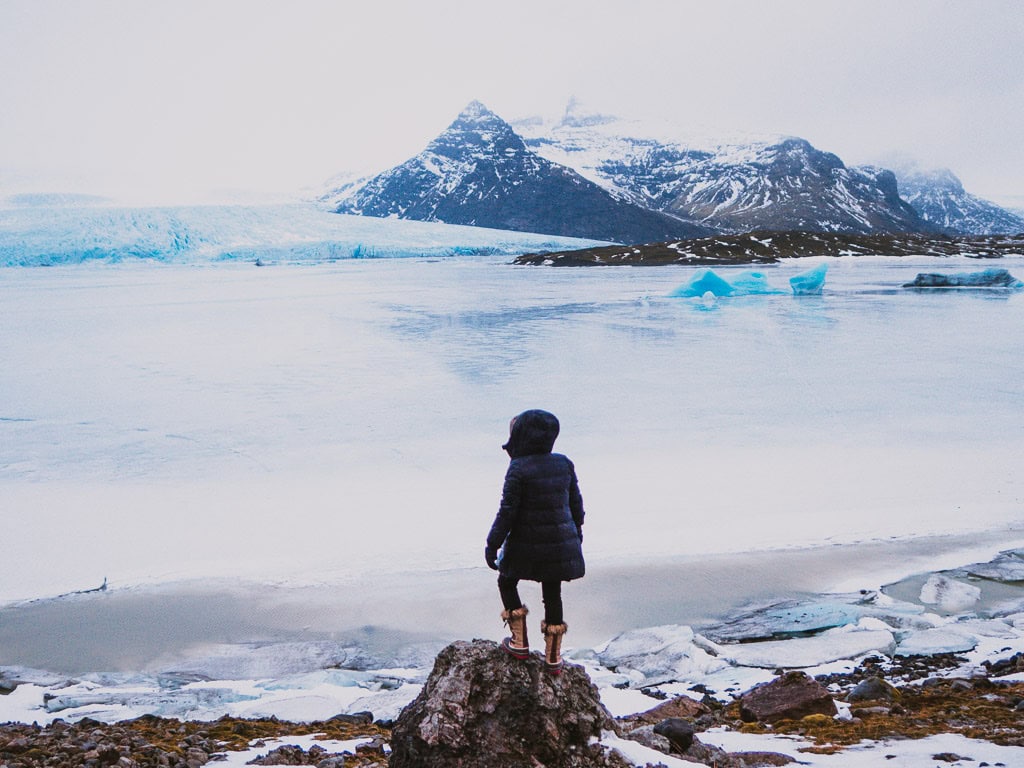 I hope this article helped you plan the best time to visit Iceland based on what you want to do, and I highly recommend everyone visit this amazing country at least once!
---
We hope that this article helped you plan the best time to visit Iceland. If you have any questions about the destination or have your own travel tips to share please leave these in the comments below.
Want to share your own travel tips by guest writing for We Are Travel Girls? Go to our Contribute page for guidelines and to submit your article.
---
---
Our Top Places To Stay In Southern Iceland
---
Read More About Iceland
---
We Are Travel Girls Senior Contributor Amanda Twine of FlyStayLuxe.com
Connect with Amanda Instagram | Facebook | Twitter | YouTube | Pinterest
---
Pin For Later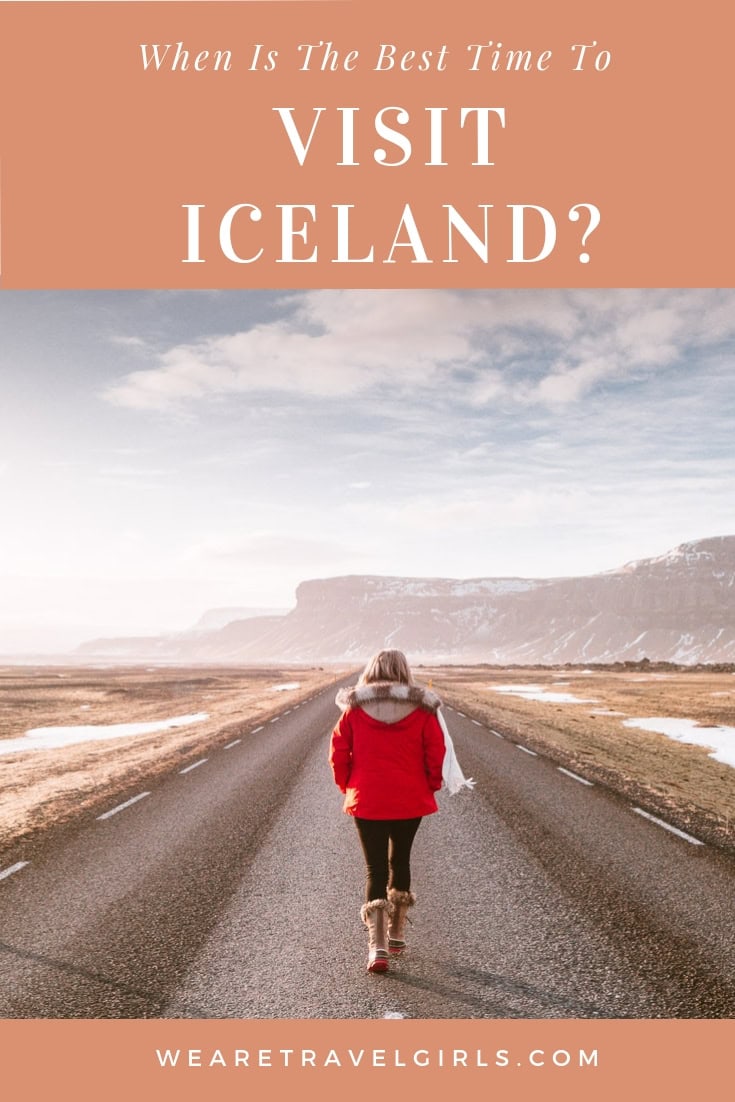 This website is a free resource and to keep it free for our readers we may use affiliate links in our articles. If you make a purchase via the links on our site you will pay the same price, but we may receive a small percentage which helps us to keep bringing you new and informative travel content every day! Any products we endorse we personally use and love. Please see our Disclosures for more information.