You may notice on Instagram's news feed lately that picnic-style parties have been a huge hit. Ashley Tisdale's birthday set-up was a magical Bohemian-style party in her garden with picnic tables, rugs, and throw pillows. If you look at TuulaVintage's blog, you will see her recent Moroccan-style picnic event where she partnered with Moët and other high-profile bloggers. And if you look through popular hashtags such as #wearetravelgirls, #darlingescapes, #sheisnotlost, and #shewhowanders, you will see beautiful picnic parties have become increasingly popular! So, with this inspiration in mind, I would like to share some useful tips for planning an effortlessly elegant picnic.

1.SETTING
You can take your picnic almost anywhere. Decide where to set up before you start. Look around your area for beautiful secluded  spaces. There are so many possibilities. Look for parks, botanic gardens, river banks, lakes or a quite seaside location. You can even use your own home or backyard. My favorite location choice for picnic is the beach. Planning a summer beach picnic in the morning can be crowded and in the early afternoon can be very hot, so for me the perfect time for beach picnics is around sunset.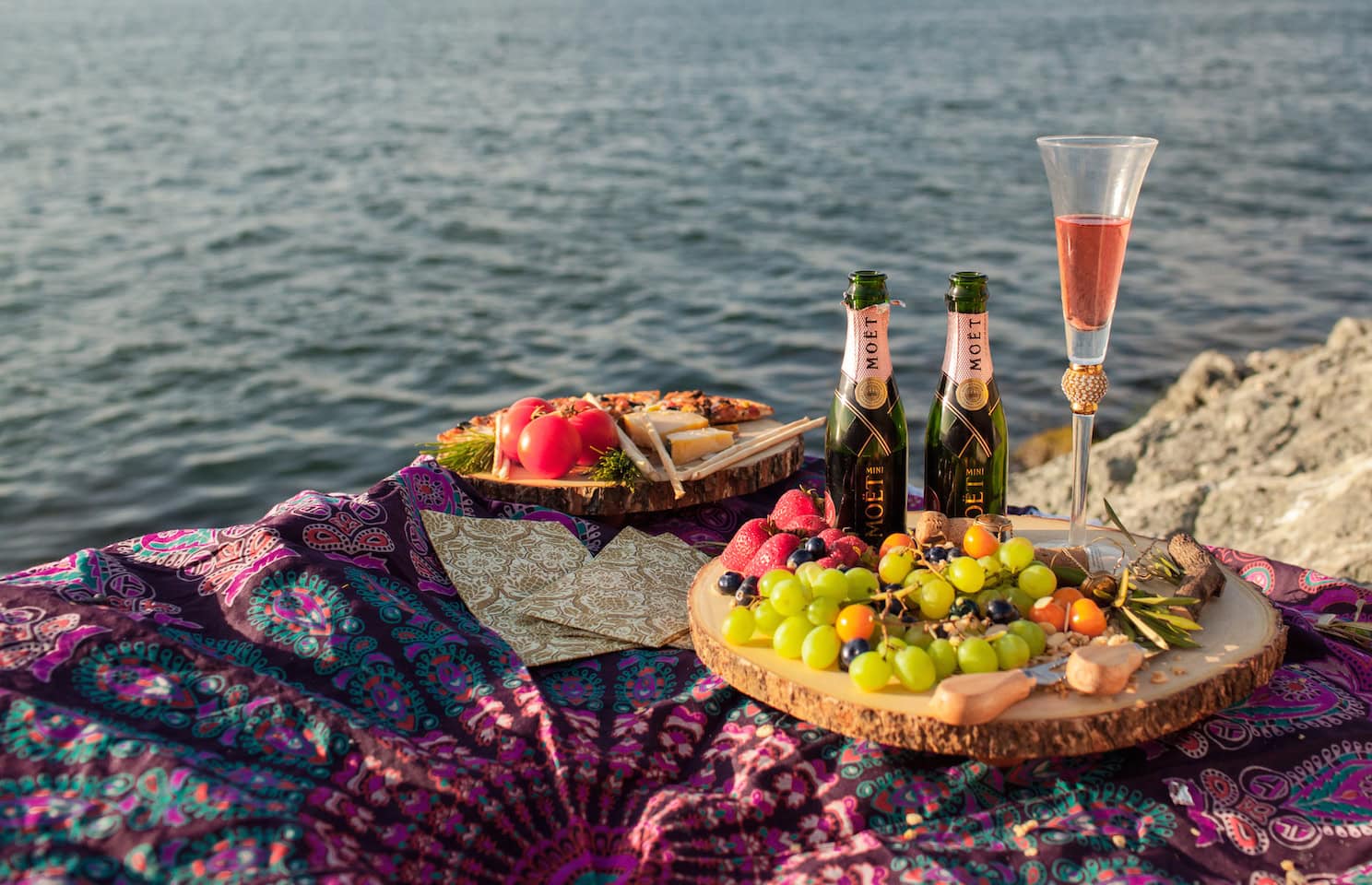 Get to the beach 1-2 hours before sunset. Setting up will take about half an hour, so you want to have everything in place before the sun begins to set so you will be ready for that perfect picture! At sunset, when the sun is coming down, glimmering colorful rays light up the blue sky creating a rainbow of colors for your pictures.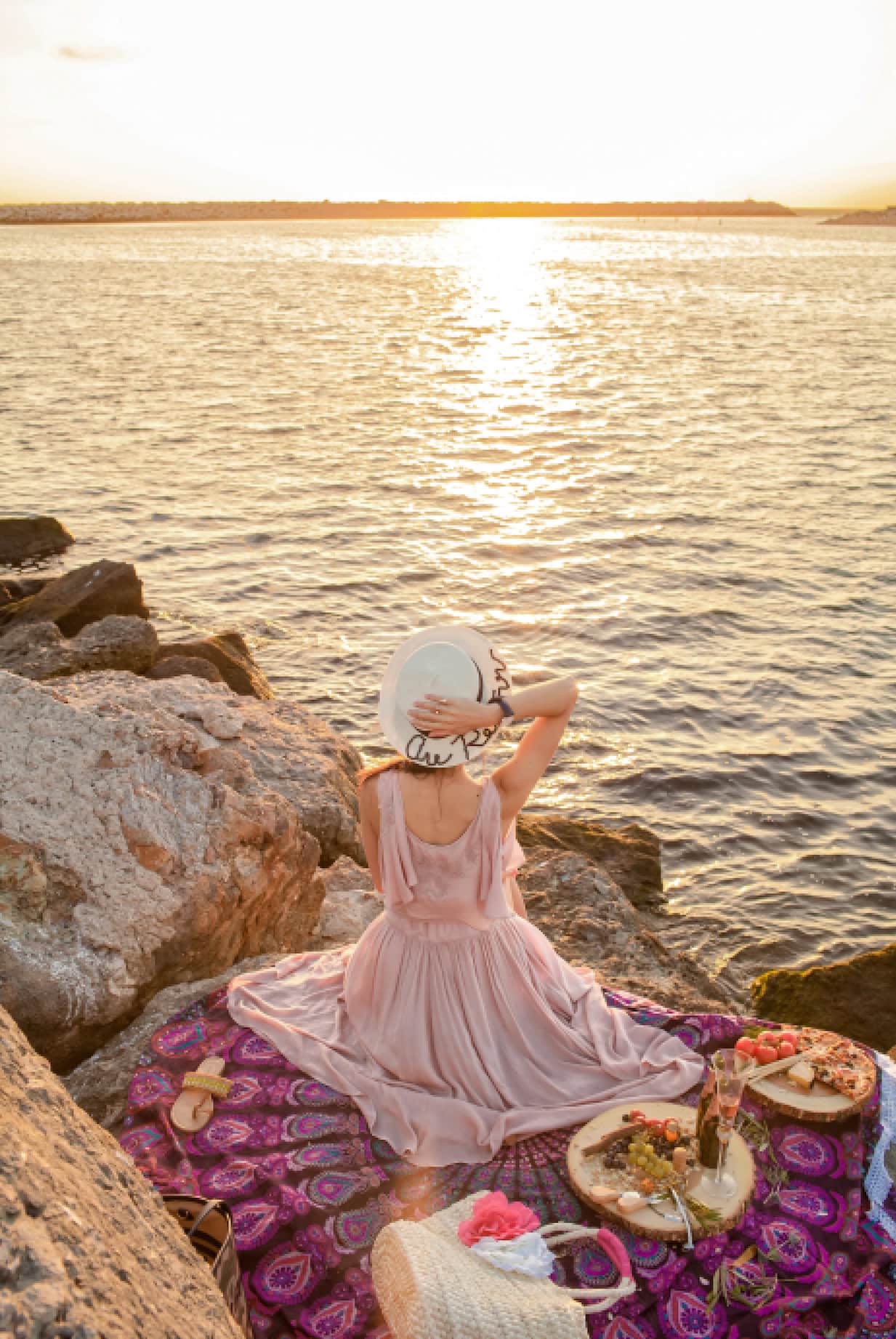 2.DECOR
Some may think that since the event is outdoors, there is no need for decorating, but I think décor is a must no matter the occasion or location. Capturing these beautiful moments on camera will be much more fulfilling, and much more enjoyable to look at later, if you spend just a little time on décor. So be sure you don't neglect the opportunity to decorate the pretty outdoor space you'll be using. By simply adding a splash of colors and vibrant textures you are able to effortlessly give your picnic party that "Martha Steward" stylish look.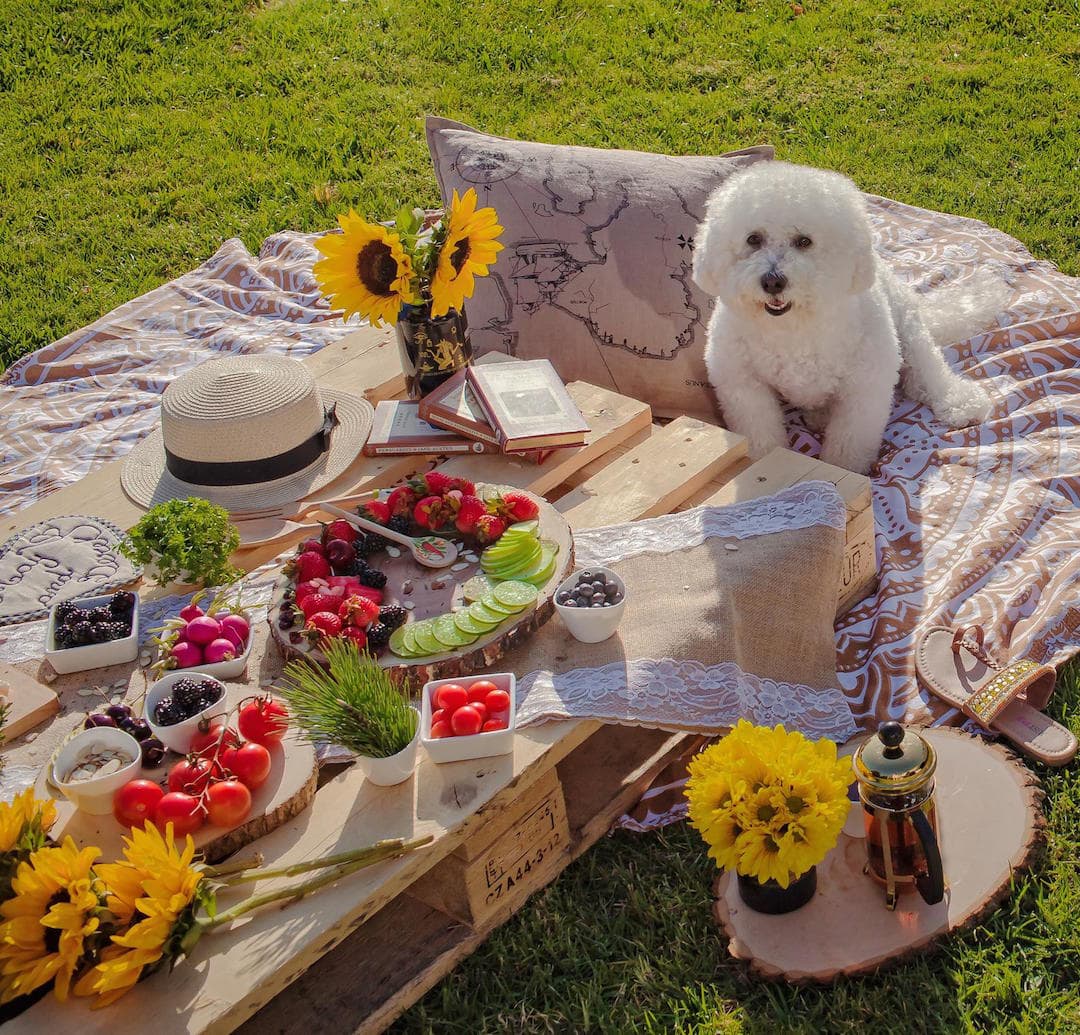 It sounds like a lot of work to decorate for an outdoor picnic, but with just a little bit of well-organized planning and packing it is actually very easy to pull off. First, invest in a beautiful picnic blanket. If you want a fancy picnic, it all starts with the blanket! Checkered blankets tend to be the classic choice for an outdoor picnic, but lately Bohemian round rugs have been very trendy and appear in lots of bloggers' picnic pictures. Whichever style your picnic blanket is, it should be large enough to comfortably hold all your picnic-goers and food.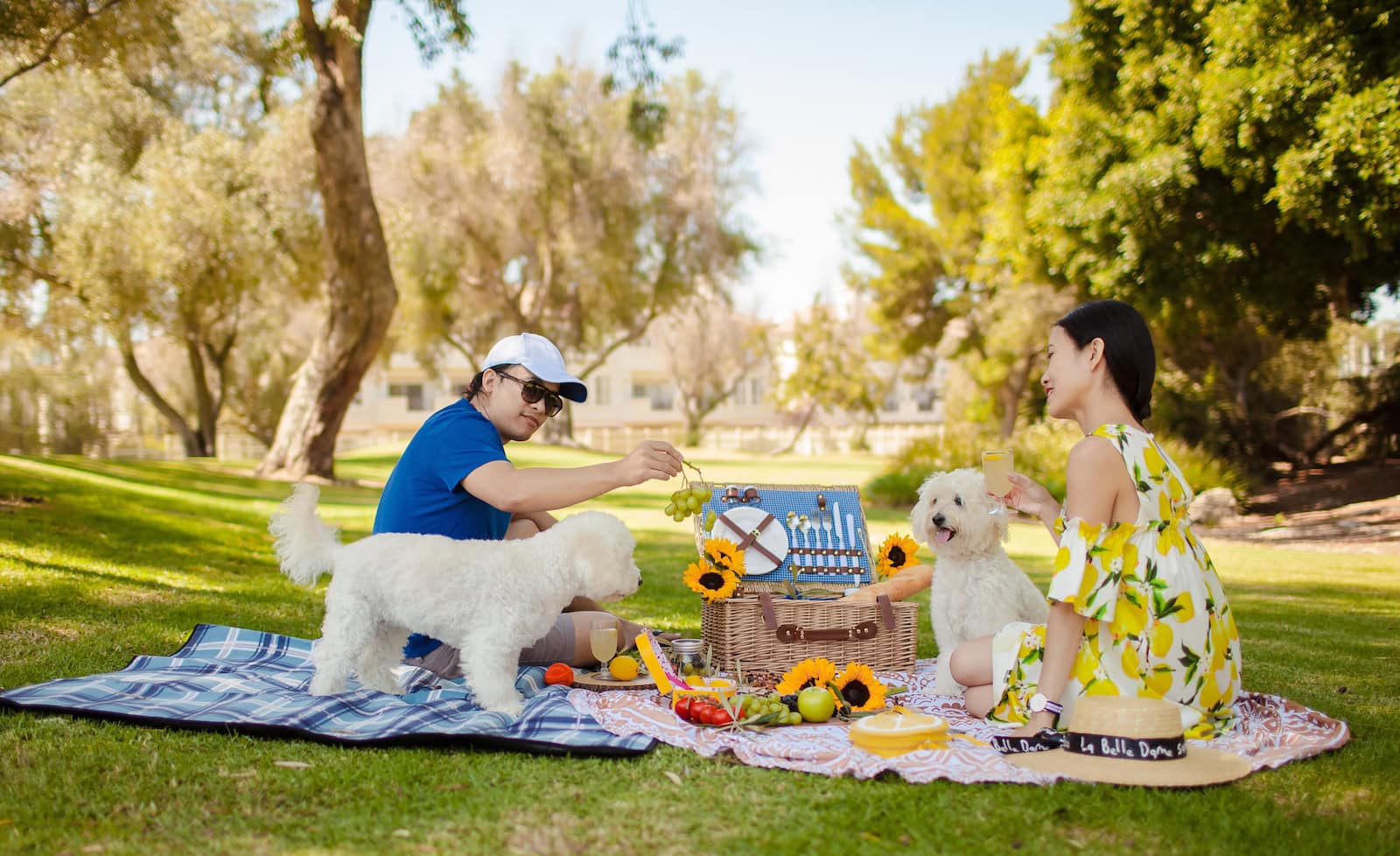 Picnic basket, picnic table, and cutting boards can serve double duty as your picnic essentials and beautiful decorating items. For my beach picnic table, I usually use my light-weight foldable breakfast table, but you can use just about anything from your home, ranging from a wooden cutting board to a wood palette. And to be a little more fancy, you can cover your picnic table with table cloths or table runners.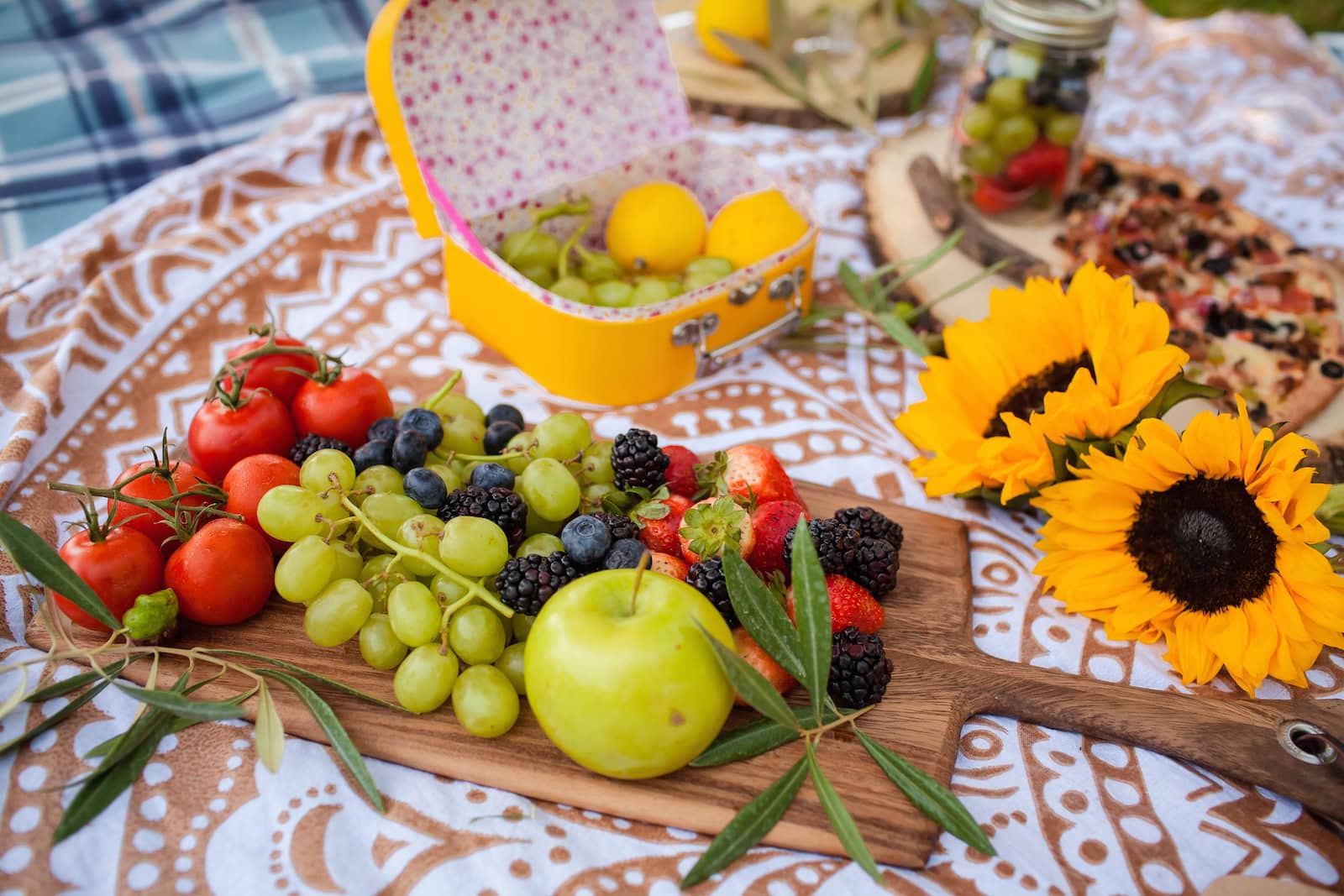 A picnic basket is a beautiful prop for your perfect picnic pictures and also a great way to keep all of your picnic essentials—plates and cutlery, napkins, salt and pepper, glassware and a bottle opener, plus sunscreen, bug spray, hand sanitizer, wet wipes, and a trash bag for cleanup. And don't forget to bring a few small cutting boards. Several small boards can do triple as cheese and charcuterie boards, slicing surfaces for bread, reliable resting spots for drinks, and graceful vintage-looking decorating items.
3. FOOD & DRINKS
Hors d'oeuvres, finger food, berries, fruits, bread sticks, and cheese plates are all easy to carry and also very tasty to enjoy at the beach. Wine and champagne are the classic choice for a romantic picnic, and my personal favorite is Moët. Moët just looks great for any occasion. Just because you are eating outdoors doesn't mean you have to give up style. Happy picnic planning everyone!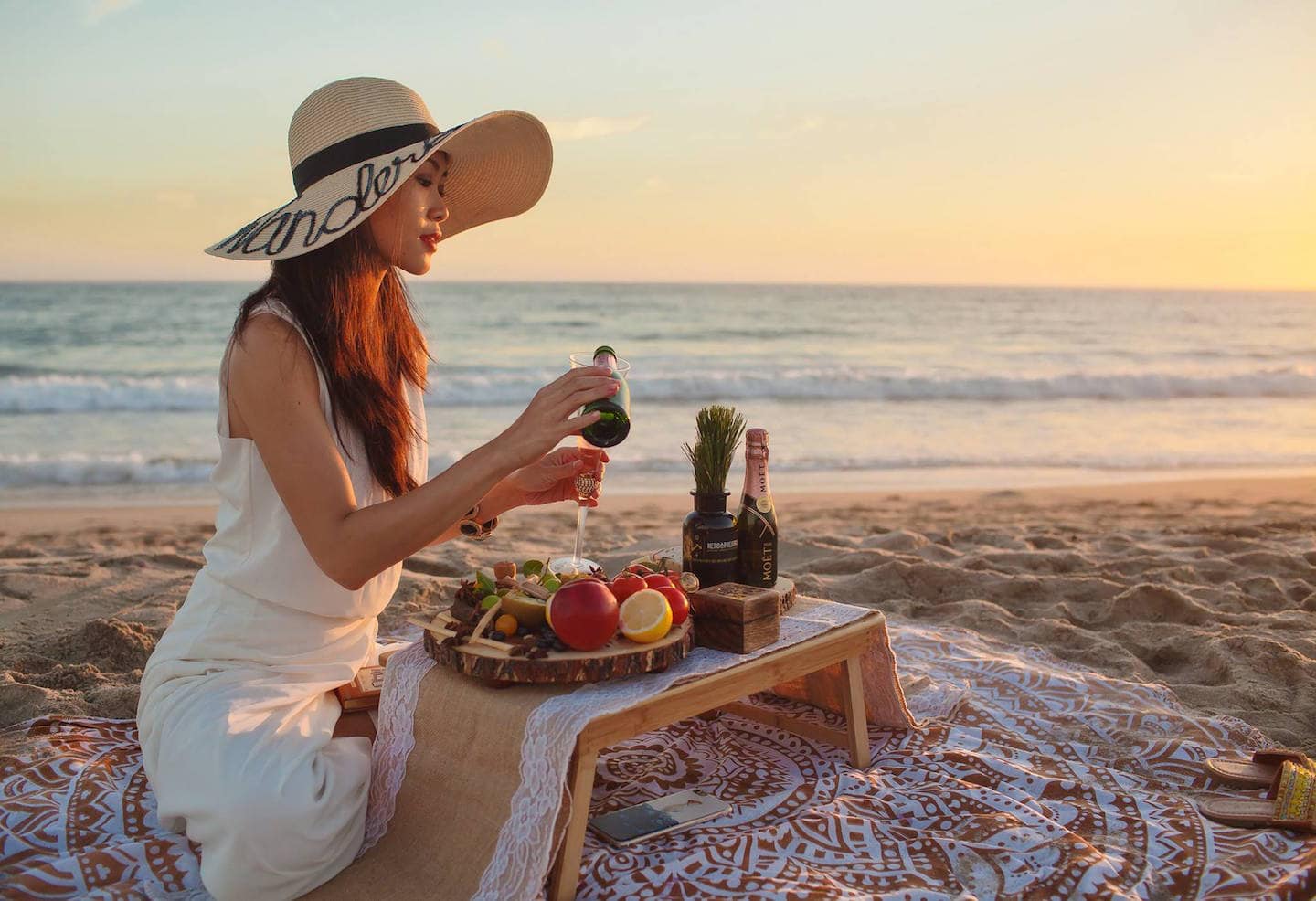 Please share your own tips for stylish outdoor dining with our readers in the comments below! Read Next > Luggage Guide For Every Type Of Traveller
By We Are Travel Girls Contributor May Pham of InaraByMay.com
Connect with May Instagram | Twitter | Pinterest